"When I'm in the gym or on the ice this summer, the goal is to make the Kings. I don't want to be a kid who comes into camp and gets assigned [to Ontario]. I want to be a guy that enters his third year in this organization and is ready to make a statement with a Kings team that's looking for some goal scoring and some good offensive play."
Matt Luff didn't mince his words when asked about where he wants to play hockey next season.
From October through April, Luff saw his name on the AHL transactions page 14 times, moving between the NHL's Kings and the AHL's Reign. The second-year forward had success at both levels, bringing some goal scoring and pop at times with Los Angeles, while being one of Ontario's top players when down in the AHL.
The former Hamilton Bulldog saw more movement than most players in professional hockey, though "movement" in the Kings organization typically just means moving across the hallway at Toyota Sports Center. For the most part, Luff had his response to being assigned to Ontario praised (see here and here), despite one comment to the contrary later in the season, though Reign Head Coach Mike Stothers noted a few weeks later that the response moved closer to normal as the season wound down.
"He's gotten a lot better," Stothers said after the Reign's final home game. "He seems to be more the Matt Luff that we all came to love. He does still have that edge that I referred to, but it's not annoying like it was before."
Overall, the 6-3 winger tried to take each transaction with an open mindset and focus on developing each and every day.
"I mean, you take it in stride no matter what," Luff said. "They think it's best for my development and they send me down with things to work on to get to the next level, so they made it pretty easy. Day in and day out, I know what I have to do in this organization to improve my game, to get up there. Just going into the summer, to work on those things, will be big for me."
Luff amassed eight goals and 11 points in 33 games with the Kings, in addition to 31 points (11-20-31) from 36 games played with the Reign. After beginning the season as one of the AHL's hottest scoring wingers, Luff earned his first pair of recalls to the Kings in November and made the most of his time in the NHL with the big club battling injuries.
That's not to say that personal success outweighed any sort of team failure, however. Luff was a part of last season's Reign postseason squad and was disappointed to see the season end, at both levels, in mid-April.
"It was a dream come true, playing in [the NHL], but I mean anytime you have personal success but you don't have team success, which we didn't have obviously, so that would have made it a lot better for myself," Luff said. "The overall experience was awesome, but you want to be in the playoffs no matter where you are, so to be 0-for-2 on that is kind of tough. But overall, it was unreal."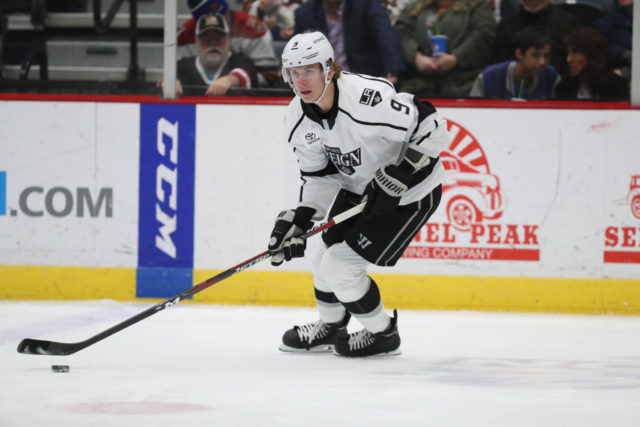 The Oakville, ONT native was one of several young players to reach the NHL after beginning the season in Ontario. Luff skated much of his time in Ontario as the right winger on a line with another of those younger players, center Mike Amadio, as well as with Matt Moulson on the left wing. Ontario had all three players in the lineup 17 times this season, posting an 8-7-2 record, good for a .529 winning percentage, which is nearly 90 percentage points higher than their overall season mark. Stothers spoke to the level of which Amadio's addition improves the Reign, and the play of his two usual linemates.
"It's been unreal," Stothers said of having Amadio in his lineup. "He has the puck all the time. We actually have somebody in the middle of the ice that has the puck, that's making plays, he just makes everybody better. He just helps our offense immensely. It rubs off on Luffer, it rubs off on Mouly and those three guys together, that's a great threesome of hockey players and they just seem to thrive off of each other, but it all starts, I think, with Mike."
As Jon noted HERE, both Luff and Amadio figure to be in a large glut of forwards fighting for roster spots on the 2019-20 edition of the Kings.
Amadio made the Kings out of training camp in 2018 and set NHL career highs in goals (6), assists (7) and points (13). Amadio found himself in and out of the lineup for much of the season, as well as up and down between Los Angeles and Ontario, but had his most productive NHL stint right at the end of the campaign with five points (2-3-5) from his final six games of the season, before he concluded the year with Ontario with two goals and four points from the team's final four games.
Amadio had worked with the Kings development staff while with the Reign, trying to improve his skating and proficiency in the dot, areas that he hopes to continue to improve upon during his training this summer.
"I think my quickness and my first couple of strides and faceoffs," Amadio said. "I've been working a lot with Stolly on [faceoffs] and I've been working with CJ with my skating, so I'm just going to continue to do that and hopefully make that jump."
While with the Reign, Amadio was a dominant player. The playmaking center was the straw that stirred the drink, to use a cliché, possessing the puck at an elite AHL level and making the players around him better by doing so. His Head Coach was boisterous in the praise he placed upon the third-year forward.
"I just think he's a tremendous hockey player," Stothers said of Amadio. "Great vision and I don't think he's as slow as everybody likes to label him as, I just think he slows the pace of the game down and he makes plays. I think he's harder on pucks than people give him credit for and I think he's got a great stick. I think the world of Mike Amadio. I'm hoping that this is the last I ever see of Mike, other than when I'm at the Toyota Center and he's practicing or playing with the Kings."
Amadio, like Luff, sees his goal heading into next season as to not only make the Kings roster, but to stick on a full-time basis for the entire season. The former third-round selection has worked his way from a full-time AHL player, to a midseason callup, to a player that made the team out of training camp throughout the course of his entry-level contract. The next step is to cement his place on the NHL roster on a permanent basis, with that process beginning over the summer ahead.
"I think I'm just going to continue with what I did last summer," Amadio said of his plans in advance of next season. "I was working hard on my strength and my skating and I'm probably going to be doing the same and just make that jump and stick the whole year, hopefully."
Looking ahead to next season, Luff enters the final year of his three-year entry level contract, while Amadio is a restricted free agent after completing his own ELC.