The 2018-19 season was a time of patience and growth for several first-year Reign forwards.
The Reign had a young makeup throughout their lineup – As previously touched on, forward Sheldon Rempal scorched out of the gate, before hitting a midseason regression. Forward Mikey Eyssimont had his own hot start to the season and also experienced his own struggles, while forward Kyle Bauman experienced a more gradual transition from college to pro.
All three were healthy scratches at points during the season, while all three were contributors in all situations at times as well.
"It's hard to do it individually, but as a collective group, you can see there was some definite growth and some progression," Ontario Head Coach Mike Stothers said of his young players. "It's unfortunate that we're not continuing, because the best for these guys would be to get some playoff experience, that really helps you in your development process and your growth as a pro hockey player. If you were to look at it, it's easy to dwell on the negatives and we refuse to do that. Deal with the positives and I think there were many and I think we're going in the right direction."
Eyssimont collected four goals and six points from the first six games of the season, but following his goal on October 19 in Colorado, the first-year forward went 15 straight games without a tally, before finding the back of the net again against those same Eagles on December 15 at home.
The 6-0 winger continued to experience feast and famine throughout the season, with a pair of additional 10+ game scoring droughts, with some success also mixed in, namely through some skilled goals. He eventually finished the season at the 20-point mark (10-10-20).
Eyssimont noted that while it was frustrating at times to not produce offensively as he had in the past, he also took it as a chance to improve other areas of his game, specifically focusing on his defensive zone. Eyssimont is a candidate to jolt his development trajectory in Year 2 with a stronger second season, now with a full year in the AHL under his belt.
Bauman signed an AHL contract with the Reign, which began at the end of last season and included six regular-season games, as well as two games in the Calder Cup Playoffs.
He found himself firmly entrenched in the bottom six for the Reign, as a key contributor on the penalty kill. After he was a healthy scratch on November 1 against Texas, Bauman collected points on back-to-back nights and did not exit the lineup for the rest of the season, skating in 67 of Ontario's 68 games played overall.
The Bemidji State product finished the season as one of just five AHL rookies to collect multiple shorthanded goals, tied with Matt Luff, Sam Herr and Brett Sutter for the Reign team lead. Bauman concluded the season with 18 points (5-13-18).
Eyssimont is under contract for next season on the second year of his entry-level contract, while Bauman is a free agent on July 1, though he stated he'd "absolutely" like to come back if the situation works out.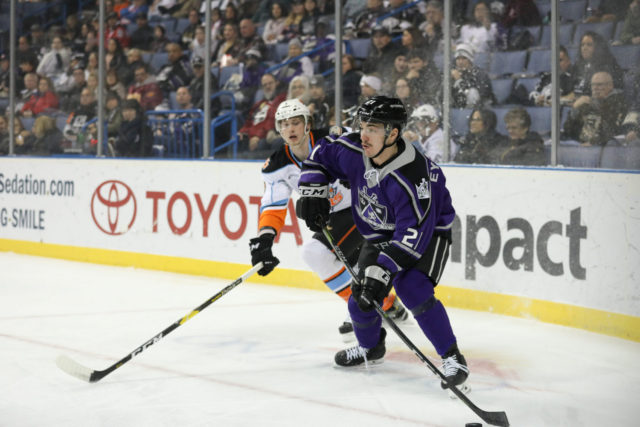 Mikey Eyssimont on not producing to the level he did in college in his first pro season
Obviously it's tough, you want to put up points and help the team out in that way, but I think it gave me an opportunity to work on other parts of my game. When the offense wasn't there, or the opportunity wasn't there all of the time, it allowed me to work on some other parts of my game that definitely needed it.
On his progression from October to April
Yeah, I definitely think I [progressed], especially some of the weaker areas [of my game] like my d-zone.
On the biggest differences between college and pro hockey
I think the biggest thing was the schedule, it's a lot busier in pros. In college, we have school and stuff like that, but for the most part it's just games on the weekends. Coming to pros and having a lot of weekday games, it's a little bit of a grind, but I think that the training staff and equipment staff helped me prepare very well for that, so I felt pretty good all year.
On his focus for improvement this summer
You know, I'm still…basically everything. Every summer, I try to work on everything. I want to keep working on my skill set and just keep getting stronger and bigger.
Kyle Bauman on the biggest difference between college and pro hockey
I think, for me, it was just the speed of the game. Coming here, you see how strong everyone is, how fast the game is and everyone's so skilled, so all the mistakes are kind of magnified here. I think that's the biggest difference from college to pros.
On the jump from playing 30-40 games to playing 70
Yeah, it's definitely different. Every game in college is so big, in the standings and for the national rankings, so every loss is magnified in college. Coming here, the longer season is definitely tougher on your body. You kind of notice it a little bit more when your legs are sore some games, or for practice. So yeah, it was a little tougher on my body, but it was a lot of fun.
On the team's progression from October through April
I think we grew a lot as a team. We obviously didn't have the season we wanted to have, but I think all of us rookies learned a lot from the veterans and I think we grew a lot as players on and off the ice.
On how he'd evaluate his rookie season from a personal standpoint
I think I developed every day and got better every day. It obviously wasn't the season we all wanted, individually and as a team, but I think I got better every day and just continued to grow. Hopefully I'll just continue to get better.
On his biggest focus during summer training
Continuing to get stronger, that's probably the biggest thing. In pro hockey, all the guys are so strong here, so this summer I just want to get stronger and try not to get pushed around a lot and then just work on my speed. The game's getting faster, so you can always work on your extra speed and your first step.