Trial by fire might be the best way to describe the Ontario Reign blueline during the final two months of the season.
With Sean Walker, Matt Roy and Kurtis MacDermid up in the NHL, several Reign players were forced into larger roles than they had occupied all season, mainly out of necessity.
The Reign backend was young to begin with – Only MacDermid and Alex Lintuniemi had more than a year of professional experience of those defensemen on the Opening Night roster. Once the trio of aforementioned blueliners made their way to the Kings, the already youthful unit turned into a group of five rookies in the lineup on a nightly basis by the time March and April rolled around.
What resulted was a heavy workload in net for Reign goaltenders, but through the trials and tribulations came an opportunity for several younger prospects looking to establish themselves as AHL regulars and NHL prospects. Players that were expected to play on a third pairing, or perhaps not even be in the lineup every night or maybe be playing in the ECHL, began to fill Top-4 minutes, with roles on special teams.
Perhaps the biggest opportunity came for first-year defensemen Kale Clague. Clague began his first professional season as one of the highest touted prospects in the Los Angeles system, with a winning pedigree – a WHL Championship and two medals (one gold, one silver) at the World Junior Championships. Clague started in more of a complimentary role, with Walker and Roy atop the depth chart, but was advanced into a top-pairing situation as both were recalled to the NHL.
Clague seemed on track to play his best hockey in the season's final month and a half, before one blocked shot in Tucson in early March ended his season with a broken foot.
"With the situation that was presented to him, this was going to be a time for him to take the bull by the horns and get a lot of minutes and play," Reign Head Coach Mike Stothers said. "Who knows, in a perfect world maybe he gets a game going down the stretch with the Kings."
Stothers said that Clague's injury "might have been the biggest disappoint of the whole year," outside of missing the playoffs. The Regina, SASK native began to really look like the defenseman he was touted as during the second half of the season. His smooth skating and puck-moving ability were always there, but as he asserted himself more, and his role and minutes increased, he began to take his game to another level.
Clague's play provides plenty of optimism heading into year two, but also a bit of "what could have been" feeling, a disappointment in the sense of the excitement that was there to see how he'd continue to progress down the stretch. It's no fault of his own, other than in the sense that he did his job correctly by blocking a shot, but still unfortunate that an untimely injury prevented what would have been a fun development to watch.
"It's so disappointing, and we missed him," Stothers added. "He really improved. Kale really came a long way from the start of camp, through the exhibition to the regular season and he was playing some real good hockey in the absence of those guys."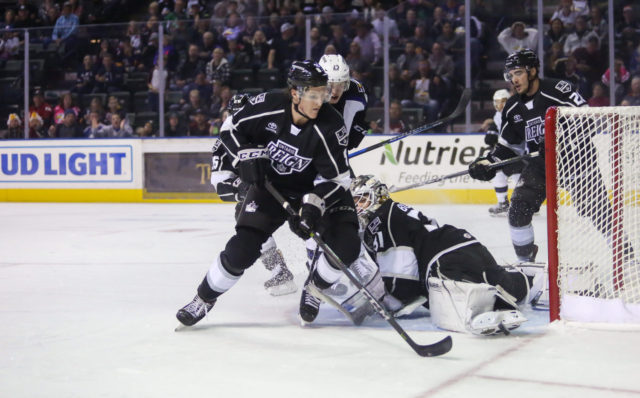 Joining Clague as a first-year blueliner was Daniel Brickley, who began his first full campaign after he appeared in one NHL game with the Kings at the end of the 2017-18 season, fresh off of signing with Los Angeles as a free agent in April 2018.
Brickley played in four NHL games midseason with the Kings, collecting an assist, and showcased a big frame, a hard shot and good mobility for a 6-3 blueliner. On the other end, however, was a league-low -31 rating and a midseason injury that cost him nearly the entire months of January and February, two months that would've been a big part of Brickley's continued adaption to the professional game.
The transition from the college or junior game to the professional game is challenging for many young players, with Brickley being no exception. The Utah native noted that the length of the season, with nearly twice as many games, was one of the largest obstacles in his first season of pro hockey.
"The length of the season, that was a big part of it," Brickley said. "In college, you're only playing 35, maybe 40 games and then here, you're playing 60 to however far you go in playoffs, but that was probably one of the biggest things. Being able to stay with it mentally, physically, it takes a toll on your body and I thought that was one of the biggest things."
Throughout the entire season, Brickley faced as a hard a road as any off the ice, with the health and ultimately passing of his father, Matt, on February 20. With all the adversity dealt Brickley's way this season, his Head Coach says it's tough to truly evaluate his freshman campaign.
"Well, I see his season as being incomplete, like it's hard give a grade or a marking, because what he's had to go through off the ice, I don't think anybody could handle better than he has," Stothers said. "Having said that, I think it's affected him more than he lets on, on the outside, and obviously that's going to affect your everyday life but certainly it's going to affect your hockey."
Following his injury, and returning back to playing, Brickley seemed to find his game more down the stretch. "I think we've seen better progress in the second half than we did in the first half," Stothers added.
Brickley appeared to put more emphasis on utilizing his shot his return, posting three or more shots on goal eight times in the final 16 games of the season (after doing so just eight times in his first 26 games), including a career-high nine SOG (with two assists) on 3/22 versus Bakersfield.
"Yeah, I don't really know what happened," Brickley said of his elevated play after returning to the Reign. "Injury, rest, some rehab, I came back and I was just itching to get back on the ice. It was good, I came back and nothing bothered me. I just tried to pick up where I left off."
The blueliner noted that adding more speed and working on his skating is his biggest emphasis over the summer as he heads into his second professional season.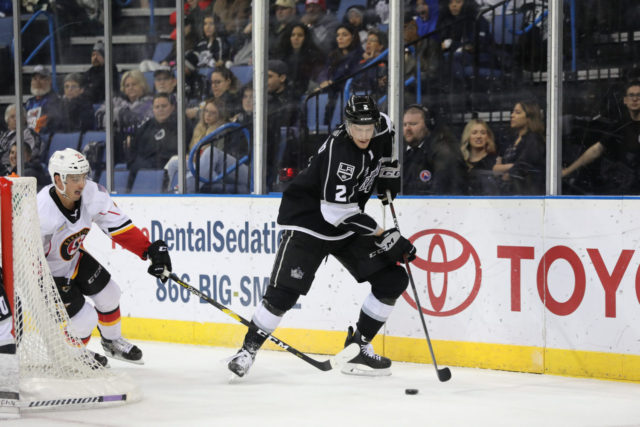 Defensemen Austin Strand and Chaz Reddekopp tend to get lumped together at times – Both played sparingly in the early stages of the season, while each was assigned to ECHL-Manchester for a portion of the first half of the season, approximately a month in total for each player.
Both talked highly of their time in the ECHL, speaking to the added minutes and heavier usage in multiple situations as a positive for their development. With the injuries and callups in the second half, both Reddekopp and Strand found regular places in the Ontario lineup and both showed a notable improvement from October to April.
Stothers spoke to Strand's improvement after a late-season game, noting that he took the opportunity that was presented to him, and has worked hard to improve his game at both ends of the ice. The former Seattle Thunderbird collected seven points (3-4-7) in his final 10 games played and earned a lot of power-play time in the absence of the unit's usual man-up defensemen.
"A lot – A lot better," Strand said of his game at the end of the season, as opposed to in October. "It started out a little tough, obviously not how I wanted, and then I just learned a lot in practice and worked hard off the ice and on the ice in practices and tried to soak in all the advice I could from [the Reign coaches] and just progress as the year went on. A pretty good rookie season I thought for me, I enjoyed it a lot."
As he moves into the summer, Strand's focus is on improving most aspects of his game, which begins with adding size and speed to continue to adapt to the way the game is moving, in an effort to become a modern defenseman.
"I'm going to try and put on some size, add some strength and work on explosiveness in my strides," he said. "The game nowadays is all about speed, so I'm going to try and work on my speed, get a little bit quicker and I feel like size is a big thing [as well], winning battles, especially as a d-man, you've got to be able to finish plays and win battles."
In his post-season interview, Stothers singled out Reddekopp when asked about the growth of his young players throughout the course of the season.
"Reddekopp was real steady for us," Stothers said. "Nothing flashy, he's a big man, plays a physical game, actually was more physical in the second half of the season right down into the final games, there was a presence about him that we were looking for that he maybe had in juniors. His decision making, his plays, his reads, I think they all improved. Maybe to the average person that doesn't watch him every day, or looks at the scoresheet, it's hard to measure the progress that he made, but I think he did a real good job in the absence of the guys that were up with the Kings."
Reddekopp was pleased with how he seized the opportunity presented to him through callups and injuries, moving himself from a player that appeared in just 9 of the Reign's 29 games in 2018 and was assigned to the Monarchs in November, to a player that logged larger minutes down the stretch, seeing time on both the power play and penalty kill.
"As the year went on, opportunity opened up, guys go up to the Kings and there's obviously some injuries and stuff too and I think that opened up some opportunity for me near the end of the year," Reddekopp said. "I think I did a pretty good job taking advantage of it, I think I was happy near the end of the year with how I was playing. I think I played with more confidence and was able to make more plays compared to the start of the year. Just getting games under my belt at the professional level helped a lot too obviously."
A player never really knows what to expect, heading into a rookie season, and Reddekopp was no exception. He noted that he played on both special teams units at the junior level, so he was comfortable when thrust into those situations with Ontario.
"I mean, I didn't know what to expect coming into the year, with the number of guys we had and the good players that we had on the backend and how good that d-core would have been," he said. "Looking back at juniors, power play and penalty kill were things that I did quite often, so I felt pretty comfortable with that."
The hulking defenseman knows that the 2019 offseason is a large one for him. With more young blueliners expected to join the fray next season, plus others expected back, job opportunities with the Kings and Reign will be up for grabs, with very few names written in permanent marker on either depth chart.
"It's a big summer for me," Reddekopp said. "I need to progress my speed, like I said, I think that's going to be something important, I can always get faster. That will help me make more plays and be more confident with the puck and just help me work on my skills a little bit as well. I think all areas of my game can improve and speed is one of them for sure."
Looking ahead to next season, Strand, Clague and Reddekopp are all under NHL contract for the 2019-20 season, while Brickley is a restricted free agent.