As the LA Kings' heavy allocation of capital becomes more top-heavy with Drew Doughty's contract extension kicking in next season, one endeavor they'll focus on in an important effort to find potentially effective players at lower prices will be to invest in the NCAA, major junior and European free agent market. Players like Alex Iafallo and Detroit defenseman Danny DeKeyser represent some of the talent unearthed by an NCAA-focused strategy, and the Kings are hoping that their latest free agent signing, former St. Cloud State center Blake Lizotte, is someone who'll be able to add some needed skill, quickness and tenacity to their lineup at a minimal cost. The 5-foot-9, 175-pound Lizotte, who totaled 14 goals and 42 points in 37 games this season, signed an entry-level contract Tuesday, practiced at Toyota Sports Center Thursday and is expected to make his NHL debut in the season finale Saturday night against the Vegas Golden Knights.
"Obviously I've been thinking about that for 20 years now," said Lizotte, a native of Lindstrom, Minnesota, a small town in the Chisago Lakes area an hour north of the Twin Cities. "Since I was about two years old, I was on my back pond in the back of my house in Minnesota scoring the game-winner of the Stanley Cup Final in the NHL and dreaming about that debut, and actually I used to play the national anthem in my living room – playing floor hockey I'd stand there and just dream about it – so I'm definitely looking forward to it."
"My whole family just lives, breathes, eats, sleeps hockey, so it's exciting."
As exhilarating as it must be to live out a childhood dream, there are still sour regrets of how the Huskies' season ended. For the second straight year, Lizotte's final game of the college season ended shaking hands with a 16th-seeded opponent that had just knocked off the top overall seed. Last year it was Air Force; this year, American International. There is a complex mesh of very contrasting feelings here.
"It's still pretty fresh in my mind," Lizotte said. "My heart's always going to ache for that season and that game, and it probably never will stop. It's obviously a super disappointing ending, and I loved my time at St. Cloud State University. I have nothing but good things to say there. That's the best two years of my life, but like I said earlier, it's been a childhood dream, and I felt it was a good opportunity and a good time, so I felt I had to take it."
It was a major career step that the college sophomore wasn't expected to take. He was recruited by Brooks Bertsch, the Kings' assistant video coordinator for two seasons who in 2018-19 spent his first season as a Kings' College-Pro scout based in Minnesota. A 2015 St. Cloud grad, Bertsch is extremely familiar with the program, including a former teammate and Husky captain in Nick Oliver, now an assistant coach with the NCHC team.
And Bertsch knew to keep some space from ice level of a program that spent much of the year as the country's top ranked team. He was intricately familiar with St. Cloud and Herb Brooks National Hockey Arena, but made sure not to be a representative of a professional team hanging around outside the locker room or in high-tension situations over weekends and in the immediate aftermath of the heat of battle. So in building a relationship with Lizotte, who was expected to be a three-year player at St. Cloud, Bertsch visited him in early January right after Christmas, and as they built a relationship, would go up on weekdays to watch the team practice. He visited twice in February to continue to build the friendship and used his own video background as a means of selling the 21-year-old on what his role with a pro club might look like.
"I always think these guys, especially younger kids coming up now, they have all these coaches telling them what they need to do, and some of the kids say, 'this is what I need to do, but show me,' and that's why video's a powerful tool," Bertsch said.
Bertsch showed Lizotte videos of his own play this season clipped alongside of a comparable player who won't be named but also is undersized, possesses very good quickness and skill and has had to earn everything he's had to get to succeed at the NHL level despite being undersized.
Bertsch didn't really pitch the Kings as part of a recruiting push at the time. He'd saved his pitches for later, expecting Lizotte would stay in college for three years before making a decision about his future in the spring of 2020. But amidst the faster, pace-based cadence of the modern NHL, Lizotte ultimately made his decision to sign after two seasons with the Huskies, and the Kings will have an interesting player who Bertsch described was capable of playing up and down the lineup and has a "competitive, skill-based element" that the Kings are looking to infuse their organization with.
"This isn't just a depth guy that's an energy guy. He has the ability to make plays, he has the ability to create offense. I think he can play up and down your lineup anywhere. If he's not on the scoresheet, he can still impact a game," Bertsch said.
Recruiting NCAA free agents is often a multi-year endeavor, hence why many waited until this year to recruit Lizotte – there was the expectation that he was still a year away from signing. Part of a more recent push in which NCAA underclassmen agree to attend development camps well in advance of that year's draft, Lizotte had already agreed to take part in Tampa Bay's development camp next summer. That didn't mean he'd be betrothed to the Lightning – Max Verroneau attended Los Angeles' development camp last summer, among others, but signed with Ottawa, while Zach Whitecloud signed with Vegas two years ago despite attending the same camp one year earlier – but that they'd have a leg up in building a relationship with him and selling him on the benefits of their organization.
Through his Husky background and his ability to build a connection with a player, Bertsch was able to successfully sell the player on his opportunity with the Kings, and the fact that Los Angeles had drafted former Huskies in Kevin Gravel, Nic Dowd, Mikey Eyssimont, David Hrenak and Jonny Brodzinski didn't hurt at all. Lizotte played with Easton Brodzinski, one of Jonny's three younger brothers, at St. Cloud the last two seasons.
"It was more of a comfortability level," Lizotte said. "[Brooks] actually played at St. Cloud State, so there was that familiarity. There's a pipeline that's continued to grow and is still there, so it's more of a comfortability level more than anything. I felt comfortable here and felt it was a good spot to come into right now with the organization, and feel like I hopefully get an opportunity here."
Willie Desjardins confirmed that's likely to happen on Saturday – meaning Lizotte should debut against a good friend and former teammate in Jimmy Schuldt, a top-three Hobey Baker finalist who recently signed with Vegas. The Kings and Golden Knights face off in Game 82.
"We were sitting one day in St. Cloud in our players lounge, and Jimmy Schuldt was deciding where he wanted to go, and he circled Saturday, and we were like, 'it might be a good opportunity to play each other for our debuts,'" Lizotte said. "That was a cool moment for sure, and I'm happy he made the choice that best fit him. I'm looking forward to that, for sure."
Ranking third among qualified NCAA Division I players with a 62.0% faceoff percentage, Lizotte, who didn't draw as much attention when he was 5'6 in his draft year, gained more attention for skilled play backed by an ability to play both with and without the puck and in various special teams situations. A plus-28 his sophomore year and the second-leading Huskies scorer, Lizotte actually played the net-front on the power play because of his ability to quickly win pucks off the end boards.
"A lot of that has contributed to his puck recovery," Bertsch said. "When there's a shot attempt at the net, he has this mindset of coming up with pucks, go get it back and get back in your structure and set up, and that's a testament to him and his work ethic."
Lizotte's competitive drive and determination graded just as well as his speed and quickness, and that's important. It's extremely difficult to find NCAA free agent wingers who profile down the line as potential top-six forwards, but his ability to compete and win pucks back raise potential that, should he ultimately stick in the NHL, would allow him the versatility to play with different groups of wingers. He profiles at both center and wing, but center is his most natural position, and Desjardins confirmed that he'd be likely to play down the middle of the ice on Saturday.
"I battle hard and my compete level is what kind of defines me – my quickness in the corners," he said. "I play really well on my edges. My best asset, I think, is playing on edges and not being scared to play against anyone. I'm a smaller guy in stature, obviously, but I think I use that to my advantage, the way I play on my edges. That's the way it's been at each level, and obviously it's a big jump to the NHL level from NCAA, but I'm excited for the challenge and look forward to it."
It's been a skill set praised at every stop – and emphatically by his NAHL coach in Minot in 2014-15. The Minotaurs' Head Coach, Marty Murray, played 19 games for Los Angeles in 2006-07 and was a heavily influential figure in Lizotte's professional and off-ice growth.
"He has tools and assets that we don't have currently in our entire organization, number one, so that's what makes him attractive. Number two, he plays with a motor every shift, every night," Bertsch said. "He's quicker than he is fast. His relentless puck pursuit, both with and without the puck, he's a guy that's what I call a really good half-court player in that his puck protection, his cut-backs, his edges are outstanding. He's always looking to attack the box and get to the scoring areas despite being an undersized guy. He's low, he's hard to check off with the puck, and his puck pursuit without it, he has some similarities with Iafallo with his stick and getting in on the forecheck, and he comes up with loose puck battles despite being five-nine. I think it's just a determination and a mindset that he's very unwavering in his approach to the game. I saw him five or six different times this year live, and he plays the same way every night. He doesn't lay off, and I think that's what's so intriguing about his game and its translation to the pro level."
Blake Lizotte, on his connection to the LA Kings:
Like you said, the pipeline. The LA Kings are a familiar face around St. Cloud. Guys know the organization in and out, so that definitely played a role in it, and obviously this is just a great place to play, organization-wise. Rob Blake and all the staff, from there on down, it's just a great organization, so I was happy to be a part of it.
Lizotte, on the size of Lindstrom:
It's about 2,000 people. It's a part of Chisago Lakes, which is about 8,000. There's Center City and Chisago City and Lindstrom that make up the Chisago Lakes School District, but I'm from Lindstrom. It's about 2,000 people.
Lizotte, on professional hockey players from the area:
Chad Anderson was his name. I think he was in the Philadelphia organization. He played quite a few American League games for the Phantoms back when they were the Pahtoms, and that's the farthest anyone's ever made it from Lindstrom. I think there were only two other Division-I college hockey players out of there, and no major junior players. So I'm one of three out of Chisago [Lakes and Lindstrom].
Lizotte, on whether the plans are for him to play center or wing:
I'll play any position. You put me in, I'll adjust and play anywhere.
Lizotte, on whether he was a Minnesota Wild fan growing up:
Yeah, but I've always been a hockey fan since I was probably 12 or 13 years old. I obviously cheer for the wild – hometown team. I've wanted to be in the NHL like I said, and I watch, eat, sleep, breathe hockey, and every time I watch hockey, it's not just the Wild. Whatever game's on, I'm cheering for a close game. I appreciate good hockey, so I don't really have a favorite team. I just appreciate the game of hockey.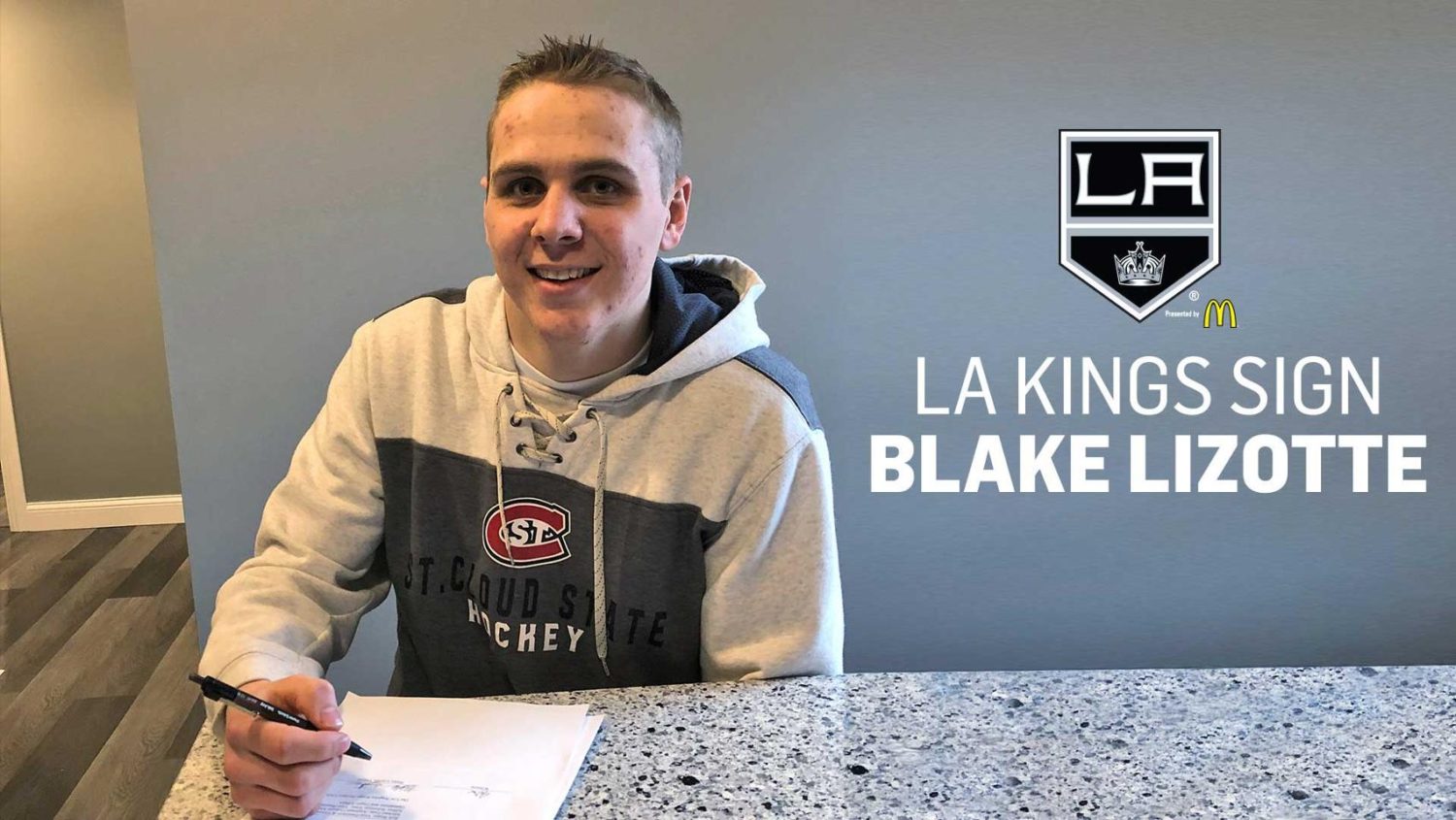 –Lead photo via Sam Wasson/Getty Images