Good Afternoon, Insiders!
While the Kings and Oilers met last night in Edmonton, tonight we get ready to do it AHL-style, as the Reign and Condors square off in Bakersfield tonight at 6:30 p.m. The Reign don't typically take line rushes during morning skate, but here's how they lined up yesterday, with only forward Mason Bergh joining today's group.
Moulson – Sutter – Scherbak
Eyssimont – Maillet – Luff
Devane – Mitchell – Rempal
Herr – Rymsha – Bauman
Morrison – Supinski
Wyszomirski – Watson
Brickley – Lintuniemi
Reddekopp – Strand
Baudry – Gottlieb
Petersen / Budaj
Petersen was off first this morning, with the bottom pairing of both forwards and defensemen, plus Bergh, on late for extra work.
Based on watching today's morning skate, expect Drake Rymsha to make his return to the Ontario lineup for his first AHL game of 2019. Rymsha, who was reassigned to Ontario, from Manchester, yesterday, has collected a goal and two assists from 24 games played with Ontario earlier this season, followed up by 13 points (8-5-13) from 34 games played in the ECHL with Manchester.
I caught up with Rymsha after today's skate, before the team took off for Bakersfield.
Drake Rymsha on being back with the Reign
It's obviously exciting to be back, see the guys and be back in California, it's awesome. I can't wait to get started again.
On his time with Manchester and what he learned from being in the ECHL
Just feeling the puck again. I wasn't really getting a lot of minutes here, so just feeling the puck again and really have an impact on a team, offensively. It was good.
On getting to play in more situations with Manchester than he did in Ontario
At the end of the day, to go down there and play a little bit more was something good for me and hopefully I can translate it up here.
On he's found to be the biggest adjustment from juniors to pro hockey as a rookie
I think it's just the strength level. Obviously now you're playing against grown men now, so to be able to go in the corner and win all those one-on-one battles, that's a big part of the game for sure.
Roster Moves
Rymsha wasn't the only addition to the Ontario roster, with forward Mason Bergh also joining the team from Colorado College. Bergh becomes the fourth NCAA player to join the Ontario roster this month, the third this week. In his collegiate career, Bergh amassed 105 points (43-62-105) from 149 games played and served as a captain with the Tigers during his junior and senior seasons. Bergh is also nominated for the 2019 Lowes Senior CLASS Award through the NCAA, and is currently second in the voting amongst male hockey players.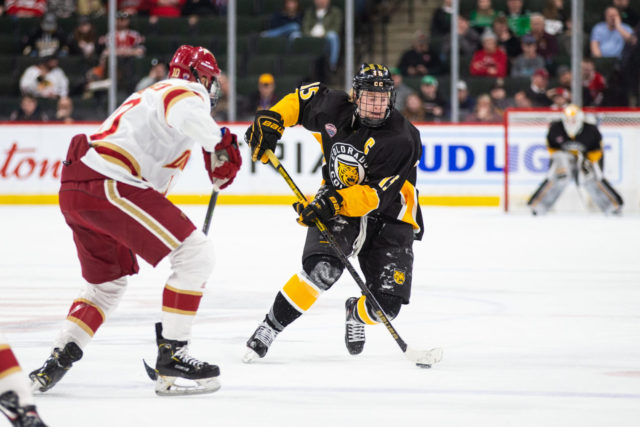 Black & White (Chocolate)
Reign forward Matt Luff was the subject of the latest edition of the Kings "Black and White" series. Luff has shuffled between Los Angeles and Ontario several times this season and has made an impact in his time with the Kings, with eight goals and 11 points from 33 NHL games played, while also posting nearly a point-per-game pace with Ontario (26 points from 27 games).
The video dives into Luff's path as an undrafted free agent that overcame the odds and reached the NHL, as well as the relationship between Luff and Reign forward Matt Moulson – As has been documented, Luff has lived with Moulson and his family this season. Great job by the Kings team with this one.
Reign 5K
While the team is away tonight and Friday, it's still looking like a busy weekend in Ontario. The Reign host their 5K event on Saturday, followed by a Sunday afternoon tilt with Stockton at the CBBA.
This year's Reign 5K will benefit Athletes vs. Crohn's, the charity started by former Los Angeles Laker and current Cleveland Cavalier Larry Nance Jr. The charity is supported by Reign forward Mikey Eyssimont, who has Crohn's Disease himself. CLICK HERE for my story on Eyssimont and see below for the Reign's video piece.
The event is on Saturday beginning at 8 AM. Those interested in registering can sign up HERE.
#Reign Forward Mikey Eyssimont is a professional hockey player, living each day with Crohn's Disease – This is Mikey's story. pic.twitter.com/2xieneOemY

— Ontario Reign (@ontarioreign) March 20, 2019