INSIDERS. And those of you who are not insiders. Outsiders. In-betweeners. Sorry, getting paid by the letter here. A fine Friday to you. The LA Kings held an optional skate at 11:00 a.m. in advance of their home stand finale against Anaheim on Saturday, and Brendan Leipsic was not among those to skate.
Notes!
— Leipsic, who suffered a lower-body injury and didn't return to Thursday's game after a late second period shift, will miss some time. "He'll be a few days, I think," Willie Desjardins said. "It depends how he responds for tomorrow, but I think he's a few days."
In his absence, "there's a chance" Jonny Brodzinski will return to the lineup. "He's worked hard, he deserves the chance. It's his opportunity to show what he can do," Desjardins said.
Indeed, the 25-year-old has worked hard. There were months at a time in which he was the solo skater working alone in an attempt to return from a preseason shoulder injury that required surgery. He scored an important goal at Tampa Bay in his first game back, and through eight games has two points, a minus-one rating and through 83 minutes has respectable possession rates but the lowest scoring chance rates on the team.
And that begs a question – is his ability to create scoring chances and offense limited because he's lacking a consistent opportunity?
Brodzinski has been held out of four consecutive games, the last two of which followed Desjardins' March 15 edict that he'd like to "get young guys in and playing, too." Yet Brodzinski, who will become a Group VI UFA because he didn't have the requisite 80 games over the three years after signing his entry-level contract, sits at eight games played with only nine remaining on the Kings schedule.
That's a tough situation for Brodzinski, who hasn't showed any visible frustration. "Just to keep my head down and keep plugging away in practice and try and get better every day," he said. "Also, when I get back out there, I've just got to be better – play better in both zones." Not a great deal on how he'd be used has been communicated, but an intricately mapped out playing schedule isn't often shared with players.
"It was just, 'stay ready,'" Brodzinski said.
Desjardins has gone with a balance of 11 forwards and seven defenseman three times in the last two weeks, with Kurtis MacDermid entering into the games as an extra defenseman. He's averaged less than nine minutes on the blue line in his six games to date, though he does provide a physical deterrent that Desjardins values.
"He's a big guy, he gives you a presence out there," Desjardins said. "I think he just settles things down and he works hard. He sets a good example on how hard he works. His teammates like him."
And that's not a knock Brodzinski, another well put together figure in the team's room. But MacDermid has another year on his contract and passed through waivers earlier this year, whereas Brodzinski has nine games to put his best foot forward towards earning an NHL contract for next season.
Meanwhile, Ilya Kovalchuk, who skated on Friday and is healthy, will sit for the third time in four games Saturday night against the Ducks as the Kings focus on finding additional opportunities for less tenured skaters.
That's not easy for Desjardins, who has frequently responded to questions about his handling of Kovalchuk with appreciation for the star forward's temperament.
"It's a tough thing for him where it's time now where we need to look at some young players, as well. That's just a hard spot for veteran players. It puts him in a bad spot, but I certainly have a lot of respect for him and his love for the game."
— 14-year-old Aiden Rose and his brother, Collin, were back at Toyota Sports Center one day after the defenseman was signed by General Manager Rob Blake to an honorary one-day contract and took the ice for warm-ups prior to the Kings' 4-2 win over San Jose.
Rose, a Charleston native who practiced Wednesday in a South Carolina Stingrays jersey, became a Kings fan around the age of seven or eight.
"It was actually the first [hockey] game that I watched, and I was too young to understand sports, so I thought, 'do I like the color black more, or do I like the color red more?'" he said. "I chose black and have been a Kings fan ever since."
Through the Make-A-Wish foundation, Rose, who was diagnosed with Adenoid Carcinoma but has been cancer-free for over a year, was able to live out his fantasy of being an LA King for a day while his family was feted by the organization. "I figured I was just going to say 'hi, what's up?' and then be gone," he said. "When I skated out for warm-ups, I was like, 'whoa.'"
It turned into a multi-day visit in which he and his brother had full run of the team facilities and became close with Anze Kopitar and Drew Doughty, his two favorite players. "I learned that most of them are just mostly pretty down to earth guys. I was expecting these really professional guys, but they're really down to earth."
"It was mind-blowing"

Now cancer-free for a year and half, Aiden Rose walks us through a day he will never forget ❤@LAKings | @makeawishla pic.twitter.com/f5ddZGcB63

— FOX Sports West (@FoxSportsWest) March 22, 2019
The warm-up might have been stressful – "I think 90% of the sweat was just stress sweat," he said – but he was still able to grip the stick and let a few pucks rip.
"I shot on Quick a few times, and I made one in, and I asked him if that was an actual goal, and he said yes," Rose said. "I was proud of that."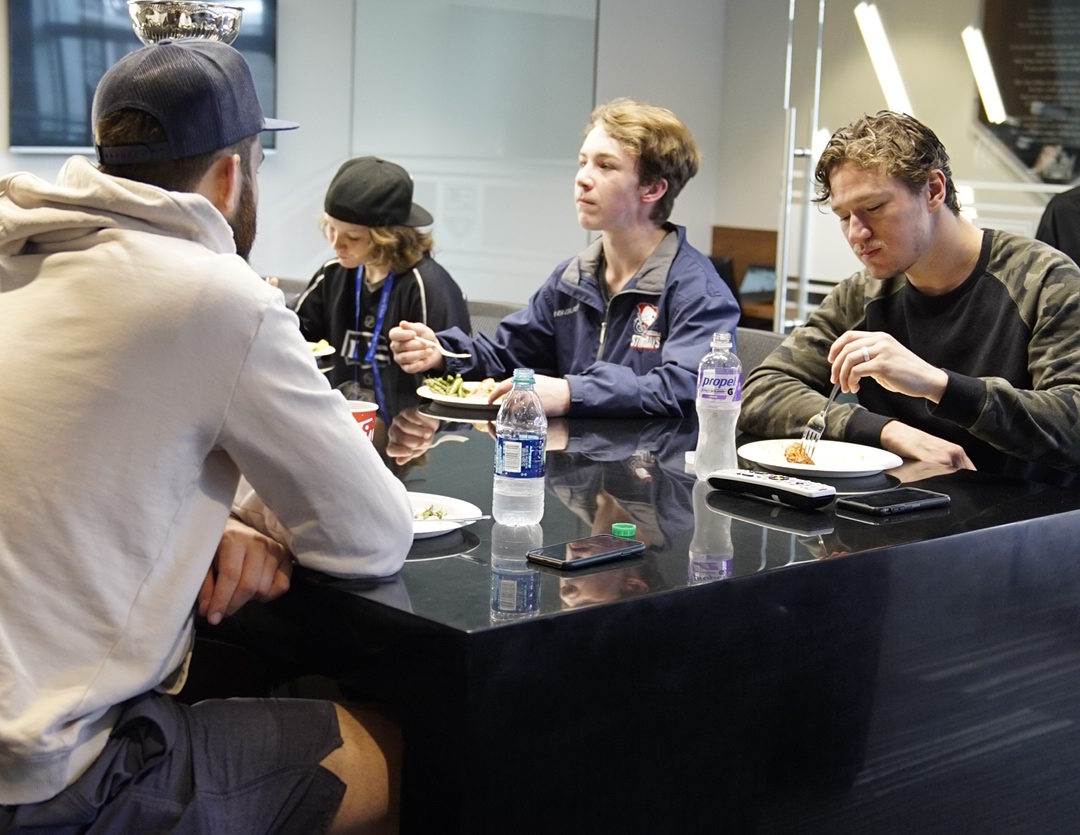 — Dustin Brown has played 1,108 NHL games. The franchise record is 1,111 games, set by Dave Taylor from 1977-94.
Which means that barring calamity, Brown will tie the franchise mark in Edmonton next Tuesday and set the mark in Vancouver next Thursday. (Anze Kopitar, it should also be noted, played his 994th career game on Thursday and, barring anything unforeseeable, will have an opportunity to reach 1,000 games on April 1 against Calgary.)
Brown began answering questions about the milestone late this week and will be a popular figure on the trip through Western Canada. With 20 goals and 44 points in 63 games this season, he's maintained his raised scoring pace from earlier seasons, even if he won't equal last year's career-high of 61 points.
"The only way to beat him is to go through him. He won't give you anything, he never will," Desjardins said. "If he's fresh or tired, he will always give you what he has."
Desjardins has only worked with Brown since November but speaks glowingly about the second-longest tenured LA King of all-time. "I never liked him very much when I was in Vancouver," he said, before waiting a beat. "I certainly appreciate him a lot now that I'm here."
Lots more on Brown will come over the upcoming week.
Having turned 19 one month into his rookie season, Brown was such a young figure during his 2003-04 debut season. "I was a closer age to Luc's son than I was to Luc," he joked.
Taylor, the general manager who selected Brown during the renowned first round of the 2003 NHL Draft, wasn't among the most familial and influential figures in the dawn of the power forward's career. "As a younger guy, it's a little different. You don't have as many conversations with the GM," Brown said.
"Again, I was young, so I just put my head down and tried to work my ass off. The one thing I think they did, they found me a billet family out here, because I was so young and it was such a big change for where I grew up, being out here all the way across the country. So, I lived with a family for maybe the first couple months of the year, just to get situated and comfortable. I think he set that up."
It was during that time that he became more familiar with Taylor, whose travails as a power forward and team leader were similar to Brown's – minus the two Stanley Cups, of course.
"It wasn't a thing I knew coming in, but it's something you definitely learned. Just the way he carried himself – he had the respect of everybody of, 'OK, I'm there for you,' and that was something that kind of stood out, even to me as an 18-year-old."
— More to come tomorrow morning, Insiders. Enjoy your Friday night. Let's talk soon, and may your brackets be perfectly intact.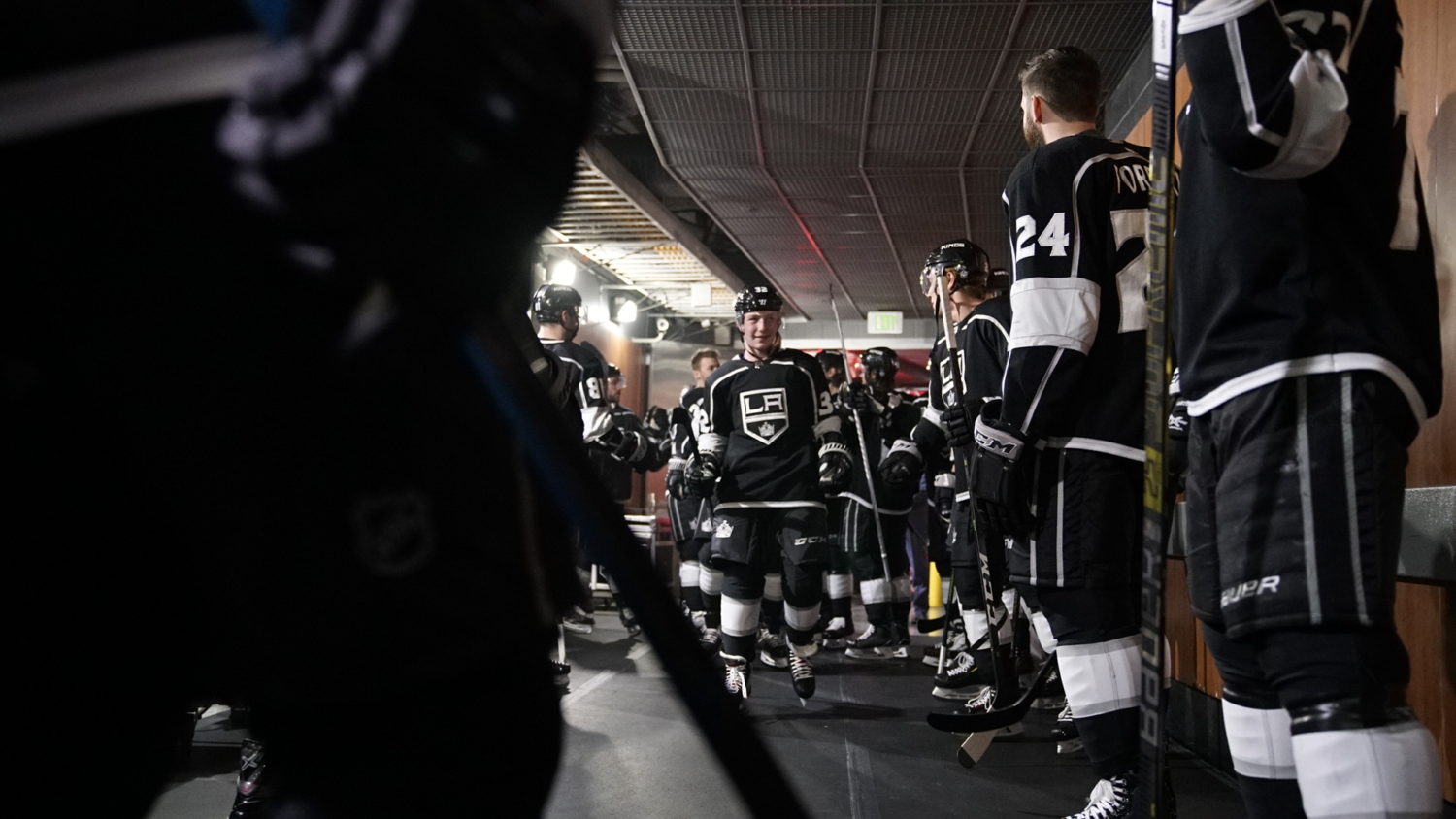 — Lead photo via Adam Pantozzi/NHLI