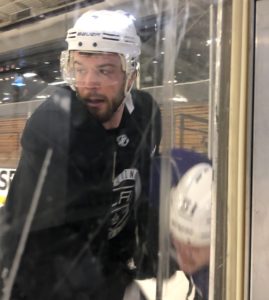 A happy Monday morning to you, Insiders. The LA Kings practiced at Toyota Sports Center at 9:30 a.m. this morning and did not show any wholesale changes. A better read of how they'll align to begin the upcoming trip will be learned at Tuesday's morning skate in St. Paul. There was good hustle and energy in today's practice, which ended with two-on-two and three-on-three scoring drills laced with a good battle element, as demonstrated in the blurry photo at right.
There's a lot more to come on a travel day to the Upper Midwest. For travel photos on the coming trip, follow @lakinsider or @rambleonrosen on Instagram – both will be updated regularly away from the road.
Practice notes will follow. Let's talk soon, Insiders.