Frustrated is a word that we've seen, heard and felt throughout this season stemming from the Kings. It's an emotion that is created when things don't go according to plan, as they haven't through 33 games this season.
"They hate losing, like it's so simple," Kings Head Coach Willie Desjardins said following today's practice. "They just hate losing. I've always said that if you can accept being average, you're going to be average, that's just the way it is. If you can't accept being average and right now, we haven't been playing great, something's going to happen."
The Kings' bench boss then went on to quote legendary Notre Dame Football Head Coach Lou Holtz to explain the array of emotions that can stem from not accepting being average.
"He said in any situation you can react in one of three ways. You can be intimidated, where you're afraid to anything – I don't see that in the group, I think they're pretty good. You can be frustrated, which can happen, or you can be motivated. Motivated is the one you obviously want to get to, but that's a hard one to get sometimes, over and over. There are guys in our group, they may have the setback, but the next day they're coming and they're ready to play."
This afternoon marked the first full-team practice of this four-game road trip. There is a very fine line at the NHL level between balancing time off against the need to practice, the need to work on certain things and try to improve.
That line can be especially fine when a team is struggling. There is an obvious need to improve, but at the same time, there's a need to be fresh on the ice. Take tomorrow's game, where the Penguins play tonight, and the Kings are off. Logic would dictate that Los Angeles should be the fresher team and when Desjardins' group is fresh, he believes that they will play.
"We need to have a better effort tomorrow and we know that," Desjardins said of his group. "I believe, I honestly believe that if our guys are fresh, they're going to play hard. There's not a lack of character, so I've got to keep them fresh and if I do that, they'll play."
That 70's Reunion
Forwards Tyler Toffoli and Tanner Pearson will be on the ice together for an NHL game for the first time since November 13, however tomorrow will be the first time they've played together as foes, rather than teammates.
Toffoli and Pearson were AHL teammates with the 2012-13 and 2013-14 editions of the Manchester Monarchs, before earning full-time NHL promotions during the 2013-14 season, winning the Stanley Cup together in 2014. The two players were teammates ever since, skating four full additional seasons together, and 17 games of the present campaign, before Pearson was swapped in exchange for forward Carl Hagelin.
"I mean, it's going to be weird," Toffoli said on the prospect of playing against Pearson for the first time as professionals. "I played against him all over juniors as well, so it'll be cool, it'll be fun. I've been talking to him a little bit, he's saying he's enjoying it and he's playing well."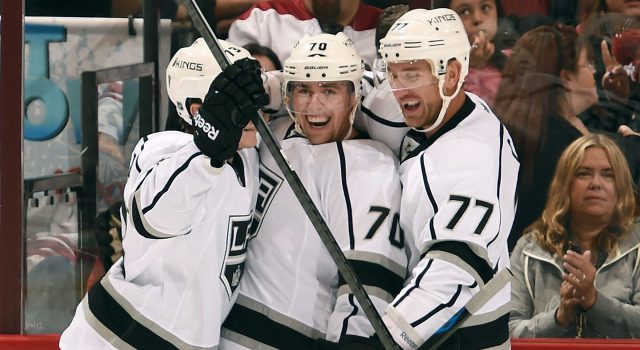 Not only were the two players teammates but linemates as well. Dubbed "That 70's Line", along with Jeff Carter (77), Pearson (70) and Toffoli (73) were thought of as almost one and the same at times, two players always playing on the same unit and that close connection led to the two players being friends away from the rink as well and Toffoli said today that the two have stayed in touch since the trade.
"We played together for what, [seven years]?," Toffoli said. "So we became pretty good friends, it's pretty easy to stay in contact when you have the experiences that and stuff that we've gone through."
While tomorrow is significant for the reasons spelled out above, there's still a game to play. My question to Toffoli was how do you approach any sort of conversation or what have you during warmups. Do you keep it strictly business or do you go out of your way for a quick chat or a tap on the shins, something to that effect.
"I'll probably look over at him, if we make eye contact I'm sure we'll smile," Toffoli said with a chuckle. "It's not like we're going to be looking for each other, I'll see him after the game probably, but at the same time I can call him or text him if I really need to talk to him."
Or, after joking that it is in fact 2018 and that it's pretty easy to stay in communication with all of the mediums available – "I'll Instagram photo him."
Fantenberg Steps Up
Defenseman Oscar Fantenberg has been a mainstay on the ice on this roadtrip to date. The second-year defenseman has logged over 20 minutes of ice time in each of the three games to date, including a career-high 24:23 on Tuesday in Buffalo. While that game, with the Kings down to just four defensemen, was a bit of a one-off, Fantenberg also cracked the 20-minute mark on Monday in Detroit and last night in Columbus.
"I think it's easier to play a lot of minutes, than [to play a little bit less]," Fantenberg said. "When guys go down injured, it's never fun to see guys go down, but other guys have to step up and play more minutes. I've been able to do that these couple of games and I like playing a lot, so I think it's good for me and it's fun."
Fantenberg skated alongside Drew Doughty on the team's top pairing against the Blue Jackets as he finished with 20:53 in time-on-ice, second to only Doughty's 26+ minutes. The 27-year-old blueliner noted that playing alongside Doughty was an easy transition, considering his elite skill set.
"It's super easy, he's the best d-man in the league I think, so I think it's just super easy for me. He talks a lot on the ice too, he makes plays and it gives you that little bit of extra time and space, so it's a little bit easier, it's always nice to play with him."
While Fantenberg has not had that extended run of big minutes in the NHL so far, he does have the experience in North America playing at that level. Playing last season with the Ontario Reign in the AHL, Fantenberg went down for the second-half of the season and logged big minutes on the blueline for Mike Stothers' club.
"I played a lot in Ontario and that's helped me a lot this year too," Fantenberg said. "Even in the playoffs last year, when I was down in Ontario, one thing I knew was that they were going to play me a lot and playing for Stutts and Bellsy, they were going to give me a chance to play a lot and get me into the shape to be able to handle those minutes, even up here. It's a little bit different how you have to play it, but if you have done it for awhile, you know how to do it, so it was good for me to go there and play a lot."
Practice Notes & Quotes coming later today…….until then, Insiders.