Anze Kopitar – Stanley Cup Champion, Selke Trophy winner, defenseman?
"It was funny, because a guy like Kopi is down there saying, 'I can play D.'" Kings Head Coach Willie Desjardins said about yesterday's defensive predicament. "And it's funny, because he'd be a great D, he really would. He'd be great, but the only problem is we needed him up front, it's not often you get a guy playing that kind of minutes up front, he played a ton but he's that kind of guy."
Desjardins was put in a difficult situation last evening with the upper-body injuries to Drew Doughty and Dion Phaneuf, that put the Kings down to four defensemen for the better parts of two periods and overtime last night.
Desjardins updated a small group of traveling media this morning, following a practice that featured eight skaters and both goaltenders, on the status of both players. Doughty remains with the team in Columbus and is a possibility to play tomorrow, consider him day-to-day. Phaneuf left the team and flew home to Los Angeles. Additionally, per a Kings press release, defenseman Alec Martinez has been placed on injured reserve, retroactive to December 8.
"Dion flew back, so he's back [in LA]," Desjardins said. "He'll be a little bit for sure, he'll have to be evaluated once he gets back. Drew, I said it last night, he's day-to-day. We just have to see how he responds to treatment and we'll have a better idea tomorrow."
During last night's overtime session, with Oscar Fantenberg in the penalty box, Desjardins looked at his bench and saw only Sean Walker on the defensive side, with Jake Muzzin and Derek Forbort on the ice for the 3-on-4 situation. In the moment, center Nate Thompson was the emergency defenseman if the moment arose.
"We were ready, Thompson was going to go," Desjardins said. "We had it set before and we had talked earlier during the game and he knew that if something happened, he was going to be going."
Desjardins went on to speak highly of Thompson's character in a willingness to fill in, highlighted by his third-period scrap last night to try and inject some life into the team.
"Thommy's tried to step up and yesterday was trying to get us going a little bit," Desjardins said. "That was a character thing too, he did something to try to get us going. You've got to respect that as well."
In the interim, expect young defenseman Daniel Brickley to fill the roster spot with the Kings, getting the recall from the Ontario Reign. Brickley, who was a highly-touted free agent signing out of the college ranks this summer, has skated in all but one Reign game so far this season, collecting five points (2-3-5), 12 penalty minutes and a -17 rating from 21 games played.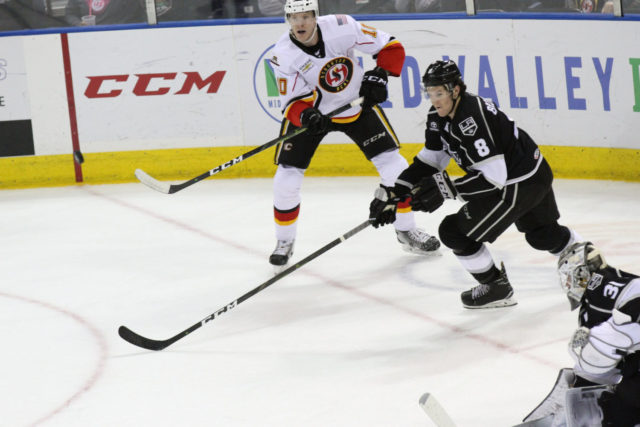 Whether Doughty is able to go or not tomorrow remains to be seen, but defenseman Jake Muzzin showed yesterday evening that he is capable of leading the line on defense. Muzzin logged a career-high 30:35 on the blueline last night, surpassing his previous career high by more than a minute and a half. The 6-3 defenseman also collected two points and, in the words of his head coach, set a new bar for where he can be as a player.
"If there's ever any benefit of guys getting injured, it's other people get an opportunity to show what they can do and that's happened right now," Desjardins said. "I think Muzzy just set a different level of where he can be. I always believe that if you do it once, you can do it again…we've always known he's a very good player, he's a character guy, he cares about his team, all those things, but he's never had the chance to play those minutes before. Now he's had the chance and now it's just a different bar."
Speaking of opportunity, a similar chance was provided for the other three blueliners that made it through yesterday's game, especially Sean Walker, who was recalled earlier this week from Ontario. Thrust into a larger role than was originally envisioned for him, Walker logged more than 16 minutes last night, playing on the penalty kill and going every other shift for the better part of 40 minutes.
"They were starting at a different level, especially Walker coming in, he hadn't even been on the team and he showed that he can be an NHL player, which is good, and I think he's shown it in the past" Desjardins said. "I thought he took advantage of the situation as well."
For the Bowling Green product, while he didn't come in expecting such an expanded role in his first game back from the AHL, it may have actually made his job easier logging more minutes and playing in more situations.
"I think everybody will say that if you're playing lots, it'll be easier," Walker said. "Unfortunately the injuries happened, those are two big guys in our d-core, but to get out there every other shift was good. You really get in a groove and you feel comfortable and a little confidence comes when you start making good plays so it was nice."
Last night was not a debut for Walker – the 5-10 blueliner played in four games with the Kings earlier this season – but it was his first game at this level in more than a month. Walker has been an offensive presence in the AHL, with six goals and 17 points from 20 AHL games played. Following his first NHL stint, Walker noted that the message from the Kings was to continue to improve his defensive play for a future recall.
"The general thing was just d-zone and d-zone coverage," Walker said. "Up here, it's so important to defend against all of the guys because everyone's going to be able to capitalize on their chances. You have to make sure you're limiting those and that was the big message."
In last night's game against Buffalo, Walker felt a little bit more comfortable in what was now his fifth NHL contest.
"Coming back up, for sure the nerves aren't there [as much as they were the first time around]," he said. "It was still a little nerve-wracking and then you get the first couple of shifts in and get into a groove."
Looking ahead, the Kings will have a morning skate tomorrow at Nationwide Arena, expected to be around 11:30 a.m.