INSIDERS. A happy Friday to you and yours. Before we break and reconvene for a Saturday game day, there were quite of few notes from Toyota Sports Center, where the LA Kings held an optional 11:00 a.m. practice.
A class act, all the way. Very similar to what he said when I reached out. A great hockey family. pic.twitter.com/GR0BtDOOLf

— Jon Rosen (@lakingsinsider) November 9, 2018
–First off, it's likely that Michael Amadio will get back into the lineup Saturday against Calgary (7:00 p.m. / FOX Sports West / FOX Sports app / LA Kings Audio Network). Willie Desjardins referenced Amadio's strong training camp before noting that he "got banged up a little bit." Amadio never missed a practice due to this unspecified ailment, and after some light digging appeared that he was essentially just dealing with the type of dings and scrapes associated with the daily, physical NHL grind.
Desjardins noted the unspoken Catch-22 with Amadio, given that he'll improve with experience, and the only way he can gain more experience is by playing more regularly. "That's always a bit of the trick," he said. He also noted that Amadio "might have to be a little bit heavier" in the way that he plays, and the team is still looking for that second wave to assert itself.
"The younger group has to start taking way more ownership on winning. It's been too long, and we've been relying on the older guys to do it. The younger guys have to start chipping in, for sure," Desjardins said.
This applies to a number of younger players that haven't yet eased some of the scoring and leadership burden off the veterans, whether Amadio, or Adrian Kempe, or any of the other younger players looking to affix themselves permanently to the lineup.
"All those young guys are good enough to play. Amadio, I haven't seen, so I can't say that. But from what they've said, he's good enough to play, Desjardins said. "Luff and them? He's good enough to play. Will he get to play every time? I don't know, but it's up to him because he can play. If he goes out and plays the way he can do it, then he should be in the lineup all the time. Kempe's the same. He's a guy that's good enough that if he goes out every night and works hard and does his job, he's an NHL player. The hard thing with young guys sometimes is they're a little bit more inconsistent, so that's why they go in and out. But the good thing is they are good enough. That's a good thing. We're not trying to take somebody that can't play and make him a player. They're players."
–More from Desjardins, on how the hot start against Minnesota seemed to be sawed off, and why the pace of the game seemed to change: "If there was an easy answer, we probably would've adjusted it during the game. I think your habits play a big part into it. We really started to try to improve the tempo and play with more speed in our game, and I thought we took a really good step yesterday in the first period, and I even think in the first period against Anaheim we were really good early. That shows that we're doing that. Now we have to keep sustaining it. We didn't sustain it yesterday. The second period was OK. The one I was kind of surprised at was our third. I thought we'd have a better start in the third. I thought we were moving well, but we didn't get really good results. But I think as a group, it's a bit of a process for us to keep improving, and I thought it was a good step yesterday. In the Anaheim game, we scored on the power play. That was the difference. We win. Last night we didn't score on the power play, and we lose. One goal here or there, it certainly would've made a difference last night."
–Tanner Pearson met with reporters and broadcasters on Friday to explain why he defaced the crystal skull in the haunted Viking cemetary his difficult start to the season. Additional quotes are below, but there were several interesting takeaways.
First of all, Pearson has sought additional evaluation from Darryl Belfry, the President and Founder of Playmakers Inc., who has created "a powerful curriculum of discovering authentic identity, pinpointing translatable skill, building personal performance matrix, and training 'pandora' skill habits in a continuum to help clients improve their ability to draw confidence and sustain adversity."
This is in a similar vein to the work Adam Oates – who was at Toyota Sports Center on Friday – will be undertaking with Los Angeles, but Belfry has not been hired by the Kings. This is an additional set of eyes Pearson has independently trusted in scrutinizing his shifts and dynamic aspects of his performance that might not be immediately visible.
"It's definitely helped out to have someone know how you're playing and watch your shifts and what you can be better at, here or there," said Pearson, who noted a turnaround in his game after a difficult two weeks to begin the season. Entering Saturday, he has one assist, a minus-seven rating and 22 shots on goal in 15 games.
It's similar to the type of work Pearson has undertaken in the past, when he has approached members of the team staff to provide DVDs of his shifts so that he could pinpoint out where his shots were coming from and the types of scoring chances he had generated.
"Yeah, I did that in the summer, too, with Sammy (Samson Lee), our video guy," he said. "He can draw or graph out where your shots were generated, where your goals were – like all your shots. And you can click on that dot, and it'll show you that instance. It's too [much] technology for me, but he knows what he's doing, so I just go to him."
"It's obviously been kind of tough, but I think I hit a low point maybe six games into the year. I had a look at everything, and there was only one way to go from there. I think recently my game's pointed up, but there are still things I can do better. I feel like I'm getting more chances than I had the first handful of games, which is obviously a plus. One's bound to go in if you just keep generating stuff."
One aspect he'll look to use video and additional data to improve is where and how he's getting his shots off.
"I think the more shots you generate in the house kind of thing, you obviously benefit yourself. Looking at shots from the middle, closer range, not so far out, usually is one, and I've been looking a lot more and not using the puck as a grenade type of thing and having confidence with it."
He's long overdue. It's a bit different from last year, when he posted a team-best 3.1 on-ice GF/60, drew a team-best 24 penalties and posted a career-high 25 assists, even as his scoring dropped from 24 goals to 15. It wasn't regarded as a good season, because goals are goals are goals, but Pearson did his part as someone most comfortable winning trench battles, screening goaltenders and aiding the team's forecheck with his north-south play.
"I've seen him before. I've had a good read," Desjardins said. "Two years ago, he came in and was playing so well as a young player. I don't think he's played quite as well now, and different things go into that. Confidence is so important in our game, and if you lose confidence, then you just become a totally different player. And the other thing, too, is passion. Like, I've always said you can't tell where a team's at or a player's at if they're not playing with passion. When you're not doing as well, maybe you're losing a little passion for the game and you find it tough or so. I don't think he's playing his best right now, but he has had an upside in him, so we'll do our jobs to try to get him back to that spot."
–As for the consulting agreement with Oates – CEO of the Oates Sports Group – Los Angeles will rely on the Hockey Hall of Famer for advice "regarding player skills evaluation and development."
"I think he'll work through management and the coaches, and then we'll just kind of see where the fit is and what's going to happen," Desjardins said. "I think it just depends when he comes in how that goes and where that fits. But he's areal smart guy, he has some real good ideas, he's worked with lots of other groups and … individuals. I haven't met him, but I'm interested to hear his thoughts. There are some things that I've heard that we'll be able to use."
–Luc Robitaille and Daryl Evans met with 15 members of LA Air Force Base to discuss the team's operations and practices and to provide a tour of team areas within Toyota Sports Center. More information on this weekend's Salute To Service events is here.
Amazing gesture by #LAKings wives: They'll assemble baby gifts for expectant military couples who will be honored at Saturday's game vs Calgary as part of a Salute to Service celebration. 30 couples stationed locally will be treated to a baby shower in a @STAPLESCenter suite.

— Jon Rosen (@lakingsinsider) November 8, 2018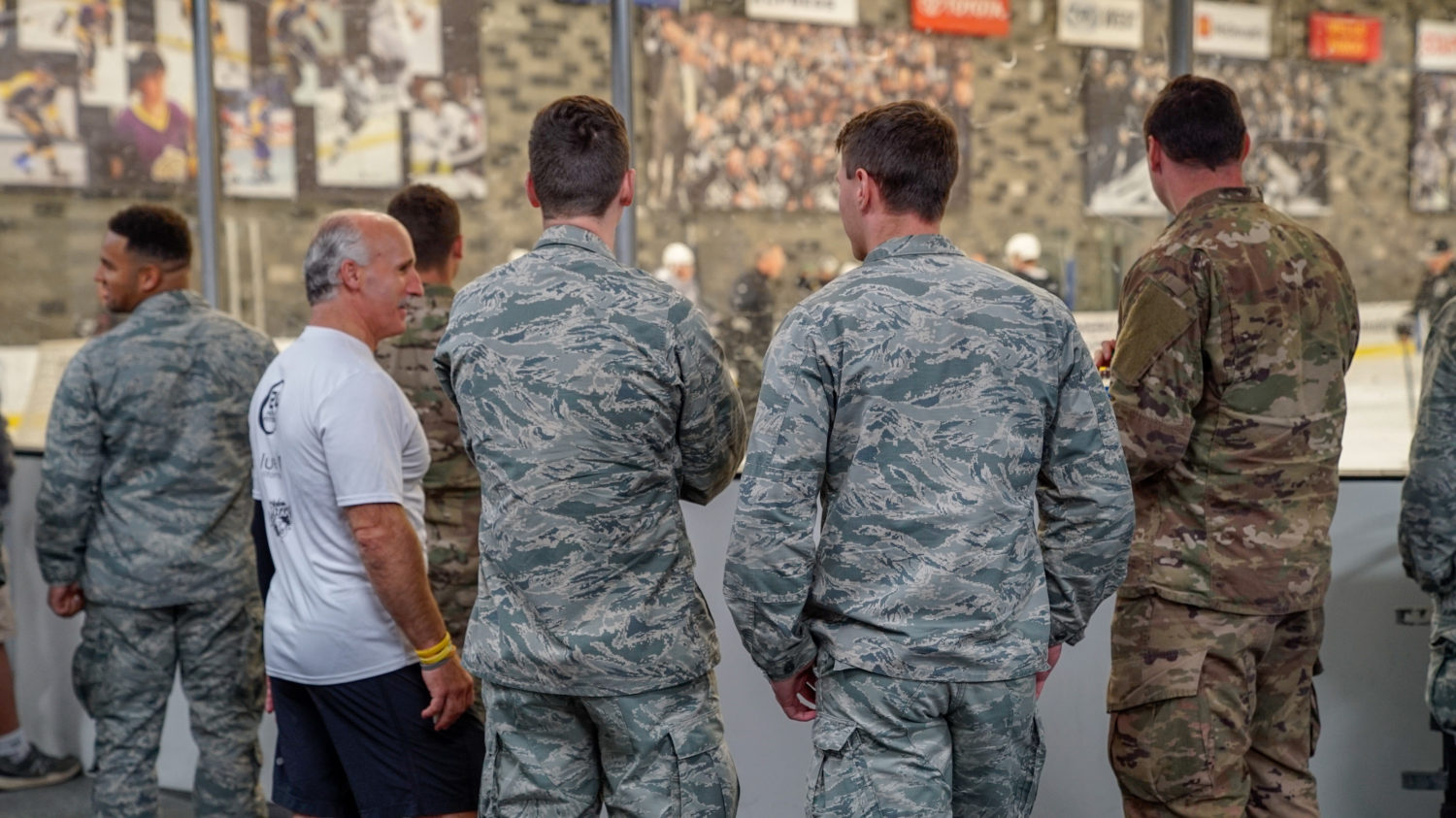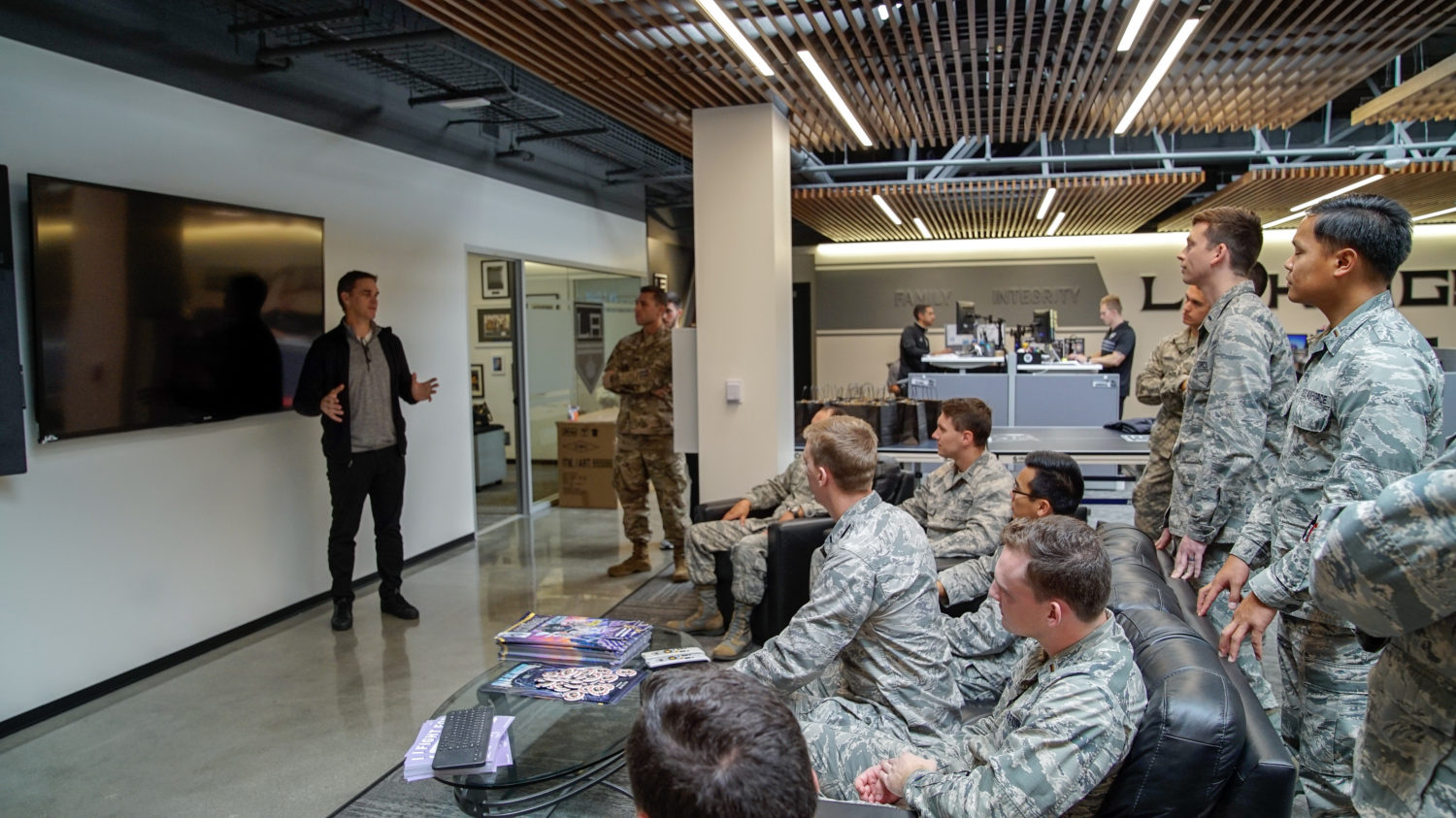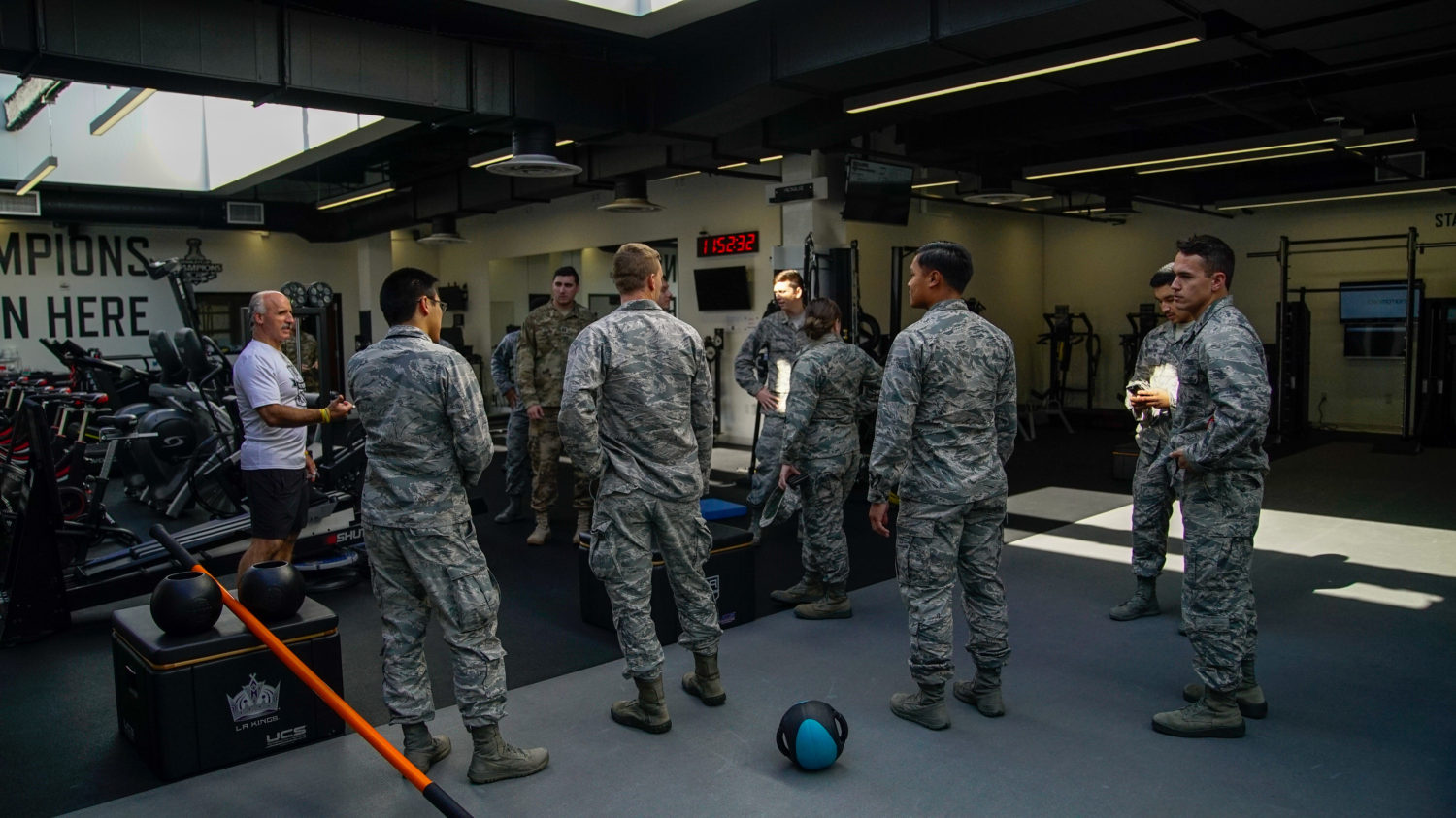 Tanner Pearson, on the message from Willie Desjardins:
I think everyone met with him the day that he got hired. I think he wants everyone to play their game. We've seen each other enough within the same conference when he was in Vancouver. He thinks I can be a good player, and I think he's been happy with how I've been playing so far, the past two games that he's been here, I guess.
Pearson, on how Desjardins' structuring compares to other coaches he's played under:
Meetings, we do our power play meeting. He gives us the clips on how the other team works, and then he goes talk amongst yourselves on how you want to do your breakout or how you want to set up in-zone. He gives us what they're doing. It's up to us to execute our plan. [Reporter: What's the right amount of video? Like, as a player, what's best for you?] I think all our coaches have always been pretty keen on video. They've never been shy to do video. Like, today, we did chances against and chances for, and it was wrapped up in 10 minutes. It's a bit different, but it's nice.
Pearson, on what aspects of the team game can be improved:
I think we looked at our game with five back quick, and especially in the past, when we've done that, we get the puck out quicker and it usually benefits us to go north as fast as we can. We looked at that, and we've done a good job of that the past couple games, and it's worked out for us, kind of.
Pearson, on Bill Ranford's presence on the bench in advance of Marco Sturm's arrival:
Billy's been here since I got here, so everyone's pretty familiar with him. He knows our systems in and out. He's been here for a long time. Especially right now, maybe he has a different look on the type of a guy's shot or something, and maybe he can help me out right now, but he's definitely a positive guy back there, for sure.
Pearson, on whether he ever peruses hockey stats sites:
No. You get your stat sheet after the game, and that's about as far as it goes. [Reporter: What do you look at? Like, what are the types of things in a typical game that you're looking at in a stat sheet?] On a stat sheet? Probably just shots, shot attempts, hits, blocked shots, that kind of stuff. I guess if you're a centerman, you're probably looking at that. Just the ordinary stuff. [Reporter: Intuitively, you know. You don't need to be shown.] No, you can pretty much go through a game and realize how you played just kind of off memory. Sometimes you play better than the stat sheet shows, and sometimes you play worse than the stat sheet shows, so it's just kind of one of those things.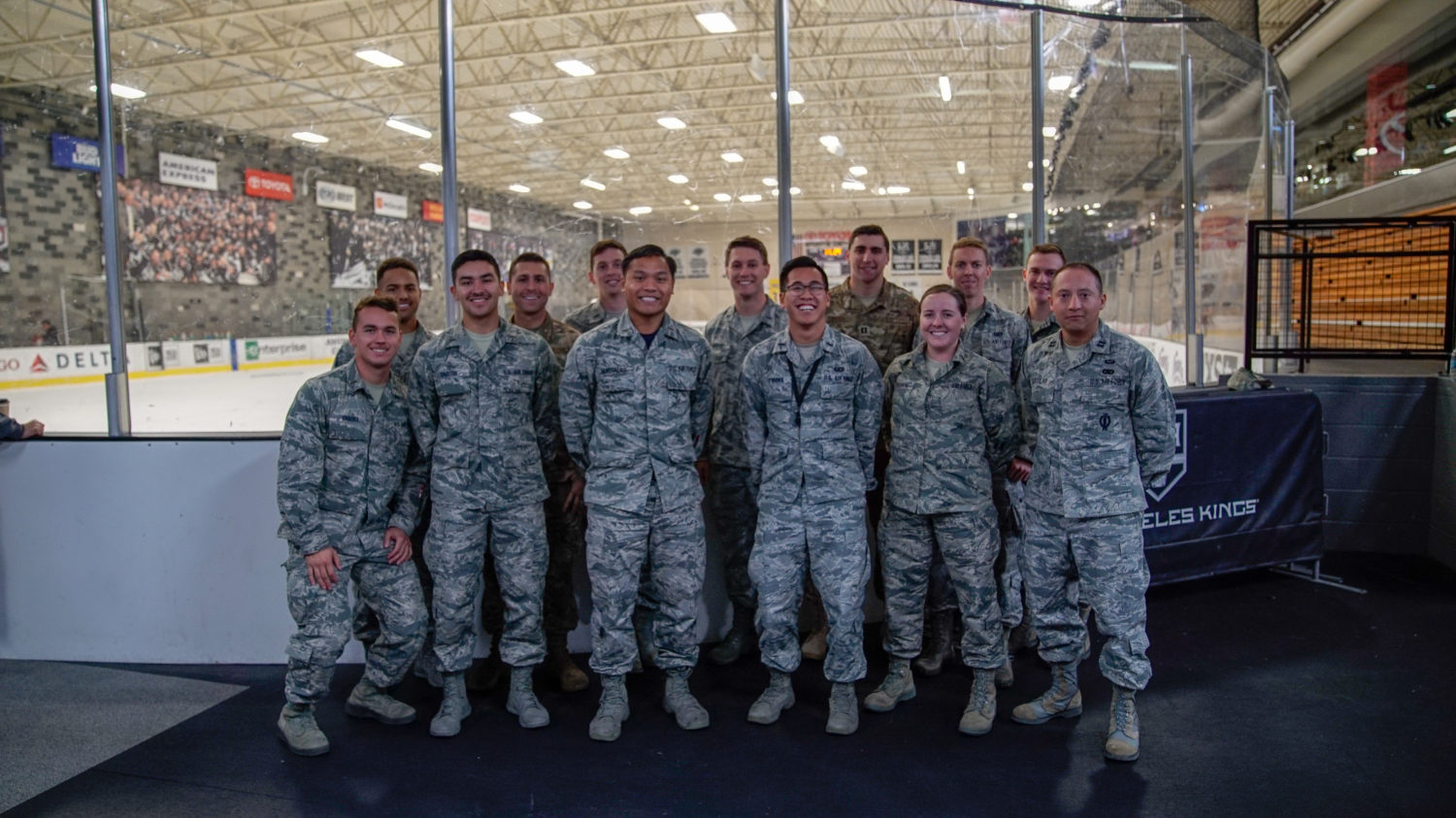 –Lead photo via Harry How/Getty Images