The Kings are in the midst of a stretch of consecutive practice days, following yesterday's day off, without a game on the horizon until Thursday. With the exception of the days off leading into Opening Night, this three-day stretch of no games marks the first set of three non-game days so far this season, and the only time the team will have three days off in a row until mid-December.
When asked what the focus was with the back-to-back practice days, Kings Head Coach John Stevens gave a very detailed response –
"We just want to build off of the Rangers game. I thought we did some really good things in terms of both sides of the puck. I thought our ability to move pucks with speed was really good, I thought we were able to get some pressure in the offensive, where we got the forecheck was effective, I thought we did a much better job of getting to the net in that game, I think that's been a real part of our game that's been absent. We want to be able to execute with the puck, I think if you can manage the puck you can spend time in the other zone and we hadn't been able to do that. Last game, our ability to get to the blue paint was as good as it's been and we want to continue to move pucks with speed. It's just a good opportunity, quite honestly, to review all parts of our game, you don't often get times like this, and try and build off of the positive things we did last game. You win a hockey game, guys feel better about themselves, so we're really trying to review all parts of our game. We met with the D as a group today, we met with the lines individually and we'll do a team review tomorrow and really try and get our pace up tomorrow. Our big focus as a team is our transition and that's both ways – transition from offense to defense and transition from defense to offense and make it more instinctive."
Couple Of Notes –
– Jonathan Quick was not on the ice today (as expected). Quick was previously listed as day-to-day via hockey operations.
In his post-practice media scrum, Stevens described Quick as "probably more than day-to-day" while also noting that he did not consider his starting netminder's injury to be extremely long-term either.
Stevens on Quick's importance to his hockey team
Well, he's an important guy on our team, you want him healthy and in the net. He's been one guy that's been able to carry a heavy workload. We've had several of those guys – Kopi, Brownie, Drew – but he's your starting goalie, he's a big part of your team and you want him in net. Injuries do happen and not sure there's anything in particular you can point to in this situation. I think he's done a good job of really staying on top of everything, his preventative maintenance, his daily routines, so these things happen sometimes and you have to deal with them. But obviously, you'd like to have him healthy and in the net.
– Gabe Vilardi was on the ice in a non-contact red jersey and took part in many of the drills, subbing in on different lines at times. Vilardi also skated with the Kings at their last team practice on Saturday so that marks two straight for the 2016 first-round draft pick.
Vilardi described his road back as a "process" that he's just sticking to at the moment while also noting the need to keep an "open mindset" while he's essentially on one schedule, while the rest of the Kings group is on their own.
"For me it's a day-by-day thing," Vilardi said when asked what his next step could be. "It's probably more of a question for the trainers, they let me know what's going on and I go from there.
– Stevens was also asked about defenseman Sean Walker during media availability. He noted that the first thing that is a big adjustment for a young defenseman is usually the speed of the game, which he felt Walker has not had a problem adapting to. Here's his full quote on how Walker has fared through three games with the big club –
"I think his pace is fine, I think his play with the puck has been fine, I think he needs to continue to improve without the puck. I think the biggest challenge for a defenseman at this level is the speed of the game, which I think he's fine with, but the biggest challenge for a young defenseman in the National Hockey League is 'five feet' can hurt you here. You give up five feet in the American Hockey League, you might not get hurt by it, you give up five feet here to really good players and they can make you pay, and I think he's starting to feel that and see that. How smart the players are, how quick things happen, how much five feet makes a difference, but until you've seen it, you don't understand it and now he's seen it. He's a really good student of the game and he's a really good kid that's coachable and I think that he'll continue to improve quickly with some direction."
– Lastly, attending today's practice were two reporters from Anze Kopitar's native country, Slovenia. Pretty cool!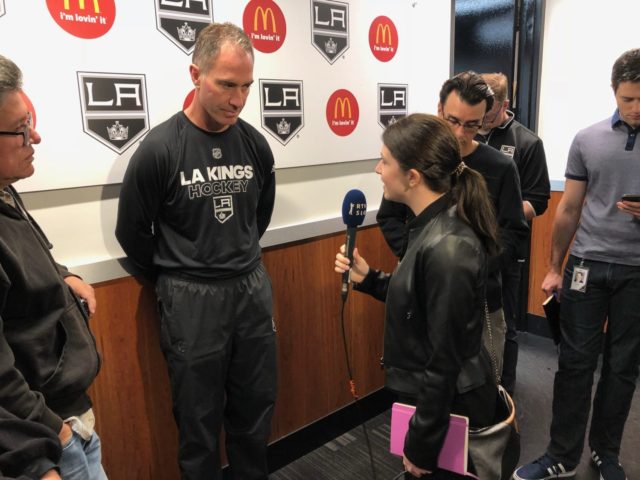 Jon is expected back tomorrow – *Self Plug*, Check Reign Insider later today with some player quotes & notes from today's practice.