The Ontario Reign are in preparation for their first meeting of the season against the Tucson Roadrunners on Friday evening. Friday's game begins another three-game homestand for Ontario, following a pair of games away from home last weekend in Colorado.
Some notebook items to keep you occupied for the next few hours until the next blog –
Reign Practice Notes
Will have a larger hockey story later today as we detail some things heading into tomorrow's game against Tucson. But for now, a few notes to get you started.
– Forward Zack Mitchell has been skating all week and Stothers noted that he is looking "very likely" for Friday's game. More from Stothers on Mitchell's return coming later.
– Forward Spencer Watson has been re-assigned to Manchester per hockey operations – That leaves Ontario with 13 forwards, 6 defensemen and 2 goaltenders heading into tomorrow.
– With the two above notes, the Reign sit at 19 skaters (all healthy, assuming Mitchell is good to go) and 2 goaltenders for Friday's game. With just the one game this weekend (and one game in total over an 11-day span), there's no immediate rush to add another player just for the sake of adding a player. However, with a pair of games the following week, and the Reign schedule ramping up a bit after that, one would imagine we'll see some sort movement before then. With Jon reporting HERE that Dustin Brown is expected to be activated from injured reserve prior to Sunday's game against the Rangers, that movement could come from the NHL level as the Kings would be at 24 skaters.
Walks This Way
Ontario Reign defenseman Sean Walker became the latest Reign alum to reach the NHL. Walker became the fourth Ontario alum to make their debut with the Kings this season (joining Austin Wagner, Jaret Anderson-Dolan and Sheldon Rempal) and the 27th player to play for both the Kings and Reign over the 3+ seasons that the Reign have been the AHL affiliate of the Kings.
Walker logged an assist and two shots on goal, along with an even +/- rating in his NHL debut on Tuesday, and per those late on the ice in Minnesota this morning, he is expected to remain in the lineup tonight against the Wild. His helper on Tuesday was a nice feed from his defensive zone to spring Tyler Toffoli the other way.
LA Kings rookie defenseman Sean Walker talks about playing his first NHL game, picking up his first career assist, and how the Kings can turn around their early season woes. pic.twitter.com/TRoabd3Qc6

— LA Kings (@LAKings) October 24, 2018
Across The Pond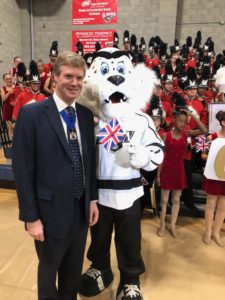 A pretty cool initiative that the Reign are taking part in –
The El Roble Marching Band, under the direction of Taylor Estep, in Claremont, CA has been selected to perform in the New Year's Day Parade in London in 2020. The event is invitation only for participation and the band was one of just three schools in the United States that were selected to perform. El Roble was also the only middle school selected to participate.
Former Lord Mayor of Westminster Duncan Sandys (the great-grandson of Winston Churchill) came to their school today to personally invite them.
So, why am I writing about this? Because Reign are partnering with the school for a fundraising night on December 22! The band will be performing both before the game and during intermission on that night, while raising money all evening to help fundraise for their trip.
My favorite TV show, The Office, came as a spinoff from a British show. Is that even relevant? Not really, but it gives me a loose connection to watch on YouTube during work hours and include this clip in my notebook.
The Reign's mascot Kingston made an appearance at the official invitation today at the school, check out a couple pics of the event.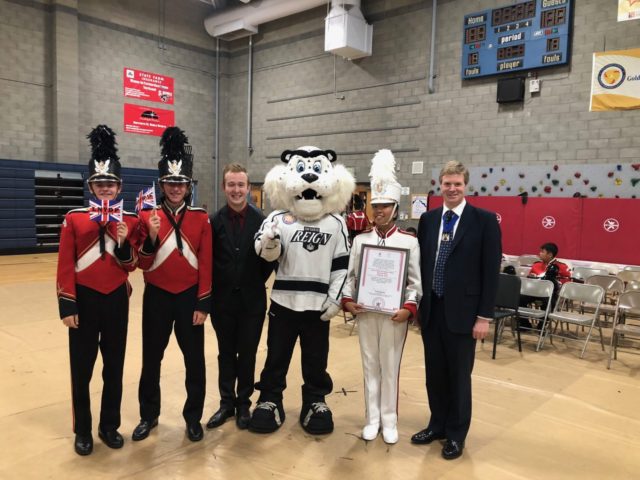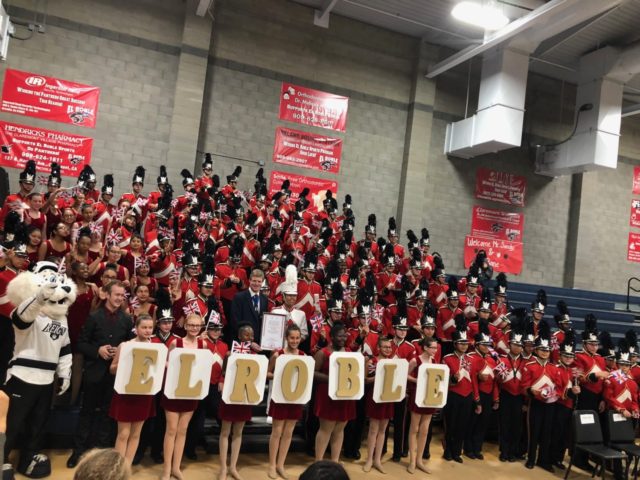 Reign Rookie Mixer
On Wednesday, the Reign held their third annual Rookie Mixer, featuring rookie players, rookie staff members and first year ALL-In members. The event took place on Tuesday at Big Al's in Ontario in a more casual setting with pizza, games and the Dodgers and Kings games on the big screens.
One of the highlights of the night was the players playing Pictionary in two teams against each other as an ice breaker. Below is a shot of Brad Morrison's mermaid.
Overall, seven players were at last night's event – Kyle Bauman, Mikey Eyssimont, Daniel Brickley, Brad Morrison, Kale Clague, Drake Rymsha and Chaz Reddekopp. That total of seven almost feels light when considering how young this season's Reign team is, but the number was as high as ten at one point with Rempal, Austin Strand and Cole Kehler a part of the team earlier this season.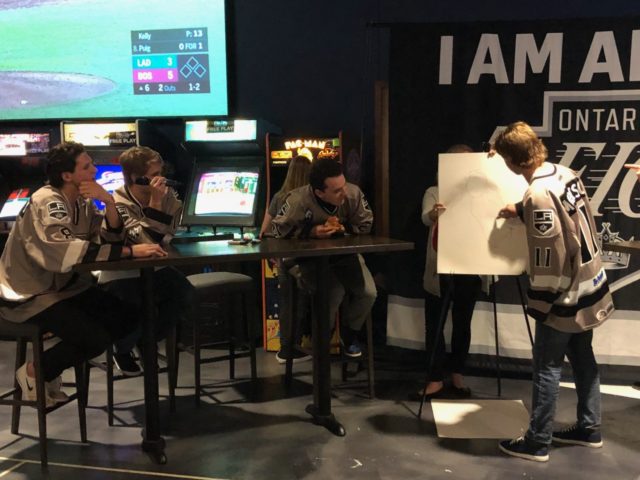 A Look Ahead
– The Reign have a few promotions on Friday, starting with the first specialty jersey night of the season, the annual San Antonio Regional Hospital jersey (pictured below).
– Friday is also the Reign's book drive, benefitting Big Brothers Big Sisters. Fans that donate a book at the game will be entered to win a Cal Petersen signed puck and player card set and all books donated will benefit Big Brothers Big Sisters Inland Empire.
– Moving forward from Friday, Hockey Fights Cancer Night is coming up on Saturday, November 3. Hockey Fights Cancer has been a very important initiative throughout the hockey community and there are some personal ties within the Reign team. Stay tuned for some of those stories leading up to the game.