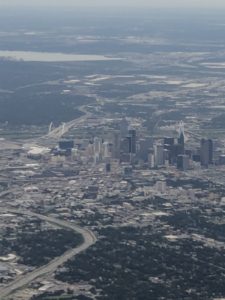 INSIDERS. The LA Kings practiced at Toyota Sports Center before scooting over towards LAX for their charter flight to Dallas. They took the ice shortly before 10:00 a.m. and were color-coded as such:
Gray: Iafallo-Kopitar-Toffoli
Blue: Kovalchuk-Carter-Rempal
White: Pearson-Kempe-Lewis
Yellow: Clifford-Thompson-Amadio-Wagner
Red: Brown
–Housekeeping notes: Brown (broken finger) will travel with the team to Dallas and Minnesota but is not eligible to play. He's ramped up his intensity and has become more integrated into practice. I'm expecting him to come off LTIR and play this Sunday against the New York Rangers, barring anything unforeseen. Gabe Vilardi skated between the Kings and Reign practices in a red no-contact jersey. We're probably five-to-seven days away from the next Vilardi update, given his expected evaluation timeline.
–So! You may remember – some of you – that the last time they left the ice, the Kings had lost by at least four goals for the third time in four games. Time to dig in! And dig in they did on Monday after resting Sunday during the second of the team's four CBA-mandated days off per month. With recent events in mind, Los Angeles got back to work in a detail-driven practice that had a good flow, according to the coach and the players.
"Can't go back in time. We've got to learn from the mistakes that we've made," Dion Phaneuf said. "We've got to move forward, and I thought today was a good practice, good energy, and it's about attitude and it's about bringing the right energy. You saw that today. We've had the work ethic. Sometimes we've got to work a little bit smarter. We know where we're at. We've got a veteran group in here, and it's about us to get ourselves out of it."
What about Friday's practice – the skate in between the Islanders and Sabres games? Did he have a good feeling coming out of that one? Is this current block an issue that can be worked out through practice detail and repetition?
"I don't think it's from lack of work ethic," Phaneuf said. "Sometimes when you go through a stretch like this, you give up one and everything tightens up. I think you've seen that from us. We've been guilty of almost playing against ourselves in the sense that if we give one up, we tighten up a little bit. We've got to find a way to work through that, because when you go through tough stretches, sometimes it feels like you're fighting an uphill battle, which you are, but you've got to try and tilt that hill."
What about the coaching staff? Did they hunker down in the coaches offices subsiding on nothing but milk and chocolate bars before emerging from the recovery day looking gaunt and sporting weathered gray beards? Yes, in case you were wondering. That's pretty much exactly it.
Because sarcasm isn't immediately noticeable on the internet, no, that's not actually what happened. But the staff did spend Sunday together looking at the team and narrowing the foci to areas to key in on in an attempt to improve, day-by-day.
"Sometimes it gets convoluted in terms of what you're thinking," John Stevens said. "I think you just narrow the message in terms of tracking and puck speed and give them some real specific direction in terms of how we want to do that, plan practice, talk about the lineup."
They had conversations about Jaret Anderson-Dolan and Sean Walker, continued to look at the team and figure out ways to improve while taking a gander at upcoming opponents on the trip.
Stevens liked the pace at Monday's practice.
"The whole idea, I just think we have to do a better job at being predictable to ourselves and allowing puck speed to make us faster," he said. "That's something that we really haven't done a very good job with, but just our whole attitude and embracing the idea of creating momentum with where the puck's going, knowing where it's going, can really help us. It's always been a foundation of this team, the way we track the hockey puck and play well in our own zone that's going to be key, but our puck speed and commitment to move the puck quicker to areas where we have headed, I think it'll go a long way to helping us to have less stress on ourselves and getting more stress on our opponent."
–On the decision to return Jaret Anderson-Dolan to WHL-Spokane, Stevens said, "We like a lot about him, pretty much everything. He's a great kid, really serious competitor. He's got a really well-rounded game – speed and quickness and his ability. I just think as young player, if you're not going to be playing in the situations all the time that you should be playing in, I always felt that young players need a reference point of success. If you keep moving a guy up before he has an opportunity to have success in the situations that I think his skill set allows, you're doing him a disservice. He can go back and be in a leadership role. He's a prime candidate for their world junior team. He's going to be in a leadership role on his hockey team, he's going to get big minutes in all situations, and I think the fact that he's here and had a real reference point in terms of what the league is and what he represents, I think it's important to thrive in the situations that he should be in. We played him at wing here, sometimes as center, fourth line. We think he's going to play in your top-nine forwards, and we think he's going to be an offensive guy that's going to be an NHL player for a long time. We just think it's best for his development as a young player to go back and get playing and get put in those situations where he can be counted on [providing] big minutes every night."
–If you followed LA Kings Insider and Reign Insider over the summer, you'd have known that a potential Sean Walker call-up this summer was "probably a safe bet." The 5-foot-11, 196-pound mobile defenseman will shoot from just about anywhere and goes to lengths to insert himself into situations that exude leadership and fearlessness. A two-time captain at Bowling Green, Walker has seen his assist and point totals, as well as his plus-minus, improve year-over year from his four years in Northwestern Ohio to his first pro season in 2017-18. The long-understood narrative on Walker is that the development staff and scouts would be working with and scouting their players in Ontario and across the AHL, but kept coming back to Walker, who was on an AHL contract but continued to impress management and take well to instruction.
Said Ontario Head Coach Mike Stothers in early August: "To be able to skate the way he does as a defenseman, he was always up in the play. In the early parts of last season, he was guilty of being up the ice a little bit too much, wanting to join the attack and be a bit of a rover. Once he realized that first and foremost he has to look after our end, his skating ability, awareness and hockey sense took over and he was able to really capitalize on the offensive skills that he has."
Through the first seven games of the season, Walker totaled three goals, six points and a plus-one rating. It's hard to place this within a number of benchmark career moments, because he's a player who was signed to an American Hockey League contract out of college and didn't have the benefit of previously having attended training camps. His name was never called on draft day.
"I didn't really have too high expectations at that time [I joined the organization]," he said. "Last year, after I had a pretty good year, this was obviously the end goal. To get the opportunity to come up and be a part of this is really big for me."
Scoring seven times as a defenseman in 64 games allowed Walker to recalibrate those expectations and who exactly he could be as a pro.
"Of course I didn't expect to have that many points [in Ontario], but I can't take all the credit," he said. "We had a great team last year. We had lots of forwards that were really producing up front. I was just doing my job getting the puck to them and shooting pucks on net. It was a real team effort, and I think I was just trying to help offensively as much as I could."
"I'm sure [my NHL debut] will be pretty surreal. I haven't thought about it too much. I'm not sure when I'm supposed to play, if I'll even get a game. If I do, I'm going to really take it in and enjoy every moment of it."
Given that the Kings are carrying eight defensemen, it's not a given that he gets into a game on this trip. But Walker is a right-shot, and the Kings' lineup on Saturday had only one right-handed defenseman on it. Does John Stevens place extra weight on searching for that coveted lefty-righty defensive pairing? Yes, a little bit, as any coach does. He considers everything, and surely that balance has helped the team in the past. There are more righties playing in the game than ever before.
"You used to play the Soviet Union, and I think they didn't have a right-handed player. They used to have maybe one right-handed player and the rest were all lefties," said Stevens, who also referenced Detroit's lefty-heavy defense during their heyday.
In all likeliness, the Kings will still be getting key minutes from defensemen playing on their off-side this week. Alec Martinez, Dion Phaneuf and Oscar Fantenberg are all left-shot defenseman who've played the right side during their Kings tenure.
"I think it helps you in certain areas with moving pucks quicker. There are some advantages to playing on your off-side and some disadvantages playing on the off-side. But, at the end of the day, you want your best players in there, but you'd certainly consider the match-up – does a lefty-right play better as opposed to two lefties or two righties? You'd consider all of it."
Regardless of which side he lines up on, Stevens has liked Walker's skill set and what he's seen and heard of the soon-to-be 24-year-old.
"Everyone that's been watching him has said he's played really well down there," he said. "He's a kid that skates extremely well. He gives you a real mobile puck-mover and a real competitive kid that has a good hockey IQ. I think it just gives you some mobility and a right shot is what we're looking at."
"I don't think one guy's going to fix all your problems, but certainly trending in that direction, and I think just the message here, we've got to do a lot better job with our puck speed. I think we're stressing ourselves way too much by not getting a puck moving to speed, and not stretching our opponent here enough. Certainly his skill set should be able to help us there."
–Stevens, on whether Jonathan Quick is "being asked to do too much": "One thing with a goalie is I think just like we say being predictable with the puck, we've got to be predictable without the puck, and I think the big key for a goalie to have success is he's got to know what we're taking away and what he's responsible for, and I think it's just been a little too loose in that regard. We've got to do a better job of taking care of our own responsibilities so he knows what he's [responsible for]. He's going to have to make great saves, and he's going to have to be a really good goalie for us. I just think we have to do a better job of being predictable to him, but we all need to be better."