It's Saturday morning and the Reign were back on the ice today for another practice in advance of Monday's preseason finale against San Diego. As the saying goes, Saturdays are for the hard-hitting content, so today we look at the hot-button topic that's been on everyone's mind throughout the first week of the preseason – Colton Saucerman's beard.
You know you've noticed it and you know you want to learn more about it.
Saucerman's beard originally took the Ontario Reign by storm in March of last season, gaining attention from fans and staff alike after he made his Reign debut on March 18 against San Jose. Though Saucerman played in just the one AHL game with Ontario last season (he also appeared in 11 more between Springfield and Providence), he was a familiar face when he returned to the team this fall for training camp on a PTO.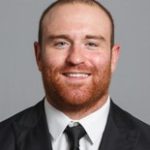 If you look back to his college headshot, the beard wasn't always a part of his appearance. For Saucerman, the beard began with a suggestion from a friend………
"It kind of just started with when I decided to shave my head and a buddy of mine said 'you should just grow out your beard now that you're bald, it'd be a good look for you," Saucerman mentioned. "I've always had good facial hair since I was younger so I just said I'll rock it and see how it goes and people loved it."
Loved it indeed – While the players are just getting started this season, Saucerman's beard is already in midseason form and with great beard comes great attention.
Saucerman's beard got plenty of play throughout his two full seasons as a professional. In his time with the Manchester Monarchs, fans started a "Fear The Beard" slogan and even started to bring beards to games as a tribute to Saucerman. Throughout his career, Saucerman noted that he's definitely received extra attention as a result of his facial hair.
"A fair amount, I can't really hide out there with it so I stand out like a sore thumb," he said. "I definitely get a little bit more attention than I would without it."
The attention has come not just on the ice but away from the ice as well. We live in a social media world and fittingly, some of that attention has come via Twitter.
"I think my beard has its own Twitter account which is kind of funny, I don't even know who runs it," he noted.
While the account has died down a bit in terms of activity since originally joining Twitter in March 2017, it did score a follow from Saucerman himself along with ESPN's Bob Ley, who has grown a beard of his own from time-to-time.
I've seen Saucerman play quite a bit over his last two seasons with the Monarchs, as well as during training camp and preseason here with Ontario and I've always wondered whether the beard got in the way at all as he played. You wonder if having that extra mass on your chin impedes a player at all when he played but he assured me that it "doesn't get in the way at all."
The only negative notion that he mentioned he's heard and is with regards to what he called "professionalism."
"The only thing I've heard is that it's not as professional, a lot of teams maybe don't care for the facial hair unless it's the playoffs or Movember or something like that," he mentioned. "That's the only negative connotation I've ever heard towards it but I don't think facial hair and tattoos mean unprofessionalism in this day and age so I think as long as I keep it trimmed and under control, it's okay."
Across the hockey industry – and frankly, the workplace in general – the stigma around the professionalism of working with a beard is dwindling. Look no further than a San Jose Sharks game and you'll see that athletes at the highest of levels have beards of Saucerman's extreme as well.
In the hockey world, beard chatter is usually reserved for April when the postseason rolls around. Playoff beards have been a part of the sport since the Islanders' dynasties of the early 80's began growing out their facial hair during their playoff runs.
With a fully-grown beard and then some during the regular season, does it get better for Saucerman during the playoffs?
"It gets pretty wild," he said, laughing.
By the picture below, taken with Manchester during the 2018 Kelly Cup Playoffs, where the Monarchs reached Round 2, that is accurate.
The only question that remained was the most important one of the day. Is Saucerman's beard the best in the league? He answered that question with four, to-the-point words.
"Yes, I'd say so."