Vegas Golden Knights 2, Los Angeles Kings 0
Final
SOG: LAK – 26; VGK – 30
PP: LAK – 0/5; VGK – 0/2
THIRD PERIOD
20:00: Jump Around.
19:27: Martinez snapper from above the right circle saved by Fleury with traffic in front.
16:40: Kempe crossbar (goalpost?) off a rush.
15:00: Toffoli snapper. Fleury save. Stop me if you've heard this before, but the Golden Knights are leading the Kings, 1-0.
14:25: Heavy Vegas pressure. Good Campbell right pad save on Nosek. LAKI is a fan of Nosek's game.
12:30: Pearson deied on a point blank Fantenberg rebound.
12:18: Heavy Fantenberg hit on Haula.
11:50: Fleury denies Muzzin's left circle bid. High-grade chance.
11:13: Pretty good push by the Kings. Highly respectable performance by their B-team. Campbell sharp in goal.
10:57: And just as I write that, Campbell makes an outstanding glove save on Theodore's Grade-A wristshot from the slot.
10:46: MacDermid, Reaves have to be separated. Imagine that! Roughing on MacDermid, cross-checking on Engelland.
10:25: Another Fleury poke check ends a Kings chance. It's on Iafallo this time.
9:40: "Beat LA" chants in the preseason.
6:40: Great dive by Fantenberg to break up a developing play down low. He's played well in this building.
3:11: Lewis dives to block a Miller wrister from above the right circle.
1:44: Campbell save on Nosek's spin-and-shoot after bringing the puck out from behind the net.
0:03: VGK GOAL. 2-0. McNabb (unassisted). McNabb empty netter from his own zone.
SECOND PERIOD
20:00: Let's do this.
18:22: Good stick by Miller to disrupt an Iafallo-to-Kempe two-on-one-and-a-half feed.
18:08: VGK PENALTY. Pacioretty for hooking Kempe. Got his stick on his upper arm and pulled. Can't do that!
16:40: Fantenberg slap/pass redirected by Anderson-Dolan wide. High-grade chance.
15:20: Good Marchessault-to-Karlsson feed; redirected just wide. That line again.
15:14: LAK PENALTY. Fantenberg for tripping.
13:42: Kings turnover; Karlsson-Smith-Karlsson give-and-go. Campbell save; puck pops up and into his glove. Faceoff.
13:05: VGK GOAL. 1-0. Reaves (Marchessault, Theodore). Reaves deflects a Marchessault perimeter shot past Campbell. Reaves' stick appeared to be right around or above the level of the crossbar, but there's no review in the preseason. In the regular season, that goal probably doesn't count.
9:40: Kings struggling to leave the zone cleanly.
8:45: Nate Thompson Patented Drew Doughty Spin Move Count: 1
7:55: The wave. Allowed in preseason, right?
5:37: The atmosphere for a preseason game here is better than most rinks' atmospheres in the regular season.
5:00: Reaves with a hit on Wagner along the boards after Wagner took an extra beat or two to play a puck.
2:37: Good zone time by L.A., but the movement ends when Fleury knocks down Amadio's one-time bid from the left circle and covers up.
2:22: Fleury pad save on Amadio. Decent chance.
2:12: Fleury pad save on Toffoli. Decent chance.
1:59: Fleury caught out of possession, but Pearson's stuff job ends up wide.
1:30: Speed move by Wagner towards the front of the net gets him past McNabb, but Fleury dives and pokes the puck away with his stick.
0:00: Brickley block on Theodore at the buzzer.
FIRST PERIOD
20:00: Game time.
19:50: Excellent outlet by Muzzin under pressure. Leads to a Lewis rush; Fleury fights off his shot from the right circle.
18:52: LAK PENALTY. Toffoli for high-sticking Marchessault.
16:52: Good Vegas pressure, but no outright Grade-A chances.
14:22: Haula deflection trickles juuuuuuust wide.
12:40: Good shift by Wagner. Two strong plays along the boards.
11:00: Grade-A opportunity, Kings. Excellent save, Fleury. Kempe spins, backhands the puck to the low slot, where Lewis redirects it on net. Kick save, MAF.
10:00: Another strong net drive by Wagner. With two bodies draped on him, makes a power move to the net. Fleury makes a stop on his point blank shot. Some contact. Still scoreless.
9:05: Clifford elects to shoot on a partial two-on-one. Wrister, left circle, save Fleury, no rebound.
8:40: VGK PENALTY. Carr for interference. Not that Carr. Not that Carr, either.
6:44: Good Anderson-Dolan shot on net; left pad save, Fleury.
6:10: Wagner hooked by Karlsson on a race for a loose puck; no call.
4:25: Pearson slapshot, left circle, off a rush. Save Fleury. Rebound controlled by Vegas. Kings are playing well against a more senior roster.
4:11: PENALTY VGK. Carrier for interference. Tied up Luff off a faceoff.
2:00: Wagner uses his speed to insert himself into a play, winning a battle on what began as a 20/80 puck. Notice a trend here?
1:07: PENALTY VGK. Haula for holding Muzzin.
0:00: Period over.
Referees: #24 Graham Skilliter, #42 Corey Syvret
Linesmen: #78 Brian Mach, #58 Ryan Gibbons
LAK starters: G Jack Campbell, D Jake Muzzin, D Alec Martinez, LW Alex Iafallo, C Adrian Kempe, RW Trevor Lewis
VGK starters: G Marc-Andre Fleury, D Shea Theodore, RW Deryk Engelland, LW Max Pacioretty, C Paul Stastny, RW Erik Haula
Pre-game notes: The Kings are showing Pearson-Amadio-Toffoli, Iafallo-Kempe-Luff, Clifford-Thompson-Lewis and Wagner-Anderson-Dolan-Etem up front with defensive pairings of Brickley-Martinez, Muzzin-LaDue and MacDermid-Fantenberg. Jack Campbell will start in goal and will be backed up by Cal Petersen. … Alec Martinez, Trevor Lewis and Kyle Clifford are wearing the A. … Attendance was 17.928.
Cool airplane photos: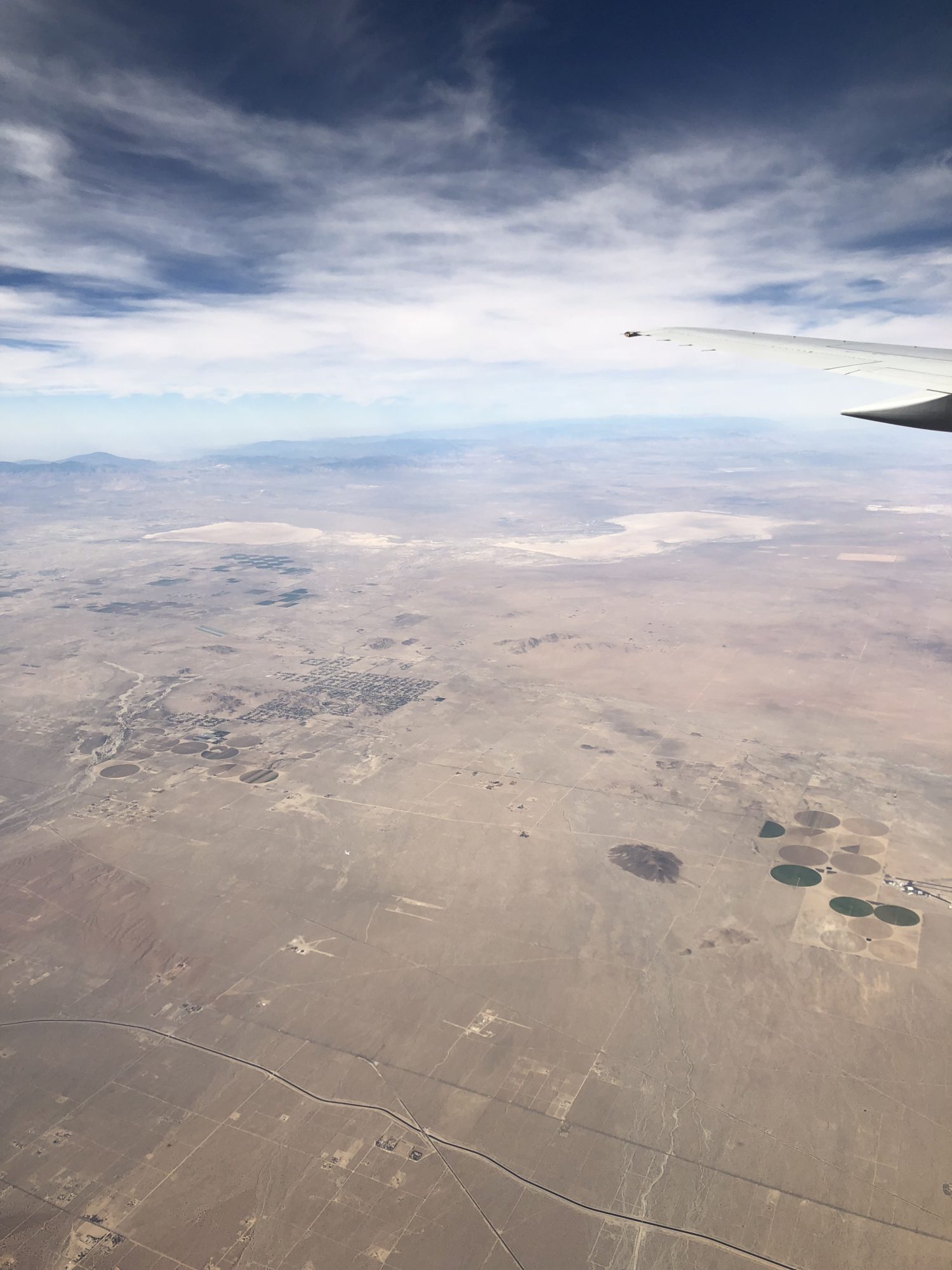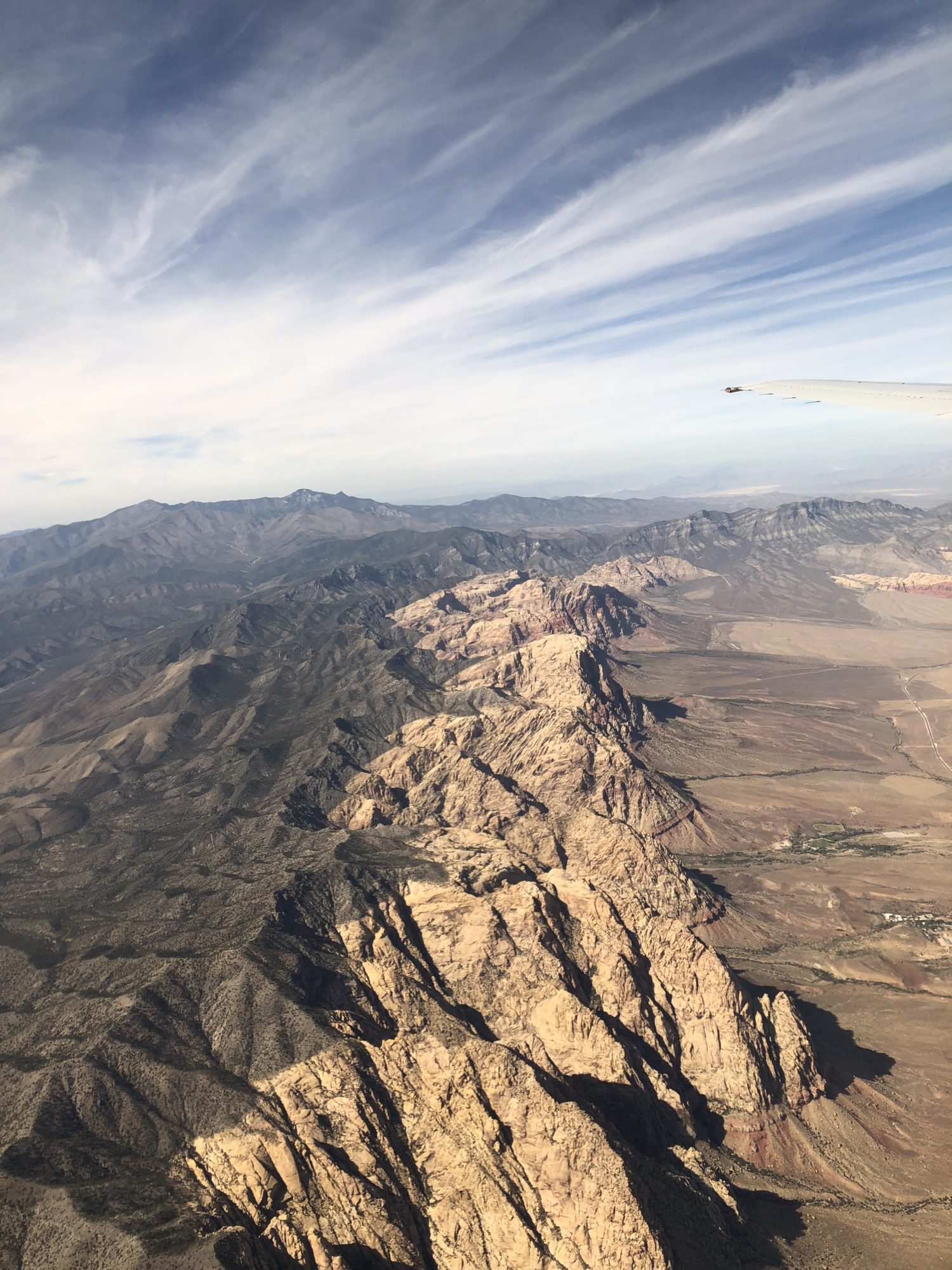 Tonight's Indiana Hoosier Lottery drawing: 2, 7, 6 (8)