The Ontario Reign were back on the ice for Day 2 of their 2018 Training Camp. Once again, the Reign had 28 players on their roster but it shook out a bit differently today, with a pair of morning roster moves.
– Goaltender Peter Budaj was assigned to Ontario earlier today after he cleared waivers. Budaj is a veteran of 364 NHL regular-season games, including 53 with Los Angeles, and joins rookie goaltender Cole Kehler on the Ontario roster between the pipes. Budaj is a very familiar face for Reign fans after he put together one of the strongest campaigns in franchise history during the 2015-16 season. The Slovakia native posted a 42-14-4 record, a .932 save percentage and a 1.75 goals against average as he was named as an AHL First Team All-Star that season.
"I'm a huge Buuds fan," Ontario Head Coach Mike Stothers said following practice. "I saw what he experienced in St. John's when he was there and then I also saw what he experienced when he came to Ontario and then from there he goes to Tampa and did extremely well and now he's got an opportunity to come back here and help us in maybe a little bit different capacity, maybe a little bit different of a role."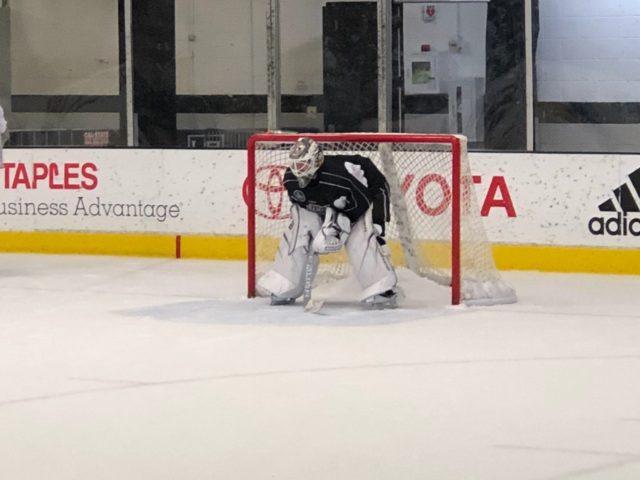 – Defenseman Jacob Moverare was re-assigned by the Kings from Ontario to Frolunda of the Swedish Hockey League. More on that from Jon here. Given the high number of defensemen vying for a role in Ontario, the move is understandable. Moverare was eligible to play in the NHL/AHL/ECHL, or back in the OHL with Mississagua for another season, but the Kings decision to send him back to his native Sweden allows him to spend the season playing against men at a high level in his native country. Moverare joins Kings prospect Johan Sodergran (Linkoping) in the SHL – The two could square off on October 23 in the first meeting of the season between their two teams.
– Forward Brad Morrison stepped onto a line with a pair of veteran forwards in Brett Sutter and Zack Mitchell today, in the spot where forward Mikey Eyssimont skated yesterday. Morrison is a highly skilled forward entering his first season as a pro and is working towards adjusting his game to the professional style of play.
"Skating with guys like that, it's about adjusting to the pace," Morrison said. "I'm a younger guy and I just need to adjust to the speed a bit and focus on making some more plays and using my brain, which is one of my strengths, no matter who I'm playing with. Those are two great players but the lines are obviously going to get juggled throughout the season."
Stothers alluded to Morrison's high skill level when discussing his play after practice and noted that things that are typically the "hardest to teach" seem to come naturally to Morrison.
"There's a lot of offensive skill with Mo's game. Today he was skating with Sutter and Mitchell, yesterday it was Eyssimont, so we've moved it around a little bit. We're basically just trying to get younger players with some experienced guys when we can to help them along. You put [Morrison] with Sutter and Mitchell and they can help him positionally, even during practice as we're going through some systems. He's an offensive guy, he can do things with the puck that a lot of guys can't. The part that's hardest to teach is the skills or that offensive mindset and that comes to him naturally. The hardest part for him is the other side of the puck, because he's never really been asked to do that. Last year in juniors, he put up some real good numbers and had a heck of a playoffs. He's a little bit undersized, so he's got to learn how to play the game positionally to be effective, but he's an interesting guy, an exciting guy to watch."
– Matt Moulson, Philippe Maillet and Matt Luff skated together on a line for the second straight day while the other units shuffled around a bit with some different combinations together throughout the skate. On the back end, Sean Walker and Alex Lintuniemi were a pairing, with Chaz Reddekopp – Matt Roy, Stepan Falkovsky – Austin Strand and Rob Hamilton – Colton Saucerman also playing together.
Quotes & Reactions
Brad Morrison on his first AHL camp this far
It's good, I think the pace here is great. From my perspective here, Mike Stothers isn't expecting anything else other than excellence and I think that's why they've had a winning record here over the past few seasons. The expectations are high and we're having fun.
On playing for Mike Stothers
At any level of hockey, you're going to be expected to perform and give it your all and with a coach like [Stothers], he demands a lot of energy and a lot of hard work. He also appreciates creativity, he appreciates goal scoring and making plays, as long as, if you turn over the puck being creative, you get back and play defense and compete.
On his transition from juniors to the pro style of play.
In juniors, you just kind of go out and play and you expect to get the puck and sometimes be a little bit more relaxed out there, more confident and have a little bit more swagger. Up in the AHL as a younger guy, you have to earn your respect and earn your confidence and earn your minutes, whether you're on the power play or what not. I think it's best to start the season off expecting nothing and play with whatever's given to me by the coaches.
Mike Stothers on teaching younger players to adjust to the professional game
In junior hockey, you can get away with certain things, if you're a big point producer, but it's been proven in whatever league it was, whether it's the Quebec league, the Western league or the Ontario Hockey League, there have been a lot of guys that were prolific scorers in juniors and then they don't score in the pros, or they learn to become a third or fourth line guy, a reliable guy, maybe even a penalty killer or whatever. It's not unusual, but you don't want to put limitations on high skill guys either, you want to let them express themselves offensively.
Mike Stothers on Morrison specifically with expressing his offensive ability
We've talked to Mo about that, if he's going to do that, there's going to be some turnovers, some mistakes, but he has to learn to be responsible in us getting the puck back. I think that's the biggest thing for him, and it's no different than the rest of the guys, they have to learn to play in all zones of the ice, both ends of the red line. Still use their instincts, creatively and offensively, but know their responsibilities defensively too.