Nate Thompson grew up in Anchorage, Alaska, and moved south to play junior hockey for the Western Hockey League's Seattle Thunderbirds. He had always been fond of the Seattle grunge music scene, but living in Washington State, Thompson said his love for bands like Pearl Jam, Soundgarden and Nirvana "kicked up even more." One major life moment was when Pearl Jam guitarist Mike McCready performed the national anthem on guitar before a Thunderbirds game, "and I think that just boosted my love for Pearl Jam even more. I've just kind of been a die hard fan for a long time."
And so shortly after they were wed late this summer, Nate and his wife, Sydney, traveled up to Seattle to catch Pearl Jam during one of their Safeco Field "home shows" in August. "As you know, when Eddie comes up, he starts, and he just plays for three hours straight," Thompson said.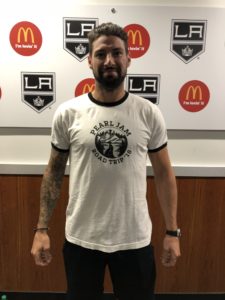 Out of their love for live music, Nate and Sydney ended up extending their Pacific Northwest vacation when they were invited to make a quick trip to visit friends in Coeur d'Alene, Idaho and attend the Pearl Jam show in Missoula, two hours away.
"There's no bad concert when it comes to Pearl Jam, but the one in Montana was a little bit better just because it was a smaller venue and the weather was perfect and maybe the setlist was a little bit better," he said. "All in all, I've seen them three times now – Chicago, Seattle and now Montana – and every show has been amazing."
Among his favorite songs are Given to Fly, Release, Better Man and Nothing Man. The latter two are from Vitalogy, Pearl Jam's third studio album that came out in 1994.
"Vitalogy was a good album," Thompson said. "I still think if you go back to their originals with Ten, it doesn't get much better than that, especially with Garden and those songs. Whenever [Eddie] plays those songs, it always gives me goosebumps whenever I listen to them. … Just Breathe, that's another one. The thing about Pearl Jam, they can really ramp it up, and then Eddie can really slow it down and make it a nice, slow, relaxing song."
Thompson was at the Wrigley Field show in 2016 when the band introduced a huge fan and former NFL player in Steve Gleason, who suffers from ALS. Gleason addressed the crowd and was on stage for the opening notes to Inside Job. "The hairs on my neck are standing up right now just thinking about when they brought him up," Thompson said.
He's also not the only member of the Kings to have a particular affinity for grunge-era rock music.
"I love 90's alternative rock," said Dion Phaneuf, Thompson's trade partner from Ottawa last February. "I'm a big fan of Smashing Pumpkins, Pearl Jam, Nirvana, all of that genre – alternative rock. The Tragically Hip, they're probably my favorite band. A Canadian band, kind of a similar sound."
Phaneuf caught Smashing Pumpkins at The Forum when the group made a two-night stop in Inglewood late last month. "They did a great job. Sounded so good, just like the record," he said. "I'd say they're one of my favorite bands, and the show that I saw was in the top three that I've ever been to. It was pretty awesome. Not only just the way he sounded and how crisp he was, but they could really play. Like, they could really play."
The setlists over the two shows featured a wide array of Pumpkins staples – songs like Cherub Rock, Disarm and Today, from their 1993 record Siamese Dream – as well as their quieter material, such as Soma and Rhinoceros. Perhaps some of those more introspective moments allowed Phaneuf to appreciate the former NHL facility's surroundings.
"I got a chance to play at the old (Northlands) Coliseum in Edmonton, on Long Island, played in the Igloo," he said. "They're all similar styled rinks. The fans are right on top of you with the seating, the way that the bowl is. The history on the walls I found really cool. You saw Wayne and the pictures of him and the basketball that was played there. It was a cool experience for me. I enjoyed the Forum, I thought it was an outstanding venue. But I definitely did think at the time they played hockey there."
Like Thompson, Phaneuf has a wide range in musical tastes – "some rock, some rap, some slower stuff that you'd not even think that I'd listen to." As he said, it depends on the day and how he's feeling.
But is he able to let us in on some of the "slower stuff" that he enjoys?
"The guys give me a hard time. I enjoy Lorde," Phaneuf said. "I like her voice, I think she does a great job. I saw her live, too. She's a great show live. I like all types of music."
The same can be said about a number of players within the Kings' dressing room. Matt Greene, when he played, often had a say in the musical rotation. Dustin Penner, an enormous EDM fan, performs as DJ Pendemic. Dusty Imoo, Goaltending Development, is an avid guitar player and a huge fan of Queens of the Stone Age and Nothing But Thieves. The list can go on and on. And it includes Teddy Purcell.
"He was always a pretty big Pearl Jam fan. When we got together in Tampa, I kind of boosted his love of it more," Thompson said. "Ironically enough, my dog is named Eddie, and his dog is named Vedder. We did not do that on purpose, but it happened."
Photos, courtesy Seattle Thunderbirds: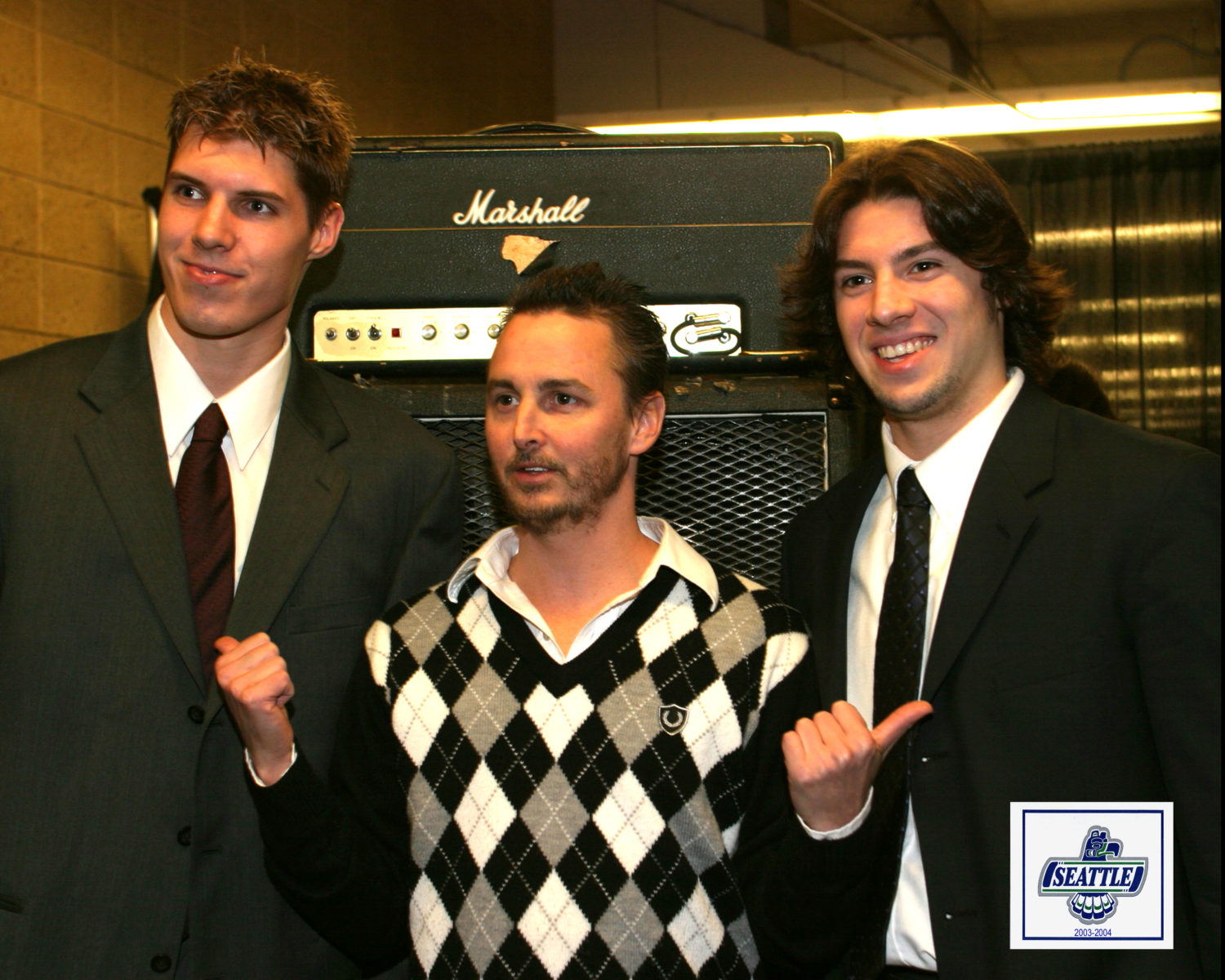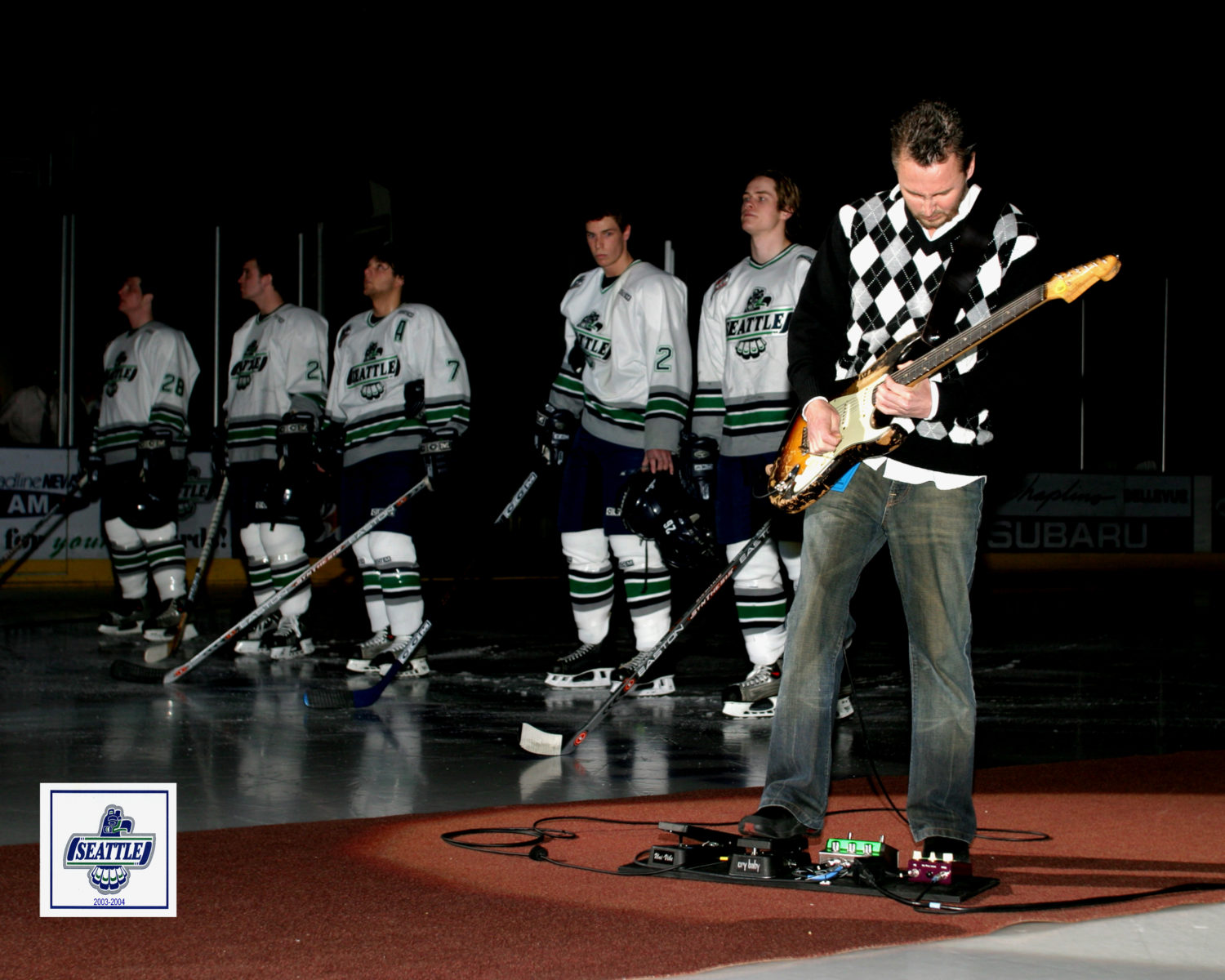 Lead photo via Lindsey Wasson/Getty Images