The Kings rookies had an off day from tournament play and took the ice for a 9 AM skate at City National Arena, followed by a team trip to Top Golf. The morning skate featured the entire Kings rookie group for their only practice skate in Vegas. The team is back in action tomorrow at 2:30 PM against the Golden Knights in the final game of the 2018 Vegas Rookie Faceoff.
Some observations from the tournament and practice thus far –
Strand Up Guy
Defenseman Austin Strand has been solid across the first two games. Paired up with top prospect Kale Clague on the first pairing, Strand has seen a ton of ice time against Anaheim and Arizona, playing in all situations, especially on the man advantage. The young blueliner described playing with Clague as going "really well" through just a few times together on the ice.
"We actually both workout at the same gym in the summer time and when we came in for development camp in August we were roommates and we've gotten to know each other really well," Strand said. "Our chemistry has been really good, I like playing with him a lot, we just always know where each other is on the ice. We both talk a lot which makes the game easier and it's nice not to spend as many minutes in our own end."
While Clague is the player typically known for his speed and skill, Strand showcased that he has some of that in his game as well. One prime example came in the second period against Arizona on Sunday – Skating into the offensive zone down the left wing, Strand dragged the puck between his legs and around a Coyotes defenseman, a play that drew some "ooh's" and "ahh's" from scouts in the stands.
"That's one of my favorite moves, I started using it a lot once I realized how much space it can create for you," Strand said. "I was surprised I pulled it off yesterday, I'm still a little bit rusty, but it was nice to know I have that in my back pocket."
Despite being a 6-4, 215 pound blueliner, speed and skill is a part of Strand's game, partially evidenced by his 25-goal, 64-point campaign in the WHL with Seattle last season. He attributed his hands and skill to his childhood, having grown up playing against family members in an ongoing competition to be the most skilled player on the pond.
"Growing up, I had an older brother and we grew up always playing on the outdoor rinks, playing with all of our cousins and out there it was that challenge of who had the best mitts. I think some of that kind of rubbed off on me and it's something I've incorporated into my game."
Moving forward, Strand is hoping to use this camp, as well as main camp, to be able to showcase his game and earn his spot in the organization this season. A spot in LA is unlikely for the 21-year old blueliner but with Mike Stothers and the Ontario staff behind the bench in Vegas, and so many Kings brass, scouts and development coaches in attendance, the chance to impress the right people has not bypassed Strand.
"Most guys here are around my age or a little bit younger so it's not really anything better than where I was playing last year. The speed level hasn't blown me away so it's good for me to be able to take advantage of that and be as simple as I can. When I see an opportunity, I try to show everybody here what my game is capable of, which some people haven't seen before. I'm excited to be here and show everyone what I can do."
Two For Year Two
Two players looking to take that next step are Matt Luff and Austin Wagner – Both debuted as rookies in the AHL last season with Ontario and had some success as 20-year old players. With the player movement that has occurred at the winger position, both Wagner and Luff will have an opportunity to be key AHL players that are at the top of mind when it comes to which Reign player is ready for an NHL callup is the opportunity presents itself.
Both players created their share of opportunities in the first game against Anaheim but sat out yesterday against Arizona in a pre-determined move.
Matt Luff on how his game improved from the start of last year to now
"I thought I progressed a lot last year, especially from start to finish. In my second year, I'm trying to establish that I can play up [in the NHL] or in the AHL and be a more dominant factor. I want to make a stronger name for myself at both ends of the ice, prove that I can play, whether I'm in the NHL or the AHL."
On the opportunity to be a key contributor in Ontario is he is assigned to the AHL
"This year, [if in Ontario], I want to come in and be one of those top six guys that when you need a goal, or a big shift, I'm one of the guys you throw out. Last year, we had great older guys, [Amadio and Brodzinski] and of course I learned from them. It would be nice to be able to fill their shoes."
Austin Wagner on how he uses his speed
"Getting to pucks first and winning battles. A lot of defensemen don't realize I'm on them right away so if I can get on them quick and make them hustle, it's tougher for them to make plays when I'm on them right away. There's a lot of things that my speed can contribute to, but still, I feel like I need to slow the game down a bit, step back sometimes and not always be going full speed."
On what he worked on with his game the most head into his second season
"Last year, [Mike Stothers] preached about being good in our d-zone and that was one thing I really needed to work on, to stand up my man and not get beat. It's a big thing that will contribute towards getting more minutes and I may play a bit of special teams this season on the penalty kill so I have to be ready for that, blocking shots and doing what I need to do to stay in the lineup consistently. Being one of the guys that played in Ontario last year, they'll be looking to guys like me, Luff, Maillet, Boko, guys like that to step up and show the newer guys what it takes to play as a pro."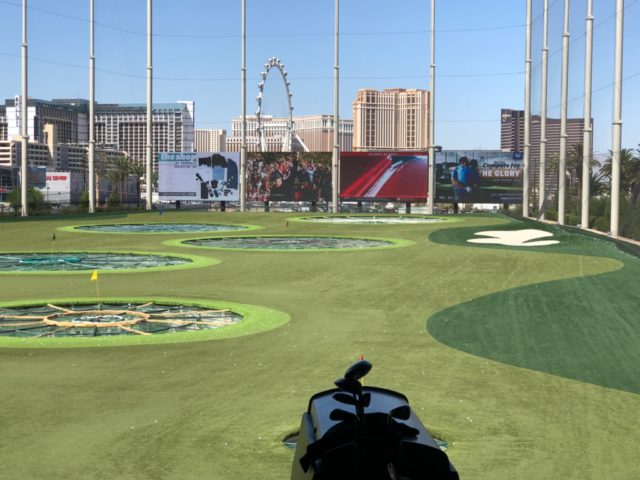 Top Golf!
With no games on tap for today, the players and coaching staff had the opportunity to take a team-bonding day at Top Golf on the Vegas Strip. Located at MGM Grand Hotel and Casino, the Kings rookies used the trip as a bonding experience sprinkled in the middle of what is ramping up to be a very demanding on-ice schedule as the season approaches.
"It helps some of the younger guys, who were maybe just drafted this year, to get to know some of the older guys that have been around the team for a bit," Wagner said. "It's good to have all the guys around."
Many of the players I talked with had never been to Top Golf before. "I know it's golfing" Akil Thomas joked about what he knew about it going in, but it didn't take long for the group to get into the game. At the end of the three-hour outing, the players participated in a tournament amongst themselves, with forward Drake Rymsha taking home the top prize with a 310 score.
All-in-all, the exercise was designed as a chance for the players to get the opportunity to hang out with each other away from the rink, helping the strengthen the bond throughout the group.
"It's a fun little team-building experience for us, a good way to spend time here," forward Mark Rassell said. "We're a pretty young group here, a lot of guys have stories, there's the rivalries from juniors and the college guys, see which junior program produces the best golfers."
Sounds like the answer is the Sarnia Sting, where Rymsha has played for the past season and a half. There might be some merit behind that too…….NHL superstar Steven Stamkos, also a Sarnia alum, is a pretty good golfer himself.
Brick By Brickley
Defenseman Daniel Brickley was involved in team activities today, after he left rookie camp last week to attend his grandmother's funeral.
Brickley had a decent showing himself at the Top Golf event today and, according to Mike Stothers, is expected to play in tomorrow's tournament finale against Vegas.
A Look Ahead
The Kings conclude their rookie tournament tomorrow afternoon against the host Golden Knights at 2:30 PM, before they head back to Los Angeles for the final day of development camp, a double-session practice at the TSC, on Wednesday. Wednesday's ice is open to the public and the sessions will be at 10 AM and 4 PM.
Tomorrow's lineup is not yet known but the Kings did experiment a bit with forward units at today's practice, mixing up a couple of their lines a bit. Thomas centered Mikey Eyssimont and Aidan Dudas, while Jaret Anderson-Dolan was between Sheldon Rempal and Brad Morrison. Rassell skated with Nathan Dunkley and Kyle Bauman and the other two lines (Wagner-Maillet-Luff, Imama-Rymsha-Watson) remained the same.
Photos