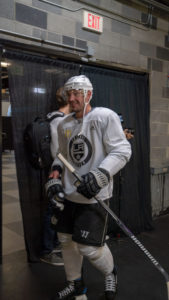 Ilya Kovalchuk: signed, sealed, and after arriving Sunday from Moscow, delivered. The forward skated for the first time in Kings regalia at Toyota Sports Center Monday morning after signing a three-year, $18.75-million contract on July 1 and again articulated his decision to commit to Los Angeles.
"I just loved our meeting. They did a great presentation," he said. "They explained to me exactly what they want from me, and I think I can give that to the team. Plus, we have a great core here, the guys know how to win. Great goaltending, so I think we're one of the teams, one of the contenders, for sure."
He shared that he's about to start the process of spending time with coaches to go over systems play and his role with the team, indicating that he would meet with the staff later on Monday.
Naturally, there were a number of questions about both his renowned conditioning and the differences between the NHL and KHL, with the understanding that the NHL's pace and cadence has improved since his last season in New Jersey in 2012-13. The NHL isn't exactly the 1980's NBA, but it is juxtaposed against a low-scoring KHL in which 13 goaltenders posted sub-two goals-against averages last season and 14 goalies stopped at least 93% of the shots they faced. Pavel Francouz, who signed with Colorado in the spring, led the league with a .946 save percentage. Mikko Koskinen, signed by Edmonton around the same time, finished with a 1.57 save percentage. There's obviously a talent discrepancy between the two leagues, but Kovalchuk's 31 goals in 53 games shouldn't be discounted.
"It's a different game, here and there. Here, it's more contact. You have more chances, more opportunities," he said. "A little mistake can cost you a goal, or if you do something nice, it can be an advantage for you. In Russia, it's a little different. You beat a guy, you still need to take a few steps to get to the net. It's all hockey, it's all a game. You have to understand the game and play it the right way, with heart, and you'll be good."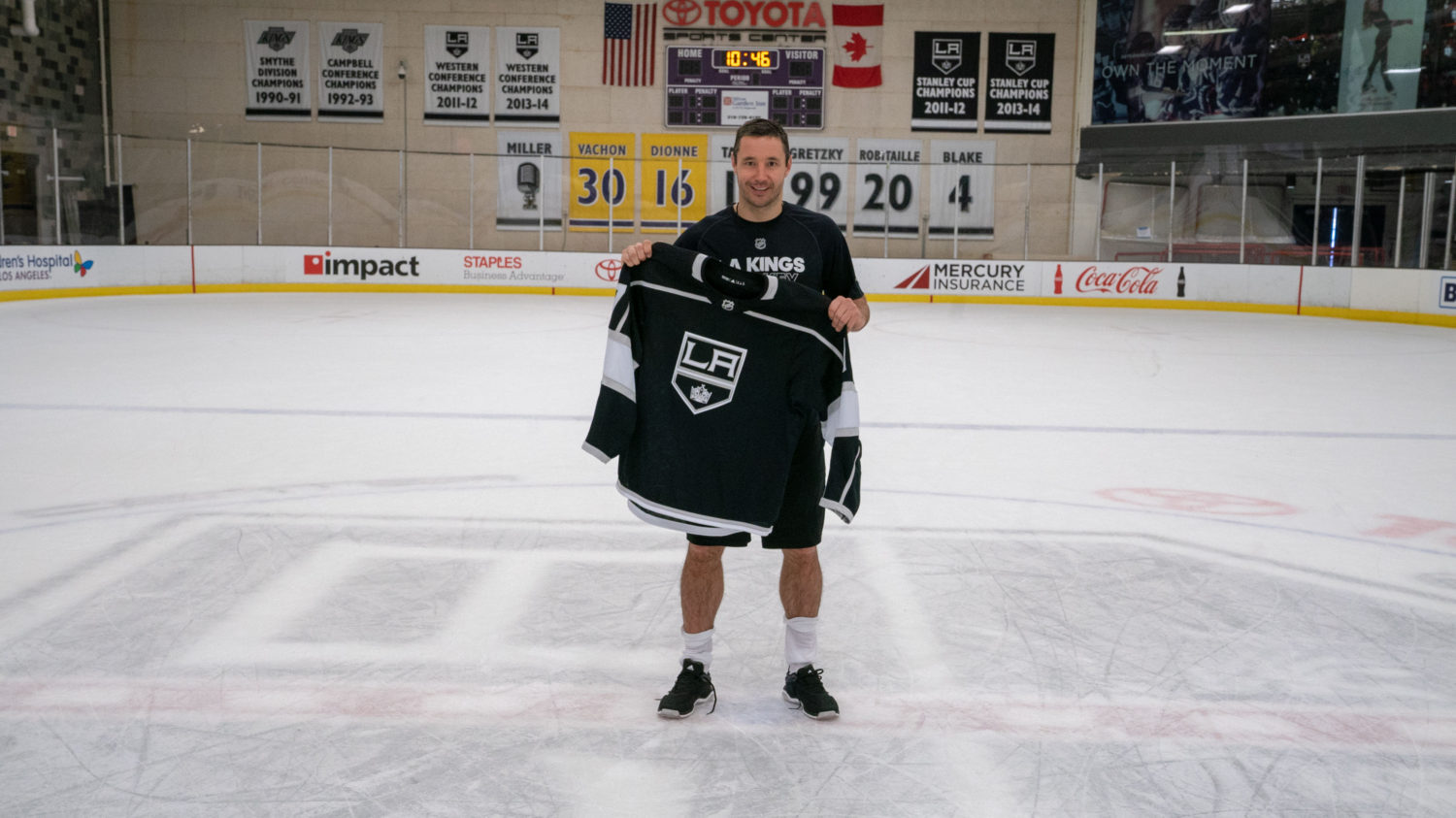 Much of what had been shared about Kovalchuk over the summer was that his fitness and training regimen will be a great asset as he returns to the NHL after a five-year absence at the age of 35. He cited the youth of his training partners as a benefit and noted the confidence of Alex Radulov – who returned to the NHL in 2016-17 after the large part of a near-decade away – that Kovalchuk would be able to succeed amidst the faster pace of an evolving NHL. "[Radulov] said, 'you will be in good shape.'"
"We trained together, actually, with (Radulov) and Geno (Evgeni Malkin), for the last month and a half, so I think we all pushed each other, and when you train with those kind of guys, they're a little younger."
"I did similar [things] to what I usually do. A lot of running, a lot of lifting, a lot of strength work. I started skating a little bit earlier because they say the NHL is getting faster. Usually I didn't skate before I got to the camp, but now I did a few times a week for the last few weeks."
His presence will be among the more interesting story lines on the Kings and in the Western Conference, but until the games start to count, how Kovalchuk will factor into a Los Angeles offense that took strides in 2017-18 but was absent in the playoffs is based upon speculation and conjecture rather than any sort of data. The forward declined to offer any sort of goal or point total.
"I wish I can predict the future, but I am not the magic man," he said. "Like I said, I was training hard all summer to get myself in the best shape I can, and to play with those guys, it's much easier. I've never played with a guy like Kopitar, so we'll see. I'm very excited."
"We'll see on October 5th, but if you play with guys like Kopitar, Doughty, Carts and Brown, they will make it easier for you, so I just need to do my thing, and I think I'll be OK."
"That's your goal, to score goals." – Ilya Kovalchuk pic.twitter.com/pEMFub5kFa

— LA Kings (@LAKings) September 10, 2018
________________________________________
One interesting factor that Kovalchuk may not have dealt with yet in his career? Extended travel. The forward spent the first 816 games of his NHL in the Eastern Conference with Atlanta and New Jersey, and the Devils are among the Eastern Conference teams with the fewest miles traveled, year after year. One estimation has the Kings traveling the 14th most miles in the league this season (which, loosely, isn't too far off from the types of miles the Thrashers would travel, given the similarly traveled Hurricanes and Lightning in the provided grid). Does he expect any adjustment as he adjusts to the rigors of Western Conference travel?
"No, in Russia, we have a few teams by China," he said, noting the presence of squads like Kunlun RedStar, Admiral Vladivostok and Amur Khabarovsk. "It's seven hours difference with Moscow, and we flew there twice a year. It's not a big deal for me. I like to sleep on the plane with some books, so it's good rest time."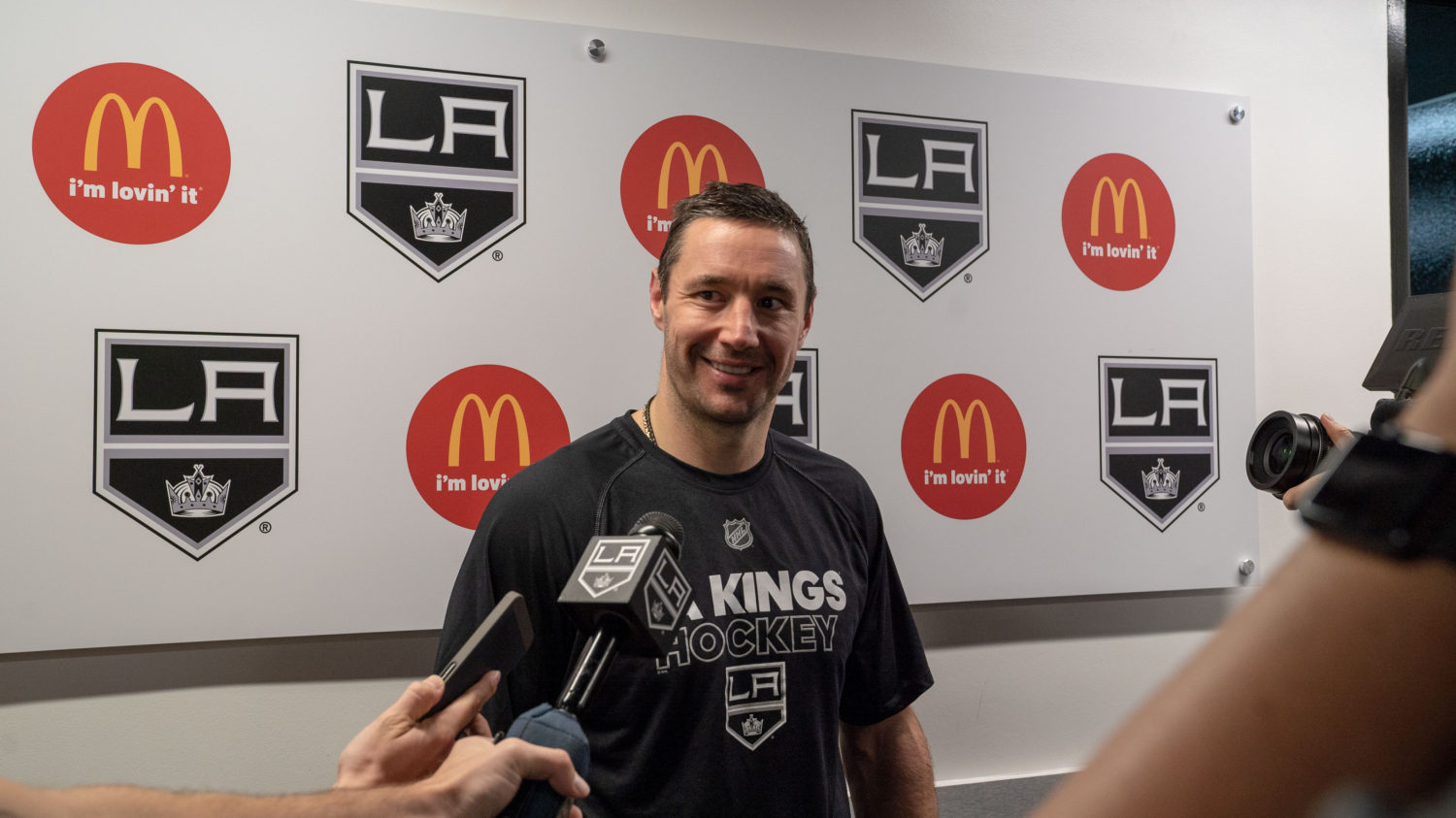 -stick tap to Alex Faust and Joshua Cooper for audio