The LA Kings rookies fell 4-2 to the Arizona Coyotes Sunday afternoon at City National Arena, dropping to 0-2-0 in the 2018 Vegas Rookie Faceoff. The evenly played game featured improved structure from the day before, and Cole Kehler was excellent in his debut performance in net for the Kings, stopping 32 of 35 shots. Camp invite Michal Ivan opened the scoring while on a first period power play by crashing the net and burying an Aidan Dudas rebound, and Spencer Watson benefited from a successful forecheck that turned a puck over and allowed him to beat Ivan Prosvetov from a sharp angle along the right wing. Arizona netted the game-winner with 7:33 remaining when Jan Jenik fed the puck to the slot, where Kyle Capobianco created some space in moving to a dangerous shooting area and beating Kehler glove-side.
"I thought we played with a lot more structure. I thought it was much better executed by us," coach Mike Stothers said. "I'm looking at it as it's a one-goal game [and] you give up an empty-netter, but you know what? We kind of took it on the chin there yesterday, and I thought the guys played really well. They responded well, and again, they did some things that we were looking to see. So, overall, much better than the first one. So, if that's the pattern we've got going, can't wait for the third one."
The Kings face the Vegas Golden Knights at 2:30 p.m. Tuesday.
Saturday:
Anaheim 8, Los Angeles 3
Arizona 4, San Jose 0
Vegas 7, Colorado 6
Sunday:
Arizona 4, Los Angeles 2
Anaheim 5, Colorado 3
Vegas vs San Jose, in progress
Tuesday:
Anaheim vs Arizona, 11:00 a.m.
San Jose vs Colorado, 11:30 a.m.
Los Angeles vs Vegas, 2:30 p.m.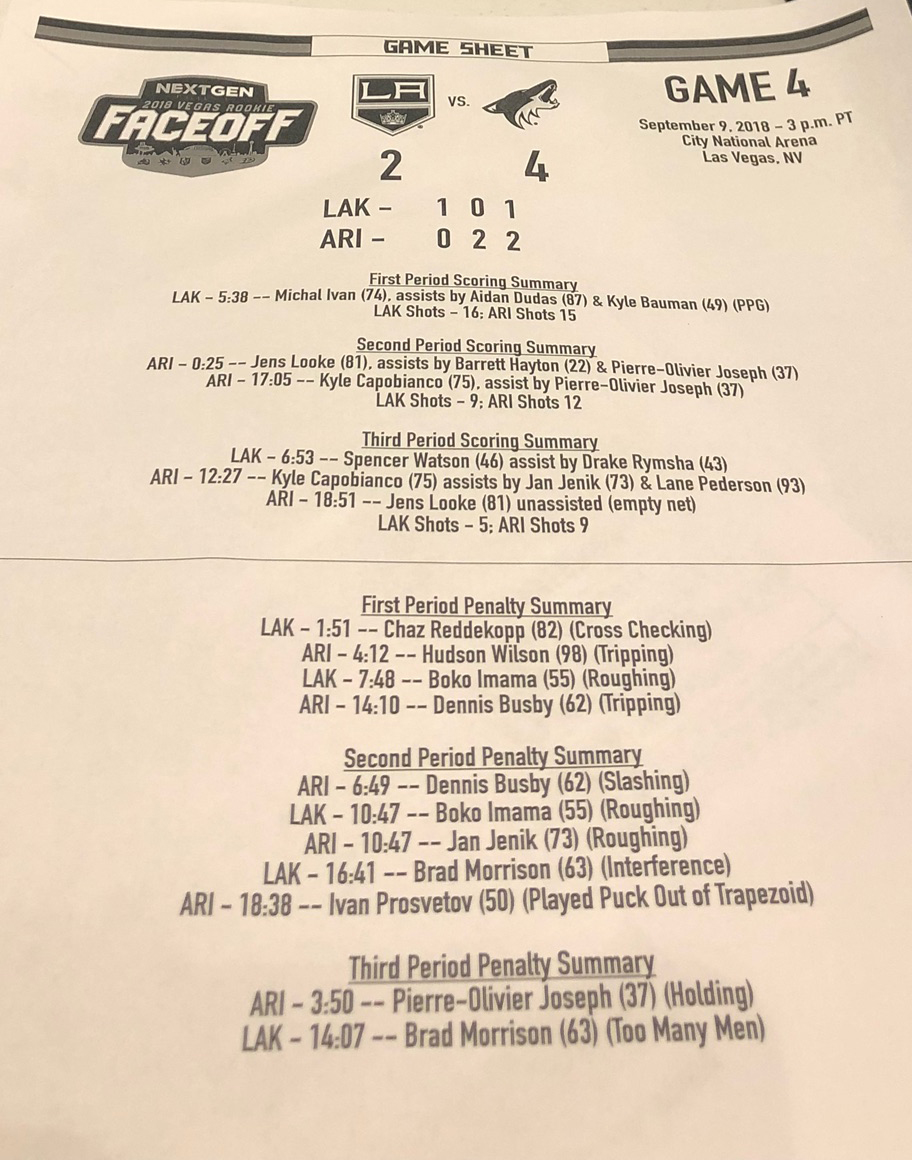 Lines and pairings:
Morrison – Thomas – Rempal
Eyssimont – Anderson-Dolan – Rassell
Imama – Rymsha – Watson
Bauman – Dunkley – Dudas
Clague – Strand
Moverare – Phillips
Reddekopp – Ivan
Kehler
Ingham
Comings and goings:
-The Kings made several lineup changes, replacing the Wagner-Maillet-Luff line with Kyle Bauman, Nathan Dunkley and Aidan Dudas, and defenseman Sean Walker with Michal Ivan. Ivan, Dunkley and Mark Rassell, the latter of whom had two points on Saturday, are camp invites battling for entry-level contracts, and Ivan, who doesn't turn 19 until November, held his own against more experienced competition. Bauman, 25, joined Ontario late last season after four years at Bemidji State and was a physical presence for much of the afternoon.
"I thought Bauman and Dudas were really, really good. The whole line provided some energy," Stothers said. "They did what we expected the were going to do, but we did what we thought after watching them together in a practice the day before we left. I thought that was really good."
While the overall team game trended well, there was one rough spot that gnawed at the Ontario head coach.
"I guess the only thing that kind of has me a little perplexed is last night we totally dominated on faceoffs, and tonight we just got rocked. Like, we never had the puck. You've got to have it, and now you've got to get it back. I don't know what the difference was in the 24 hours, but we were outstanding last night in faceoffs and tonight we were chasing a little bit to get the puck back. But, again, it's young kids," he said.
-Dudas has a reputation as a high-volume shooter with a good wristshot and someone with a good set of wheels and the ability to play his game with a good pace. He scored 31 goals in his 17-year-old season with OHL-Owen Sound, and on Sunday evening, he was adept at leading the rush and getting pucks towards the net. The 5-foot-7, 164-pound forward drew a penalty by gaining a step on an Arizona defenseman and driving to the front of the net. He spoke about his rookie camp and trends towards speed and skill with LAKI after the game:
-Spencer Watson, the penultimate player selected at the 2014 NHL Draft, made his professional debut last season and got into 11 games with Ontario but played primarily with ECHL-Manchester in 2017-18, where he amassed 25 goals and 45 points in 48 games. He's among those vying for a wider role with the Reign, and Stothers was encouraged by his performance on Sunday.
"I like Watty. He scored a nice goal, and that's what he's known for, is finding ways to score," Stothers said. "He's a little undersized, but he plays a pretty tenacious game for a guy that gives up a lot of height and weight. But he did what he's supposed to do. He took advantage of an opportunity and found a way to score, and that's what he has to do if he wants to make the team and be a contributing member."
Reign Insider Zach Dooley wrote about Watson here.
-More on the little guys! Clague, like Watson and Dudas, is not quite six feet tall. The two-time World Junior Championship participant won gold with Canada in 2018 and will make his professional debut on the Ontario blue line this coming season. Stothers spoke about what he sees in the 2016 second round pick.
"I think Kale's had a much better camp this year than even last year," he said. "There's a whole lot of upside and a whole lot of potential to what he can do – the way he sees the ice, the plays he can make, the mobility and stuff like that. There's still a little bit of carefree in him, but we'll take care of that. One of the things he has – that instinct and that intuition – you can't teach that. He was good."
After Stothers finished his thought, San Jose Barracuda coach Roy Sommer walked down the narrow hallway between locker rooms, drawing his attention. "Hey, Roy!" Stothers called out. "What's up, dude?" Sommer responded.
"You guys should be talking to Roy. He's got the most wins out of anybody," Stothers said. Noted! Click here for a profile on Sommer by the New York Times.
Back to Clague. What exactly was the issue at last year's camp?
"I don't know – maybe it's just confidence," Stothers said. "He is more assertive in his game, and again, trying to exploit his talents. Last year maybe he was taken by nerves or wasn't feeling right or whatever, but that happens with guys. They come to a camp and there's a lot expected of them, they put a lot of pressure on themselves. Maybe he came in a little bit more relaxed. He had a great year last year with Brandon-slash-Moose Jaw and representing his country, so there might be some maturity there, too."
-You couldn't have asked a great deal more from Kehler, the goaltender signed out of WHL-Portland during his 2017-18 over-age season. In his first competitive game since last year's playoffs, and wearing the Kings' emblem for the first time, he was sharp in net.
"Anytime you put on a Kings sweater, you're expected to win, so it's tough to swallow, obviously. You never want to lose, but there are a lot of positives we can take away," he said. "I think we improved a lot as a whole group, a whole unit, as a team from last night, and I think it'll be good to get a practice tomorrow. It was definitely exciting to wear that LA Kings logo out there."
Kehler is ticketed for ECHL-Manchester to begin his pro career, and cited "a lot of things" that Goaltending Coach Bill Ranford and Goaltending Development Dusty Imoo have worked with him on. "I think I could go on for a while – there's a big list. I think there's just a lot of little details we need to hammer down in my game, and if I can just focus on having good details and good habits, I'll have a strong, steady tournament here," he said.
Kehler had attended Winnipeg's development camp in 2017, but hadn't participated in this structured of an event with NHL prospects. Sunday marked his first rookie game.
"You couple it with the more tourney atmosphere, a lot of heat, he wants to impress, and I thought he did really well," said Imoo, who went into greater detail on why he's excited to get to work with the 21-year-old:
Game 2 photos: