So, this is about the precise moment where 2017-18 has officially flipped into 2018-19. The off-season is, for all intents and purposes, over, and two weeks from today the Kings and Coyotes will meet for their familiar split-squad preseason games that took a back seat to the China trip last season.
But before the exhibition season commences, there are a few reminders as we rise, rub our eyes, and step back into the sunlight:
-Because the Kings will travel to Las Vegas for the rookie tournament and will be away from September 8-11, there will be two opportunities to catch rookie camp at Toyota Sports Center. There are 10:00 a.m. and 4:00 p.m. practices on Friday, September 7 and Wednesday, September 12. As always, schedules can change. Main camp opens on September 14. The rookie camp roster: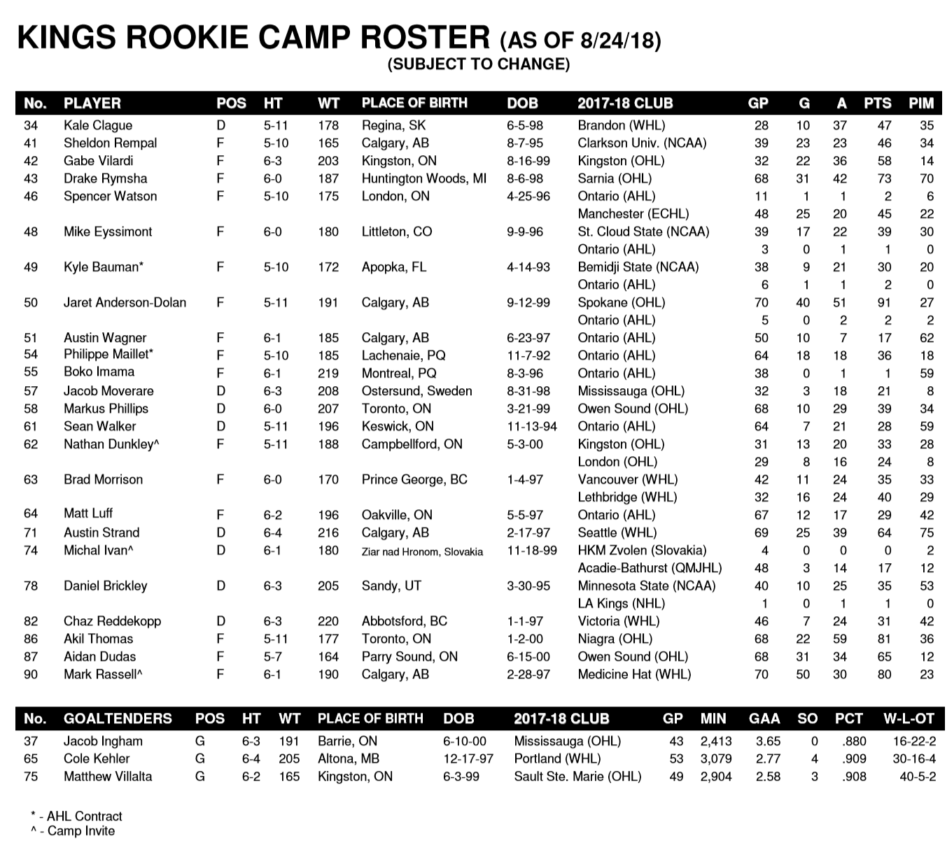 -While in Las Vegas, the Kings are scheduled to face Anaheim at 5:00 p.m. Saturday, Arizona at 3:00 p.m. Sunday and Vegas at 2:30 p.m. Tuesday. Monday is a practice day. All games will take place at City National Arena in Summerlin, adjacent to the construction site of a new stadium the Las Vegas 51s are now in the process of emigrating to.
Cashman Field, home of the Pacific Coast League's Las Vegas Stars and 51s since 1983, hosted its final Triple-A baseball game on Sunday. The 51s and their mascot Cosmo will re-brand this off-season with a new name, logo and affiliation after 18 space-themed seasons and will move into their new ballpark in Summerlin, the master-planned community west of the Strip, in 2019.
Before their six-year run with the Mets came to a close, the 51s were Toronto's Triple-A affiliate, and before that, they spent eight seasons with the Dodgers. As a broadcasting and media relations intern in 2004, I saw mega Angels prospect Dallas MacPherson strike out six times in a game for the first time in the PCL's then-101-year history and Shane Victorino, Jayson Werth and Edwin Jackson take steps towards their major league careers amidst the early stages of Paul DePodesta's time as the Dodgers' general manager.
Cashman Field, like much of the PCL, has always had an offensive bent, so it's fitting that the stadium's Triple-A history was closed out by a two-run, walk-off home run by first baseman Peter Alonso.
The final pitch in @LasVegas51s history at Cashman Field is a WALK OFF HOME RUN! pic.twitter.com/q6qih0Z4mL

— Jesse Granger (@JesseGranger_) September 3, 2018
-Great news: Andrew D. Bernstein, the long-time Los Angeles sports photographer who has served as the team photographer for the Kings, Dodgers, Lakers, Clippers and Sparks will be inducted into the Naismith Memorial Basketball Hall of Fame alongside Doris Burke later this week as a Curt Gowdy Media Award recipient.
Tom Hoffarth of the LA Times spoke with several Los Angeles sports luminaries while also capturing the importance of recognizing photographers for their influence in how we consume and appreciate sports and athletes, and my word, I want Kobe to talk about me this way:
Kobe Bryant and Bernstein have a special mutual trust and respect relationship. And it's not just about who snapped the first and last photos of the Lakers star's 20-year career; it's about Bernstein's work years before that.

"I would classify him as an artist, not a photographer," Bryant said. "Andy's vision for his craft goes well beyond it being a profession.

"I connected with Andy's photos because they helped teach me the game. As a kid, I would study Andy's shots to understand foot angles, arm placement on defense, all those small things that taught me how the slightest detail can change an outcome. The first time we met, I was so excited to meet the guy whose name I'd seen on iconic images for so long."
Bernstein's podcast, Legends of Sport, is available here. Guests in the past month have been Orel Hershiser, Derek Fisher and "Sugar" Shane Mosley.
-Hockey-related comings and goings will pick up this week in advance of rookie camp, and yes, there will still be "THE OTHERS" section that is 80% written, 0% edited, and will wrap up the player evaluations. I'm also looking forward to sharing a few additional words and a report on Drake Rymsha, who signed his ELC while I was away, while also finalizing all the odds and ends so that I may hit the ground running at rookie camp. Thank you as always for the patience during the late summer lull that helps us recharge our batteries and gets us organized for the upcoming season ahead. There's a lot more to come, Insiders.
From Andrew D. Bernstein's Kings' archives (via Getty Images):