The Ontario Reign have announced their promotional schedule for the 2018-19 season, featuring the team's specialty jerseys, giveaways, theme nights and more. This season's promotional schedule features nine specialty jerseys between game and warm-up jerseys and 13 giveaways, beginning with three on Opening Weekend.
Reign President Darren Abbott on the 2018-19 Promotional Schedule:
"This is our most exciting and comprehensive promotional schedule yet. This season's offerings include a wide variety of giveaways, specialty jerseys, great community partners and fun promotional nights to make Reign games special for all fans."
Opening Night on October 12 features a double giveaway – a magnet schedule, presented by RDS Group Inc. and a Reign beanie, presented by Mt. Baldy Resort. The back half of Opening Weekend on October 13 will feature a bobblehead giveaway, presented by Violent Gentlemen Hockey Club.
The Reign's full 2018-19 giveaway schedule is listed below: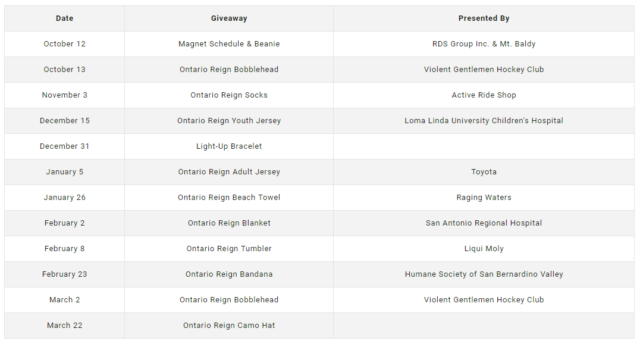 As was the case last season, Ontario Reign Season Ticket Members are guaranteed all Reign giveaways.
The Reign will also wear nine specialty jerseys – seven during game play and two during warmups. From some preliminary versions I've seen, this collection will be awesome. The Reign's first specialty jersey will be worn on October 26 for the San Antonio Regional Hospital Jersey Auction. A full list of the Reign's 2018-19 specialty jerseys is listed below.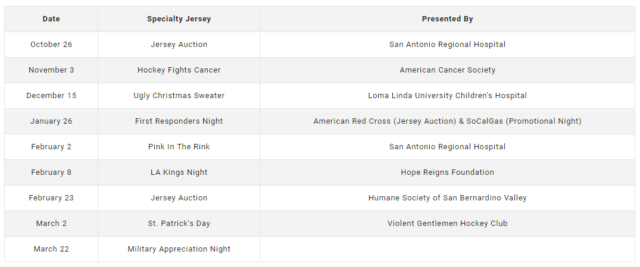 In addition to giveaways and specialty jerseys, the Reign have announced a slew of additional promotions. October 26 will also be the Reign's annual book drive, presented by U.S. Bank, followed by a food drive on November 11.
December will feature the annual Teddy Bear Toss (video from the 2016 edition below), which collected over 6,000 bears last season. Teddy Bear Toss is presented by Sunergy Construction, in coordination with the US Marine Corps and Toys for Tots. The Reign will close out the 2018 portion with a bang – literally – with a fireworks show, presented by Bud Light on December 31.
Promotional nights in the second half of the season include Wild West Night on January 5, Kingston's Birthday Party on January 21, presented by Dave & Buster's Ontario and Fan Appreciation Night on April 12.
Five dates on the schedule worth highlighting –
I was lucky enough to get a sneak peak at many of the Reign's specialty jerseys for this season and it's going to be a good year on the jersey front. Final designs are not ready to be released but when they are I think Reign fans will be pleased.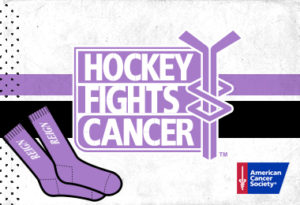 November 3 – Hockey Fights Cancer is one of the largest charitable causes throughout professional hockey and the Reign are getting involved this season with a specialty jersey, presented by the American Cancer Society. Every year, each team in the NHL wears purple, warm-up jerseys under the Hockey Fights Cancer brand and last season the Kings raised over $37,000 from their night in October. This season's Reign jersey combines the Reign's standard white and black color scheme with the purple that Hockey Fights Cancer is known for. The Reign will auction these jerseys off via a Silent Auction that runs throughout the game. Also included on November 3 is a giveaway – a pair of purple Ontario Reign socks, presented by Active Ride Shop.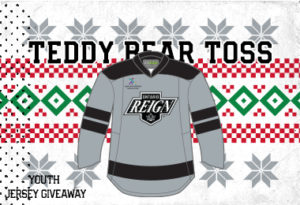 December 15 – This game has a ton going on, beginning with warm-up jerseys presented by Loma Linda University Children's Hospital. The first thing that stands out about this set – as teased in the background on the left – is that they are certainly different from the typical specialty jersey. They've got an ugly sweater theme (note that the jersey pictured is the Youth Jersey Giveaway, not the warmup jersey) while still possessing traditional jersey features, which I think pulls them together pretty nicely. Also on that night is the annual Teddy Bear Toss, which collected over 6,000 stuffed animals for Toys For Tots last season. Finally, that night is also the Reign's youth jersey giveaway, presented by LLUCH. With all three items put together, that should be one of the best dates on the Reign schedule.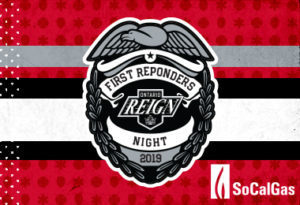 January 26 – A beach towel giveaway in January……yes, a beach towel giveaway in January. Still getting used to thinking that I won't be in the frigid, negative temperatures of Upstate New York this winter. Being that the beach is always in play out here, this should be one of the most sought after giveaway items on the Reign's calendar this season. Also on that night is another terrific specialty jersey for First Responders Night. A red, white and black jersey is on tap with a uniquely designed Ontario Reign logo. To my knowledge, this is the second red jersey in AHL-Reign history, along Superhero Night from the 2016-17 season.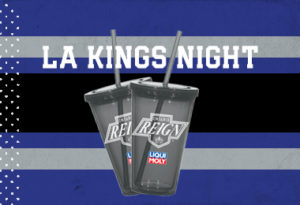 February 8 – The Reign have worn several clever renditions of classic LA Kings jerseys over the years – the Yellow and Purple in the Reign's inaugural season, the "Burger King" jerseys from two seasons ago and the early-90's Kings jerseys from the 2017 Outdoor Classic. Coming this season, for warmups at least, is an Ontario version of the late 90's into early/mid 2000's jerseys, the black and purple. These jerseys will be donned during warmups on LA Kings Night on February 8 as the Reign honor their NHL affiliate. That game will also feature an Ontario Reign Tumbler Giveaway, presented by Liqui Moly.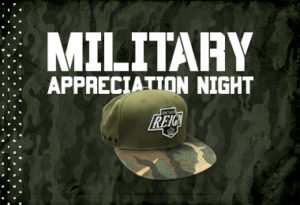 March 22 – Military Appreciation Night is always the one of the most important dates on the calendar and this season's edition will feature my favorite of the team's specialty jerseys. The military appreciation jerseys for this season feature so many small, intricate details that will come together nicely, I'm excited for these to be released. Combine this jersey with a camo hat giveaway (pictured on the right) and this should be another must-attend for Reign fans.
Also of note – It's not one game but two…..the Reign will continue their partnership with Violent Gentlemen for bobblehead giveaways on October 13 and March 2. March 2 will also feature a St. Patrick's Day specialty jersey (last season's is the featured photo for this story).
As always, the promo schedule is subject to change and could see additions throughout the season.