–Kale Clague is officially a TSC veteran. He's attending his third development camp, adding to his training camp experience and the CAA Hockey camps hosted by his agency in El Segundo before he was drafted in the second round in 2016.
The Kings had only four picks that year, and none higher than Clague at 51. It looks like there could be some interesting value with their selection. Clague is yet to play a game of pro hockey but has nothing left to prove at the major junior level, where he totaled 26 goals, 167 points and a plus-58 rating in 195 games with the Brandon Wheat Kings and Moose Jaw Warriors. He's featured twice in a prominent role with Canada at the World Junior Championship, where he won a gold medal in 2018, and with his ability to move the puck quickly up ice, there should eventually be an NHL home for him, given the added emphasis on puck retrievals, advancement, pace and speed in the modern game.
But players don't play over 20 minutes a night for Team Canada without excelling in a variety of situations, and Clague has made strides in his play away from the puck by using a good stick and active feet while defending and attacking his angles. It's in line with what Mike O'Connell, Senior Advisor to the General Manager/Development, has been imparting to the young defensemen this week.
There's an interesting year ahead for Clague, who is expected to lock down a role defensively for Ontario but will also keep his sights set on the big club.
"Going into the summer, I knew my 19-year-old season was going to be my last season in the Western League," he said. "I thought I had a great year. I thought I produced offensively, more than I ever have. I showed I improved and kept developing in that area, and I think what came along with that was my defending. I think to bring that offense, I got better defensively, and getting assists and getting opportunities offensively came from good defensive play, so I think that area has improved. I'm still looking to improve that. Working out hard, trying to get stronger, obviously. But I think I could play. My goal is to come here and work as hard as I can for a spot. It's not going to be easy, but by all means I think I'm ready to play in the NHL. I'm confident in my abilities to play in the NHL."
–As an NCAA-based player, development camp represents the only time of the year the Kings are permitted to get on-ice work in with Mikey Anderson. The defenseman selected in the fourth round in 2017 has shown impressive attention to detail and work habits, along with an ability to advance the puck into the hands of the forwards. Often skating alongside Kale Clague, Anderson has impressively factored into the play on all sides of the puck and ripped a slapshot into the net off some impressive offensive zone time by the Eyssimont-Vilardi-Anderson-Dolan line during Tuesday's scrimmage.
"Kind of feel more comfortable this year," he said. "Last year I came right from the draft and it was a pretty quick turnaround. Being here this year, I'm just a little bit more calm. I feel more collected and am just able to learn more and take it all in again."
He's also continuing to build up his lower-body strength this summer, aligning with the game's thrust towards pace, speed and getting the puck into the forwards' hands quickly.
"They've been talking about that a lot this week," he said. "The game's getting faster, guys are getting more skilled. Talking with the staff here and everyone about getting stronger – especially lower-body and legs, working on that and quick feet – all that stuff will add up to ultimately getting faster throughout the game."
His showing continues what has been a strong year personally and collectively. A bronze medal with the United States at world juniors built the bridge towards a strong second half, which resulted in a national championship with Minnesota Duluth. There were some devastated cuticles along the way for the Bulldogs, who entered the tournament as the West Regional's third seed and won four consecutive one-goal games against Daniel Brickley and Minnesota State, Air Force, Ohio State and Notre Dame to win the school's second title in eight years under Scott Sandelin.
Anderson won the title alongside his brother, Joey, a forward selected 73rd overall by New Jersey in 2016. At development camp, however, there aren't quite as many friendly faces. The running joke is that St. Cloud State is one of Los Angeles' minor league affiliates, given Nic Dowd, Kevin Gravel, Mikey Eyssimont, David Hrenak and Easton Brodzinski's presences at development camp, training camp and the parent club.
NCHC foe North Dakota and Big Ten outfit Minnesota remain the Bulldogs' fiercest rivals, but the St. Cloud rivalry continues to gain steam, especially after a season in which the Huskies won three of four games and was the country's top ranked team before they were felled by Air Force, the 16th overall seed, in the first round of a parity-rich NCAA tournament.
"It's fun getting to know some of the other guys you're playing against," Anderson said. "Last year I met Easton and Mikey, and now we've got David here. You play against 'em all year, so it's fun seeing them. When we go back next year and play against some of those guys, it makes it a little more of a rivalry between us and seeing who can come out on top."
Friendships are obviously put on hold when the players compete against each other in the heat of an extended hockey season.
"In between the whistle, maybe you say something here or there, but once the puck drops, it's all business," he said.
–With the organizational push to incorporate additional speed and skill, and with the raised pace across the sport, how does it affect the way a Kings team – previously tagged from the outside as being "heavy" and physical – gets through fundamental aspects of style and play to its prospects?
"Fundamentals are so important. You can't do something, even at top speed, unless you have the fundamentals and you have that foundation set," said Sean O'Donnell, Player Development. "So, really, that's what we're doing. A lot of times when you get these kids from junior or college or wherever it is, they go 100 miles an hour. They're usually the best players at whatever level they're at or whatever team they're at, so they can make up for mistakes. But, as you know, the higher you get, mistakes get even more and more critical, so we have to kind of slow it down a little bit for a lot of them. Show them fundamentally what to do, and once they get that, then you can start to speed it up."
After two years of a concerted push to draft and cultivate skill throughout the organization, there's a noticeable difference in the style of play at development camp. It's the first time since 2014 (Adrian Kempe, Roland McKeown, Alex Lintuniemi) that the team has had first and second round picks from the same draft class on the ice together.
"There's a lot of skill level here. It's an exciting year," O'Donnell said. "The skill level seems very, very high at this camp, which is certainly nice. Playing fast, obviously if you're a fast skater, it's an advantage. But playing fast means you're passing tape-to-tape. You have your head up. You know what you want to do before you get the puck and you execute, and I think that's what we're kind of showing them. If you're not visualizing what's going on, if you don't have your head on a swivel ,you can't play fast. You have to kind of know what you're going to do before you get the puck and then execute rather than get the puck, and then look at what your options are. Again, the guys that can actually skate fast and do those, it's an advantage. If you can skate fast but can't see what's developing or anticipating the play, then you can't play fast."
—This afternoon's scrimmage is now scheduled for 4:15, not 3:30.
-More photos from yesterday's session, courtesy Jon Bradley: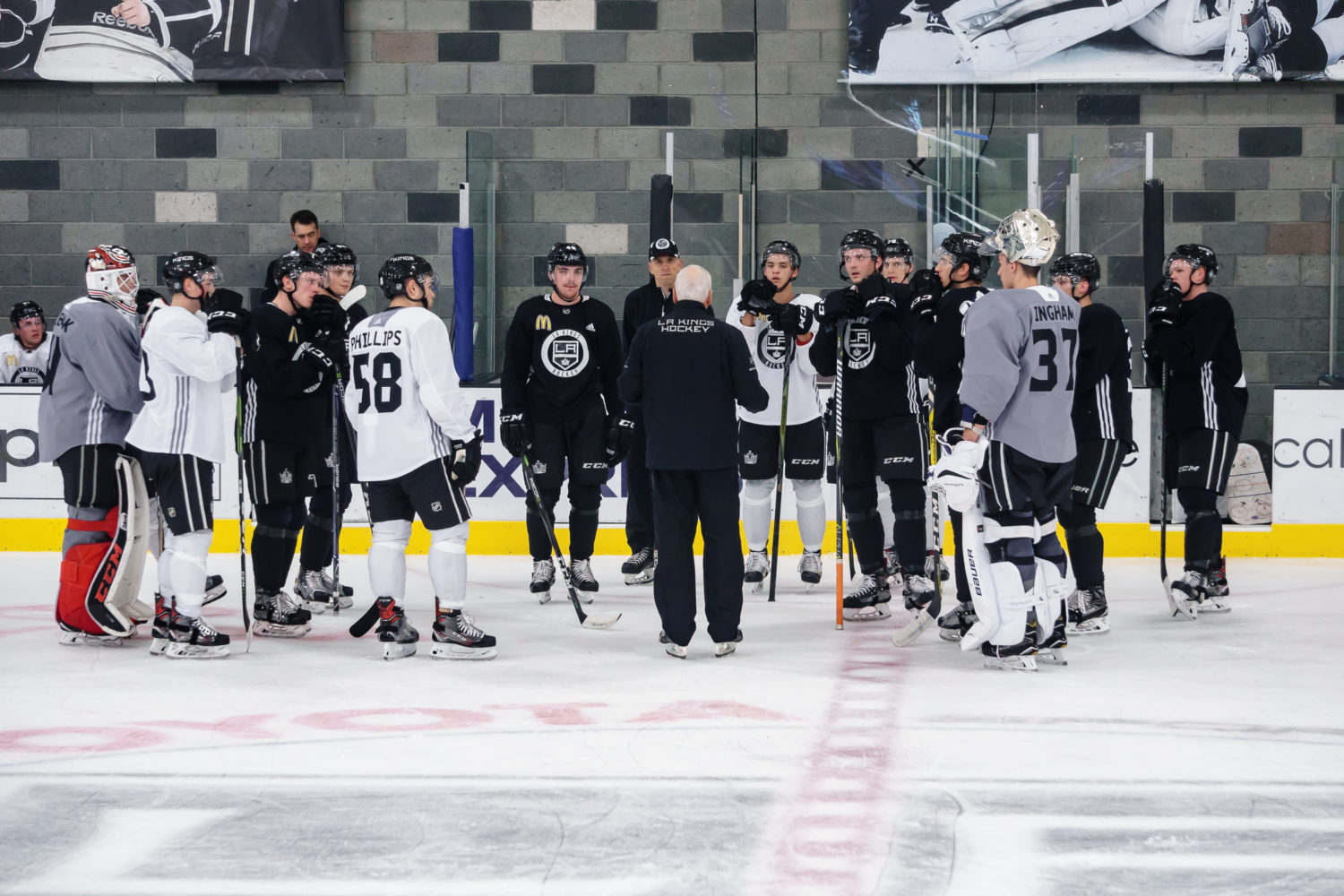 -Lead photo via Jon Bradley