Gabriel Vilardi has taken the Toyota Sports Center ice in one-on-one instruction and with smaller groups, but Tuesday's 8:15 a.m. session represented the first time he skated in an official LA Kings camp. He's staying in Los Angeles for most of the summer in preparation for training camp, where he'll be given every opportunity to put himself in position to make the team as a 19-year-old. (As a player drafted out of major junior hockey, he'll only be able to play in Los Angeles or the Ontario Hockey League this coming season.)
Between his 48 regular season and playoff games, Vilardi totaled 33 goals and 80 points – massive numbers as the most impressive junior hockey player over that stretch – and carries some impressive hype heading into 2018-19. "I think what we saw out of him in junior, and the numbers that he put up in junior, we look for him to battle for a spot on the team," General Manager Rob Blake said one week ago.
Prior to development camp, Vilardi had been skating in the mornings with the more advanced group of younger players such as Daniel Brickley and Sheldon Rempal, who aren't participating in this week's development camp. Speaking with LA Kings Insider and later with a larger group of reporters, he spoke about his expectations and preparations for the year ahead.
Gabriel Vilardi, on training in the gym next to players like Anze Kopitar and Jeff Carter:

Vilardi, on his summer acclimation to the organization:
I'm here for most of the summer. I've been here for a month now and was doing my rehab for my back, as well, keeping that going and trying to stay on top of that. I'm working out in the gym with the guys, and it's good too see them. Obviously I saw them last year, but this year is kind of different doing this stuff with them. It's been good so far. I like it. I've got to keep on improving things here. It's still pretty early in the summer. I like this kind of camp. It's good to see where you're at with your peers.
Vilardi, on the importance of getting onto the ice for the first time in an official Kings camp:
It was really cool. It was pretty much the first time wearing the LA Kings jersey, so to say. Like I said, it's still early. All these guys, most of us haven't played in a few months here, so it's good just to get the legs going and learn from all these player development guys. It's amazing what the Kings have. When you look at all the guys they have and how many games played and their stats and whatnot, they're all good hockey players, so it's good to learn.
Vilardi, on how helpful development camp is:
Yeah, it's good, just kind of see where you're at with the guys. I mean, I haven't played in three months and most of the guys haven't either, so it's good to kind of get your legs going again. They were definitely burning there for that scrimmage, but it's good. It's really good and like I said before, you learn so much from the player development guys. They have so many experienced NHLers and so many good players and whatnot so they know what you can do to get better and to improve your game.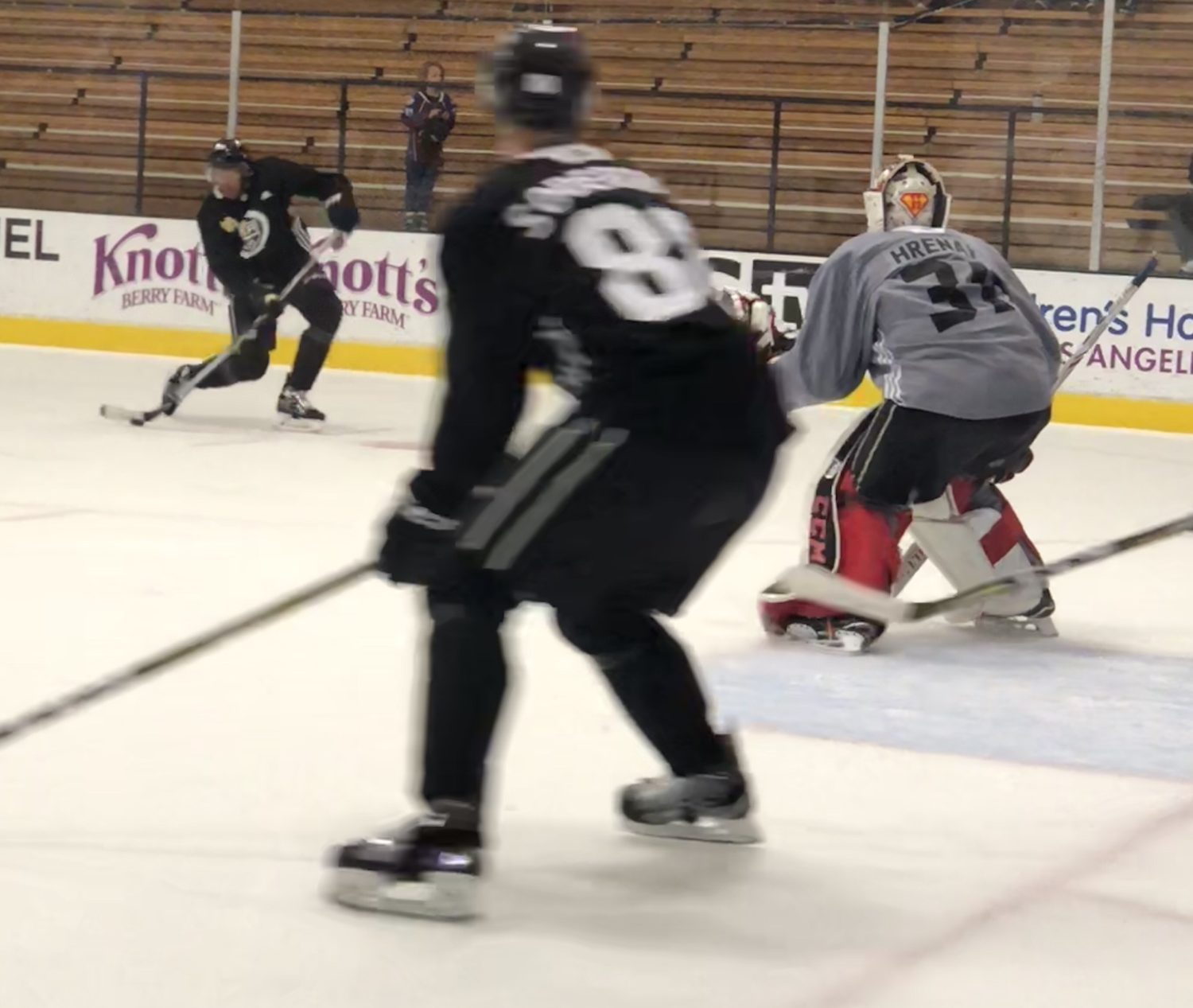 I don't like trying to come away with any conclusions after the first scrimmage of the week, but Jaret Anderson-Dolan came out flying in his first shift Tuesday, winning a number of puck battles along the boards and showing a tremendous motor. On his second shift, he put a pinpoint pass on Gabriel Vilardi's stick on a two-on-two rush in which Vilardi reached out and slipped past the defense. On his sixth or seventh shift, he redirected a slap/pass into the net. Speaking with LA Kings Insider, he reflected on a season that ended with a part-time Ontario Reign tryout and turned his sights towards the upcoming 2018-19 season, one in which he'll either play for Los Angeles or Spokane and will look to put himself in position to earn a spot on the Canadian World Junior Championship team.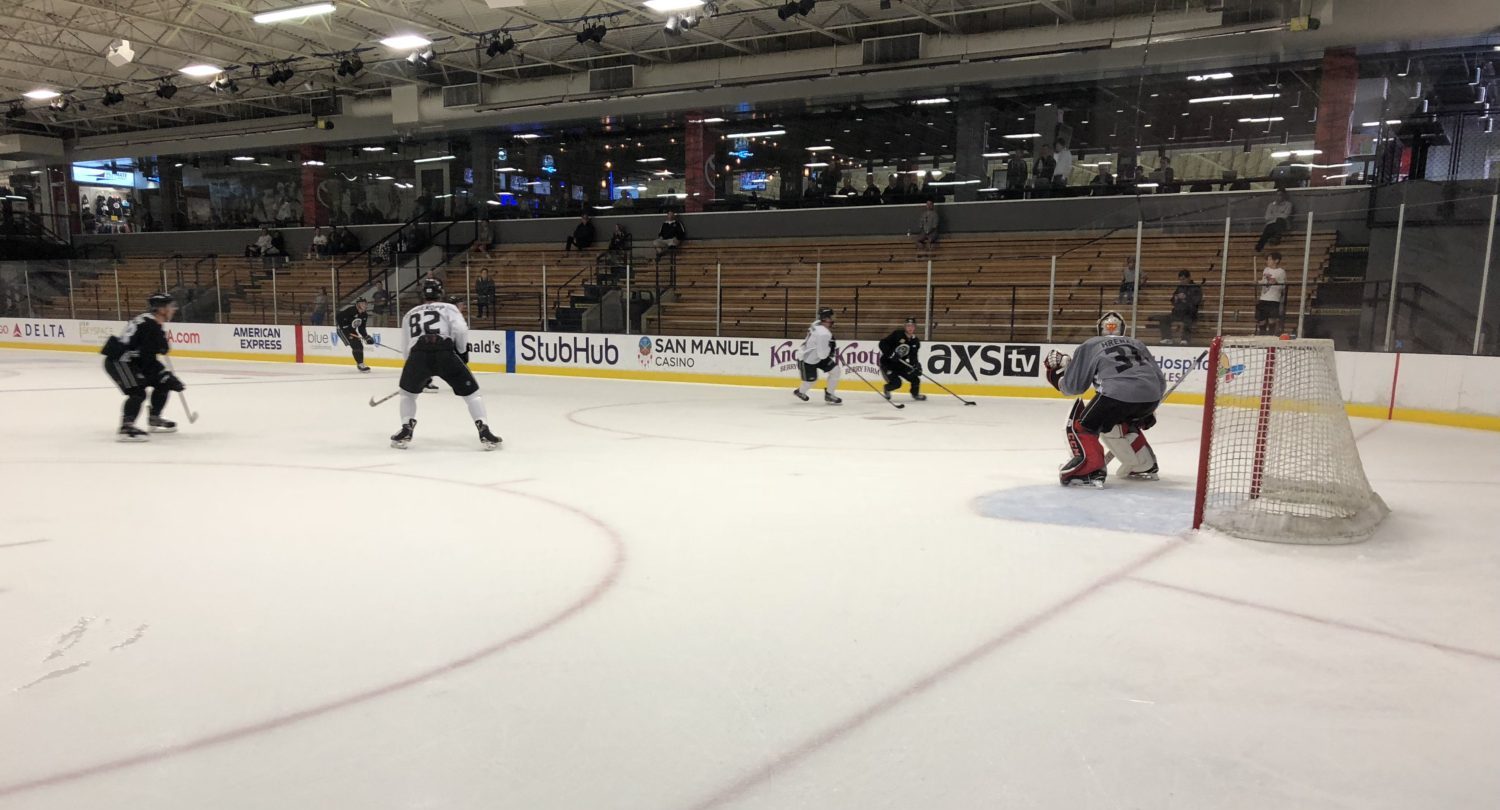 Rasmus Kupari, on learning from the more experienced players:
Most of the guys here are from last year or two years ago and they're telling me some things what we're going to do.
Kupari, on whether he modeled his game after any particular players:
When I was a kid, Teemu Selanne was a big legend in Finland, an idol, so I watched him. And also I do watch skillful payers such as Patrick Kane and Anze Kopitar or that kind.
Kupari, on whether Jari Kurri had a big influence on him:
Yeah, he's also a big legend, but I think he didn't play when I was watching like when I was a kid.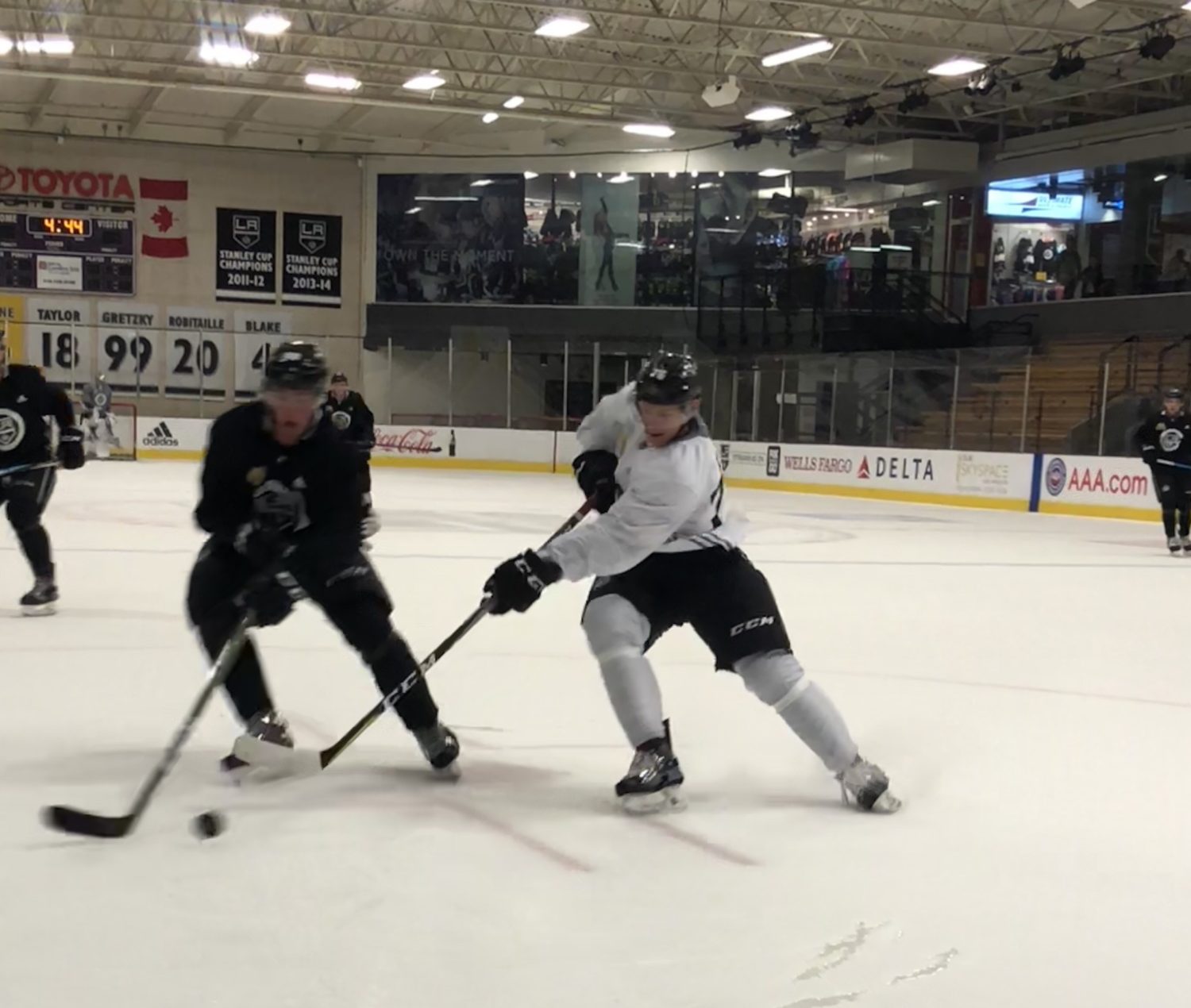 Akil Thomas, on his first day of development camp:
Wanted to get on the ice for sure, just because I don't have my bag, I just got all new equipment and obviously pretty nervous for first development camp, so it was pretty good to get on the ice a couple times today, get closer with all the guys, so it was fun.
Thomas, on whether he's used to the warm weather:
Yeah, yeah well in Dallas it was really, really hot, so here it's a little bit cooler. So a bit nicer here.
Thomas, on the fundamentals taught in his first day of development camp:
Yeah today was just about like teaching you know puck protection, tight turns, and hands and stuff, so today was just about fundamental skills and stuff.
Thomas, on what he's specifically looking to improve on:
Yeah, pretty much all we did today, like protecting the puck. When you get to the higher level you have to protect the puck against bigger, stronger guys, so that's something that I want to work on for sure.
Thomas, on how today's instruction differed from what he's used to:
It's pretty specific and like they showed us clips about how their top players do it and some little techniques they use, so it's really specific. Obviously at the next level all the little details matter, so they know it, what they're talking about, and it's just the little details.
Thomas, on any players who influenced his career:
Well when I was younger I liked to compare myself to Claude Giroux, but now that I'm in the OHL I kind of play wing and center, so it really depends on who, maybe, as a winger maybe Travis Konecny. [Reporter: Are you a Flyers fan?] No actually those are actually just two guys that I like.
Thomas, on his familiarity with the Kings:
After they won their first cup, the first one a couple years ago, that's when I kind of hopped on the bandwagon, and I use video games a lot, so I've always kind of been an LA fan. And obviously my [former] head coach [in Niagara] Dave Bell moved to the Ontario Reign, so I thought if I was ever a part of the LA Kings, I'd be very happy with it.
Thomas, on any Kings he's excited to meet:
Growing up I always wanted to be a defenseman because of Drew Doughty, so he'd be a guy I'd want to meet, and I've kind of looked up to him.
Thomas, on speaking with the Kings coaching staff after getting drafted:
As soon as I got drafted, I went to go shake every scout's hand on the floor and then get some media pictures and stuff, and then we went up to the suite and that's where I met pretty much all these guys. They were in the suite, all the development guys, stuff like that. I met a lot of lot of people, and I'm not sure who I haven't met because I haven't met them, but I met a lot of people.
Thomas, on any thorough breakdowns of what he'd like to work on:
None of that yet. I'm assuming there might be an extra meeting where that's where that happens. They tell you how you did this week, or whatever. So right now, I've kind of just met everyone and am learning for now and probably towards the end we'll talk about some of that stuff.
Thomas, on playing against Gabriel Vilardi in the OHL:
I think for the first half he was injured, but second half, unfortunately we didn't play their team many times [in the first half], so we played their team a lot in the second half and he filled our net. Yeah, he did really, really well. He's hard to play against because he's kind of a threat every time he touches the puck and scored some nice goals against us.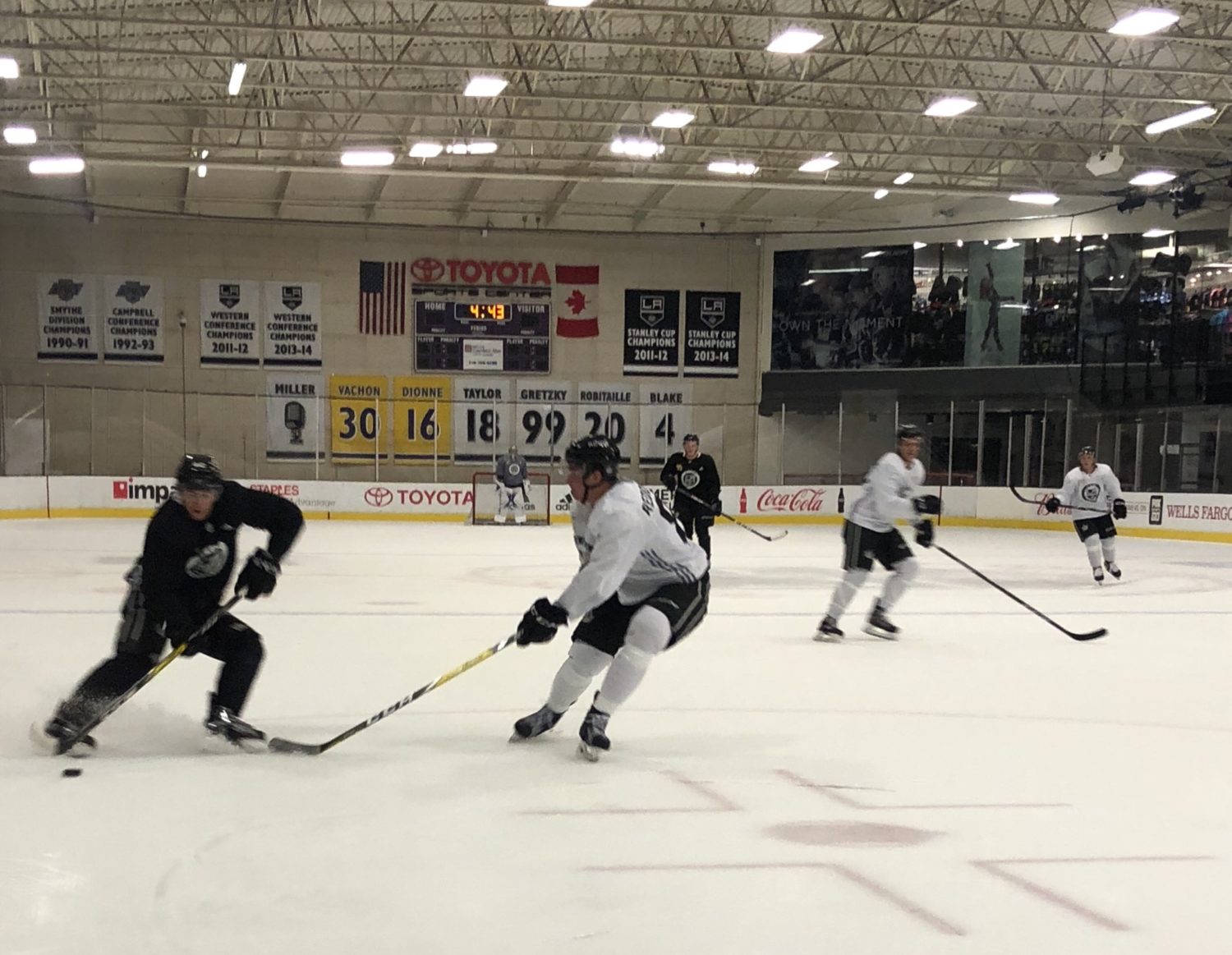 -More development camp coverage to come from Reign Insider Zach Dooley…