It was relatively close, but Drew Doughty finished in second place to Victor Hedman in 2018 Norris Trophy voting: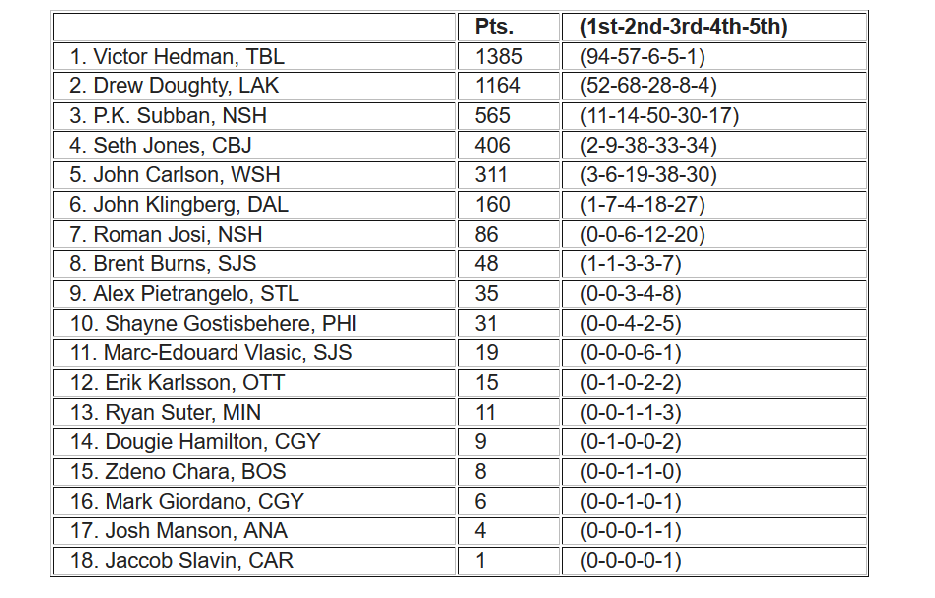 As shown, P.K. Subban finished in third, edging out Seth Jones and John Carlson.
This is the second time that Doughty, the 2016 Norris winner, finished in second place for the trophy. In 2015, he was runner up to Erik Karlsson despite garnering 53 first place votes to Karlsson's 44. In 2010, he finished third behind Duncan Keith and Mike Green. A glance at each player's Norris credentials was shared on LAKI in April.
"I think he's one of the best defensemen in the league," Arizona rookie Clayton Keller, the third place finisher for the Calder Memorial Trophy, said of Doughty. "He's so smart, he's skilled. There's nothing bad about his game. That's why he is where he is, and he's obviously really tough to play against. Good stick. He's not afraid to use the body. It's tough, because pretty much every time I was out there, he was out there, too. You've really got to work on your chances and just capitalize on the bounces that you get."
Doughty experienced a career year statistically in 2017-18, setting career highs with 50 assists and 60 points. Among his strongest claims would be that he led the NHL with an average time on ice per game of 26:50, marking the 10th consecutive year he led the team in that category, and played more minutes than any other player in the league. He appeared in all 82 games for the fourth consecutive season and is now two games away from tying Anze Kopitar's franchise record of 330 consecutive games played.
Doughty (2015) and Rob Blake (1998) are the only players to have won a Norris Trophy as a member of the LA Kings.
-Lead photo via Scott Audette/NHLI