Anze Kopitar's bid to become the first LA King since Wayne Gretzky in 1989 – and only the second player in club history – to win the Hart Memorial Trophy came up short as Taylor Hall was presented with the league's MVP award, becoming the first New Jersey Devil in league history to earn such an honor.
The voting depicted a two-horse race between Hall and Nathan MacKinnon, with Kopitar narrowly edging out Claude Giroux for third place. Drew Doughty also earned one fourth place vote.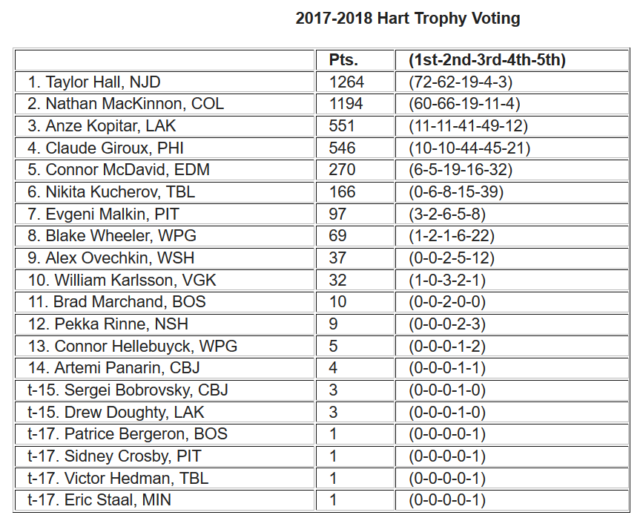 Kopitar said earlier in the day that he hadn't focused much on his growing recognition for the Hart Trophy.
"Honestly I didn't. No, I really didn't," said Kopitar, who was strongly endorsed for the trophy by John Stevens. "Maybe it was a little bit more exposed towards the end when the nominations come out, or by the end of the season. I think just talk for every award is a little bit hyped up, and with social media, now you can't really not see it. So maybe just at that time, but certainly wasn't focused on it."
There was no remorse when it was revealed that Hall had won the Hart.
"I'm definitely not disappointed," Kopitar said. "Just to be here and be nominated, it's a great honor. It would've been really good to get it, of course, but Taylor had a hell of a season. So did Nate. It really was anybody's, and Taylor deserved it, and he got it, and congrats to him."
Asked earlier in the day about becoming a Hart Trophy finalist for the first time in his career, he elevated desired team accomplishments over individual accolades.
"I think first and foremost, the culture that we have in LA, it's about winning Stanley Cups and not about individual trophies," Kopitar said. "So, I've just always had my hat kind of pointed towards that. If anything else comes by – and it's certainly a great honor, don't get me wrong — but I think the ultimate prize in hockey is the Stanley Cup, which we failed to do the last few years, and we'll try and get it back."
.@AnzeKopitar is up for two awards…so does he have a speech planned if he wins? He tells @JamieHersch and @KevinWeekes about the prep he put in. @LAKings #NHLAwards pic.twitter.com/BlGoKRP3sj

— NHL Network (@NHLNetwork) June 20, 2018
Anze Kopitar, on whether he was "surprised to beat out Patrice Bergeron for the Selke Trophy:
I thanked him after. I said, 'when you win one once in a while, it's great.'
Kopitar, on spending time with the Humboldt Broncos survivors while in Las Vegas:
I actually thought Taylor said it well after he got his award. I was sitting in the stands, and I was nervous – if I was going to get it, what was I going to say? And then you see those guys up there, and no disrespect to the Hart Trophy or anything, but I'm sure everybody would give up that trophy just to have a normal life. I was choked up. I was close to crying. And it just magnifies now, being a dad myself. That's the first thought that really goes through your mind. What would happen if I was in that situation? With Vegas, and the shooting, in my opinion, if you're not in that position, there's no way you can even imagine what it feels like and how it is. I can't be talking how it feels like that, but it certainly puts things in perspective.
Kopitar, on his haircut:
So, I went to a gifting suite. Our friends set it up, and they had a barber in there. He said I probably needed a little bit of a touch up. By a touch-up, I meant maybe 'a little bit of a trim or something,' and he grabbed my hair and he cut it in half. So I was sweating on the chair, because I didn't know what was going to come out of it. But, apparently it turned out really well, because it was only compliments. Nobody has really made fun of it yet, so we'll see if that sticks. [Reporter: What does Mrs. Kopitar think?] Mrs. approved. 90 percent battle won.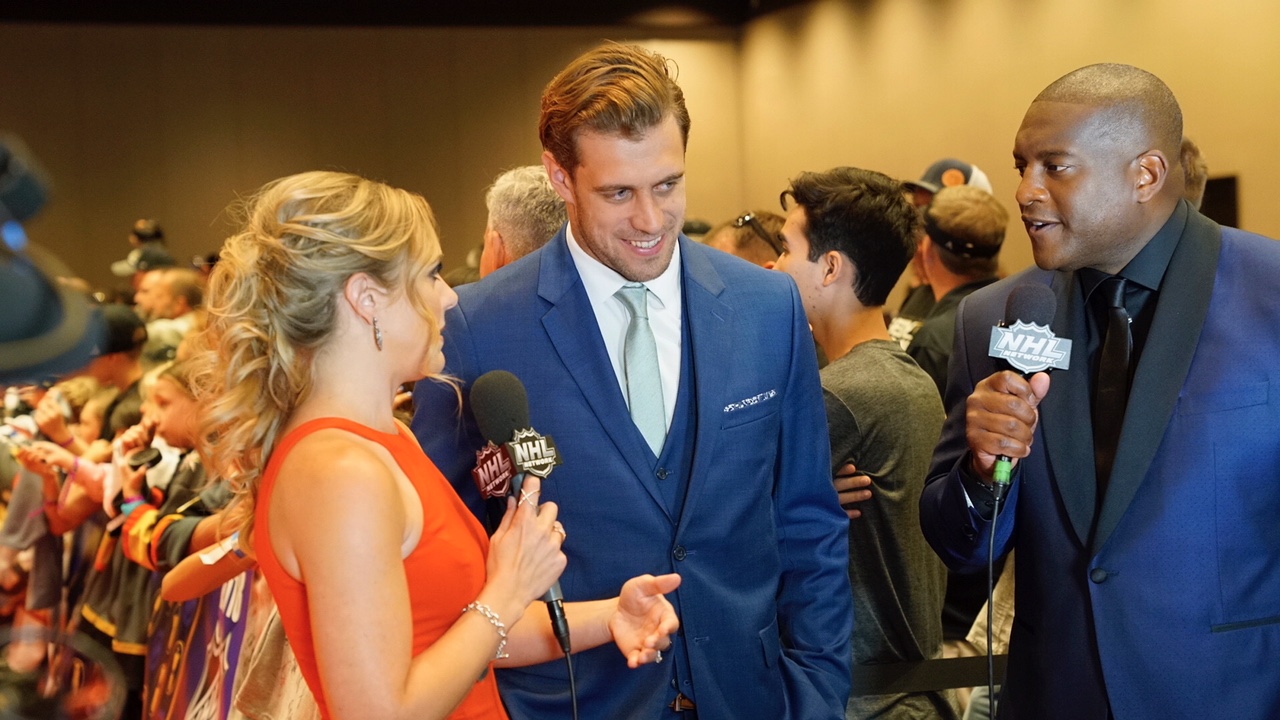 -Lead photo via Andy Marlin/NHLI