Goaltender Matthew Villalta, selected in the third round, 72nd overall, in the 2017 NHL Draft, is now under club control after having signed a three-year entry level that announced by the team last Friday. The 18-year-old is part of a Soo Greyhounds team that finished 55-7-3-3 but in reaching the OHL Final had to grind out a pair of seven-game series, the most recent of which ended last night (courtesy Ontario Hockey League):
WATCH THIS: Winning West in 2OT 🚨@AnaheimDucks prospect @Jack_Kopacka is @OHLHoundPower's hero scoring the Game 7 winner clinching the #OHLPlayoffs Western Conference title #SSMvsKIT pic.twitter.com/FvqSqzKjoj

— OntarioHockeyLeague (@OHLHockey) May 1, 2018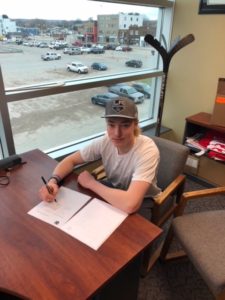 Sault Ste. Marie's thrilling double-overtime win over Kitchener – which features some impressive Villalta saves as part of the full-game highlight package – will pit them against Hamilton in the bid for the J. Ross Robertson Cup. Based on their regular season resume, the Greyhounds will be the favorites to come out of the OHL, and, potentially, to win the Memorial Cup.
Coming off a year in which he was named to the OHL's all-rookie second-team, Villalta posted a 40-5-2-2 record with a 2.58 goal-against average, a .908 save percentage and three shutouts. The OHL was most definitely a scorer's league this past year – only two starting goaltenders posted save percentages better than .910 – and Villalta led the league with his 2.58 GAA, along with his 40 wins. Through 18 postseason games, he's 12-5 with a 3.14 GAA, an .893 Sv% and a shutout while backing up a team that led the OHL with 317 goals in 68 games. In 82 career OHL regular season games, he's 65-8-2-2 with a 2.52 GAA and a .912 Sv%.
There is encouragement in Villalta's overall improvement in all aspects of his game, according to Dusty Imoo, LA Kings' Goaltender Development, particularly in learning to read plays and how to manage his body in relation to his workload. Imoo also praised Villalta's character, his work ethic and willingness to listen and learn.
The Kings have embarked on a multi-year endeavor to restock their goaltending pipeline behind Jonathan Quick, and Villalta's signing is the most recent fruit of the team's labors. The 1999-born goalie is the latest link in a chain that also includes 1997-born Cole Kehler and 1994-born Cal Petersen, all of whom were either drafted (Villalta) or signed as a free agent (Kehler and Petersen) in the past year. Jack Campbell, acquired by the Kings at the 2016 NHL Draft, represented the first stage in re-stocking the cupboard, which had been depleted after the Martin Jones trade, the claim of J-F Berube off waivers, Alec Dillon's surgeries and Patrik Bartosak's domestic violence-related charges, which resulted in a team-imposed suspension and no qualifying offer extended in 2016 as the team cut ties with the Czech goalie.
Barring anything unforeseen, Campbell will be expected to back Quick up in 2018-19, though Petersen is expected to gradually make his own case for starting time and is penciled in as Quick's back-up the following season. Reign coach Mike Stothers, when asked about particular players last week in the immediate aftermath about the club's first round defeat, only wanted to single out Petersen. "The best God damn goalie in the American Hockey League, bar none," he said.
It's not only the goaltending that needed added reinforcement. When Rob Blake took over as general manager, the team had made two only draft picks higher than 29th overall after Derek Forbort was selected 15th overall in 2010. The pipeline needed to be restocked in many areas beyond goaltending, and the team appeared to take huge strides in doing so when they claimed Gabriel Vilardi with the 11th overall pick in 2017, and, less than a week later, received a commitment from Petersen.
Beyond Petersen, the Kings have used free agent signings to continue to build the volume and quality of their prospect base. Dan Brickley was a highly sought free agent who signed with the club in late March out of Minnesota State-Mankato, and will battle for a role on next year's blue line. His signing was followed shortly by that of Clarkson forward Sheldon Rempal, a quick winger with a nose for the net who is projected to open next season with AHL-Ontario. Austin Strand, a 6-foot-4 defenseman who excels in skating, transition, and on the power play, signed with the club in the fall after serving a key role in Seattle's WHL Championship run the previous spring.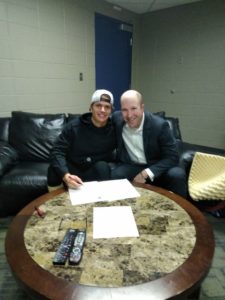 The push to add organizational quickness and skill was bolstered on Tuesday when the Kings announced they had signed 1997-born forward Brad Morrison, who finished his five-year Western Hockey League career with 112 goals and 263 points in 334 games with Lethbridge, Vancouver and Prince George.
The Prince George, B.C. native was always regarded as a strong offensive player before embarking on a tremendous run at the end of his 20-year-old season in which he amassed 16 goals and 37 points in 16 playoff games with Lethbridge, catalyzing the Hurricanes' push to the Eastern Conference Final. Originally drafted in the fourth round by the New York Rangers in 2015, Morrison did not sign and, after attending Calgary's training camp in 2017, ultimately posted 27 goals and 75 points with Vancouver and Lethbridge in 2017-18. Via Brent McEwen, Los Angeles' Amateur Scout – Western Canada, Morrison had always been an appreciated player with a high degree of skill who was known for his skating ability. Via McEwen, he's strong on his skates, strong on his stick, and has a "darting" type of quickness that allows him to take pucks to hard areas. His stock climbed significantly during his late-season push with the Hurricanes as his play reached previously unestablished levels of production and he earned a reputation as a difference-maker who generated opportunities at key times of games.
More on Kings prospects from Kings President Luc Robitaille and General Manager Rob Blake at the end-of-season press conference:
Luc Robitaille, on drafting and developing being important in keeping up in changes to the game:
I think it's a little bit of all of it. We haven't had too many first or second round picks playing for our organization the last four years. We've had Adrian Kempe, and we all know he's done really well for us. We've got to be patient we're making sure we keep and groom our kids and make sure we develop them and help them come along. At the same time, we're pretty fortunate our veterans, our core guys are still our best players, and we've got to make sure we stay there. I mean, Anze Kopitar had his best year ever, so there's a lot of upside there. Same with Quickie, and then you look at Jeff Carter, when he came back, he still wasn't 100%, and he still played really well, and Drew, what he's done. We've got to make sure we surround these guys, that we make sure we give them another shot at it.
Rob Blake, on any pipeline or organizational issues to address in the off-season:
I think if you look at the free agent-type market throughout the season, we signed a defenseman, [Austin] Strand, who has reported to Ontario. [Cole] Kehler, a goalie, is in Ontario right now as extras. Dan Brickley, you saw him skating quite a bit here with us through the stretch, and Sheldon Rempal, who was here for a week before going back to school. So, those were some needs we identified [as part of] a free agent market that might not show up on July 1 but do show up during the season. And we'll continue to look at all those different options, yes.
Blake, on whether he's happy with the ongoing reconstruction of the prospect pipeline:
Yeah, I think the one guy I probably failed to mention … is Vilardi. He's been doing some things in the Ontario League that are very, very impressive. He had a setback with the injury in the first part of the season, but it's another guy that we expect fully to push for our lineup. That's what we want. We want these guys coming in. We wanted Kempe coming in. We wanted Iafallo coming in. Forbort and Fantenberg, we wanted them pushing for our lineup. That's what's going to internally make you better.
Blake, on any focus at the NHL Draft:
Obviously we'll start to understand our position picking, and our amateur staff has their lists in order, and you kind of get to that round, you see what's available around there. I think the focus for us in the draft is very similar to last year. We're going to hold these picks. Unless something completely changes, we needed some of these draft picks in the past few years, and we went into that focus last year, and Vilardi and Anderson-Dolan, … they're important players to us, and I think we look forward to those high picks again this year.
-Lead photo via Graig Abel/NHLI