A NEW DAY. The LA Kings returned to T-Mobile Arena Thursday morning for an optional practice. There were no line rushes. We're at the point of the year where all off-days are essentially optionals, provided there isn't an extra day between games or series. The only real practice bit of note was that Jake Muzzin was still in his off-color purple jersey, a continued indication that he's not ready for contact. That non-contact designation was confirmed by John Stevens when he met with the media.
-It was also an optional skate for the Golden Knights. There's no immediate word on whether David Perron could be ready for Game 2. William Carrier is day-to-day. Stick taps to Gerard Gallant for taking part in #JerseysForHumboldt.
Gerard Gallant is wearing a jersey to today's presser in support of the Humboldt Broncos. #JerseyForHumboldt pic.twitter.com/1lDtHDXJYI

— Jesse Granger (@JesseGranger_) April 12, 2018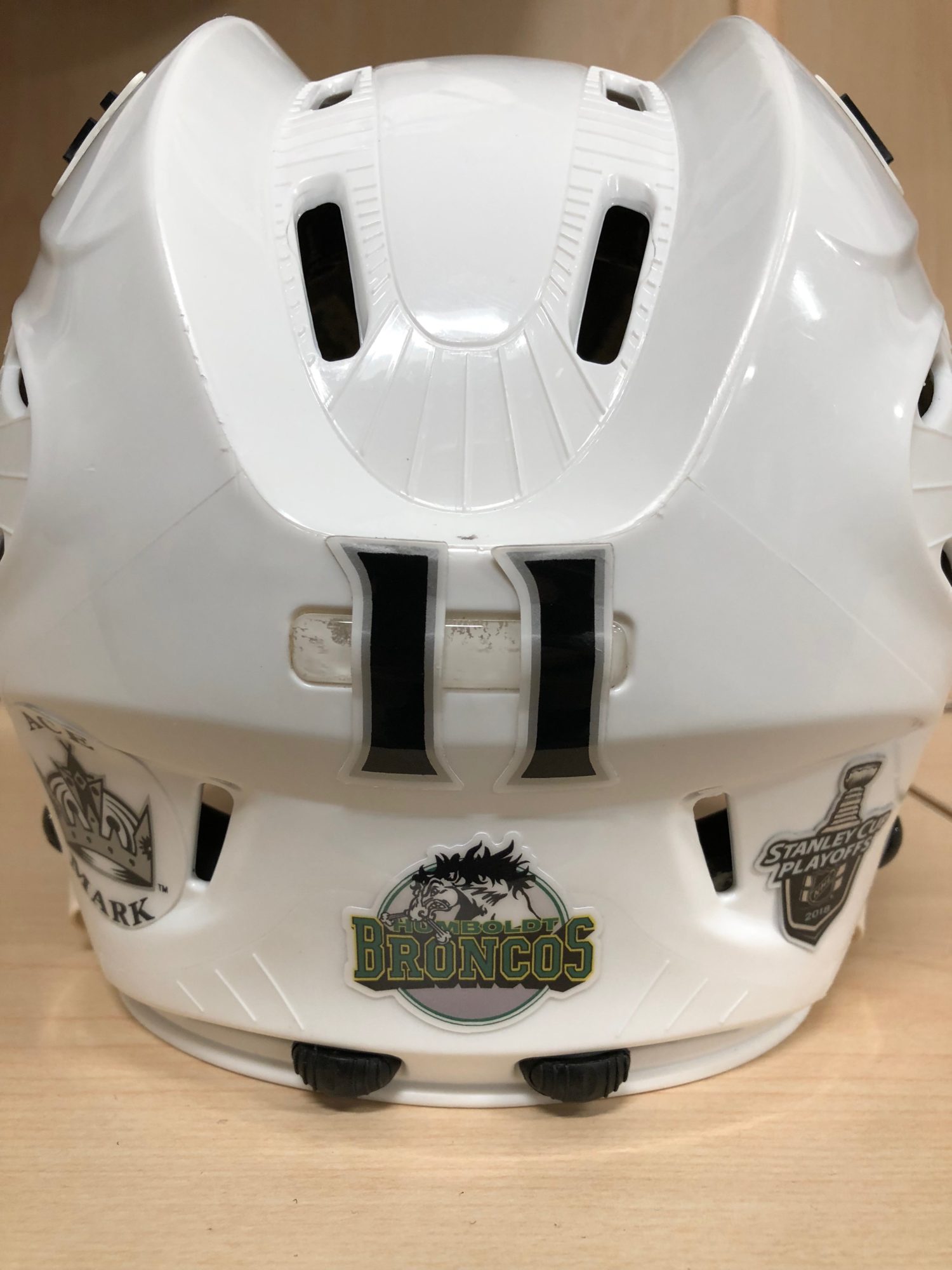 -So, Drew Doughty is suspended for Game 2. Not sure if anyone has weighed in yet, but feel free to leave your thoughts on the verdict below.
The loss could place the spotlight on Kevin Gravel, who would be the next in line to step in if Muzzin is unable to go and a hypothetical Ontario call-up doesn't leapfrog him in the middle of a playoff series.
Gravel, who was penciled to begin the series in Los Angeles before a debilitating and frightening diagnosis of Crohn's Disease afflicted him late in the off-season, rejoined the Kings midway through the season after opening the year in Ontario and registered three assists in 16 games with the big club. He has 70 career NHL regular season games to his name.
Gravel sat out for 24 consecutive games in the second half of the season with Los Angeles but did see time late in the season in critical games against Arizona and Minnesota with both Derek Forbort and Jake Muzzin sidelined.
"Guys are getting what they need out of practice, and some guys need more, some guys need less," Gravel said about stepping back into key games. "But I thought as the games went on, I got my feet wet, I felt back to normal. Once you get going, it's hockey, and once you gauge the pace and the guys are leaning on you and everything, it's back to hockey."
Gravel has shown aptitude at playing at an NHL pace which isn't always easy for players making the jump from the AHL.
"Yeah, two of my assets are my skating and my puck-moving," he said. "I just try to keep it simple whenever I'm in there, and especially after being out for a while, if you do jump back in there, keep it especially simple early to get your legs back under you and all that. Move your feet, pass the puck to the open guy, and then you kind of go from there."
-Meanwhile, given these challenges, Oscar Fantenberg is all of a sudden looking like an important figure on the team's depleted blue line.
Fantenberg, who played with Vegas leading scorer William Karlsson for two seasons with HV71 of the Swedish Hockey League, was able to strike the right approach to his first career playoff game, which he said "was up two or three levels compared to what I had played before." He noted that he was able to suppress his nerves and "laugh a little bit" as his means of getting comfortable and playing his game.
"Those are the games you want to play," he said. "You just have to have fun out there. That's the big thing – go out there and have fun. It's still hockey. It's nothing more than that."
He didn't look out of place at all and was among those who was able to raise his intensity and focus to that befitting a divisional playoff game. That came after John Stevens had spoken with the five skaters – Fantenberg, Alex Iafallo, Toby Rieder, Paul LaDue and Adrian Kempe – who were yet to play in a Stanley Cup Playoffs game to impart the understanding that their intensity has to rise alongside the overall intensity of the playoffs.
"He didn't say so much – he just said just take advantage of the opportunity and embrace everything that's going on and don't be nervous to make mistakes," Fantenberg said. "It's hockey, it's just a little bit more intense, and obviously many you don't want to take as much risk as you do in the regular season, but more than anything, it's embrace the challenge we have in front of us and just take it from there."
-Intensity is always ramped up in the playoffs, but if there's any semi-recent Kings series that set the bar on physicality, it was the 2013 first round series with the St. Louis Blues. The Kings won that series in six games after the teams combined for 479 hits, an average of 79.8 each night. Los Angeles' 53 hits in a 1-0 Game 3 win was the high-water mark in the war of attrition.
So, with respect to the tremendous work across the league by the off-ice officials, please forgive us if the 127 hits credited Wednesday night – 68 by Los Angeles and 59 by Vegas – aroused some suspicion.
Dustin Brown on Game 1 hit count: 'The series we played against the Blues was definitely much more physical. You didn't go 3 strides without getting hit. Last night there was some big hits, a lot of contact, but I've been in much more physical games.'

— Helene Elliott (@helenenothelen) April 12, 2018
"I don't want to sound disrespectful when I say this, but sometimes in these buildings, where I don't even know where they're situated when they're marking those stats, there's such a variety in terms of the way those are gauged, building-to-building that we usually go and look at our own sense of the game, where it goes," John Stevens said of the 127 hits.
"That might be a modern-day record, if I' m not wrong, right? I mean, I don't know. The teams play hard and I'm not sure where that number comes from, but I'm not sure if there will be anybody playing tomorrow if that number's accurate."
In the game, William Carrier was credited with a game-high 10 hit,s followed by 5-foot-9 Jonathan Marchessault with eight and then Adrian Kempe, Trevor Lewis and Alec Martinez with seven.
Gallant, on encouraging creativity in a tight-checking playoff game: "Guys want to manage the puck well. But when you get a chance to make those plays, let's make those plays. The goaltending's so good now, you have to go east-west. If they don't work, backcheck really hard."

— Sheng Peng (@Sheng_Peng) April 12, 2018
According to Kopitar, "no, it definitely didn't feel like the most physical game I've ever been a part of," even if both teams visibly were able to ramp up the intensity and play with the traditional firmness seen in the playoffs.
As for the 2013 series, "that's a long time ago," Kopitar said.
-Kopitar was able to spearhead a quality amount of rush opportunity against a team that forechecked and backchecked well, and, late in the contest, kept numbers back at their own blue line. How was his line able to create those opportunities?
"It's just trying to do the job in your own zone and get up the ice as quick as you can, really. Try to fill in all the lanes," he said. "I think all three times when we were there, I think D were joining in the rush, too, which is obviously a big part of that. I can't really point to one [thing] that we did, it just comes, really, and we're making plays that are there."
The rush opportunities weren't created by sacrificing anything from their own game until the need to get numbers into the play was heightened late. This wasn't exactly a track-meet game, and the Kings retained their structure through much of it.
"I don't think you're taking any chances by any means," Kopitar said. "I think when the time comes, maybe the second half of the third period, we gave up a few odd-man rushes just because we were trying to press, but other than that, they scored, what, three, four minutes in? You still have 55 minutes to play, so you're not taking any chances. You're just really trying to focus on the game and follow the game plan."
-There was the familiar call to get more bodies to the front of the net and make life more difficult for Marc-Andre Fleury, who didn't see a surplus of second or third efforts on pucks directed at him.
"I think they played well in front of him," Dustin Brown said. "They boxed out well, but this time of the year, it's just a matter of will to get to the front of the net. We got there a few times, but it just needs to be more consistent."
That "will" was understood by Kopitar, who showed his typically strong play on the puck, especially in the harder areas of the offensive zone. He, along with Brown, have the ability to use their size and determination to get to those greasy areas of the offensive zone where deflections, tips and rebounds occur.
"Just get there," Kopitar said. "It's hard to have a net presence if you're not spending a whole bunch of time in their zone. We'll focus on that, obviously, getting our forecheck going and trying to make them defend and play in their zone. I think as soon as you do that, it's a lot easier to get to the net just because of the time spent in there. I'm not saying it's easy to bully your way to the net, but there are more opportunities to get there."
When the Kings do get there on Friday, don't count on the type of missed opportunity that kept them off the scoreboard when a puck rolled on Dustin Brown, who ran out of real estate and lifted over the far post from a sharp but manageable angle.
"He misses the net from a point on the ice where he most likely doesn't miss, but it happened," Kopitar said. "I had a couple good chances and couldn't convert, and stuff like that makes a difference. Last night it didn't go our way. "
Dustin Brown, on the lack of panic and concern:
It's just one game. It's a different team than we had then, but you could look at it a lot of different ways. If we win tomorrow night, it's 1-1, we have home ice. That's just kind of the focus, right? It's a grind out there. It's one game. It's more important that we get our game in order heading into Game 2 and performing well in Game 2 and give ourselves a chance.
Alex Iafallo, on the experience of his first Stanley Cup Playoffs game:
Pretty cool experience. Obviously seeing the logo of the Stanley Cup Playoffs on the ice and all the fans was pretty cool, and I definitely had the time to take that in, but we're going to battle back here and get a win here tomorrow.
Iafallo, on the energy during warm-ups:
It was really loud out there. You had the towels out there waving around and a lot of Kings fans out there, too, so it was pretty cool seeing them and a cool experience.
Tanner Pearson, on what the team has to do better in Game 2:
I think we did a good job of getting pucks to the net. Maybe getting a few more people there and start whacking away because pucks are going to be flying around there. That's how a lot of goals are scored, within that five-foot radius of the net. Just keep on banging away there and keep on getting pucks and bodies to the net.
Pearson, on the importance of "will" when creating a net-front presence:
I just looked at a clip with Johnny where I went to the near side of the net instead of the backside, and the puck's just kind of sitting right there after Dewey shot it. Just little things like that can make a difference.
Pearson, on any surprise that Vegas held its own physically in Game 1:
No. Any time you've got enough guys that kind of know what the deal is when it comes to playoffs, it's a different animal. Bodies get thrown around, and they sure did last night.
#GoKingsGo pic.twitter.com/ayR2HzHbYT

— Los Angeles Lakers (@Lakers) April 12, 2018