Good afternoon to you, Insiders. Let's get down to brass tacks.
-The vitals: The Kings took the ice shortly before 10:00 a.m. There were no rushes, because it wasn't a full morning skate. Jonathan Quick left the ice first and will be projected to start in net against Minnesota (7:30 p.m. / FOX Sports West / FOX Sports GO / FUBO TV / KABC 790 / I Heart Radio). He's 12-7-4 in his career against the Wild with a 2.50 goals-against average and a .900 save percentage. Los Angeles is vying for its second season sweep of Minnesota in the series' history, which began in 2000-01. The only other sweep was when L.A. went 4-0-0 in 2008-09. 11 of the last 25 meetings between the teams have been decided in overtime or a shootout. Christian Folin recorded 23 points (4-19=23) in 118 games with the Wild from 2013-17, while Torrey Mitchell totaled 17 points (5-12=17) in 103 games from 2012-14.
-Their vitals: Alex Stalock will start in goal for the Wild, who lost 3-1 in Anaheim last night. He's 0-2-0 with a 2.07 goals-against average and a .919 save percentage in three career games against the Kings. Matt Cullen will sit tonight's game out, per Mike Russo of The Athletic. Minnesota will be without Ryan Suter (right ankle fracture), Jared Spurgeon (right hamstring tear), Gustav Olofsson (upper-body) and Luke Kunin (ACL tear in left knee). Per Sarah McLellan of the Minneapolis Star-Tribune, the Wild may line up with forward groups of Parise-Koivu-Granlund, Zucker-Staal-Niederreiter, Greenway-Coyle-Ennis and Foligno-Eriksson Ek-Winnik and defensive pairings of Brodin-Dumba, Seeler-Murphy and Soucy-Prosser.
-There were no new injury updates from John Stevens after today's practice. Neither Derek Forbort nor Jake Muzzin will play; don't expect either to play Saturday against Dallas, either. Muzzin took the ice after the morning skate but was mostly limited to skating and conditioning and wasn't shooting pucks. Because there wasn't a full assortment of players on the ice, and no line rushes were held, any potential changes to the alignment shown yesterday will be learned during warm-ups.
-Dustin Brown, on how the Kings should remember the feeling of missing the playoffs last season and use that as motivation: "Our season was a lot different last year. We were out of the playoffs well before this time. It's hard to remember those how-you-feel, those days, when it comes to November, next year, December, February, when you're grinding. But, it's important to remember how that feels. I think it can be a very big motivator for a team that's hungry. Luckily, we have a lot of guys who've won in here, so they know what that feels like and they know what they're missing out on every year. But again, we have a lot of young guys. I came in as a young guy and we didn't make the playoffs. You don't get to play every year, and it's just having that hunger inside and remembering. Some guys hate losing more than they like winning."
-Cole Hults (5th / 2017) was named Penn State's Freshman of the Year. The defenseman appeared in all 38 games, totaling 20 points (3-17=20) and finishing in third place among defensemen in Big Ten scoring. Used in a variety of situations, Hults' 66 blocked shots were the second-most by a Big Ten freshman and tied for eighth overall in the conference, per the Nittany Lions. Penn State's 3.63 goals per game led the Big Ten and ranked third in all of college hockey. In their sixth year as a varsity program, Guy Gadowski's group fell to Denver 5-1 in the first round of the NCAA tournament to finish 18-16-6.
-Because Los Angeles qualified for the playoffs, the conditional fifth round draft pick traded to Montreal in the Torrey Mitchell trade is now a fourth round pick, per the stipulations of the trade. It's the same fourth round pick Los Angeles acquired in last year's Dwight King trade, so the Habs will receive their own fourth rounder. It should be a very high pick in the fourth round.
-A fun and informative Kings Weekly with AGM and special guest Mike Futa is upon us.
Futa, who sits down with Alex Curry, taps in to his family, his playing days, his ascendance as a young coach to a scout and how they shaped his earlier years in the Kings organization. There's also good coverage of the LAKHSHL championship, as well as Luc Robitaille's Celebrity Shootout and the Echoes of Hope red carpet reception.
-Tonight's officials are referees Francis Charron and Dan O'Halloran and linesmen Jonny Murray and Lonnie Cameron. Shelby Tweten will perform the national anthem. Thank you for reading, Insiders – let's talk soon.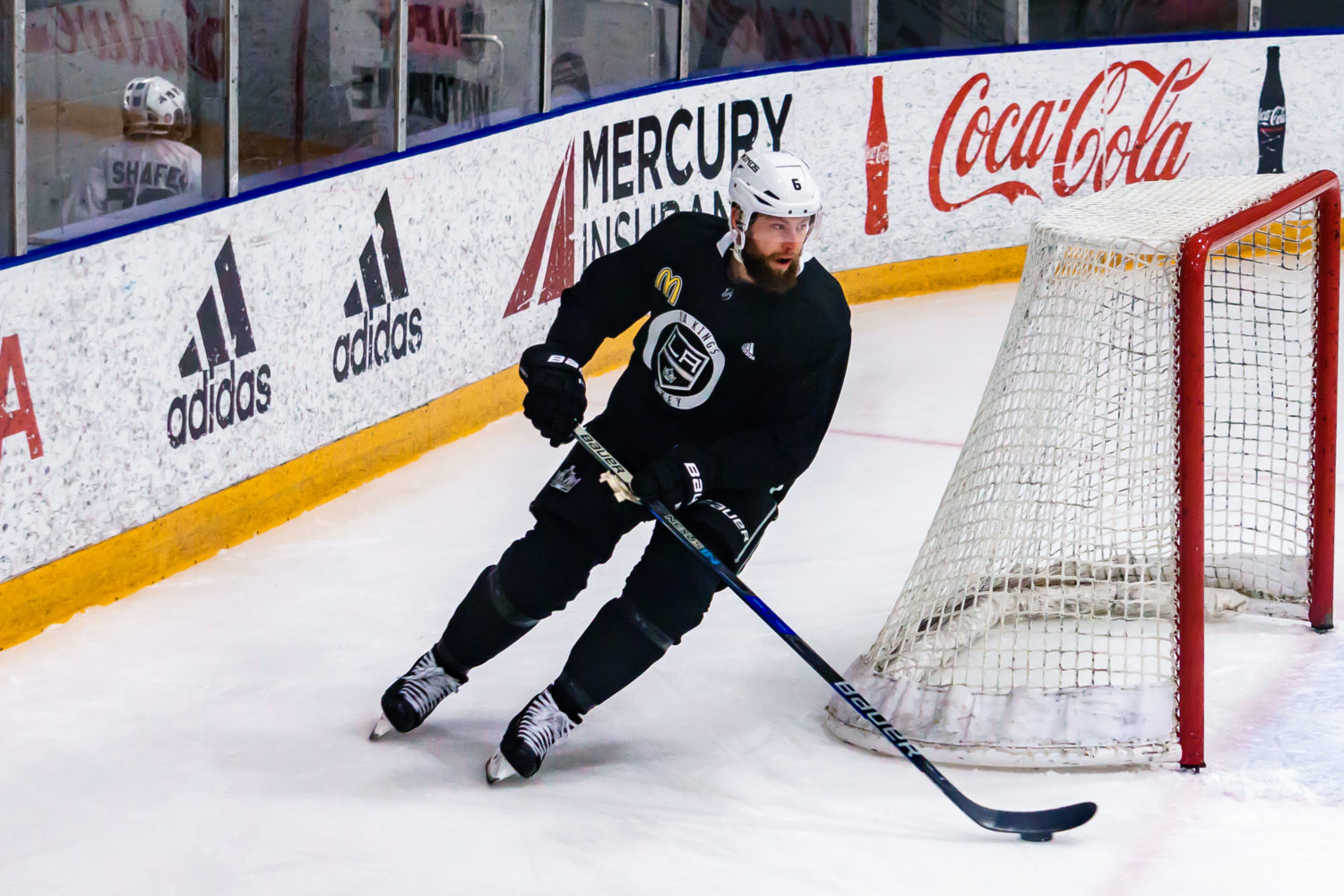 -Photos via Jon Bradley