Several quick pre-game notes in advance of tonight's game between the Kings and Ducks at Honda Center (7:00 p.m. / KCOP 13 / FOX Sports GO / KABC 790 / FUBO TV / I Heart Radio):
-The vitals: The Kings held an optional morning skate. Those participating were last night's scratches (minus Jake Muzzin), Kevin Gravel and the two goaltenders. There were no hints tipped to the lineup, but expect Jonathan Quick to start the important game. He's 19-12-7 with a 2.51 goals-against average, a .906 save percentage and one shutout in 40 career games against Anaheim. Los Angeles is 7-3-3 on the second night of back-to-backs this season.
-Their vitals: John Gibson will start in goal. He's 8-3-0 in his career against Los Angeles with a 1.87 goals-against average, a .933 save percentage and two shutouts. Per Eric Stephens, J.T. Brown will replace the newly signed ex-Pioneer Troy Terry in the lineup. A potential lineup could look something like Rakell-Getzlaf-Perry, Cogliano-Kesler-Silfverberg, Ritchie-Henrique-Kase and Brown-Grant-Chimera up front with defensive pairings of Fowler-Montour, Lindholm-Manson and Beauchemin-Pettersson.
-Clarkson forward Sheldon Rempal has signed a two-year entry-level contract. More to come from him next week, when he'll be practicing with the Kings, but the team really viewed the NCAA free agent market as an important stage from which they'd continue to build their team out, and Rempal, a player with a high degree of speed and skill with a nose to the net, is a player that fits an organizational need. The timing worked out well; he visited and toured the team facilities yesterday, was hosted by team brass during a thrilling late-season game, and today signed his contract. He'll burn the first year of his ELC and remain with the Kings to practice over the final week of the regular season – he won't report to Ontario, via hockey ops – before returning to upstate New York to finish up his year at school.
This is one Rempal goal this year pic.twitter.com/nOH9KLIzyR

— Cap Carey (@CapCareyWDT) March 30, 2018
As the team and league continue to move towards a style that relies on pace and tempo, Los Angeles will always be interested in shifty players such as Rempal who play more of an east-west skill game and have a nose for the net. He can play both sides of the ice and competes hard to score goals while possessing a solid second gear of speed. The Calgary native posted 23 goals and 46 points in his 39-game sophomore season with the Golden Knights.
Los Angeles has had very good success over the past year at recruiting and signing NCAA free agents. Though they didn't land defensive targets Zach Whitecloud or Neal Pionk, Alex Iafallo has had a large impact on this year's team while largely owning a spot alongside Anze Kopitar and Dustin Brown, and yesterday's signing of Daniel Brickley adds another poised defenseman with an offensive bent who skates well and will be able to compete for a job at the outset of the 2018-19 season. The courtship and recruitment process was similar to that for Brickley, and Rempal was another player pinpointed by the team prior to the season before he really jumped significantly onto the team's radar around Christmas.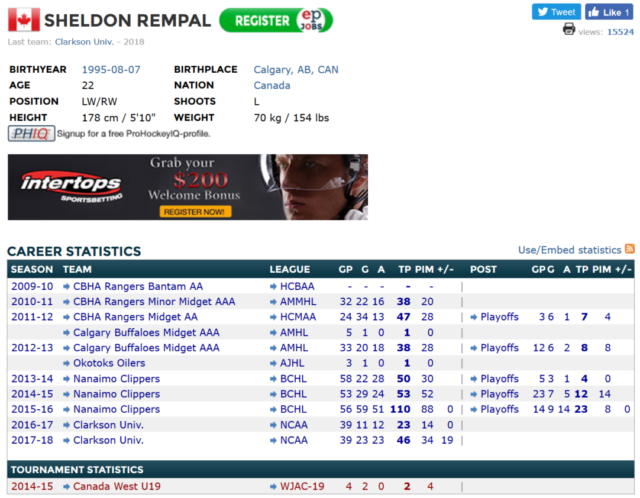 –Beehivers: The Kings and Vancouver Canucks will play a game in Guangzhou Salt Lake City prior to next season. That's great news for the Utahns on the club in Trevor Lewis and Daniel Brickley – the two players' fathers actually go way back to around the time Brickley was born – as well as monarchophiles living under the benevolent shade of the Wasatch Range.
Utahns to have played in the NHL include Anaheim assistant coach Steve Konowalchuk, Richard Bachman and Dylan Olsen. Lewis, a Cottonwood Heights native who attended Brighton High School before leaving for junior hockey in Colorado and, later on, Owen Sound, is the only member of the group to have won the Stanley Cup.
Los Angeles will be the home team for the Monday, September 24 game in what is being dubbed as the Salt Lake Shootout. Though the Kings played at the E Centre in their most recent preseason game in the area, held in 2008, this game will be played at Vivint Smart Home Arena, which was formerly known as Delta Center and was the site of several notorious air balls by a rookie Kobe Bryant. Tickets are on sale now at vivintarena.com.
The Kings will also host a special youth hockey camp in the area this summer. Kings Camp Park City will take place on July 9-13 at the Park City Ice Arena for Mite-Bantam age divisions. Click here for more information.
-So, you may have noticed that the Kings have killed off 30 of 31 penalties since the Chicago game on March 3. That run includes a string of 19 successful kills over the last seven games. Los Angeles once again leads the league in overall penalty killing percentage. About that:
"We actually think that killing penalties, there has to be a good understanding of what the plan is," John Stevens said. "Our goalie has to be involved with that plan, and we're one of the few teams that uses six guys killing penalties up front, and I think that allows us to keep fresh legs out there. We have different guys that can take faceoffs on both sides, and there's a real commitment to keep the puck out of the net. Dave Lowry does a good job of pre-scouting our opponent and making sure we're aware of tendencies and reinforcing what needs to get done for us. But I think there's no question experience in those situations with the guys that we have there helps, and I think the fact that Jeff coming back in the flow, he's been really sound in the faceoff circle. He gives you a right-shot centerman that can take draws, so we've got a couple options both lefty and righty now with Carts, Mitchie, Lewie, and then left side you've got Kopi and Thommer. I think that's a real luxury to have because of the faceoff circle and what it means to start the power play."
-Nate Thompson is the latest player to play for both the Kings and Ducks, and while he keeps close with several players on the other side, he hasn't spoken with them recently. "There's no friends out there today," he said.
A playoff-hardened checking forward, Thompson's second-best offensive season came in 2014-15, when he totaled five goals and 18 points in 80 games. Goals aren't necessarily how his game is evaluated, but with six goals in 36 playoff games and 53 goals in 615 regular season games, he has the reputation of being someone who seems to step up when there is more on the line. That should again translate well to the Freeway Faceoff.
"I think any time we seem to play each other, it's always a playoff atmosphere. Now that there's more on the line, it'll be even more of a higher level. It should be fun. It should be fun for everybody," he said.
"Any time you watch these games, and now being on the other side of it, it's always a war out there. There's not a lot of room on the ice. You've really got to fight for every inch. They're low-scoring games, usually. It's just fun, playoff-style hockey. I'm looking forward to it."
-Tonight's officials are referees Wes McCauley (!) and Brad Watson and linesmen Brad Kovachik and Shane Heyer, who will officiate his final NHL game after a 30-year NHL career. Heyer has worked 214 playoff games, six Stanley Cup Finals, the 1998 All-Star Game in Vancouver, the 2014 Stadium Series in Los Angeles, the 2018 Winter Classic in New York, the 1996 and 2016 World Cup of Hockey and the Vancouver 2010 Winter Olympics. The Kings will be presenting him with a gift to commemorate his career before the game.
Photos of Thursday signee Mikey Eyssmiont, courtesy of St. Cloud State University: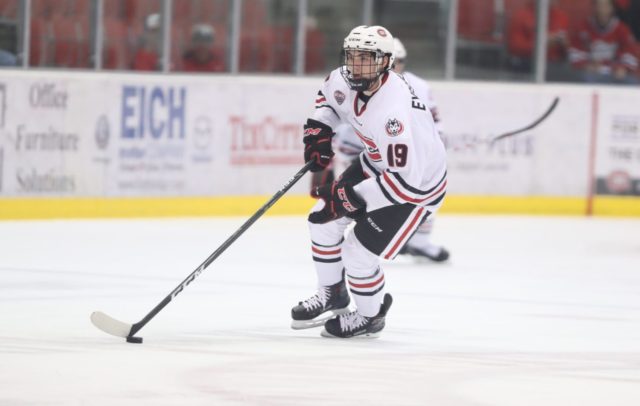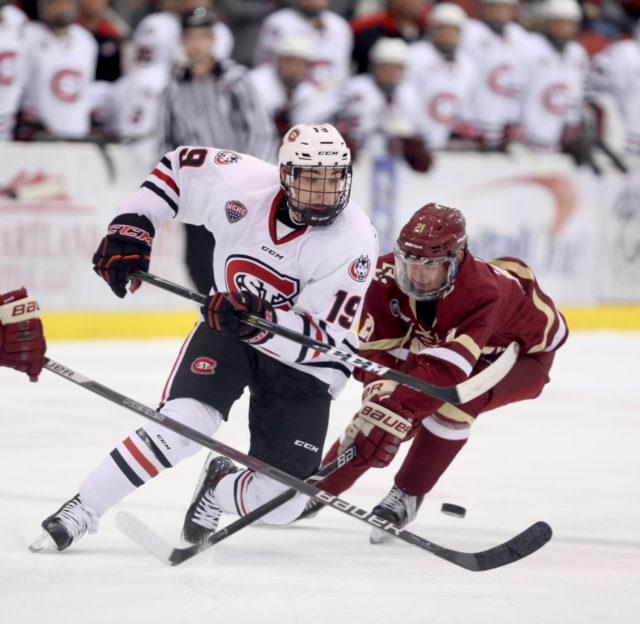 -Lead photo via John Crouch/Icon Sportswire