The LA Kings inked 2016 fifth round draft pick Mikey Eyssimont to a two-year, entry level contract, the team announced Thursday.
The 21-year-old is expected to report to Ontario, where he would compete for the rest of the season on an ATO. His two-year entry-level contract will begin in 2018-19, making him a restricted free agent in the summer of 2020.
Several weeks ago, it was becoming likely, though not necessarily a given, that the Kings would sign Eyssimont upon the conclusion of his junior season with St. Cloud. A highly skilled forward, the Denver-area native rebounded from illness at the start of the season to post a terrific second half and finished his year with 17 goals and 39 points in 39 games with the Huskies, the top overall seed in the NCAA tournament that was upset in the first round by 16th overall seed, Air Force. He led St. Cloud with 17 goals and 135 shots on goal. His college career ends with 101 points (45-56=101) in 115 career games.

Said Kings Amateur Scout – United States, Tony Gasparini, in mid-November:
He's playing his way back into shape right now, but you're starting to see flashes of his skill level, which is exceptional. Like, his individual skill level, his ability to make plays, create offense, especially on the half-court and especially on the power play, is very impressive. It's a matter of Mikey gaining that strength back in which he worked so hard this past summer to add on, so it's going to take a little time. I would expect you're going to see him take off in the second half of the season, and he's hovering around a point-a-game now, which is very good. He's been a point-a-game guy almost for two years in college now, but I would expect in the second half of this year – and St. Cloud is one of the top programs in the country this year – so I would expect in the second half, I would hope to see a little boost as he starts to get back. But his skill set is a little different. He separates himself due to his skill set and his offensive instincts. He's got a will to score goals and a will to produce offensively. It's just a matter of him gaining enough strength so he can play at a faster pace and play a more complete game without the puck.
Eyssimont joins Kevin Gravel, Jonny Brodzinski and Nic Dowd as Huskies to have signed an NHL contract with Los Angeles this decade. The Kings only held four draft picks in 2014, though three have signed entry-level contracts in Kale Clague, Jacob Moverare and now Eyssimont. Heavy-hitting defenseman Jacob Friend, selected in the seventh round in 2016, recently completed his 20-year-old season with OHL-Owen Sound with three goals, 30 points and 89 penalty minutes in 61 games this season.
I caught up with Eyssimont at Toyota Sports Center two development camps ago: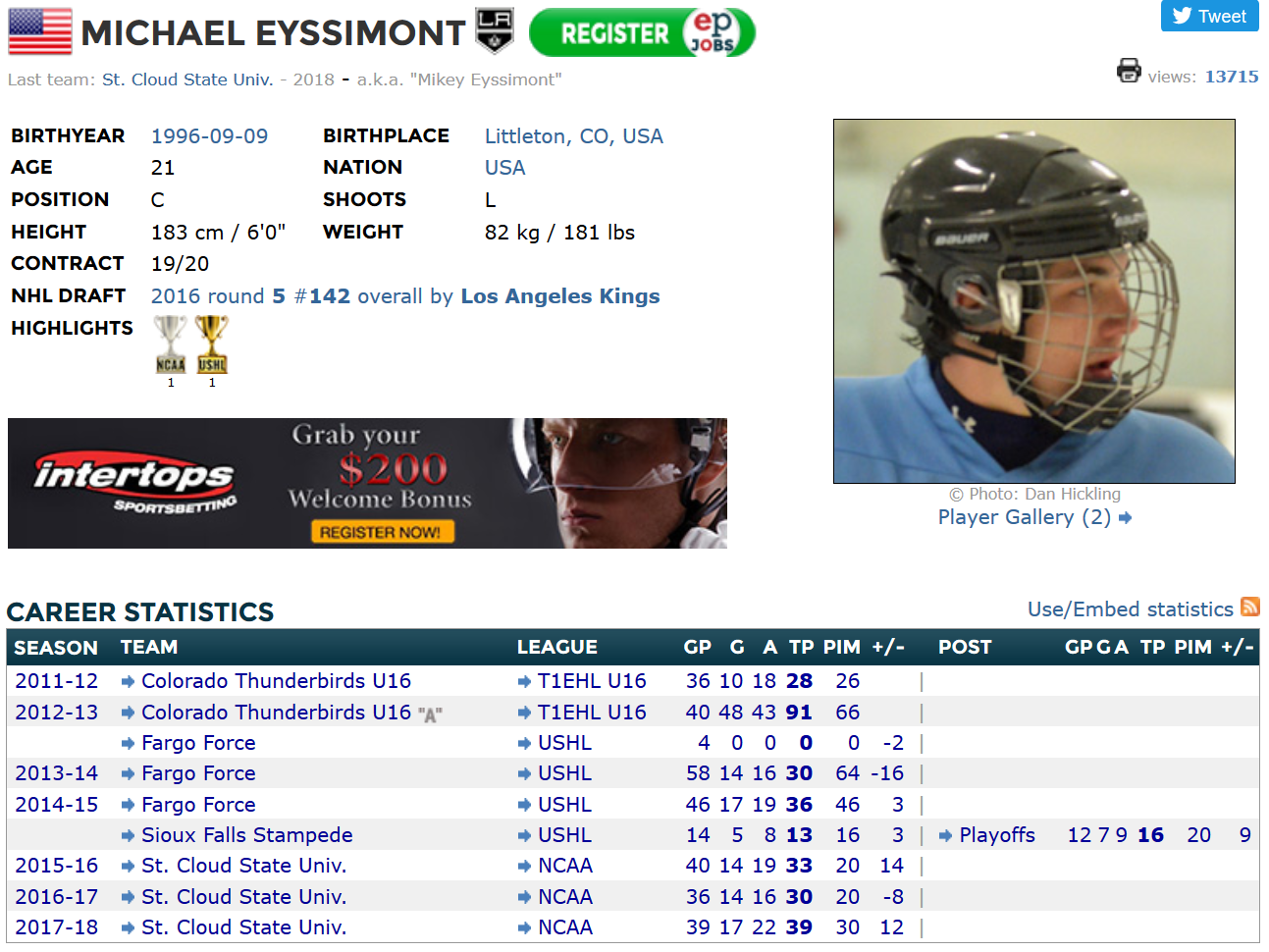 ____________________________________
The Kings, who gained a commitment from NCAA free agent defenseman Daniel Brickley, also hosted 22-year-old Clarkson forward Sheldon Rempal on Thursday. Rempal, a Calgary native, totaled 23 goals and 46 points over 39 games in his sophomore season and is being pursued by a number of NHL teams.
Rempal was a prolific scorer as a 20-year-old in the BCHL in 2015-16, totaling 59 goals and 110 points with the Nanaimo Clippers. He followed that up by garnering an ECAC All-Rookie nomination last season before being named as an ECAC First Team All-Star and to the conference's all-tournament team this season. No timetable is yet available on when Rempal may announce his intent to sign.