Lots of news, prospect-wise, on Thursday: The LA Kings have agreed to terms with NCAA free agent defenseman Daniel Brickley and signed 2016 fifth round draft pick Mikey Eyssimont, while 22-year-old free agent NCAA forward Sheldon Rempal visited the team's facilities.
First, Brickley. His signing represents the culmination of an extended process in scouting and pitching the 6-foot-3, 205-pound left-shot defenseman, whom the team hosted at Toyota Sports Center Wednesday. Brickley, who was led on a tour of the team's offices and facilities by Luc Robitaille, also spent a lot of time with Rob Blake, an integral figure in the team's courtship. He met quickly with Anze Kopitar and Drew Doughty – the latter of whom Brickley has been a huge fan of – and spent time with John Stevens, though the efforts to sign the defenseman weren't limited to the hockey operations side. The team invested a heavy amount of time in a multi-faceted pitch that also relied on video and an array of other team departments. Those multi-pronged pitches attempted to sell him on the full experience of being an LA King, from the team's style of play and how it will help him develop as a player, to off-ice considerations, such as lifestyle and Los Angeles' unique South Bay hockey culture.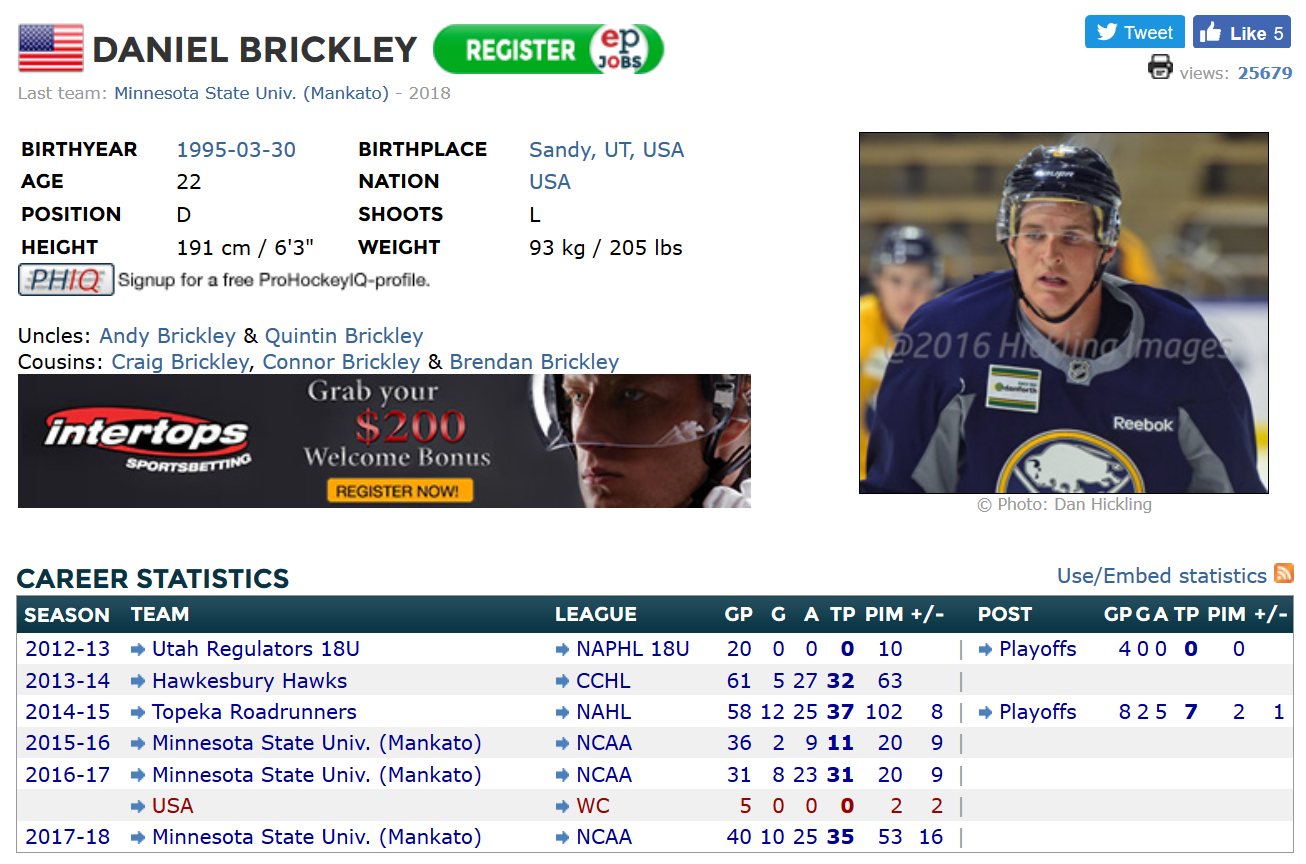 Blake, who has invested significant time rebuilding the team's prospect pipeline through his first 11 months as general manager, has signed free agent goalies Cal Petersen and Cole Kehler and defensemen Austin Strand and Brickley, while inking organizational prospects Gabriel Vilardi, Jaret Anderson-Dolan and Eyssimont. Widening the team's pool of young talent was among the endeavors Blake has been heavily invested in, and Brickley's pursuit was an important part of the continued thrust to rebuild the pipeline.
As passed along yesterday from The Athletic ($), as Brickley began getting more comfortable in his body after a late growth spurt, his game flourished at Minnesota State-Mankato. He displayed a quality shot from the point, which indicates that there will be power play time in his future, and demonstrated good anticipation in the play, which benefited his transition game. As Craig Custance wrote, he became "the most sought-after free agent in this year's class."
The scouting report continues, via The Athletic:
Multiple sources projected him as a bottom pair NHL defenseman to start with the upside to grow into a No. 4 if he continues to develop. His offensive ability is developed enough to earn power play time on a first or second unit. He probably needs AHL time but it may take NHL playing time assurances to get him to sign, as is often the case with these free agents.

"We like him," said an Eastern Conference assistant GM. "He's smart, he moves the puck… he's a little bit of a wild card. A power play guy, no panic. Great puck poise."

Another source said he'd benefit most going to a team with a lot of structure in part because of struggles defensively that lead to the occasional glaring turnover on defense. But that's a lot of young defensemen.
Brickley, who totaled 10 goals and 35 points in 40 games with the Mavericks this season, was named to the 2015-16 WCHA All-Rookie Team and was the 2016-17 WCHL Defensive Player of the Year. The Sandy, Utah native attended Buffalo's development camp in 2016 and represented the United States at the 2017 World Championships.
Via hockey ops, Brickley is likely to remain with the big club to get immediate exposure to the atmosphere around the team.
Brickley gets a two-year entry-level contract from LA. The first year of it is burned simply by signing it. Doesn't need to play a game to burn it and is not necessarily expected to play a game for LA this season. But will be with the team this week.

— Bob McKenzie (@TSNBobMcKenzie) March 29, 2018
More to come on Brickley tomorrow.
-Lead photo via Correy Perrine/NHLI