A pleasant Monday to you, Insiders. Let's get down to brass tacks. The Kings took the Xcel Energy Center ice at 11:00 a.m. and aligned thusly:
Rieder-Kopitar-Brown
Pearson-Carter-Lewis
Clifford-Kempe-Toffoli
Andreoff-Thompson-Mitchell
Forbort-Doughty
Martinez-Phaneuf
Muzzin-Folin
Notes!
-The vitals: Monday opens up a back-to-back for Los Angeles, so the #LAKingsGoalieTweetOff applies. Jonathan Quick was the first goaltender off the ice and is 11-7-4 in his career against Minnesota with a 2.49 goals-against average and .900 save percentage. Alex Iafallo, Paul LaDue, Michael Amadio and Kevn Gravel remained on the ice for extra work, so they're likely out tonight. "We've got healthy guys not playing. For us, it's a next-man-up mentality," John Stevens said. "We've had guys go down because of injury, we've had a really good group that's come in and picked up the slack, and we've had guys come in as healthy players like LaDue's done and throughout the year, and we expect the same thing from anybody who comes in our lineup."
Should Andy Andreoff play, it would be his first game since February 22 against Dallas, which came on the heels of productive play and the construction of palpable chemistry alongside Michael Amadio and Jonny Brodzinski. "Andy's played well at times this year," Stevens continued. "I think he's been good along the boards, his forecheck game's been really good. There was a time when the Amadio-Andreoff-Brodzinski line gave us some real life on the road trip. It's hard for these guys who don't play every day, but we keep telling them that you've got to be ready so that when your name is called you're ready to come in and help us. We're going to need more than just 20 guys to get through this, and if his name's called, we expect him to come in and help us."
Given Minnesota's standout play at Xcel Energy Center, where they're 24-6-6 and are tied for the NHL lead with 54 points at home this season, boards play and any sort of territorial advantage gained through a good battle element becomes key. "I mean, every winger has to be really good on walls," Andreoff said. "These are really important games, and you don't want to create turnovers from me losing the battles on the walls. I think that's the key thing for me tonight, just being really strong on the walls and being strong on pucks."
It wasn't easy for Andreoff to come out of the lineup shortly after he had contributed positive minutes and had crafted an effective role on the team's extended February trip. "It's just the way it is. You've just got to take the positives out of it. We were all playing with confidence, playing well together. Just trying to bring that back to tonight's game. Make simple plays, be good on walls and play hard."
Two of his three goals and seven of his nine points this season have come away from Staples Center. He's not someone whose established tendency is to push play towards the attacking end, but his possession rates are considerably better on the road than they are at home.
-Their vitals: Expect forward groups of Zucker-Staal-Niederreiter, Parise-Koivu-Granlund, Ennis-Cullen-Coyle and Winnik-Eriksson Ek-Foligno with defensive pairings of Suter-Dumba, Brodin-Murphy and Seeler Prosser. Devan Dubnyk, who is 7-5-1 in his career against Los Angeles with a 2.42 goals-against average and a .926 save percentage, is tabbed to start in net. The world has finally caught on to Jared Spurgeon, so I'm not sure if he's "criminally underrated" anymore, but he's recovering from a hamstring tear and remains out. From the Oh, Good Department: The Wild have built up a +16 first period goal differential. Their 48 first period goals allowed ranks fifth in the league. Minnesota's 175 defensive points rank second in the league (Los Angeles ranks fifth with 162). They're tied for third in the NHL with 46 points (21-8-4) since the turn of the calendar year.
-Bruce Boudreau, on the Kings: "They're the one team I've coached more against than any other team. We're up against a really hard-working team that plays the right way. If the goals are going in, then they're really difficult to beat, and if they're not going in, then it's usually a very close game. If we're not playing right for 60 minutes, we'll be up against it."
More from Bruce on the Kings' improved offense and tempo:
-None of his numbers have ever been particularly troublesome, but Eric Staal is enjoying a career renaissance as a 33-year-old. "He had a couple down years by his standards, and now he's right back where he's always been," said Dustin Brown, the 13th pick in the 2003 NHL Draft. Staal was chosen second overall that year by Carolina. "He's always been one of the better players. Quietly, he just produces."
Tied for fifth in the league with 38 goals, and tied for the second most goals scored in one season in club history, he'll give Marian Gaborik's 42 goals with Minnesota in 2007-08 a run for their money. He's also looking to join Gordie Howe as the only players to post 40-goal seasons at least nine seasons apart with none in between. Howe went 12 years between netting 44 in 1956-57 and 1968-69, while Staal, who set a career-high with 45 goals as a 21-year-old in 2005-06, last reached the benchmark with 40 tallies in 2008-09. He leads the Wild in goals (38), points (70), shots (203), power play goals (11), shorthanded goals (2), multi-point games (17) and shooting percentage (18.7%).
-Even though the Kings open up a challenging four-game trip tonight and, at Game 73, are in the midst of a five-game segment, there's no broad picture outlook at the start of the trip. Put on the blinders, come ready to work. "Just focus on Minnesota tonight, and then once that game's over with, you just hit the reset button regardless of the outcome because you've just got to crawl, claw for points," Dustin Brown said.
It's not always easy, but them's the breaks at this time of the year. "We're fighting for a spot," Brown said. "You're jumping spots in the standings every day. It's a very unique time of the year where the games are super important, but at the same time, if you lose one, you have to get right back on the horse to keep pace so you always have an opportunity to get going and focus on the next game. It's going to go from that phase to either you're in or out real quick here over the next week."
-I'm going to share this in a separate post over the next several days with an ~*official link*~, but I hope you'll join us for a special LAKI group night for the April 2 game against Colorado. I'm still working out the details for this experience, which will also include a pre-game chalk talk that I'll moderate with members of the organization. Keep this date on the calendar circled, Insiders. It's shaping up to be an enormous game.
– The Kings recently took a series of official team photos, including this one which, in essence, features the full-time team travel squad including players, coaches, trainers and other members of the traveling hockey staff. This is the photo that will permanently hang on the locker room walls both at Toyota Sports Center and at STAPLES Center. The team also took two "all staff" photos, including one honoring the memory of the late Chrissy Duarte.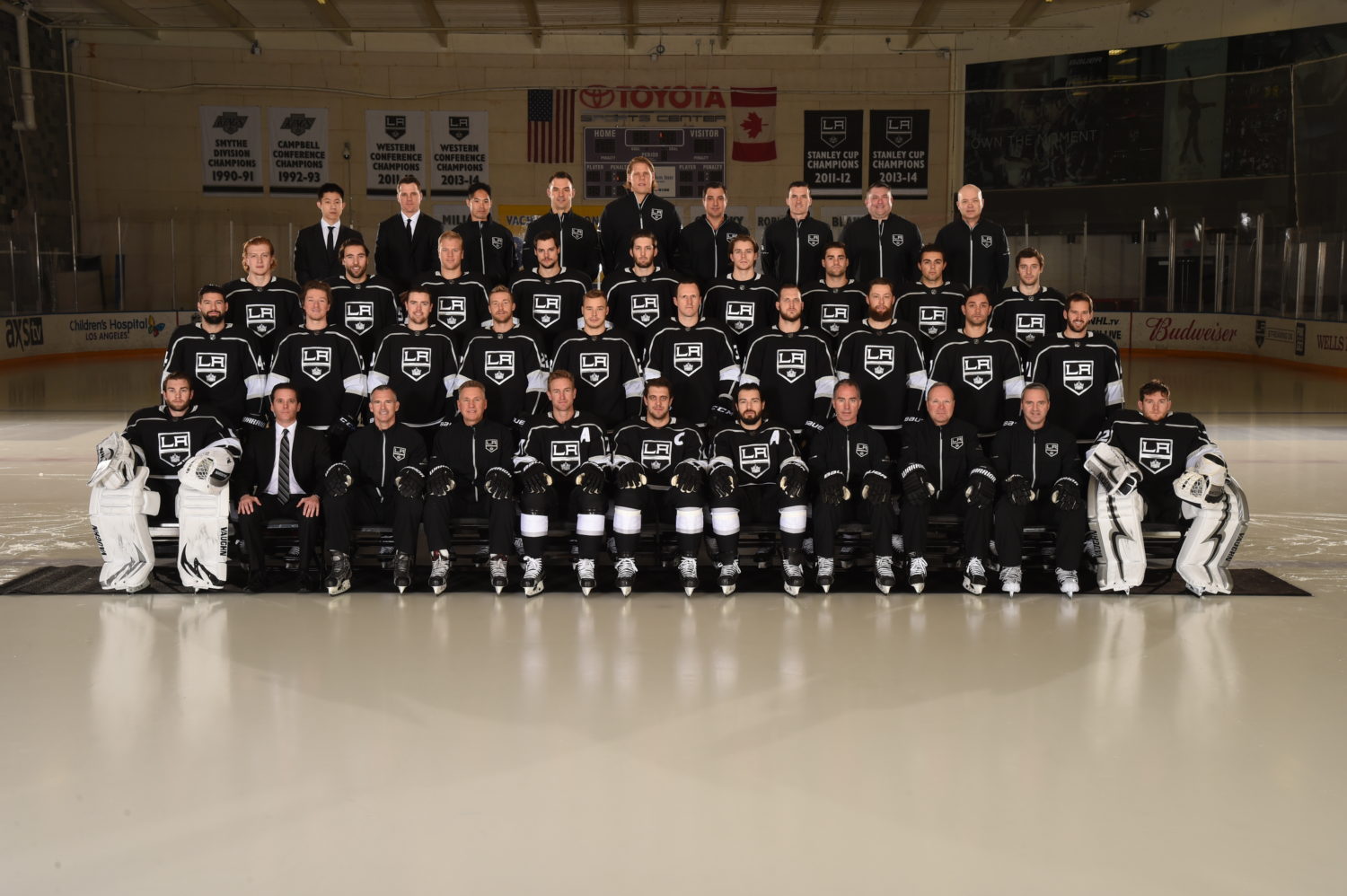 -Tonight's game will be broadcast on NBCSN by a pair of wonderful gentlemen in John Forslund and Jim Fox. This is Los Angeles' final NBCSN broadcast of the season; they're 7-3-1 thus far. Fun facts, as learned following the skate: prior to broadcasting Hartford Whalers (and, later, Carolina Hurricanes) games, Forslund was the Springfield Indians broadcaster when the club won the 1991 Calder Cup. John Stevens was the captain of that team, which featured a formidable roster of future coaches and executives including Marc Bergevin (General Manager, Montreal Canadiens), Todd Richards (Assistant Coach, Tampa Bay Lightning; former Head Coach, Minnesota Wild, Columbus Blue Jackets), Kay Whitmore (NHL Goaltending Supervisor) and Emanuel Viveiros (Head Coach, Swift Current Broncos). Also tending goal for the Indians in the regular season were Dallas Stars broadcaster Daryl Reaugh and Los Angeles Kings cult hero Rick Knickle.
-Tonight's officials are referees Chris Rooney and Brad Watson and linesmen Devin Berg and Derek Amell. Enjoy the Bark Madness updates, Insiders. Let's talk soon.