A good afternoon to you, Insiders. The Kings practiced at 11:00 a.m. at Toyota Sports Center and did not appear to show any changes to the lineup used against Washington, based off rushes. Jonathan Quick was the first goaltender off the ice and will be the projected starter for tomorrow's matinee against St. Louis (FOX Sports West / FOX Sports GO / FUBO TV / KABC 790 / I Heart Radio). I'll join the LA Kings Live pre-game show with a Gabriel Vilardi report in conjunction with the piece I wrote on him earlier this week.
Notes!
-It's the first time this season that the lineup has been fully healthy. When the season began, Marian Gaborik was on the shelf. By the time he was able to return, Jeff Carter had been felled by a skate cut that required surgery to his ankle. When Carter returned, Trevor Lewis was dealing with an upper-body injury. Along with these dings, bruises and nicks, Andy Andreoff, Kyle Clifford, Nic Dowd, Christian Folin, Derek Forbort, Adrian Kempe, Alec Martinez, Jake Muzzin, Jonathan Quick and Nick Shore also missed time due to injury or illness. Thursday's game was the first all season in which the Kings did not add to their man-games lost to injury haul, which has reached 153 games.
With the healthy roster, there's good competition taking place throughout the Kings lineup, along with difficult lineup decisions.
"It's not easy taking people out when you have people healthy," John Stevens said. "We think we've got depth, guys that can come in and help us. We know Andreoff's played well and is capable of coming in and helping us. We know Toby's got really good speed and is capable of coming in and helping us, and Toby can play anywhere in your lineup, to be honest with you. We played him with Kopi a little bit, you can play him all the way up and down your lineup. We think Kevin and Pauly on the back end, we have confidence in both those kids if they need to come in that they can help us. It's basically a day-to-day thing based on health, based on chemistry of the lines, and based on the performance. We look at each game that we've got to win each game. So, we got there yesterday. We've got to worry about tomorrow now."
There just wasn't an ideal way to get Toby Rieder into last night's lineup. Acquired last month from Arizona in the Darcy Kuemper trade, Rieder is a smart and responsible player capable of adding speed to the wing. He scored in his second game with Los Angeles and has totaled 13 shots on goal while averaging 12:59 per game through his six outings with the Kings.
"Toby, I think he's most comfortable on the left side. He's played a little bit of right, and we've asked him to play the right. I think he's most comfortable on the left," Stevens said. "He's such a good kid and a good team player that he'll play wherever you want him to, but we want to just make sure that he understands that we think he's going to help us, and he just needs to make sure when he's not playing he's ready to play and stays really sharp so that when he gets the chance to come back and play he can make a difference."
There will be plenty of opportunity through the remainder of the season for that to happen. In fact, let's just call it the "land of opportunity," to borrow from a dual Cup-winning Kings coach.
-A report this morning from The Athletic's Pierre LeBrun:
Hearing that Carolina has asked permission from the LA Kings to speak with Mike Futa.

— Pierre LeBrun (@PierreVLeBrun) March 9, 2018
Via Lisa Dillman, that request has been granted. Mike Futa has done wonders for the Kings' ability to scout, pinpoint and draft talent, particularly past the first round of the NHL Draft, and as such has been one of the regularly referenced names when GM positions infrequently open up. He will be a general manager in this league at some point and will do a very good job when he gets that call. On Wednesday, the Hurricanes announced that Ron Francis would become the president of hockey operations and will be replaced as general manager.
-I really enjoyed this article from Sean Fitz-Gerald of The Athletic ($) on the origins of Mike Babcock's accent and his early formative years in the Northwest Territories.
There were fewer than 200 residents. They had curling, but no hockey arena, and no television sets. His late father — also named Mike Babcock — once told the NHL's website how he would take his son out to patrol the local roads in his little blue snowsuit and shoot wolves.

They moved to Northern Manitoba, and into a town called Leaf Rapids, which was built in the late '60s to support the local mine. In June 1972, the Globe and Mail reported close to 1,000 men would be working around the town by the end of the summer, and that there were only "five single, eligible women."
-Tomorrow is Stick Up for Animals Day with the Kings. Via the Kings' community relations, keep in mind the following happenings across the rink: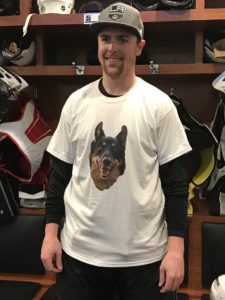 $5 Dog Calendar Blowout Sale + take a photo with Dodger Toffoli
In celebration of Stick Up For Animals Night, take advantage of the We Are All K-9s dog calendar sale – only $5 – at the Kings Care Foundation booth (section 103)! Dodger Toffoli, your September 2018 dog model, will also be visiting the Kings Care Foundation throughout the game to take photos with fans.
Dog Bowl Auction:
Every year Kings Care Foundation auctions LA Kings and player pet bowls to benefit our friends at spcaLA. Join the LA Kings in Sticking Up For Animals by bidding on these one-of-a-kind pet bowls through Kings Care Foundations mobile auction. To sign up to automatically receive updates on tonight's Pet Bowl auction as well as future auctions text the keyword KINGS to 52182.
Pet Supplies Drive:
Donate Large Breed Dog Food, Canned Puppy Food and Toys to benefit Wags and Walks on your way in to STAPLES Center on 3/10! Volunteers will be collecting donations at the Star Plaza Entrance for their local adoption center and, for each item donated, they will provide a raffle ticket for a drawing for a #77 St. Patrick's Day Locker Room Nameplate.
Shaunna can provide a photo
Dog T-Shirts:
Can't get enough of the LA Kings or their dogs? Wear the Kings faithful companions on your shirt! Kings Care Foundation is selling shirts featuring Kopitar, Carter, Doughty, Toffoli, Pearson, Martinez and Muzzin's canines for $20 to celebrate Stick Up For Animals Night. Limited quantities available – get yours before they sell out at section 103!
-John Stevens grew up with German Shepherds while he was young, as well as some mutts that ran astray. "We lived out in the country, so usually if a dog ended up coming to the door, it usually stayed around," he said.
Since then, he and his wife, Stacy, have been very active with their work with animals, including working with the Philadelphia Animal Welfare Society to help animals find foster homes while John coached the Flyers
"It seems in California here, I think if you live in the South Bay, it's a prerequisite you have a pet, isn't it. There are an awful lot of dogs in this area," he said. "But it's a very active outdoor community, and I think the community has a real soft spot for animals, so it's great to see supporting a cause like that."
Lead photo – and photos that follow – courtesy of Jon Bradley: