Darcy Kuemper was the first goaltender off the ice at Kings morning skate Wednesday, which is the general 'tell' for the team's starter.
The Kings take on the Edmonton Oilers, a team that has gone 5-1-1 in its last seven games, on Wednesday night at Staples Center at 7:30 p.m.
Kuemper has won three games in a row and picked up back-to-back shutouts. Jonathan Quick has lost seven of his last eight games, so it appears that Coach John Stevens is going with the hot hand. During this current stretch, Quick has an .874 save percentage. Before then, Quick had a .929 save percentage.
After practice Stevens was asked about the goaltenders and if he had a plan on how to use them on the Kings' upcoming seven-game road-trip and spoke about his general philosophy with his two current netminders along with how he was thinking about using them on the trip.
"I think both our goalies, if you look at the body of work over the course of the year, give us a chance to win almost every night," he said. "Nobody's penciled in tough. We're going to worry about today first. Obviously when there's a back-to-back at the front end of the trip, there's a back-to-back at the back end of the trip, there's a two day break in there. We'll consider all that along with performances of late, past performance against opponents. There has been flu bugs going around so there's lots of things to consider. As long as the guys are healthy, at the end of the day we're going to need them both to be good players for us."
The team's lines were as follows …
Iafallo-Kopitar-Toffoli
Pearson-Kempe-Brown
Clifford-Mitchell-Lewis
Andreoff-Amadio-Brodzinski
Forbort-Doughty
Muzzin-LaDue
Gravel-Folin
Alec Martinez skated with the team for the third straight day, but was not part of the defensive rotation at morning skate. Stevens said Martinez was a game-time decision. Martinez missed the Kings' last game with a lower-body injury suffered Feb. 1 against Nashville.
Nick Shore and Marian Gaborik stayed on the ice and did extra work after practice, which would indicate they would not play, though Stevens said both players were "available."
Stevens talked about how both players could use practice to make their cases to return to the lineup.
"That's everybody. We look at practice and practices lately are really critical because you don't get a lot of practice time moving forward," Stevens said. "We get paid to make those decisions and there's 14 guys up front right now that are available to play. I think it's our job not just to make easy decisions. It's to make decisions based on the makeup of your team, performance, team performance all that stuff and we don't always make the right decision but we think about it so we're going to need help from everybody and we've needed help from lots of defensemen this year. I think it's probably eight or nine guys that have played on the back end and we need help from lots of guys up front at different times. Depth is important. If you look at February and March, I think depth will be really important. And I think it's important when you don't play is you use practices to really stay on top of your game, do the extra work necessary so when the opportunity comes to play again you're ready to be a really good player."
Notes
– Stevens said the current plan was for forward Jeff Carter to not be on the Kings' upcoming seven-game road-trip. Carter was on the team's last trip – a two-game trip at Dallas and Nashville – but Stevens said that had more to do with the fact that it was the dad's trip. Carter has been out since October because of a cut to his left leg.
"I think probably the factor was it was the dad's trip last time. So we brought Jeff along thinking we'd get the work in and bringing (his) dad along, which we were happy about doing," Stevens said. "I think his dad looks forward to that trip and being a hockey guy. I think on this trip we really looked at it as a back-to-back on the front end, a back-to-back on the back end. We feel like it's best for Jeff to stay here and continue that process here in hopes he can make big strides, and I think he has made strides lately but I think we can give him the attention he needs better when he's here so the plan now is to leave him here throughout the trip."
– Wednesday's game is the Kings' last before they embark on the aforementioned road-trip. Though the team has a cross-country flight Thursday to Sunrise, Fla., players are doing their best to not worry about the long trip.
"We're not thinking about tomorrow's flight. We're just thinking about the game at hand," defenseman Drew Doughty said. "Edmonton's a really good team. They have a lot of firepower and it's a big, important game for us and we need to win it."
Said forward Alex Iafallo, "No, I haven't packed my bag. I have not packed my bag. I usually pack it after the game. We're ready for tonight and I'm excited to get it going."
– Tonight's game is Chinese Heritage Night presented by O.R.G. Packaging. The team will be wearing special warm-up jerseys before the game that will be auctioned off.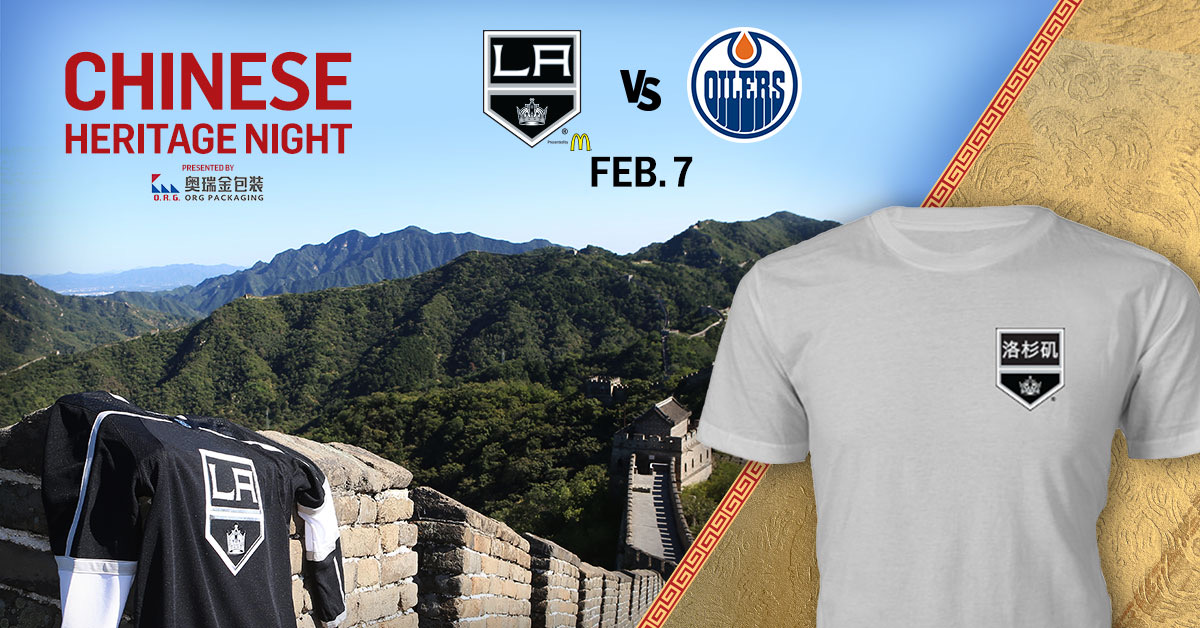 – Kings Equipment Assistant Bobby Halfacre will work his 1,000th game tonight. Congrats to him on the accomplishment!
Special moment for Club Equipment Asst Bob Halfacre who tonight works Game No. 1000. pic.twitter.com/KrQiSpmZlo

— LAKingsPR (@LAKingsPR) February 8, 2018
– Our friend PumperNicholl looked into what happened to Doughty's Snap Specs at the NHL All-Star Game.
– Former Kings broadcaster Bob Miller received a special Lifetime Achievement Award at the LA Sports Awards last night. Al Michaels presented Miller with the award.
The. Greatest. Hockey. Announcer.
EVER. The legendary Bob Miller honored with Lifetime Achievement Award at #LASportsAwards | @LAKings | #GoKingsGo | @LASportsAwards pic.twitter.com/zEjsnApx5Q

— Bally Sports West (@BallySportWest) February 7, 2018
– Lastly watch this touching video about how 12-year-old Karina is overcoming the odds of sickle cell disease thanks to her own personal strength, her family and some diligent doctors at CHLA.
Lead photo via Glenn James/NHLI