A good afternoon to you from Nashville, Insiders. The Kings skated at Bridgestone Arena at 11:30 a.m. and aligned thusly:
Iafallo-Kopitar-Toffoli
Pearson-Kempe-Brown
Clifford-Mitchell-Lewis
Gaborik-Shore-Andreoff
Gravel-Doughty
Muzzin-Martinez
Forbort-Folin
-The vitals: Jonathan Quick left the ice first and is expected to start in goal. The Kings made this press-release official at 2:00 p.m. PT. He's 5-9-2 in 17 career games against Nashville with a 2.86 goals-against average and an .890 save percentage. Jack Campbell, who was not on the ice Wednesday or Thursday, was assigned to AHL-Ontario as a corresponding move. As noted yesterday, no waivers were necessary for this assignment. Michael Amadio, Jonny Brodzinski and Paul LaDue remained on the ice for extra work with Darcy Kuemper, so they're likely out. Should the above lineup hold, every current active player will have gotten a game in during the fathers trip.
-Their vitals: Pekka Rinne left the ice first and is expected to start in goal. He's 12-7-5 with a 2.84 goals-against average and an .896 save percentage in 24 career games against Los Angeles. There's a good chance that Filip Forsberg could return to the lineup tonight. He wouldn't confirm whether he's in or not, but those remaining on the ice for extra work with Juuse Saros were Pontus Aberg, Anthony Bitteto and Matt Irwin. (Forsberg has since been activated from injured reserve.)
In the past 11 games without Filip Forsberg, the Predators compiled a 7-2-2 record but averaged 2.2 goals per game. They certainly could use him.

— Adam Vingan (@AdamVingan) February 1, 2018
-Jake Muzzin has points in six straight games, part of a roll that has lifted him up to an impressive five goals and 29 points through his first 47 games of the season. He actually has points in each of the last eight games he's played, but because he missed three games due to injury in the middle, the Big Book of British Smiles Hockey Stats officially credits him for only six. He's again churning out typically sound possession metrics with a CF%Rel just under +3.0%.
Muzzin is one of those players that gains momentum from his strong checking, and this year's performance is certainly a reflection of hard play in his own end leading to zone time and offensive opportunity at the opposite end. He's also deferring credit for his play of late.
"It's all our forwards, really," he said. "Creating turnovers on the forecheck has been an emphasis of ours lately, and then we create confusion in the zone, and sometimes it opens up the D. The D can be a little bit more patient still. Instead of diving in and trying to bring the play toward the net, we can spread it out in the zone. But, it's a credit to our forwards getting on top of their guys and creating turnovers, and stuff like that. We've got to continue doing that. We've got a big stretch of games coming up, and we're going to need everyone to do it."
-Dustin Brown is once again the Kings' Hockey is for Everyone ambassador. From last year's story on his You Can Play ambassadorship:
It's also important that "locker room talk," a saying that sands off the unacceptable usage of offensive dialogue among the company of a perceived like-minded group, is no justification for any sort of slur. To counter such equivocating, Brown is a proponent of starting the discussion with those around him.

"I think it's definitely changed since I first came in to the league, but I think it's important to understand it's just a lack of education, a lack of awareness of bigger things than hockey or stuff like that," he said. "It's not like a sports issue, it goes across to all facets of life and with a lot of the big issues like this, it just comes down to people are not bad people, it's just a lack of education on the matter and, like I said, there's a lot less of locker-room talk nowadays because people are more aware and people are being educated on it, and that's kind of what you need."
Serving as a special ambassador for Hockey is for Everyone month is Fred Saskamoose, the NHL's first Canadian indigenous player. The Globe and Mail depicted much of his life story from his youth, to surviving abuse at a residential school after being literally pulled away from his family, to his debut at Maple Leaf Gardens as a Chicago Black Hawk, and then to later periods in his life as a counselor of indigenous youth and a chief of the Ahtahkakoop Cree Nation, near Prince Albert, Saskatchewan. It's both heartbreaking and stirring, and one of the best pieces of hockey writing I've ever read.
-This is beautiful. Stick taps to Bailey, and a lifetime of happiness, love and many more Kings memories to this couple:
I was honored to be able to deliver the ring for this amazing couple who just got engaged at the @lakings morning skate in Nashville #GoKingsGo pic.twitter.com/MVGQzLRSgi

— Bailey LA Kings (@BaileyLAKings) February 1, 2018
-Tonight marks the 45th game the Kings will have played since Jeff Carter's left ankle tendon was cut by Jeff Petry's skate blade, a laceration that required surgery and rendered the team's leading scorer from last season and number two center unavailable.
For a group that had questions about offensive depth heading into the season, Los Angeles has held up remarkably well during the period despite some more recent ebbs and flows. They're 27-18-5 and holding tough in a precarious and tightly compacted Western Conference playoff race. With a win tonight at Nashville, they could leapfrog San Jose into second place in the division; with a regulation loss, it's possible they could fall outside a playoff berth entirely.
Among the factors that has sustained the club in Carter's absence has been the play of Adrian Kempe. The 21-year-old rookie isn't just scoring at a respectable clip with 14 goals and 23 points in 49 games, he's also contributing hard minutes down the center of the ice and absorbing difficult match-ups against centers such as Connor McDavid, Ryan Getzlaf and Sean Monahan while the team is on the road. By and large, he's been effective in such a role even though he largely played wing in Sweden and North America prior to last season in Ontario.
Kempe is also a coach's son, so there is a pedigree in his play and a more advanced ability to play away from the puck than others who may be trying to etch out their own identities as a young player in this league. His father, Mikael, is the general manager of Göta/Traneberg in Sweden's Division 2, an organization in which he also coaches a youth team.
But it's another coach's son on the Kings – Anze Kopitar – who has served as an important model from which Kempe can draw influence. That's particularly true in faceoffs, an area of Kempe's game that needs to continue to improve in order for him to continue to gain trust in a wider array of situations.
"I think the consistency on the draws has been a lot better, and that's something I want to look for," Kempe said. "Some games in the beginning of the year, I was good, and then I was not very good for a couple games, and now it's started to even out more and I started to get my numbers up a little bit. It's something I want to get even better on so they trust me and put me out there in all situations."
It hasn't always been a linear process, and despite a 6-for-10 performance at the dot in Dallas on Tuesday, there have been some hits and misses in much of January. But there has been an overall arc of improvement. Since the Christmas break, Kempe has won 45.3% of his draws, lifting his overall faceoff rate to 39.6% this season.
"Obviously when you take more draws, you get better, obviously, and you get to know other guys, too, and know what they want to do," he said. "It gets way easier when you take more draws, and obviously you want to improve it in practice as well, and try to look at video on other guys and try to look at some guys as well and see what they're doing. Obviously Kopi's very good at it, and something I want to try to take after, obviously."
There's still plenty of room for improvement, because his overall rate of 39.6% ranks last among the 126 players who've taken at least 300 faceoffs this season. But there are other aspects of winning faceoffs, not just the fundamentals, that have raised his percentage as of late.
"He works on it a lot, and he's getting better," John Stevens said. "I think the one thing we've talked about is getting more help from other people around the faceoff circle, and I think if you look at [Tuesday] night, there were lots of faceoffs we lost that we ended up with the puck or we lost and we ended up getting in a possession situation where we could end up playing in the offensive zone. Adrian, even if he doesn't win a draw, he does a good job of not losing it clean, and that's been a big step in the process for him, and I think the level of trust in his game has grown. We trust him in his own zone, and his improvement in the faceoff circle is only going to improve his opportunity to play in those situations."
Noting Kopitar, whose 54.0% faceoff rate leads the Kings and ranks 31st of the 126 players with at least 300 faceoffs attempted, Stevens shared how teams and players will reinforce fundamentals with young skaters to help foster improvement at the dot.
"It's a competitive environment, so it comes down to the individual, first and foremost, but that is a skill where repetition is a great teacher, so the more reps he does, the better he's going to get," Stevens said. "His timing, his quickness gets in it, I think he's learned to adjust to the way the referees call things where you have to be steady, especially if you're going down first, and I do think there are some things fundamentally that he works on. I think in the beginning his stroke was really long, so he was taking too long to get to the puck, and he's been able to shorten his stroke a little bit."
"If we look at one of the better lefthanded centermen in the league, watch what Kopi's doing. Learn from him and study your opponent. We make faceoffs available for every team we're playing and what the tendencies are. Coaches look at it with players, players look at it and try to know their tendencies and try and combine all those things for a better percentage at the end of the day."
-Tonight's officials are referees Marc Joannette and Kyle Rehman and linesmen Kiel Murchison and Derek Nansen. The game, broadcast on NBCSN throughout the United States, will be called by Kings television play by play man Alex Faust and Brian Boucher, who won a Calder Cup championship with Stevens in 1998. Also playing for the 1997-98 Philadelphia Phantoms: 1993-96 L.A. King John Druce, 2006-07 L.A. King Jamie Heward, University of Denver men's hockey head coach Jim Montgomery and Kings Player Assistance, Brantt Myhres. I'll join the NHL Network at 5:30 from Bridgestone Arena to preview today's game and talk Jeff Carter.
-One last story to share with you, Insiders. Yesterday was an important day for mental health advocacy as the #BellLetsTalk campaign returned and continued to raise funds and awareness towards the challenges that many in our sport go through that, more recently, are being brought to light instead of being pushed under the table.
For every retweet, @Bell_LetsTalk will donate 5 cents to Canadian Mental Health Programs and Luc Robitaille will match it ❤️ #BellLetsTalk

— LA Kings (@LAKings) January 31, 2018
There are good days and some tougher days for Mitchell Solomon-Coombs, a Texas-based Kings fan (and a Blackhawks fan who is highly appreciative of Bryan Bickell and his own struggles with multiple sclerosis) who often sends the players off to the bus at the team hotel in Dallas.
Solomon-Coombs, who was diagnosed with autism as a teenager and was born with a number of neurological disorders, is not able to walk. But he has surfed in Huntington Beach and was able to fire off several hockey pucks last month in the latest round of his physical therapy.
There are major difficulties that Solomon-Coombs faces that stem from his physical and neurological challenges, and the #BellLetsTalk campaign provides a raised platform for him to articulate the day-to-day ups and downs associated with living through a number of hardships that are out of his control.
Mitchell is very intelligent, creative, and a great talker, and yesterday he stitched together several of his recent videos from physical therapy in which he demonstrates an ability to pick a few corners.
If you ever talk to Mitchell on Twitter, recommend him a good book – hockey or otherwise – and always be sure to keep the conversation going. And you may see him at Staples Center in the future, where he took in the NHL All-Star Game last year.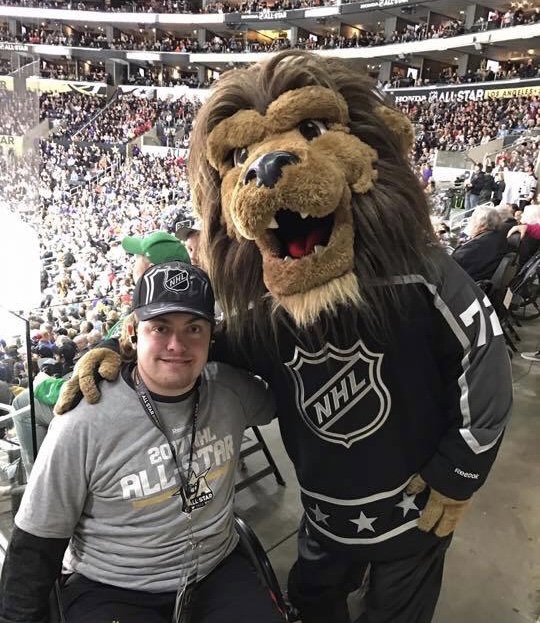 -Lead photo via John Russell/NHLI