A pleasant evening to you from Dallas, Insiders. The Kings took the American Airlines Center ice shortly before 11:30 a.m. and aligned thusly:
Iafallo-Kopitar-Toffoli
Pearson-Kempe-Brown
Clifford-Mitchell-Lewis
Andreoff-Amadio-Brodzinski
Gravel-Doughty
Muzzin-LaDue
Martinez-Folin
Notes!
-The vitals: Darcy Kuemper left the ice first and is expected to start in net; he's 6-3-3 with a 3.09 goals-against average and a .910 save percentage against Dallas in his career. For the second straight day, Kuemper and Jonathan Quick (IR) drew the most regular action at opposite ends of the rink, with Jack Campbell rotating in sporadically. Marian Gaborik took loops through Michael Amadio's line, while Derek Forbort (upper-body) and Nick Shore (lower-body) skated as an extra defensive pair. That group isn't expected to play tonight. Jeff Carter (ankle laceration / surgery) joined the skate late and took some cycles through the neutral zone. As the game group trickled off the ice, he gravitated towards the attacking/defending zones and put some pucks on net. This is the gradual, continued process that will segue towards Carter slowly being integrated into practice, but we're not quite there yet. There is no change, nor any timetable for his return. It's not quite close at this point.
-Stevens was asked what it would take to get Marian Gaborik back into an "active spot" in the lineup, given that he appeared to be one of the extras at today's skate. "Gabby's been a utility guy all year," Stevens responded. "Gabby's really good when we can move him around. He's effective in different situations, using his speed, coming up with a lot of pucks. We expect Gabby to be a really good two-way hockey player and help us 200 feet, and we expect leadership from Gabby, too. He's been effective at times on the power play, but I think he's been really effective all year in terms of a guy with the ability to move around, play left and right side and play with different people."
It's possible that at times the Ferrari needs some regularly scheduled maintenance. For full context, keep in mind that on January 17 Stevens noted that Gaborik, despite his impressive conditioning regimen, was among the veterans who didn't feel quite right after returning fro the five-day "bye" stoppage. "He's a fit guy, and explosive guy, but his legs still didn't feel right coming out of the break there," Stevens said on the 17th.
-Tanner Pearson understands the challenges of returning from a break. "I think just getting back into it," he said. "It's good to get away from the game a little bit and reset, but you've got to get your mind back in and ready to rock right away."
An extended break is always welcome for players who are pushed hard physically and mentally the way professional athletes are, but was it a challenge to score the overtime game-winner and then not be able to build any momentum from it personally?
"Maybe in a way, but the way we played in Vancouver wasn't really good, by any means," Pearson said. "You get that one going into the break, it maybe gives a little bit of an easier break, for sure."
-The first Kings-Stars game of the season will reunite Christian Folin with a familiar face in John Klingberg. Klingberg, who leads all NHL defensemen with 42 assists and 48 points, and his brother, former Thrasher and Jet Carl Klingberg, skate over the summer and share an off-season strength coach with Folin in Gothenberg, Sweden, their off-season residence. I'm told that the summertime skates that include Folin, the Klingberg brothers, Loui Eriksson and Henrik Lundqvist and a small handful of additional players get heated.
Like Folin, the Klingberg brothers were also talented soccer players when they were younger, though the decision to choose hockey over soccer probably came a bit easier to them than it did for Folin, who had the opportunity to play professionally. They golf together in the summer, and had this trip not been the Kings' fathers trip, John Klingberg and Folin would've grabbed a bite together last night. Anders Klingberg, John and Carl's father, was an assistant coach when Folin and Carl Klingberg – also born in 1991 – played for the Frolunda U-16 team.
Folin didn't foresee the immediate, soaring success in the NHL engineered by John Klingberg, who will draw serious Norris Trophy consideration this season, but did notice the competitiveness and skill that has allowed the defenseman to record 40 goals and 195 points in his first 271 games.
"He was like the eighth defenseman on our team, but then he took a different route," Folin said. "He played in Sweden, he played in Finland a little bit. He's always been really skilled, and he competes really hard. It's fun to work out with him in the summer and skate with him, too. It gets really competitive."
-Their vitals: Kings alum Ben Bishop will start in goal; he's 4-2-0 with a 2.27 goals-against average and a .924 save percentage against Los Angeles in his career. Yesterday's practice lines should hold, according to Ken Hitchcock, so Marc Methot (knee), Antoine Roussel (nasal infection) and Martin Hanzal (lower-body) are out. Stick taps: Dan Hamhuis will play in his 1,000th game tonight. Expect lines of Benn-Seguin-Radulov, Smith-Spezza-Ritchie, Shore-Faksa-Pitlick and Elie-Dickinson-Janmark, and defensive pairings of Lindell-Klingberg, Hamhuis-Pateryn and Johns-Honka.
Tuesday night Dan Hamhuis will play in NHL Game 1,000. How he has become a kind of renaissance man for @DallasStars this season. https://t.co/psbdjwLfTF

— Scott Burnside (@OvertimeScottB) January 29, 2018
-There were excellent observations this morning from Hitchcock, who was asked whether the Kings had the same "DNA" under Stevens as they did under Darryl Sutter.
"No, they play different than when Darryl was there," he answered. "This is John's belief system, and it's a good one, but it's different than Darryl. It's not the same. It's not the same structure defensively, it's not the same style offensively, there's a different game out there, but it's still very effective. He's done a heck of a job. You're missing a top player like Carter, to keep up the pace they've done is just incredible. You can't miss those top players for long-term and expect to be dynamic, and he's done a great job. They play different, but they still play very, very effective."
There are three games remaining against Dallas, which should provide an interesting glimpse into a team that has gone through a significant change in structure and identity from a more freewheeling recent past. The Stars rank seventh in the league with a goals-against average of 2.64, an improvement of half a goal per game over last year despite the incremental league-wide increase in scoring. They're also cutting down on chances against. Dallas is 6-3-1 in January, a stretch in which they rank second in the league in both the chances and high-danger chances they've yielded, according to Natural Stat Trick. In those 10 games, they're a plus-nine at five-on-five.
"Our value system had to change here, and it changed," Hitchcock said of a group that's 19-9-3 since November 18. "I give the guys a lot of credit. They really bought in. If you're going to win in this league, you have to put value into – we call it 'checking for chances.' But you have to put value in giving up the puck and be willing to get it back for scoring chances, and that's an easy thing to say, but it's a hard thing to do. Our players bought into that, and everything changed for us."
"Creating chances off your forecheck, creating chances off track reload, creating chances off track reload, creating chances off backcheck and back pressure. When you're bought into that, then that puts the work in before the skill, and guys bought in. Once they saw how effective it was, it became an easier engagement for us. It was a tough go at the start because that's a big change for the way you have to play on a nightly and shift-by shift basis, but once they bought in, we're tough to play against because of that."
Dallas, which hasn't lost back-to-back games since losing three straight from December 15-19, lost its final game before the All-Star break, a 4-1 home setback to Toronto. They're 17-7-1 at American Airlines Center this season, so tonight's game should present a good test for Los Angeles.
-All the stick taps in the world for Jaromir Jagr, who is heading back to HC Kladno, the hometown team that he co-owns. Should this be the end of the NHL road for Jagr, he'll return to the Rytiri as the NHL's all-time leader with 135 game-winning goals while ranking third all-time with 1,733 games played (behind Gordie Howe and Mark Messier), second with 1,921 points (behind Wayne Gretzky), third with 766 goals (behind Gretzky and Howe), fifth with 1,155 assists and tied for 11th with 217 power play goals. I traveled to Europe as a correspondent for FOX Sports during the 2012-13 work stoppage and interviewed Jagr just as he was completing a post-game workout following Kladno's win over HC Vitkovice Steel, and he spoke about how he and Teemu Selanne were getting to "the final countdown" of their careers:
Jagr's 19 overtime goals rank second all-time to Alex Ovechkin's 22. (Ovechkin has seven goals since the switch to the three-on-three format in 2015-16, a span in which Jagr did not record an overtime game-winner.) At Staples Center early in the 2013-14 season, his overtime game-winner while with New Jersey was the 690th goal of his career, tying him for ninth place all-time with Mario Lemieux. It was also the 121st game-winner of his career, moving him into a first-place tie with Howe.
If this is indeed the end of the road, his NHL career will conclude with 766 goals, 1,155 assists and 1,921 points in 1,733 games played.
-Tonight's officials are referees Kyle Rehman and Jean Hebert and linesmen Ryan Gibbons and Brandon Gawryletz. I'll chat with Dave Lowry and Alec Martinez during tonight's LA Kings Live pre-game show.
For you radio listeners, tonight's Kings game will be broadcast, in progress, on 790 following the State of the Union address.

— Curtis Zupke (@curtiszupke) January 30, 2018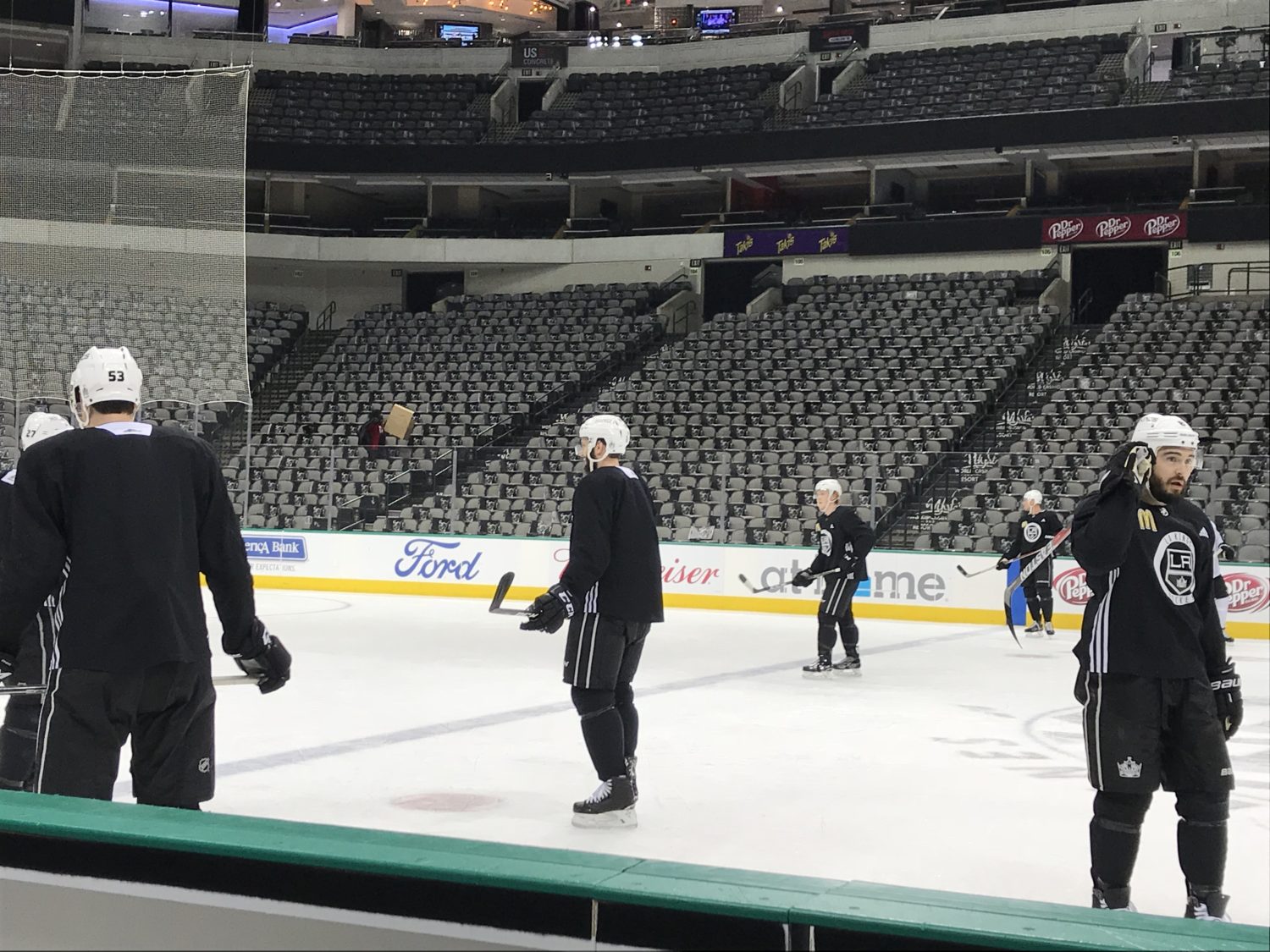 -Lead photo via Dave Sandford/NHLI