Good evening from Dallas, Insiders. The Kings practiced at Dr. Pepper Star Center in Farmers Branch, which had curling sheets etched into the rink. Shortly after arriving from Love Field – and after Dustin Brown perfected his curling technique – the Kings gathered around the white board for practice and aligned as such up front:
Gray: Iafallo-Shore-Toffoli
Purple: Pearson-Kempe-Brown
Yellow: Clifford-Mitchell-Lewis
Blue: Gaborik-Amadio-Brodzinski-Andreoff
Notes!
-Anze Kopitar and Drew Doughty were given the full day off; neither was present at the rink. Nick Shore (lower-body), who is a little bit banged up – John Stevens said "I would say it's day-to-day before it's week-to-week" after Wednesdays win – skated in Kopitar's spot, and the fact that he was on the ice after missing the Calgary game was a good sign. Derek Forbort (upper-body) also took reps at practice that encouraged his coach. "We'll just talk to Kinger, we'll have a better read. He's going to talk to them," John Stevens said. "They got through practice, which is a really good thing. To me, that's the most important thing, that they're full participants in practice, and then we'll see how they respond to the workout today. Again, I don't see anything long-term with those guys, but both of those guys are banged up a little bit."
-Of course, there's also Jonathan Quick. While it's not yet clear whether he'll draw the start in Nashville on Thursday, he's expected to be available to play in that game. "I think it was just a point in time we felt like he could really use some maintenance in his … health, and really with the heavy schedule coming in front of us, he just had some things that needed maintenance," Stevens said. "I don't think it's anything long-term. I think with the rest he's had, he's had lots of rehab over the break. Gets him a chance to get on the ice and get some really good work along with the rehab, I think it'll put him back in a really healthy position coming out of the break.
Quick and Kuemper held down opposite creases in the rink, with Jack Campbell confined almost exclusively to the sidelines. That's a good sign for Quick and the fortunes of a team in the midst of a playoff race, and though it's too early to pinpoint him to start the game against the Predators, he's (again) still expected to be available if needed.
"We don't expect him to be long-term," Stevens said. "I think he's day-to-day and I think if he continues to progress, there's no reason why he shouldn't join us soon."
In 39 games, Quick is 20-17-2 with a 2.44 goals-against average and a .921 save percentage.
"Obviously it's 30 games left," he said. "That's more important than playing the games this past weekend, so I'm focused on that."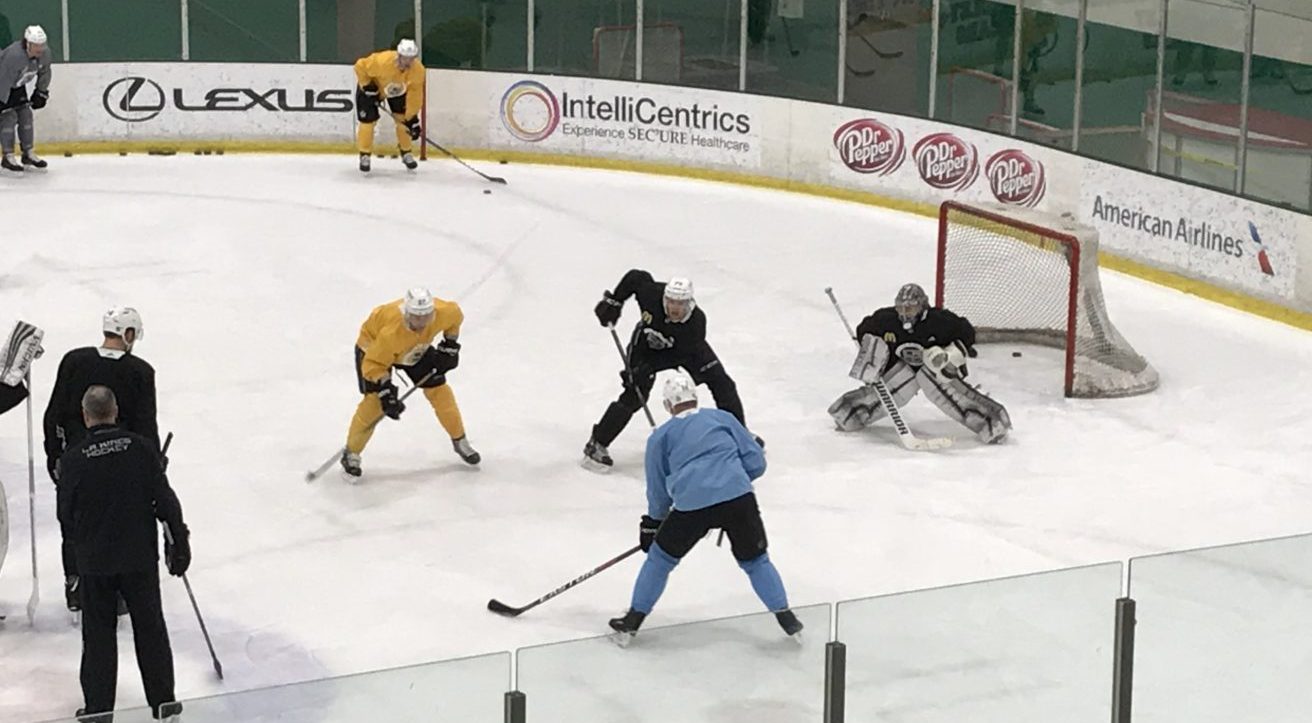 -There were other pro hockey teams that have a broader legacy, but let's not forget about the Los Angeles Ramblers. Here's a fun story passed along about the short-lived and geographically unsettled Western International Hockey League team, who competed against the Trail Smoke Eaters, Nelson Maple Leafs, Kimberley Dynamiters and Spokane Spartans in 1946-47. The legacy of several of these teams has been passed along to the Junior B Kootenay International Hockey League, which has some of the best names that have ever been stitched onto a hockey jersey. Long live the Fernie Ghostriders and Creston Valley Thunder Cats.
Via THE KÜTNE READER:
The Ramblers were far more noteworthy for their outrageous travel arrangements than anything they did on the ice, although their lineup was interesting, including three past and future NHLers.

To get to and from Los Angeles, the Ramblers flew in a chartered DC-3 military plane. Players sat on bucket seats and because the heat sometimes conked out, they their feet in their hockey bags to keep warm.

This made them one of the first sports teams and certainly the first hockey team to fly to all of their road games. The other teams in the league used the same plane for their weekend road trips to California — all paid for by the Ramblers.
They played at Tropical Ice Gardens – also referred to as the Sonja Henie Ice Palace in this story – an ice rink in Westwood that could accommodate between 8,000 and 12,000 spectators. Some quick digging indicates that the outdoor rink was located at the corner of Gayley and Weyburn in Westwood Village. I've heard of this rink's presence, but haven't noticed any larger-scale footprint while walking through Westwood. Are there any hints or remnants of the rink in the area?
-As for Dallas, forward Antoine Roussel (nasal infection) is "questionable-to-doubtful," per Mark Stepneski, while forward Martin Hanzal (pulled muscle) and defenseman Marc Methot (knee) are out. Former King Ben Bishop is expected to start in goal for the Stars, who occupy the first wild card position, three points ahead of the Kings. Los Angeles has one game in hand. More on Dallas will be shared in tomorrow's morning skate notes.