Several abbreviated observations from Wednesday's 2-1 overtime win at Calgary:
-The broadcasters spoke with John Stevens prior to Wednesday's game, and he was asked about indications early in games that the team was committed to playing the right type of emotionally involved hockey in the "hard areas." He cited faceoffs and wall play, among several other competitive factors. Blocked shots, referenced on Saturday as another compete indicator, also come into play. Los Angeles registered 27 blocks against Calgary – eight by Christian Folin, and five by Alec Martinez. It was a commitment to firmness that wasn't lost on Stevens after the game. "I was just going over the numbers, and that was my favorite number in [the scoresheet]," he said. "It's something we've talked about. It's a reflection of the commitment to keep the puck out of your net." The Flames' offensive credentials have improved greatly over their 10-game point streak, and to limit their well-balanced forward group and mobile defensive outfit requires the type of commitment that was demonstrated last night.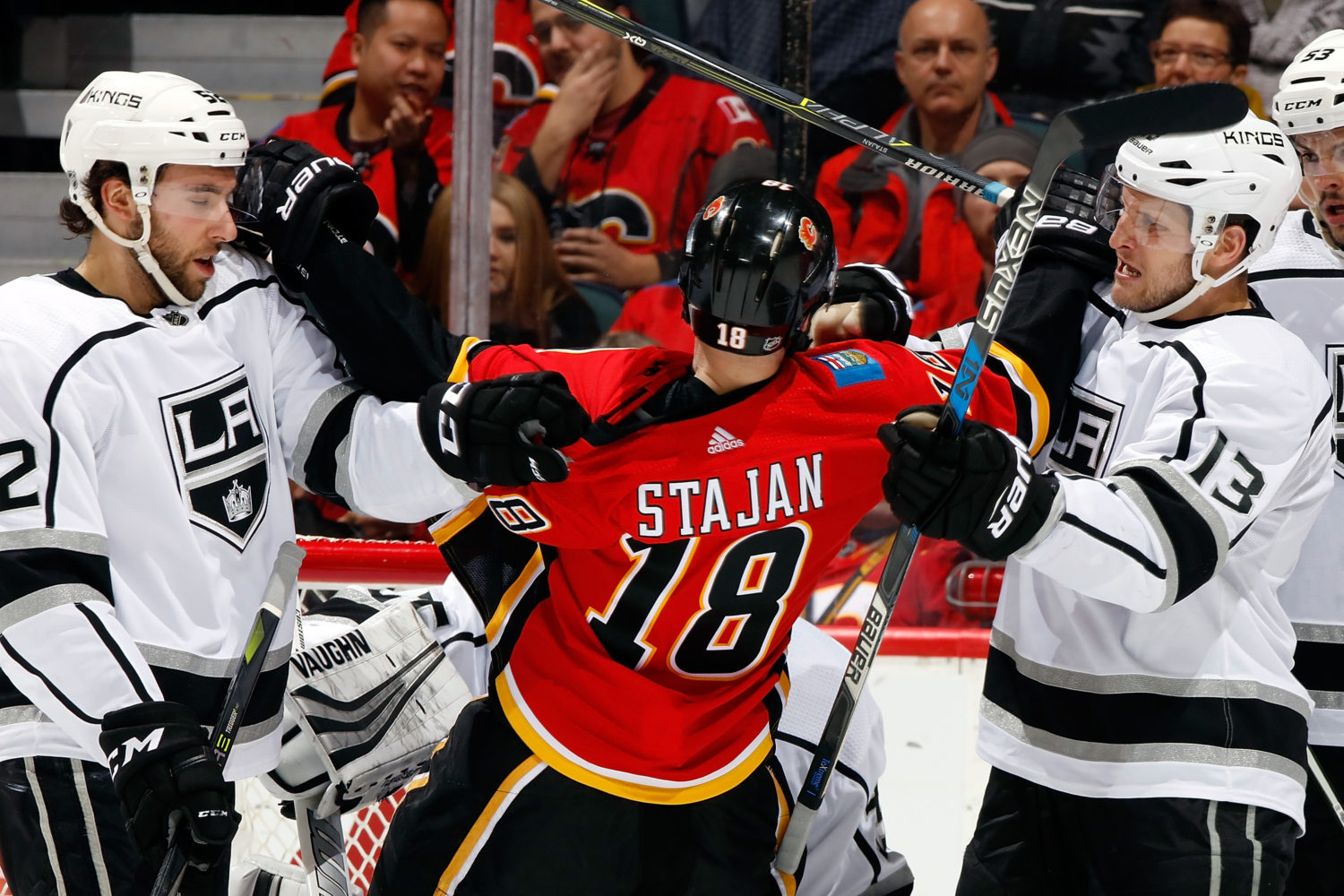 -The Kings adhered to a familiar blueprint that allows teams to win on the road. It's a major influence in their 14-9-2 mark away from Staples Center. Road wins over talented divisional rivals are often spurred by winning the goaltending and special teams battles, and Los Angeles did just that at the Saddledome. They ran into penalty trouble in the second period, a development that wasn't helped by Drew Doughty's unsportsmanlike conduct penalty, but minimized the extended sequences of high pressure while killing off all five of Calgary's power plays. They equalized while on the power play and scored in three-on-three overtime, representing a perfect special teams performance on top of a clutch game in net by Darcy Kuemper. "As a group we were a little bit embarrassed with the result yesterday, and we knew we had to be a lot better, and that was our focus," said Kuemper, the Saskatoon native who played junior hockey in nearby Red Deer and had family in attendance. He stopped 30 of 31 shots through 64 minutes in another standout performance that lifted his save percentage to .934.
–Bob McKenzie polled all NHL coaches on major league awards, and as expected, everyone eligible to vote Gerard Gallant for the Jack Adams did so. (Coaches can not vote for themselves, and it was not disclosed who Gallant voted for.) This was expected; Gallant will run away with this award. I'm not a coach, but I'd like to throw another hat into the second-place ring: San Jose's Peter DeBoer. Many thought the Sharks could take a step back this season as questions arose about their scoring depth and aging process, and they've surged to second place in the Pacific Division with a 26-14-7 record as a fully bought-in, structured team that hasn't always benefited from excellent goaltending. Their defensive zone coverage is superb, and their special teams are among the best in the NHL. Despite losing Patrick Marleau, their power play has improved significantly and their overall offense has climbed alongside the overall NHL rising tide. The absence of Joe Thornton, who will miss "several weeks" with a right knee injury suffered earlier in the week with Winnipeg, will provide the most extended bout of adversity the team has faced this season and could further compact a Pacific Division in which the second and fifth place teams are separated by four points. The Kings are tied for third place with the Flames, who have a game in hand, further illustrating the importance of emerging from the Saddledome with a win on Wednesday night.