A very pleasant afternoon to you, Insiders. The Kings took the ice at Toyota Sports Center shortly before 10:00 a.m. and aligned thusly:
Iafallo-Kopitar-Brown
Pearson-Kempe-Toffoli
Gaborik-Shore-Lewis
Clifford-Mitchell-Andreoff
Jokinen
Gravel-Doughty
MacDermid-Martinez
Forbort-Folin
Fantenberg
Notes!
-The vitals: Jonathan Quick left the ice first and is expected to start in goal against Anaheim (7:30 p.m. / FOX Sports West / FOX Sports GO / FUBO TV / KABC 790 / I Heart Radio). Jake Muzzin joined took the ice late in the skate for the second consecutive day and is "doubtful," per John Stevens. "He might need a little more time. He's coming along. I think he's made good progress, but he's doubtful." Before running line rushes, the Kings practiced power play breakouts and entries.
-Their vitals: John Gibson will start in goal, as reported by Eric Stephens of the Orange County Register, who also noted that the Ducks ran some power play detail this morning. Anaheim recalled forwards Ondrej Kase and Jared Boll from AHL-San Diego and placed Kase with Nick Ritchie and Adam Henrique at practice yesterday, and Boll with Antoine Vermette and Chris Wagner, per Stephens. Boll, who was assigned to the Gulls in December, hasn't played an NHL game since suffering a lower-body injury during Los Angeles' 4-3 overtime win at Anaheim on November 7 that wasn't related to his fight with Andy Andreoff that night. Andrew Cogliano signed a three-year contract extension, a transaction that was announced yesterday.
-Tonight's puck drop is scheduled for 7:56 p.m. The festivities honoring Bob Miller will begin with Patrick O'Neal's introduction at the spot of Bob's statue at 7:01, with Kings President Luc Robitaille and Nashville Predators play-by-play broadcaster (and former Kings broadcaster) Pete Weber speaking in advance of the statue's unveiling, which will take place at 7:10. The outdoors ceremony ends at 7:12 and will be followed by the ceremony inside, which will begin with a tribute video to Bob beginning at 7:33 p.m. Bob will be introduced shortly thereafter, with the banner unfurling taking place after his introduction. Because Nick Nickson and Daryl Evans will be attending both the indoor and outdoor ceremonies, I'll handle the pre-game show on KABC 790 between 7:00 and 7:30 before tossing to Dave Joseph and Bob Miller so the indoors ceremony can be heard live on radio. Derek Forbort will be a guest on the pre-game show, which will also contain several John Stevens observations. Please bear with abbreviated post-game LAKI coverage; I'm planning on heading to Bob's post-game reception after posting Stevens quotes.
-Cognizant of the longevity of his tenure with the organization and how his presence is "synonymous with the LA Kings," John Stevens referenced Miller's body of work with the organization as "pretty remarkable."
"It's a great tribute to a man who put in a lot of time here and has been a big part of the LA Kings hockey world for a long, long time," he said.
"He always had a ton of energy, you saw him on the road and it seemed like he loved what he did," Stevens continued. "He loved being on the road, loved interacting and conversation, certainly loved the game. He had a great passion for it. He was a fun guy to have around."
Amen, John. It wasn't just how he served as a passionate conduit between the team and its fans, it was the fact that Bob was fun. F-U-N. He was fun to be around and was a practical joker, much like Pete Weber, one of tonight's speakers. There was and is no better ambassador for the team.
During my interview w/legendary #LAKings retired broadcaster Bob Miller, I joked that his statue will become a prime target for birds. Without missing a beat, he quipped, "They've been smiling for weeks!" #ICYMI…for much more from Bob: https://t.co/cNvDnE11LA #LosAngeles #NHL pic.twitter.com/i8Wzdv7l7C

— Frozen Royalty (@frozenroyalty) January 13, 2018
-I asked Stevens about his favorite broadcasters when he was younger, and he shared a memory of growing up and watching hockey in Ontario on Saturday nights.
"Back in the day, we had two channels on TV, so everyone huddled around the TV for Hockey Night In Canada," he said. "We had three older brothers. One guy would go outside and spin the antenna, and another guy would go in the house and tell him if he could stop it or not. The [broadcaster] who stands out for me was Bob Cole. I just loved listening to him and still do. Just so many memories of growing up loving the game and gathered around the TV to watch."
-In Los Angeles' thrilling 4-3 overtime victory at Anaheim on November 7, Alex Iafallo had a major impact in the win. He was all over pucks and created turnovers and registered two assists, three shots on goal and logged 19:09 of ice time, one of five games this season in which he was assigned more than 19 minutes of ice time.
"We had a good game there. We've got to keep playing like that," he said. "Get into the mindset playing these rivalry teams. You're hungry, you're ready to go."
Despite a few outliers, Iafallo has been mostly in the 13-to-15-minute range since the end of December, a stretch that was marked near its end by games in Edmonton and Calgary in which he was a healthy scratch as Stevens looked to give him a little bit of a mental reset while vying to "monitor fatigue levels."
"I think when he gets going the wrong way on the walls sometimes or is not quick enough back for pucks where he can get his feet going up the ice he lends himself to problems, but when he's moving his feet and he's a real factor in terms of his angles and his checking, he ends up with a lot of pucks," Stevens said. "We spend a lot of time in the offensive zone and good things happen for us."
That's going to be important, because for the first time in their head-to-head meetings this season, the Ducks are healthier than the Kings. Anaheim is still without Patrick Eaves, but will utilize Ryan Getzlaf and Ryan Kesler against Los Angeles for the first time this season. The Kings have hung tough without Jeff Carter all season long, but without Jake Muzzin in tonight's lineup, it is imperative that they get their forecheck going, disrupt Anaheim breakouts and use a sturdy team game to play in the offensive zone. Iafallo, who will start the game alongside Anze Kopitar and Dustin Brown, is capable of providing those skills.
"Alex, it doesn't matter if we're in Anaheim or anywhere else," Stevens said. "He's really got a lot of energy in his game, he gets on a lot of pucks, he's got great pursuits and angles and a stick with the way he forechecks. Usually that leads to a lot of other things in his game when he gets the puck – he has a lot of composure. He plays with a lot of pace."
Iafallo appears to be eminently coachable and kept a level head during a pair of games off. When he returned to action last Saturday against Nashville, he registered an assist in 12:28 of ice time.
"[Not playing for two games] helped me realize where I'm at and what I need to work on," he said. "Watching a couple games, I got to put myself in certain positions and learn from that, and that definitely helped out. I'm hungry and I'm ready to go."
"I think I was moving my feet a lot more and my timing was great on the forecheck, and I seemed to have my stick in a lot of lanes and taking the puck away, so I need to keep doing that."
It's going to be a great challenge in a rivalry game against a team trying to nip at the Kings' heels in the standings, and Iafallo is enjoying the extra emotion in the Pacific Division.
"San Jose's tough too, and Anaheim obviously so," he said. "It's a great conference and it's fun out there. It gets you going and the rivalries are awesome. You can't beat it."
-Tonight's officials are referees Graham Skilliter and Gord Dwyer and linesmen Lonnie Cameron and Ryan Gibbons. Davis Gaines will perform the national anthem. John Stevens quotes and a Bob Miller story will follow this afternoon. Let's talk soon, Insiders.
WAKE UP! IT'S HOCKEY DAY SO CAL! Tag your photos all day using #HDSoCal2018 and we'll share our favorites! @AnaheimDucks @LAKings @ontarioreign @SDGullsAHL

Find out how to get involved here ➡ https://t.co/Q8sKWTe6qo pic.twitter.com/dZt4mpIzqt

— FOX Sports West (@FoxSportsWest) January 13, 2018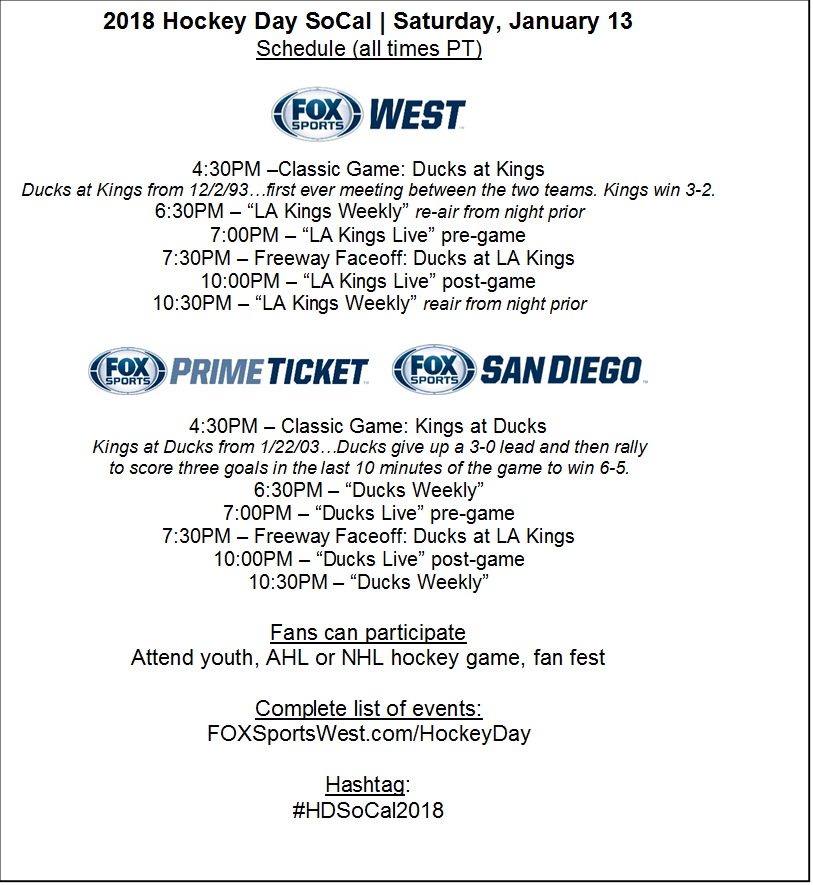 -Lead photo via Juan Ocampo/NHLI