Good evening and a Happy New Year to you from Edmonton, Insiders. After ringing in the New Year, the Kings took a 9:30 a.m. bus through foggy and deserted Vancouver and across Kitsilano to the University of British Columbia, where they practiced at 11:00 a.m. There were no changes to their forward groups:
Gray: Pearson-Kopitar-Brown
Blue: Gaborik-Kempe-Toffoli
Yellow: Clifford-Shore-Lewis
Purple: Andreoff-Iafallo-Mitchell-Brodzinski-Jokinen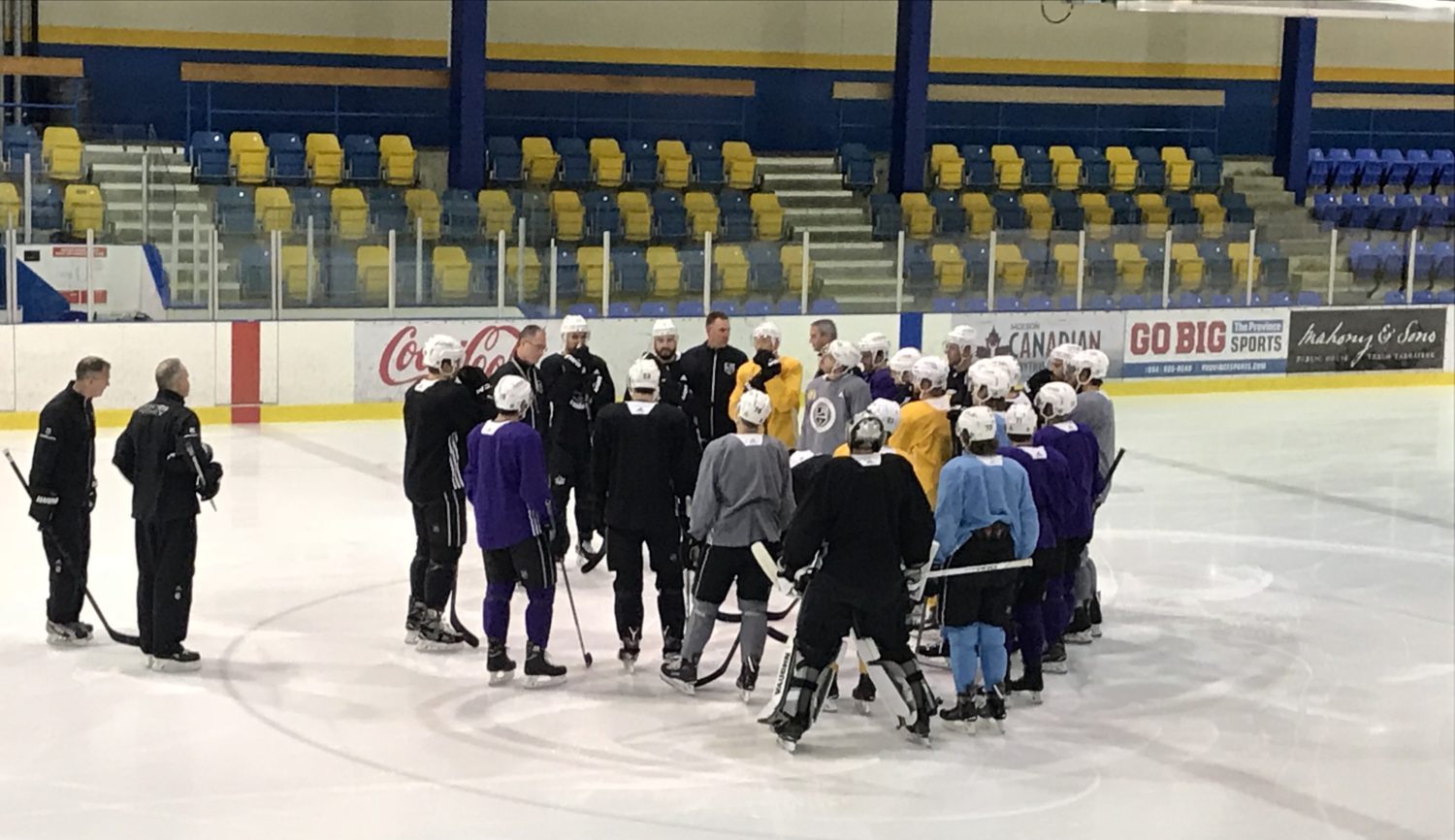 Notes!
-Tyler Toffoli doesn't really have any New Year's resolutions. "I've never had one," he said. Instead of sharing a resolution, he was asked whether there were any teammates he was expecting big things out of in 2018 and responded with Tanner Pearson. "He's due. He's playing well. I was just saying once one goes in for him, they're all going to start going in and I'm excited to see that happen."
Toffoli, who has 17 goals and 28 points in 39 games, has upped his career totals to 101 goals, 203 points and an impressive +104 rating in 332 career NHL games. Plus-minus is not a particularly telling stat unless it indicates an extreme one way or another – opinion: LAKI; feel free to talk amongst yourselves – and Toffoli's career riding the plus-wave certainly depicts that.
And even if plus-minus isn't really an indication of defensive acumen, Toffoli has drawn recognition for his strong 200-foot play and remaining on the right side of the puck. He spoke about the type of responsible play that has gained him the coaches' trust in a number of situations.
"I mean, it's just kind of being aware of what's around you," he said. "And when you see guys jumping by you just communicating and it kind of comes with all five guys on the ice at the same time doing a good job of staying on your man and in your position."
John Stevens also articulated the type of play that leads itself to being on the ice for a surplus of goals-for and not many goals-against.
"You say, how the heck is this young kid over a plus-100 in his career?" Stevens said. "It's because he's a really quality 200-foot player that makes a lot of plays on the wall, almost always makes the right decision with the puck and has got a real keen sense of finding space, and then he's got a great release around the net. I think he's a really underrated quality 200-foot player that can play in all situations."
I withheld several Stevens quotes on Toffoli yesterday so that Curtis Zupke can get an interesting story out; be on the lookout for an LA Times feature on the high-scoring winger in the coming days.
-Meanwhile, Equipment Manager Dana Bryson said that his New Year's resolution is to stop making New Year's resolutions. He quickly corrected himself.
"Wait, wait, hold on," he said. "[My resolution is] to gain more weight, because everybody says to lose weight, but nobody does it. So maybe if I say, 'I'm going to gain weight,' then I'll lose weight."
-The Gabriel Vilardi trade from Windsor to Kingston, first reported by LA Kings Insider, has been finalized. Heading to the Frontenacs are Vilardi and New York Rangers defensive prospect Sean Day, and to the Spitfires rookie forward Cody Morgan, second round draft picks in 2020, 2022, 2024 and 2025, a third round pick in 2020, a conditional 2023 third round pick, and two additional conditional picks, as reported by Jim Parker of the Windsor Star.
Windsor, Memorial Cup winners last spring, has weathered the post-title cycle admirably and is 19-13-2-1 through 35 games. Vilardi will join an 18-12-3-3 Kingston team that boasts top talents in 18-year-old forward Jason Robertson, a second round Dallas pick who has 21 goals and 45 points in 36 games, and 6-foot-7 defenseman Eemeli Rasanen, a Toronto second round pick.
This quote from Spitfires GM Warren Rychel, captured by Parker, may catch your attention.
"I'm 99 per cent sure he's an NHL player next year," Rychel said. "That's what made this deal possible.

"Obviously, if he's back next year, we never move him. There are no guarantees in life, but we've got some pretty good friends in L.A. and, with his development, I think he'll be an NHLer next year."

If he does return to the OHL, Windsor will also get Kingston's second-round pick in 2027 and 2028.

"Gabe's one of the nicest kids we've ever had here," Rychel said. "Such a work ethic and all he wants to do is play hockey and he's going to his hometown, which is kind of special."
Vilardi missed the first half of the season as he rehabilitated hip and back injuries. He was cleared for game action on December 28 but did not play in Windsor's game against Sarnia that night. Should he make his debut in the Frontenacs' next game, it would come this Friday at home… against the Spitfires.
-USA Hockey announced their Olympic Men's and Women's rosters and Paralympic Sled hockey roster for the upcoming PyeongChang Games. The Men's team, coached by Kings alum Tony Granato, opens their tournament against Slovenia on February 14. The Women's team, coached by Kings alum Robb Stauber, opens play on February 11 against Finland. The Paralympic Games begin March 9 in PyeongChang.
Introducing the 2018 U.S. Olympic Men's, Women's & Paralympic Sled rosters! #TeamUSA 🇺🇸

Details → https://t.co/JcdKE6nLsz pic.twitter.com/Kl774zltCX

— USA Hockey (@usahockey) January 1, 2018
When I sat down with Granato the morning of December 8 prior to calling Wisconsin-Notre Dame on the Big Ten Network that night, he said slightly more than half a dozen college players were in the mix. He ended up selecting four in defenseman Will Borgen (St. Cloud State) and forwards Ryan Donato (Harvard), Jordan Greenway (Boston University) and Troy Terry (Denver).
Several former Kings prospects were named to the team, including 2015 Calder Cup champion and American Hockey League MVP Brian O'Neill, who had two assists in 22 NHL games with New Jersey in 2015-16 and has 28 goals and 59 points in 87 games with KHL-Jokerit over the last two seasons, and Garrett Roe, a 2008 seventh round pick who played two seasons with AHL-Adirondack before suiting up in Austria's EBEL, Germany's DEL, Sweden's SHL and Switzerland's NLA over the last five seasons. 2007 first round Nashville draft pick Jonathon Blum, a Rancho Santa Margarita native, was also named to the United States' roster.
Photos from our quick hop across the mountains: