A good afternoon to you from Chicago, where the Kings will face the Blackhawks (4:00 p.m. PT / FOX Sports West / FOX Sports GO / FUBO TV / KABC 790 / I Heart Radio) for the first of three meetings this season. Los Angeles held a 9:30 a.m. morning skate and aligned thusly:
Iafallo-Kopitar-Brown
Pearson-Shore-Toffoli
Gaborik-Kempe-Lewis
Jokinen-Mitchell-Brodzinski
Dowd
Muzzin-Doughty
MacDermid-Martinez
Forbort-Folin
Fantenberg-(Clifford)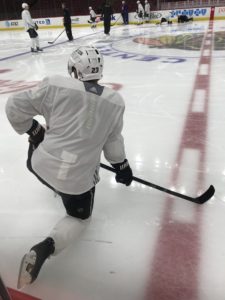 -Jonathan Quick left the ice first and is expected to draw the start in net. Extras, based on rushes, appeared to be Nic Dowd and Oscar Fantenberg – Kyle Clifford remains on injured reserve and filled in as a defenseman in rushes – which means that Torrey Mitchell, barring anything unexpected, will make his Kings debut tonight.
-A friendly reminder that Tuesday's game against Minnesota at Staples Center begins at 7:00 p.m. Do not dilly-dally, Insiders.
-Tonight's game ends a road four-in-six for Los Angeles and an away-home-away-home-away-home six-in-nine for Chicago. Worse yet for the Blackhawks, their game in Dallas last night began at 8:09 p.m. local time, and extended into a shootout. There could be a couple of tired teams on the ice tonight, but that's more or less par for the course come December 3. Anton Forsberg was very good in a tough assignment versus the Stars; the former Calder Cup winner went 4-0 with a shutout during Lake Erie's Western Conference Final sweep of Ontario in May, 2016. If the Hawks decide that the 35 shots he faced through overtime, plus an additional two shootout attempts – followed by an hour and 45 minute flight without a time change – was too much in advance of the second game of a back-to-back, then they'll turn to former Kings farmhand and 2015 Calder Cup champ J-F Berube, who stopped 34 of 36 shots in a 4-2 Islanders win over the Kings at Barclays Center on January 22. (We all remember that game, right?)
-You're aware of Jonathan Toews, and Patrick Kane, and Duncan Keith, who remains such an outstanding skater, but are you familiar with 11-goal, 5-foot-7, 19-year-old Alex DeBrincat? The Hawks' 2016 second round draft pick played one year with Kurtis MacDermid with the Erie Otters.
"He's a really smart player and a good player," MacDermid said. "He knows how to score, obviously, and he's not afraid to go to the dirty areas. We've just got to make sure we're playing tight on him and not giving him a lot of time and space."
That echoed much of what we'd heard about DeBrincat – that he plays much larger than his frame and has the offensive awareness necessary to find and make use of open spots in the offensive zone.
"Oh yeah, for sure, and that's how he keeps making the next level, and it's pretty impressive," MacDermid said. "He knows where to go to get the puck and he knows where to shoot the puck."
-Notes on several prospects: 19-year-old defenseman Kale Clague (2nd / 2016) tacked on another assist and a plus-one rating in Brandon's 3-1 win over Edmonton last night, giving him 40 points (10-30=40) and a plus-27 rating in 25 games this season. He'll be an exciting top-pairing option for Canada at world juniors. 19-year-old forward Drake Rymsha (5th / 2017) potted a natural hat trick during Sarnia's 7-6 overtime loss to Saginaw and has 15 goals and 38 points in 29 games.
-For the Kings to rebound and make the playoffs after an 86-point campaign, a number of variables would have to swing back in their favor. One of those would be a healthy Tyler Toffoli, who was slowed by a knee injury in the second half of his 2016-17 campaign, rebounding to reach or near his 31 goals in 2015-16. With 13 goals through the first 27 games, he's done that and is among the reasons Los Angeles sits atop the Pacific Division.
"I think it's been a good season so far for everybody," he said. "We've been doing a really good job of staying together and obviously winning games and being very competitive at the right time of games and coming through. And I think my success so far has been coming through from that."
And though he's yet to score a shorthanded goal this season – he has six in his NHL career, all scored between 2014 and 2016 – he's done a good job contributing in all situations, scoring goals during five-on-five, five-on-four, four-on-three, six-on-five and four-on-four play. He leads the club with 93 shots on goal and is the only player on the team yet to take a penalty. With a +2.4% CF%Rel, he's again doing his share in pushing the team's attack.
"We think very highly of Tyler," John Stevens said. "He's got a sense that you can't teach in terms of getting open and finding space. Hes got a great release around the net, and he's been playing with great players. He and Tanner have seemed to have really good chemistry together, and the centermen have changed a little bit, but Ty and Tanner have been together, for the most part. I just think he's that kind of a player. He's a good, competitive player that's got really good offensive intuition that allows him to get to areas where he can have success."
And in addition to his goal scoring in a diversity of situations, there's also the diversity in being able to score off forechecks, off the rush and during in-zone set-ups. The former was demonstrated with his second goal against St. Louis on Friday night when he beat highly regarded defensive forward Alexander Steen to the net and potted the exchange from Tanner Pearson, who had deposed Vince Dunn from the puck.
"I think there's been some times where they've done a lot on the rush. I think they're a line that can do a lot more on the rush and in the zone, but quite honestly, we have those expectations for Tyler," Stevens said. "We're really not surprised by it."
Were there any concerns that when Jeff Carter was lost to injury early in the season that Toffoli's output might be affected? "Not really," Stevens said.
"When Jeff went down, we just said next man up. We were going to need everybody to contribute and take some of the responsibility there. If anything, we've asked those guys that have more responsibility, not how it affected them. We need them to affect people around them."
That has rubbed off on players like Adrian Kempe and Nick Shore. Both have had opportunities playing alongside Pearson and Toffoli, and both have had strong road trips.
"I think we're just sticking to what works and following through for a full 60 minutes and it's just a big team game," Toffoli said. "Everyone's doing their part, and when everyone's doing their part and doing the little things, that's when you have the most success as a team."
Tyler Toffoli, on challenges of dealing with an injury over the second half of the 2016-17 season:
I mean, obviously it was extremely frustrating not being able to play the way I wanted to play and obviously we weren't winning games, either. So, that doesn't help. But it's just been a completely fresh start and I think everybody would agree that it's been a lot better.
Toffoli, on whether Chicago is among his favorite places to play in the NHL:
Definitely. I think since my first year being able to experience the playoffs the way we experienced it here and winning some of those games, it was a great time professionally for me. And every time we come back here, the crowd always gets you going right away, and it's always great to win in this arena.
Toffoli, on the level of comfort by the time he faced the Blackhawks in the 2013 conference finals:
I mean, I think I was pretty comfortable. I was in and out of the lineup, but every time I was in the lineup, guys made me feel really comfortable and made me feel like I was playing a really important role. And obviously we came up short that year, but it was a great time and a great learning experience.
-Advanced stats via Natural Stat Trick, Corsica.Hockey