Good evening from Chicago, the final stop of the Kings' four-city tour through the Midwest and our nation's capital. Los Angeles scheduled a 1:00 p.m. practice, but the few regulars who took the ice did not stay on for very long. By the end of the skate, Pierre Turgeon led Torrey Mitchell and Kyle Clifford on some conditioning sprints as others trickled out of the dressing room and weight rooms towards the first team bus.
Notes!
-Clifford (upper-body) is still a little ways out:
JS reaffirms Clifford not quite yet day-to-day. Still needs to continue to build up strength.

— Jon Rosen (@lakingsinsider) December 2, 2017
-As for Mitchell, yes, we saw the whites of his eyes. We also had a nice conversation with him! As noted yesterday, his visa was secured, and he beat the team to Chicago yesterday evening by several hours. His arrival, of course, followed three and a half days in Detroit in which he was confined to his hotel room because he had to be ready at a moment's notice for a call informing him that he'd have to report to the immigration office.
"Yeah, it was, 'we're working on it,' and they're expediting my work visa, and then it was for some reason or another not done by the end of that day," he said of the bureaucratic delay, which continued after the team's game in Detroit on Tuesday. While the team traveled to Washington, D.C., he remained at the hotel to deal with immigration paperwork that bled into Friday.
"I was on call [Wednesday] morning. And then I'd get a call at around noon like, 'they're processing it,' and … "you should be hearing shortly,' and, 'oh, they just sent us some papers and we've got to wait a little bit longer here,'" he said.
"I was going, 'do I have a record or something that I didn't know about here? … I'm a law-abiding citizen."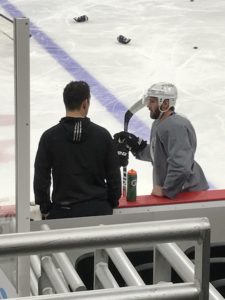 He laughed it off and kept an open mind to being stuck in travel purgatory.
"It's a holiday for Thanksgiving, and then they processed it Monday, and it took three and a half days," he said. "So in hindsight it wasn't that bad, right? Three and a half days, but it would've been nice to get there."
The hardest part was not really being able to leave the hotel.
"I couldn't do anything because I was literally on call to go immigration as soon as we got the email saying 'you're processed,' so I couldn't do anything," he said. "Like, I literally couldn't even drive 20 minutes to the mall, because I had to be ready to leave the hotel right away, so I did room service like ten times."
He also watched Showtime's Billions, which he loved, and the Kingsmen movies. And then he was back on the ice at the United Center on Saturday going through sprints. It's been a long week, but if needed, he'd be available tomorrow, at least by virtue of his completed paperwork.
"Yeah, that's the plan. I think, just try to get in shape and when your name's called, be ready to go," he said. An indication of whether he'll play the Blackhawks will be revealed during Sunday's morning skate.
-Meanwhile, the Kings were back in the visitors' dressing room at the United Center, the same one they celebrated in after winning the 2014 Western Conference Championship. It's three and a half years removed from Alec Martinez's bank shot off Nick Leddy, but Anze Kopitar recalls the feeling of returning to the room from which he spoke on Saturday. He was "pretty tired" after the seven-game heavyweight bout, but did put into words the immediate feeling of having emerged from the 21-game western marathon.
"It was just, you know you can't really—well, yeah you can celebrate – but you still have one more step to take," he said. "So, coming here, probably the most satisfying part was they did knock us out the year before in '13. So, we came in here and we couldn't defend [the Stanley Cup] anymore, and coming here and being on the other side of things, especially in this rink, I don't think we'd had too much success in here on the other side of things. It was definitely a good feeling."
"…It's been a while now. But, yeah, we always come here, it's always intense. The building, it's very loud. You've got to make sure that we're ready right from the get-go because we all know they can score goals if you let them play their game. So, we'll go out there [tomorrow] and compete and see what happens."
-More than a dozen pizza boxes arrived for the players just prior to leaving the rink, and no, it wasn't deep dish, Chicago-style pizza. It might take another 21 games to burn off some Lou Malnati's.
"I'm usually a thin-crust guy," Jonny Brodzinski said. "I've never really been a thick crust guy, and I heard it's kind of a bit thicker here."
Self-styled "pizza expert" Jeff Solomon declined to fully go on the record with his pizza preferences as to not sow discord in the locker room, but did state his preference for a New Jersey-style pie.
John Stevens, who regularly embarks on morning runs in the cities he visits, has some pizza preferences but remains a commendably healthy eater. He'll splurge occasionally, though.
"My favorite thing is shrimp cocktail and steak," he said. "That probably doesn't qualify [as comfort food], but I do like pizza once in a while. We're pretty much protein-and-vegetable, so fish, chicken, steak. But if I'm going to have a night where I'm going to have some pizza, I'd be pretty happy. As a matter of fact, I'm going to have pizza right now."
Given the team's success on this road trip, there have been some deals to be had:
When the LA Kings win, you win! Get 50% off your @PapaJohnsSoCal pizza order with code KINGs. pic.twitter.com/Aj0l4ZeQVQ

— LA Kings (@LAKings) October 26, 2017