Good afternoon to you, Insiders. In advance of tonight's game between the Kings and Maple Leafs (4:00 p.m / FOX Sports West / FOX Sports GO / KABC 790 / I Heart Radio), Los Angeles skated at the Air Canada Centre at 11:30 a.m. Monday and aligned thusly:
Iafallo-Kopitar-Brown
Pearson-Shore-Toffoli
Cammalleri-Kempe-Lewis
Andreoff-Laich-Dowd
Forbort-Doughty
Muzzin-Martinez
Fantenberg-Folin
MacDermid-Auger
-The only change appears to be Nic Dowd replacing Justin Auger in the lineup. At yesterday's practice, Oscar Fantenberg was an extra skater alongside Auger, but this morning he was back alongside Christian Folin. Not that it's a surprise, but hey, it's a back-to-back, so the #LAKingsGoalieTweetOff applies. Jonathan Quick left the ice first and will be projected to start against Toronto.
-Let's just get it out of the way: Drew Doughty is in Toronto. Does he think at all about the Maple Leafs, a team that as of now has $37-million of cap space in 2019, the same summer his contract expires, and an organization that could really use a number one, right-handed, shutdown defenseman? "To be honest, it's not on my mind at all," he said. "I know that interview in the summer kind of turned some heads and returned some questions, but the bottom line is I want to stay in L.A. That's my home, that was my favorite team my entire life growing up. The organization is the best organization in hockey, in my opinion. We still have a great team, a great core group, and I don't want to leave L.A."
Did Doughty expect this type of a start to the Kings season? "No, I didn't expect that. It's unbelievable," he said. "This is the most fun I've had playing hockey since we won the Stanley Cup three, four years ago. It's been a rough few years for us. We'd come to the rink with pouts on our face, but this year it's a whole different thing. We have new coaches, staff, a lot of life in the room. We have a lot of good energy in the room. Just having the time of our lives right now, but that stops when we start losing, so we've got to keep winning, and we'll keep having fun."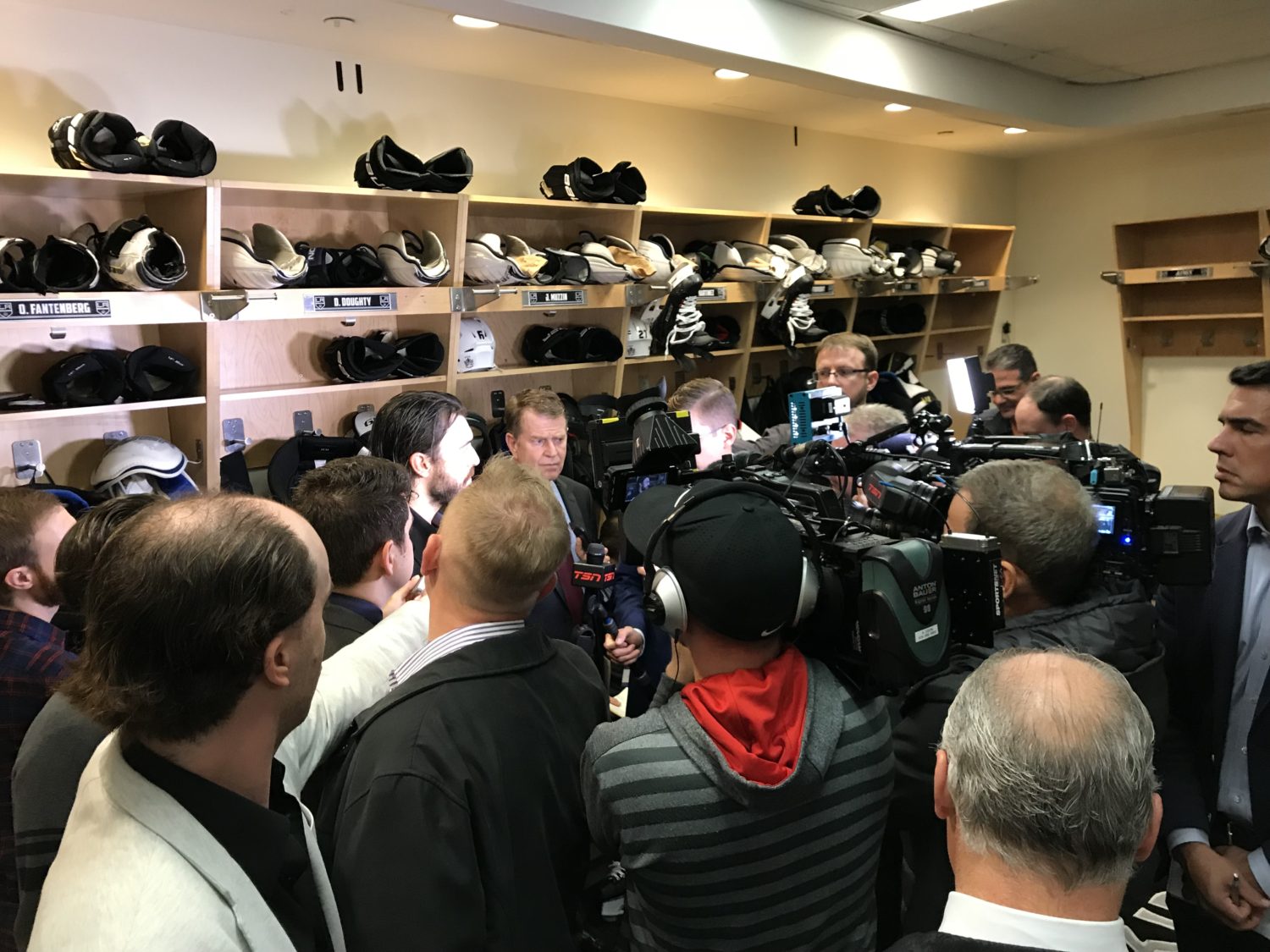 -Toronto is a special place, the center of both the hockey and the hockey media universe. (How many current and future Hall of Fame players, coaches, executives, broadcasters and writers were there on the event level this morning? It's astounding.) And then there's Alex Iafallo, who has played all of seven NHL games, opening eyes while posting three assists and a plus-nine rating in demonstrating aptitude in pursuit of the puck and in forechecking. "He flies," Mike Babcock said. Iafallo is an interesting part of this early season run, and while he hasn't had the same exposure to such concentration of hockey media, the Frozen Four provided a good appetizer of what to expect when visiting hockey-mad centers north of the U.S. border. Has he ever received any concerted media training that might prepare him for a day like today? "We're used to it," he answered. "If [a player is] younger coming in, if they haven't had much media, I'm sure they'll help, but in college we've had a lot of media, so I'm kind of used to it. Pretty much all the same questions." Though the road trip also brought Alex to Columbus, he wasn't able to see his sister, Juliana, a senior captain on the Ohio State women's hockey team. The Buckeyes traveled to St. Cloud State over the weekend, sweeping the Huskies by consecutive 4-0 scores.
-It's a bit overused, but, yeah: death, taxes, and Mike Babcock-coached teams having strong power plays. The combination of Babcock and power play specialist Jim Hiller – an assistant coach and former King involved in the Jimmy Carson/Paul Coffey/Gary Shuchuk trade of 1993 – has an impressive track record, helping steer the Red Wings to the second best power play in 2014-15 and the Maple Leafs to the second best power play in 2016-17 and third best thus far in 2017-18.
Personnel is obviously important, and it makes things easier when you've got a stable of Auston Matthews, Mitch Marner, James van Riemsdyk, William Nylander and Morgan Rielly. But what is it that stands out about this man advantage?
"Well, personnel is a big thing, and the other thing is they have two units, not just one," John Stevens said. "Their second unit has been more productive than their first, and their first is extremely dangerous. They do some things with their power play that have really been effective – a drop breakout that allows them to gain possession. They attack the net all the time, they have a dedicated net presence. We're going to have to be number one fundamentally sound and try and get pressure when the trigger points are there, and really have strong, hard work and aggressive work ethic to have success again. You've got to block shots, you've got to clear pucks when you get the chance. If you give them second chances, it's probably not going to work out well."
Apart from their power play detail, Los Angeles will also have to be well-prepared to defend the rush. There are mobile defensemen on the Toronto back end, so an effective forecheck will be key tonight, but once the Leafs move the puck up-ice, the Kings have defensemen equipped to handle the rush. Derek Forbort is one of them.
"A lot of [defending the rush] is being on the same page as your D-partner," Forbort said. "When one goes, then your partner has to slide over, and vice-versa. I mean, that's huge, and I know me and Dewey, we like to force early, and hopefully they make that pass to the middle, and then I'm coming over to hopefully break up that pass."
There's also obviously a competitive component that comes into successful defending.
"It's not easy to do," Doughty said. "Defense just comes down to willing to compete at both ends of the puck and willing to sacrifice your body to block shots and getting in lanes and just hating to get scored on. That's how we developed it, and that's all it takes, really."
In other words, the Kings are going to have to check well in a good test against a high-octane group. The Maple Leafs are the pace setters with an impressive 4.63 goals per game to start the season.
"If we don't check, we don't win," Stevens said. "I mean, that's the bottom line."
-Lead photo via Kevin Sousa/NHLI