Good afternoon to you from Toronto, Insiders, where it's 70 degrees at 4:00 in the afternoon on October 22. Let's blog hard.
Teams do not often practice at the Air Canada Centre, a heavily used building with fewer open dates than most major league arenas, but some 12-plus hours after the Raptors demolished the 76ers, the floor had given way to an ice sheet, and the Kings aligned as such during a full-team skate:
Iafallo-Kopitar-Brown
Pearson-Shore-Toffoli
Cammalleri-Kempe-Lewis
Andreoff-Laich-Dowd
Forbort-Doughty
Muzzin-Martinez
MacDermid-Folin
Fantenberg-Auger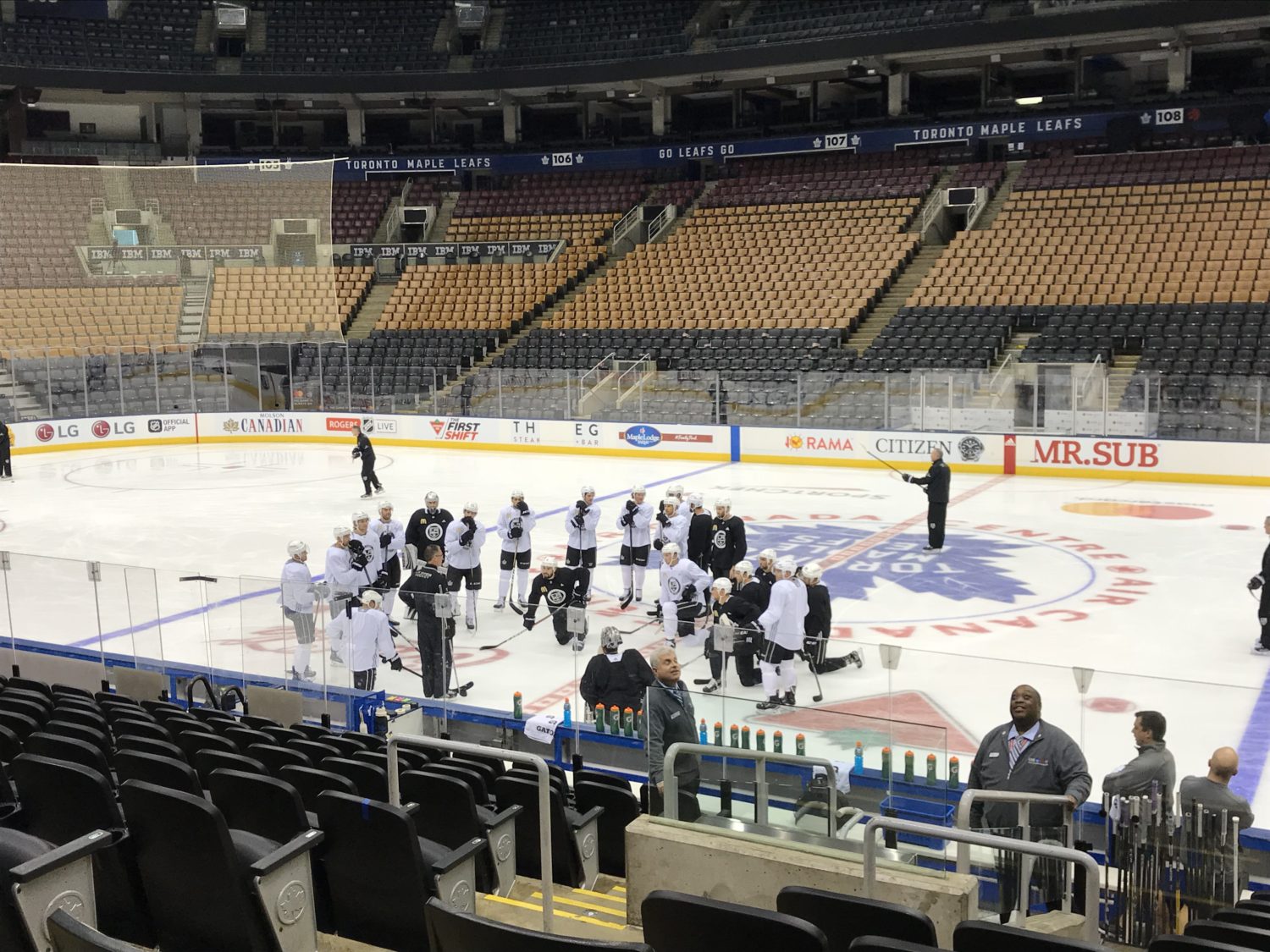 –Several changes to note. First, winger Justin Auger skated as Oscar Fantenberg's defensive partner, so it would appear that both could be out of Monday's lineup, with Nic Dowd replacing Auger and Kurtis MacDermid jumping in for Fantenberg. Speaking of which…
–There had been some internet speculation – imagine that! – that perhaps Fantenberg was dealing with a minor issue after weathering several larger-scale hits on Saturday and receiving only one third period shift. His 8:52 total ice time was over five minutes below his previous ice time low, but that wasn't due to injury as much as it was due to Fantenberg needing to be a touch quicker moving the puck and John Stevens relying heavily on the Forbort/Doughty and Muzzin/Martinez pairs during late-game situations.
"Pucks were coming at us, and I think when you get in a tight game like that the other four guys were really playing well, and I think in that point of the hockey game, it was a situation where we shortened the bench a little bit and got the guys with a little more experience out there," said Stevens, who confirmed that Fantenberg was "totally healthy."
Keep in mind, too, that the Kings play a back-to-back that continues with another challenging test Tuesday in Ottawa, so there's bound to be some lineup rotation. And the Kings have to be highly enthusiastic in what they've seen so far out of Fantenberg, who has shown he's more than a pacey defender who skates well and makes quick decisions and reads. There's also some good jam to his game, and he'll look to exude that firmness as he continues to gain familiarity with the league and particular opponents.
"Obviously it's been a dream [to play in the NHL] since I was a kid," Fantenberg said. "But it's been hard to get different teams going. We've played Vancouver three times in the preseason, so I have to get my game better at different kind of games, teams, and so on. But it's been fun, too."
The defenseman played professionally in Sweden's top two divisions since 2008-09, and in 2016-17 played for Sochi in the KHL's Western Conference, which meant that he faced teams from Belarus, Latvia, Slovakia and Finland in addition to the Russian teams. But his arrival in Toronto early this morning after a late flight from Columbus represented the first time he had set foot on Canadian soil.
There is something essentially hemispheric about hockey and the way players of different languages and backgrounds are bonded together, but there have also been tactical adjustments he's had to make in his playing style since elevating to the top professional league in the world.
"You have to be focused all the time and I would say that's a big, big difference from playing back home," he said. "Back home with the puck, we can always recover it because the ice was so big. It's much bigger. But over here if you make small mistakes, you get on the wrong hand and it's probably a goal on us."
That hasn't been an issue for the heavy majority of the 105 minutes of NHL ice time he's accumulated through seven games, but even as someone who recently turned 26, there are still ways to learn, understand and continue to build his game. Production-wise, he'll take a four-game assist streak into his next outing, and the team knows there's probably another level of offensive production he's capable of growing into.
"I know it's not going to be sunshine every time, all day, but it's going to be up and down," he said. "I have to get to my lowest play level as high as possible and play confident all the time so the coach can trust me in every situation. I would say that's going to be my biggest challenge this season."
–Keeping with the Scandinavian theme, Adrian Kempe will face off against William Nylander for the second time in their NHL careers on Monday. They're very close friends and 1996-born skaters who've represented Sweden internationally since they were 16. Both players were forces during the 2015 World Junior Championships, playing together on perhaps the tournament's most elite power play unit. Sweden led the tournament with 12 power play goals, which included four from Kempe as part of an eight-point performance that tied for ninth place in individual player scoring.
"For the World Juniors, I think we had the best power play the both years I played," said Kempe, whose 2015 World Juniors emergence also took place at the Air Canada Centre in Toronto. "We had a sick power play and we had some really good plays out there. You just try to move the puck around, and obviously Willie is very good with the puck, so he's going to have the puck for a lot and breakouts and other things. I think I just try to shoot as much as possible and we were very good at getting the puck back even after we shot it. On the rebounds and everything we were very hungry and desperate on the power play."
Kempe also totaled eight points as a 19-year-old the following year during a tournament in which Nylander was injured and limited to one game. Kempe again finished among the top 10 scorers in that tournament, as did Nylander's brother, Alexander, a Buffalo prospect.
For someone who faced off against a family member during a preseason game against Arizona, it shouldn't be hard at all to put the friendship aside when the two teams meet tomorrow night.
"I mean friends, it's pretty easy for me not to think about that during the game," Kempe said. "It was harder actually when I played my brother, because we're family. So that was kind of a different thing, but even if it's friends I don't try to think so much about that during the game."
Added Kempe: "It's fun if you score when you play against your best friends. It's always something you try and look for before a game and you're hoping for."

-Nic Dowd is likely to return to the lineup tomorrow, an interesting adjustment given the forward's ability to make plays and distribute the puck in the offensive zone. But given his skill set, which on a surface level would appear to be in concert with the type of offensive zone playmaking John Stevens has been looking to accentuate, Dowd has only gotten into three of seven games this season. Even though he is a center with skill, he wasn't in the lineup in the first game after Jeff Carter was injured by Jeff Petry's skate blade.
"I mean, we're winning right now, obviously, so it makes it tough for Johnny to take guys in and out, but I think it's things I can just continue to try and work at," Dowd said. "Try and give myself more opportunities, regardless of what I play. Tomorrow it looks like I'm playing wing, so you know it's an adjustment. It's something where as a centerman I've always been taught low-and-slow, and take your time, and now as a winger it's see the open and available ice, even if it's way above everyone else. So it is an adjustment, but I think obviously just making my reads, being good defensively [is important]."
The defensive aspects of Dowd's game were evident at St. Cloud State, where he was named the NCHC's 2014 Defensive Forward of the Year. He was also the conference's Scholastic Player of the Year and a Hobey Baker Finalist in a season in which he served as the Huskies' (previously long-locked) captain.
As a 26-year-old first-year player last season, Dowd showed impressive playmaking ability, but was challenged on the second night of back-to-back sets and was a minus-11 over 34 road games as a player who received highly cushioned zone starts.
"I think probably the best word is 'responsible' above all else, and play close to a perfect game for the minutes that we're going to play, and then when I do get into the offensive zone, play within our structure, but allow myself to create a little bit," said Dowd.
A full, 82-game season is a long time, and Dowd will have his opportunities, continuing Wednesday night in Toronto. He should ultimately get his production, because the underlying metrics from his first NHL season indicated that he was as representative of Los Angeles' inability to transfer possession into actual scoring as anyone on the team. His 946 PDO last season was the fifth-lowest in the NHL among qualified players and the lowest among Kings skaters since 2007-08, and though he did log offensively skewed zone starts, he took advantage of them with a 57.6% raw 5×5 Corsi-for rating that ranked third behind Patrice Bergeron and Brad Marchand among NHL forwards. There are ways to interpret this, but he wasn't profoundly lucky.
"You want to be playing. It's my responsibility, and I think it's something where I think every mistake is amplified in my mind because you obviously want to do everything you can to continue to play well and stay in the lineup. I think I also can't be hesitant to make plays and hesitant to make mistakes because it's going to happen, but I think that I can create enough where the positives are going to outweigh some of the stuff that happens."
It's probably fair to think some inconsistencies in his game could stem from the adjustment to a new position late in training camp. He'll have an opportunity to prove he belongs in the lineup when the puck drops at 4:00 p.m. PT on Monday.
-Lead photo via Aaron Poole/NHLI