A good afternoon to you from El Segundo, Insiders. The Kings took the ice at Toyota Sports Center prior to 10:00 a.m. and aligned as such, via color coding:
Gray: Iafallo-Kopitar-Brown
Blue: Pearson-Carter-Toffoli
White: Cammalleri-Kempe-Auger
Yellow: Andreoff-Shore-Lewis
Purple: Brodzinski-Dowd-[Laich]
-Hey, Justin Auger! As noted earlier today, he was recalled and filled the open roster spot with Kyle Clifford's move to injured reserve, Paul LaDue's assignment to Ontario and Alec Martinez's activation. It's been a fast-moving 24 hours, and it seemed like Auger was still in the process of absorbing the news, but he received a call from Mike Futa yesterday afternoon to head west to El Segundo for a Tuesday morning practice. Several other texts came from Futa, Jack Ferreira and other well-wishers. "Obviously I was just excited to get that call for the first time," he said. "It's exciting. Got a couple texts – 'take advantage of the opportunity and just show why you're here.'" Auger, a 6-foot-7, 229-pound winger, is more of a detail and compete-type player who has good mobility for someone his size – more from Auger and John Stevens later today – and after 202 AHL games could make his NHL debut alongside Michael Cammalleri and Adrian Kempe Wednesday night versus Montreal. "I think I have to credit the development staff a lot," Auger said. "Those guys have worked with me every summer, every chance they've gotten. I can't thank those guys enough [for] just turning me into a pro. They're down in Ontario all the time. Seeing those guys, working with them in the summer and everything. Just the transition from junior to pro, I owe a lot of credit to them."
"This is my fourth year playing pro in the organization, so I've gotten to know a lot of those guys. Pretty much 'take advantage. You've been working hard for four years. You're finally getting your opportunity, so go out there and do what you know you can do.'"
-Meanwhile, still no sign of Marian Gaborik, who hasn't gotten on the ice with the group since early in the final week of September. "Setback" is a word with somewhat heavy implications, and those I (and others) have spoken with in the organization have declined to use that term, even when it's directly presented as part of questioning. But he's still not skating with the group, and thus the questions continue. "Never was really close to returning to play," one team source told LAKI. "Still continuing to rehab and progress to practice." This aligns with John Stevens' note early in October that the team will "err on the side of caution" and "give him a few days to gain a week or a week to gain a month," so there's no *breaking news* update other than to say he continues to recover off-ice as he vies to build strength back towards a return.
-Meanwhile, today's practice, which followed an off-day, began with power play breakouts and ended with three-on-three in-zone drills that contained a good battle element. After the three-on-three work, two-on-two playmaking drills followed. John Stevens, on the breaks in the schedule early in the season: "I think it affords us a lot of opportunity to keep going over things – review, practice, and get lots of reps in at practice. As the schedule gets heavy we're really going to have to manage our work and our rest. I think we've got a pretty good handle on that. Matt Price tracks the load both in games and in practice, off-ice, so we have a pretty good idea of what the load is on our players even when we're not playing a lot of games, and I think that's something with information we can manage pretty well. But it certainly gives you a lot of time to go over things, lots of reps in practice. I think the challenge would be when you're playing more just to manage the work and the rest more making sure the guys get what they need, but making sure the guys get the rest they need, as well. I think it's been a nice luxury at this point of the season, but we certainly know we're going to stretches where we're not going to have that luxury, so we're going to have to manage that, as well."
-Tomorrow's opponent, the Montreal Canadiens, play in San Jose tonight, where Carey Price will draw his sixth consecutive start. There was a chant at Yost Ice Arena that began my senior year at Michigan that went like this: "Al Montoya!" ::clap clap clapclapclap:: Repeat x100.
The lights are not on at SAP Center, the nets are not installed, Carey Price is on the ice alone for the skate. pic.twitter.com/S4F4E9d402

— Аrpon Basu (@ArponBasu) October 17, 2017
-As part of a First Star performance against the Islanders, Drew Doughty sensed a terrific opportunity and hauled down the ice to catch up to Anze Kopitar to create a two-on-one rush. He redirected the pinpoint feed between Jaroslav Halak's pads for what resulted in the game-winning goal.
Doughty got good work in that period, which followed 40 minutes of hockey in which the Kings were not pressed into excess special teams usage and essentially rolled lines on the second night of a back-to-back. The defensemen regularly hopped over the boards in the third, pushing his usage up to 20:40, his lowest total in a game in which he wasn't injured in nearly six years.
"I don't like playing 20 minutes, no doubt about it. I'd rather play way more, but I understand why I'm playing that. Especially at home, I'm basically just waiting for the other team's best line to come onto the ice – me and Forbs – and it's working really well for us. We're winning games. If we're losing games or down in games I'm sure my minutes would go up a lot more," Doughty said.
"…I played really well in the third period last game and I was fresh. I only played, I think, 11 minutes going into the third and then played eight or nine minutes in the third and I played great then. I was fresh. It's still early in the season. We've got a lot of games left to go. I don't like playing that little minutes, but when we're winning and we're being successful, I'm fine playing those minutes."
All systems are go for Doughty, who has two goals, five points and a plus-six rating through Los Angeles' first five games. Though it was an extreme representation – don't expect Doughty to regularly play only 20 minutes – Sunday's game seemed to be a prime representation of getting the most out of a player when his minutes are reduced.
"I don't think we need to wear Drew out early in hockey games, but when we need him late in hockey games we want him to have juice, and I think the fact that he got caught in a couple D-zone situations, one-on-one with Tavares, and had lots of energy to kind of kill the play and seal the play, and then the puck turns over on the penalty kill and he's got all kinds of juice to jump up in the play, and really, he came from a long way to beat people up the ice on what ended up being winning goal in the hockey game," Stevens said. "He's a guy we're going to count on a lot. I think if we can manage his minutes, especially in a back-to-back situation like that, he's going to be a better player when it means the most."
Doughty averaged 49 seconds per shift in the game, which is pretty much exactly where he wants to be. Unless there's a great deal of power play or penalty killing time, which has the propensity to increase shift length, he wants to average fewer than 50 seconds per shift.
Doughty has been used heavily in all situations by the Kings, and he continues to pay consistent dividends. He'll enter the Montreal game with 251 consecutive games played, dating back to the end of the 2013-14 season.
"That's the main thing – just trying to stay healthy," he said. "Everyone's kind of always all over me, 'you don't do this in the gym, you don't do that.' Maybe I don't work out in the summer to build more muscle and get stronger and stuff like that, I kind of do it to maintain. People kind of look at me and say, 'why don't you do more to become bigger,' but it's been working for me. I'm staying healthy, knock on wood. I like having a little more fat on me. It seems to keep me in shape and keep me going. We have great trainers here, a great training staff. I've got great trainers back home in the summer, and they've done so much work to keep me healthy and help me play through injuries, so without them, it'd be really tough."
Lead photo, following photos via Jon Bradley: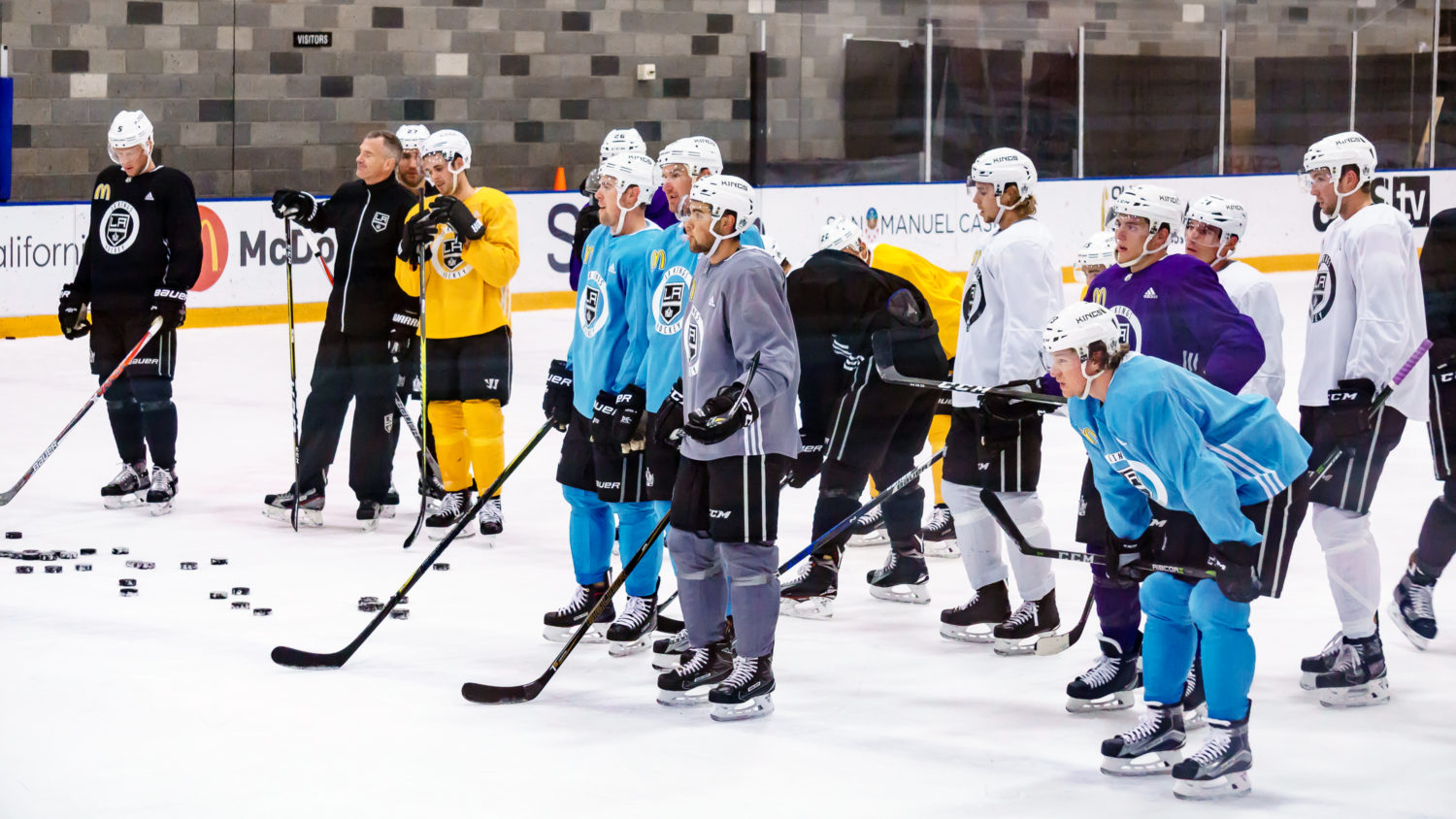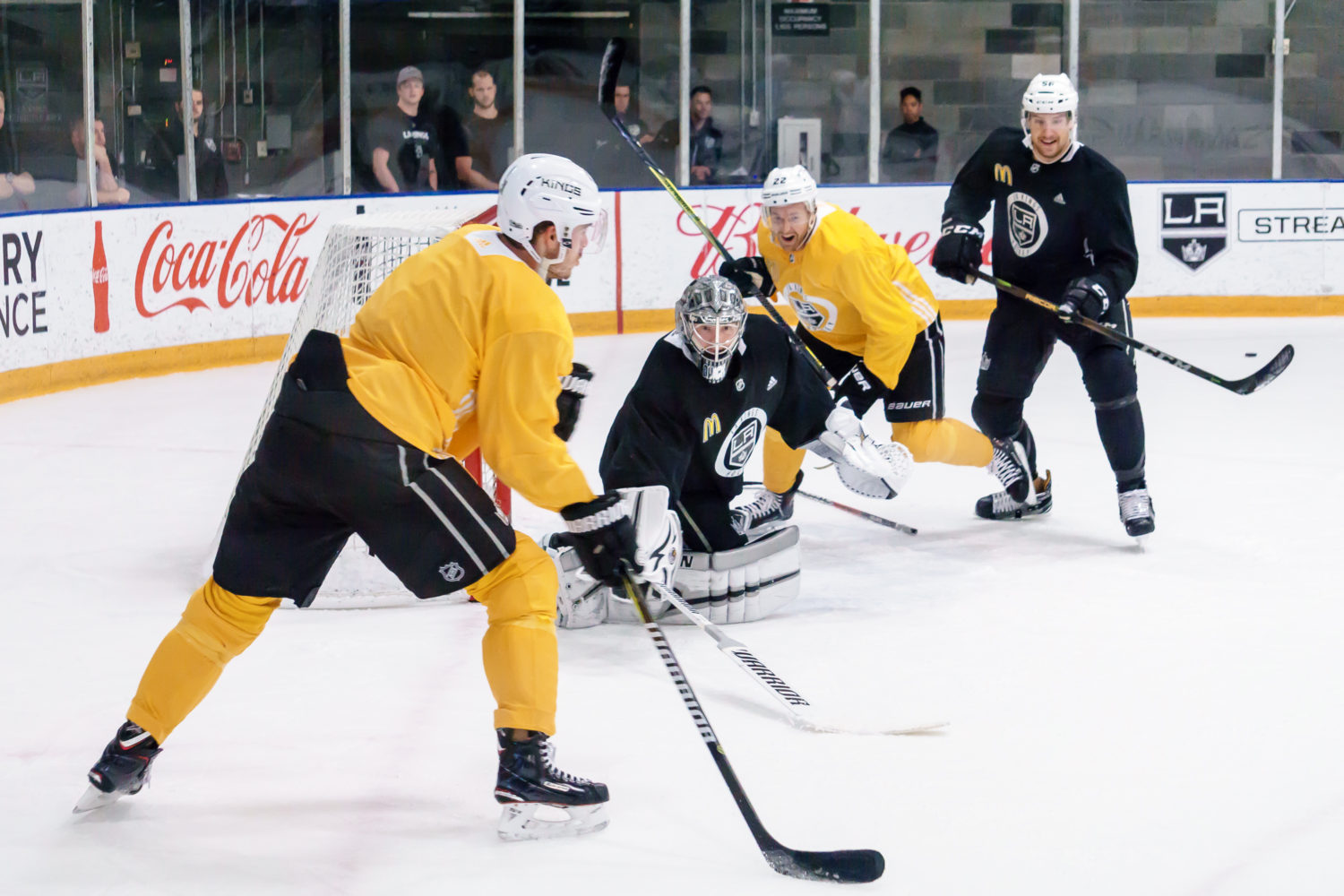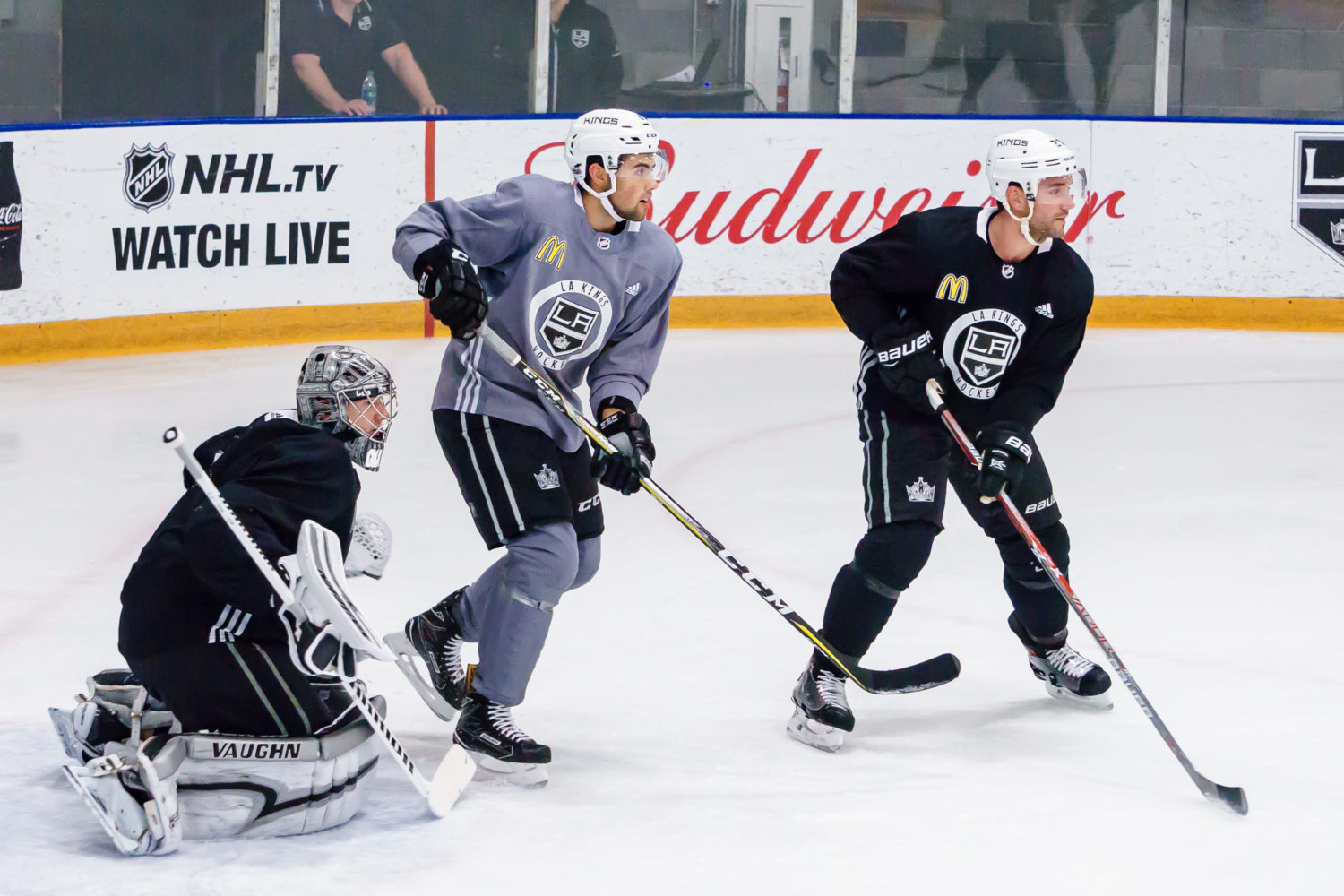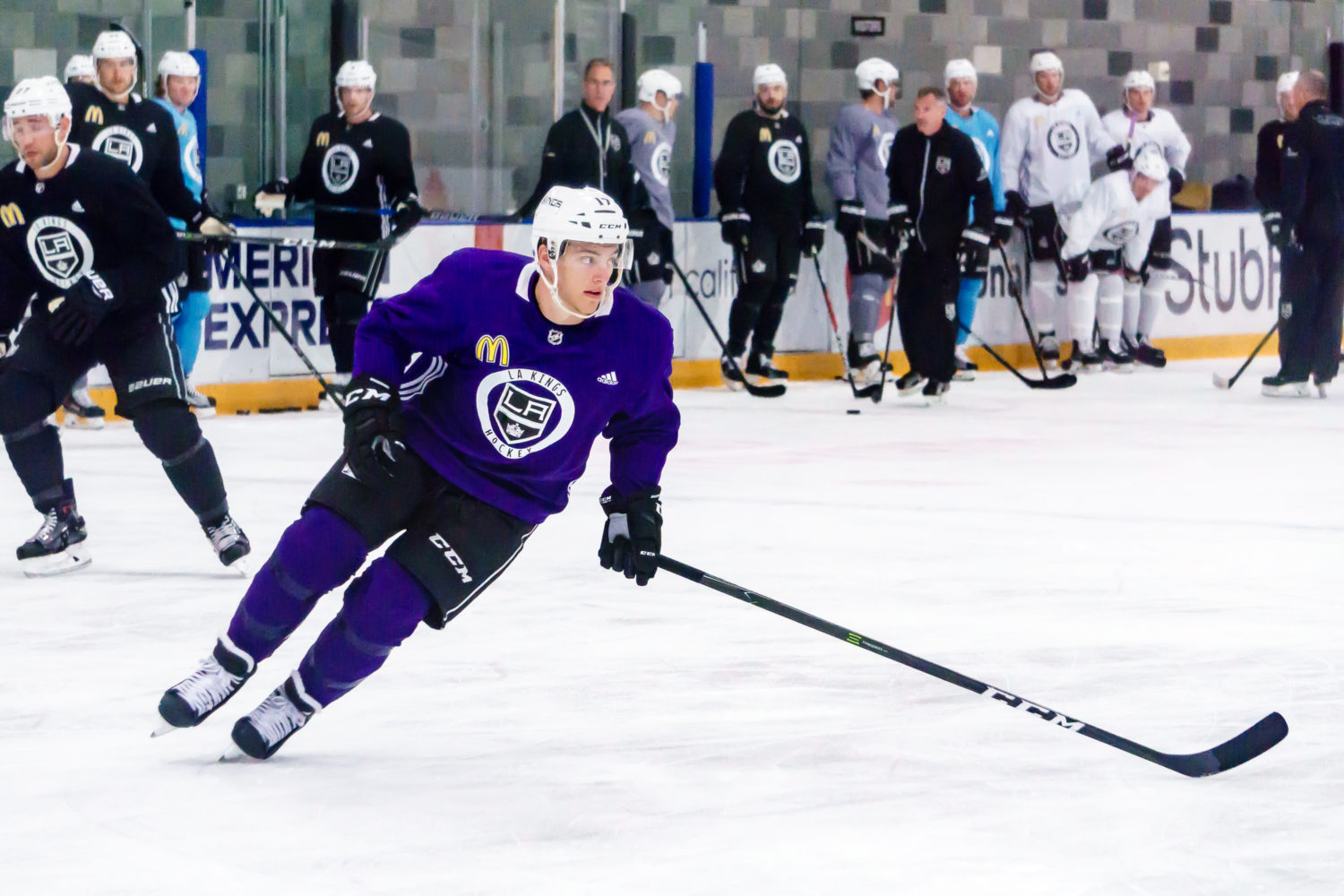 Some practice shots @LAKings pic.twitter.com/sKmnNzhjEm

— Steve Rose (@steverosephotos) October 17, 2017