Los Angeles Kings 3, Vegas Golden Knights 2
Final-Overtime
LINKS: BOX SCORE | EVENT SUMMARY | ICE TRACKER
Overtime
0:12: Iafallo forecheck forces Schmidt turnover. He feeds Laich, who stuffs it past Pickard. 3-2 LAK final. Emotional game.
THIRD PERIOD
20:00: Game on.
18:50: Herr leads a two-on-one, but Schmidt catches up and gets a piece of Herr's stick as he pulls back to shoot. Chance halted.
16:55: Attendance: 17,101.
16:09: VGK GOAL. 2-2. Extreme pressure in, around and behind Campbell, who knocks down a point shot before Carrier makes a slick move to reach around Campbell while falling to the ice and deposit the puck into an open net with his backhand. Really nice goal.
15:09: Campbell turns aside an Eakin clapper from the high slot.
13:42: Hyka fed a puck while alone in the low slot on a rush, but Campbell comes out to challenge him and make a big kick save. Vegas is providing heavy pressure, and like the Anaheim game, Campbell has been keeping several high-quality chances out.
12:13: Go, Knights, Go chants.
9:04: Crescenzi snapper from the right dot is snared by an off-balance Pickard, who slides to his right to make the stop.
8:13: Left alone in front, Marchessault tries to get Campbell to bite but can't shake the L.A. goalie and puts his attempt wide as pressure arrives.
5:20: PENALTY VGK. Slashing on Pulkkinen. Beaks the referee up ice and en route to the box.
4:40: Amadio sharp angle chance gets apiece of Pickard and trickles towards the far post before it was cleared by Engelland out of danger.
4:08: More LA chances. Anderson-Dolan fires off a one-timer from the right circle that Pickard stops and joins an animated scrum behind the net. Nearly scored.
4:08: PENALTY LAK. Mersch tries to dig the puck loose from Pickard but takes one jab too many and is called for slashing. A bit draconian of a call this late in a game.
3:10: Coupla shorthanded chances on a rush; Laich, Herr attempts denied.
2:08: Penalties over.
1:16: Luff hits the inside of the post from the low slot off a quality feed from Iafallo. A-type chance.
0:00: To overtime! Good experience for these Kings kids. Good environment, much more experienced opposition. Tied after 60.
SECOND PERIOD
20:00: Game on. Kings goal is now unassisted, so RIP, first Jaret Anderson-Dolan preseason assist.
18:39: PENALTY LAK. Clague for holding
16:39: Nothing going for Vegas. Good perimeter movement, no real scoring chances. Good clears by L.A.
13:48: PENALTY VGK. Shipachyov for holding. Believe the pronunciation is SHIP-a-shev. Ahoy!
11:48: One scrum of sustained pressure drifted towards Pickard's crease, but no real high-grade looks. Penalty over.
11:04: GOAL LAK. 2-1. Mersch digs a puck loose along the boards and backhands it to the point, where MacDermid's wristshot beats Pickard clean. I've seen Pickard make much tougher stops when he was 16. Not really a scoring chance.
9:41: Kings keep a Grade-A chance out. Perron slickly stickhandles through a tangle of bodies above the goal mouth and unleashes a wristshot that Anderson-Dolan gets a piece of as a lunging Campbell knocks it down with his glove and covers. Hard to tell if it was JAD or Campbell who was more responsible in keeping that out. (It was Campbell.) Fortunate sequence, L.A.
Campbell save on Perron: https://t.co/sUAfVsITUS#LAKings pic.twitter.com/SjrgikZi7a

— Eric (@Kingsgifs) September 27, 2017
7:32: Lee knocks down an Engelland wristshot with his stick, channels it to the corner.
6:57: Cool, calm and collected Campbell save of a Tuch one-timer. Tuch was probably Vegas' best forward in the rookie games and has been noticeable tonight and through the preseason, where he totaled one goal and one assist through his first two games.
6:20: PENALTY LAK. Luff for delay of game. Not one of your standard delay of game calls, but rather one where he chops at a puck fluttering in mid-air and bats it over the glass.
4:20: Nice touch passes by Lindberg, but no dice, Vegas.
4:04: PENALTY VGK. Shipachyov for slashing. More like Slashachov. ::falls back in my chair, hits head on press box siding, dies::
4:04: Have never seen so many people so enthusiastic to sing YMCA. Games here are going to be fun!
2:04: A decent attempt by Amadio, and a good job by Anderson-Dolan to hold his ground along the boards to keep a puck deep, but no real threatening opportunities.
1:26: Loktionov's redirect turned aside by Pickard. Best Kings chance of the evening?
0:46: Hyka catches iron from the high slot.
0:08: Good job by Clague to hustle back defensively and cut down Hyka's angle to the puck before sending it back up-ice.
0:01: Game opening up late in the second. Iafallo from the right circle makes Pickard work to make a tough save on a Grade B-plus chance.
0:00: Period over.
FIRST PERIOD
20:00: Go, Knights, Go chants. Underway from Vegas.
19:30: Dowd gets in on the forecheck, steals a puck behind the net. He feeds Mersch in the high slot, but the winger was unable to get a good shot off the pass.
18:00: Campbell fights off a pair of tough shots, the first from Haula. Both were scoring chances.
16:16 VGK GOAL. 1-0. Perron feeds an open Eakin across the slot, and his one-time blast catches part of Campbell, the inside of the post, and the back of the net. First (preseason) home goal in Golden Knights history. The first goal ever scored in the building belonged to Michael Mersch on October 7. 2016.
14:45: MacDermid-Engelland scrap. Sounds awesome, but it's mostly hugging and grabbing. Five for fighting.
12:00: PENALTY LAK. Lee for hooking.
11:05: Smith-to-Tuch Grade-A chance sails wide.
9:45: Good perimeter hit by Roy on a zone-entering Nosek, separating body from puck and ending a rush opportunity.
8:06: GOAL LAK. 1-1. Nic Dowd touched it behind the goal line; it deflects off a defender's skate, Pickard. Grea-sy! Not quite as attractive as his goal on Fleury last season. They all count, though! (Except in preseason.)
3:55: PENALTY VGK. Engelland for slashing.
1:55: Power play over. Nothin' goin'.
0:00: Period over. Joining KABC 790 shortly for the Insider Report!
Pre-game
#LAKings starters are Campbell, Lee-Roy, Mersch-Loktionov-Dowd. No one wearing the C; listed as alternate captains are Laich, Dowd and Lee.

— Jon Rosen (@lakingsinsider) September 27, 2017
-The word on the street is that much of the Vegas game ops will be scaled back during the preseason as to not reveal too much in advance of their October 10 home opener.
-Jack Campbell led the Kings onto the T-Mobile Arena ice.
-Referees are Cameron Voss and Garret Rank. Linesmen are Mark Wheler and Ryan Daisy.
Shots from Frozen Fury Preseason Game #5: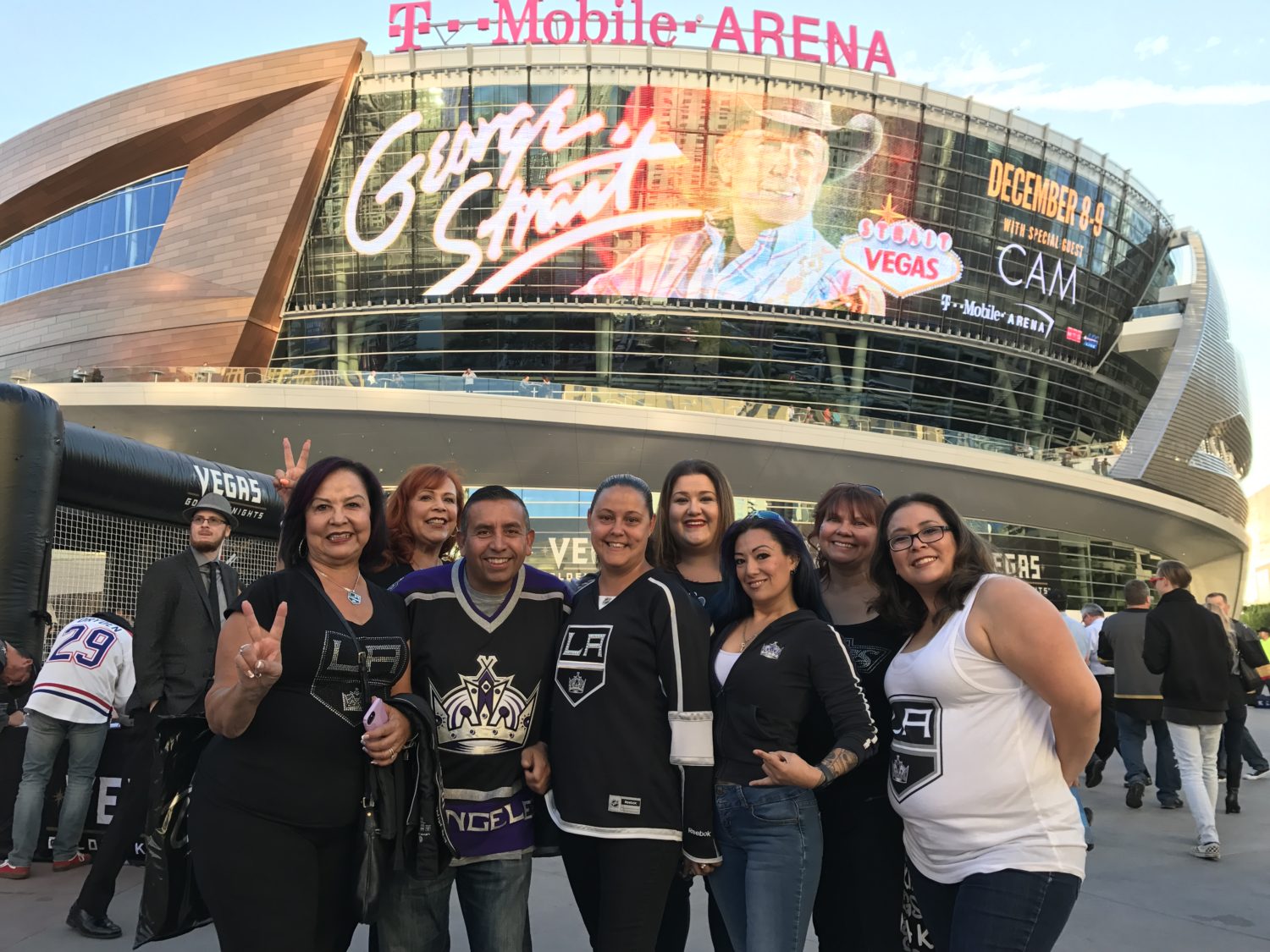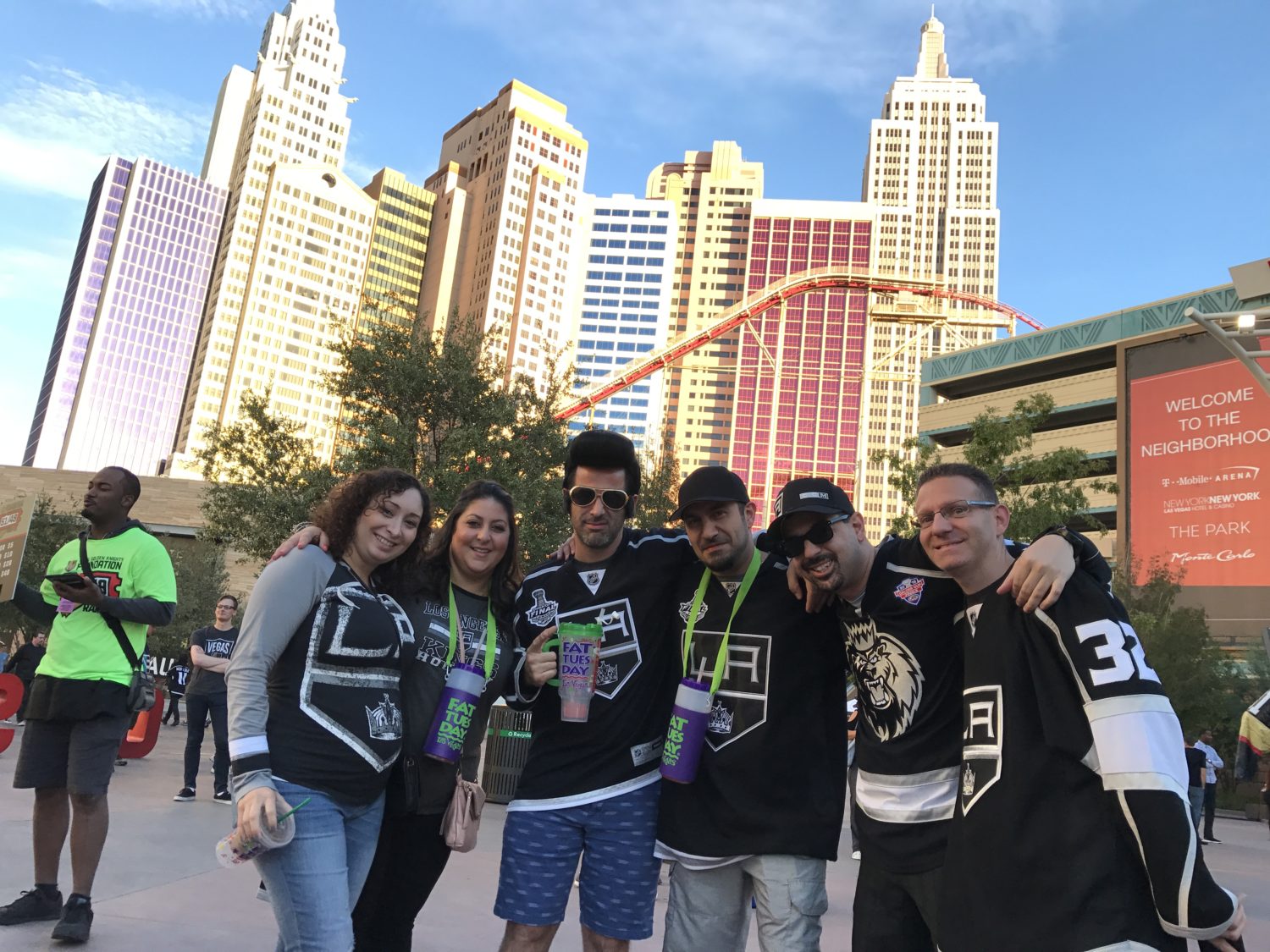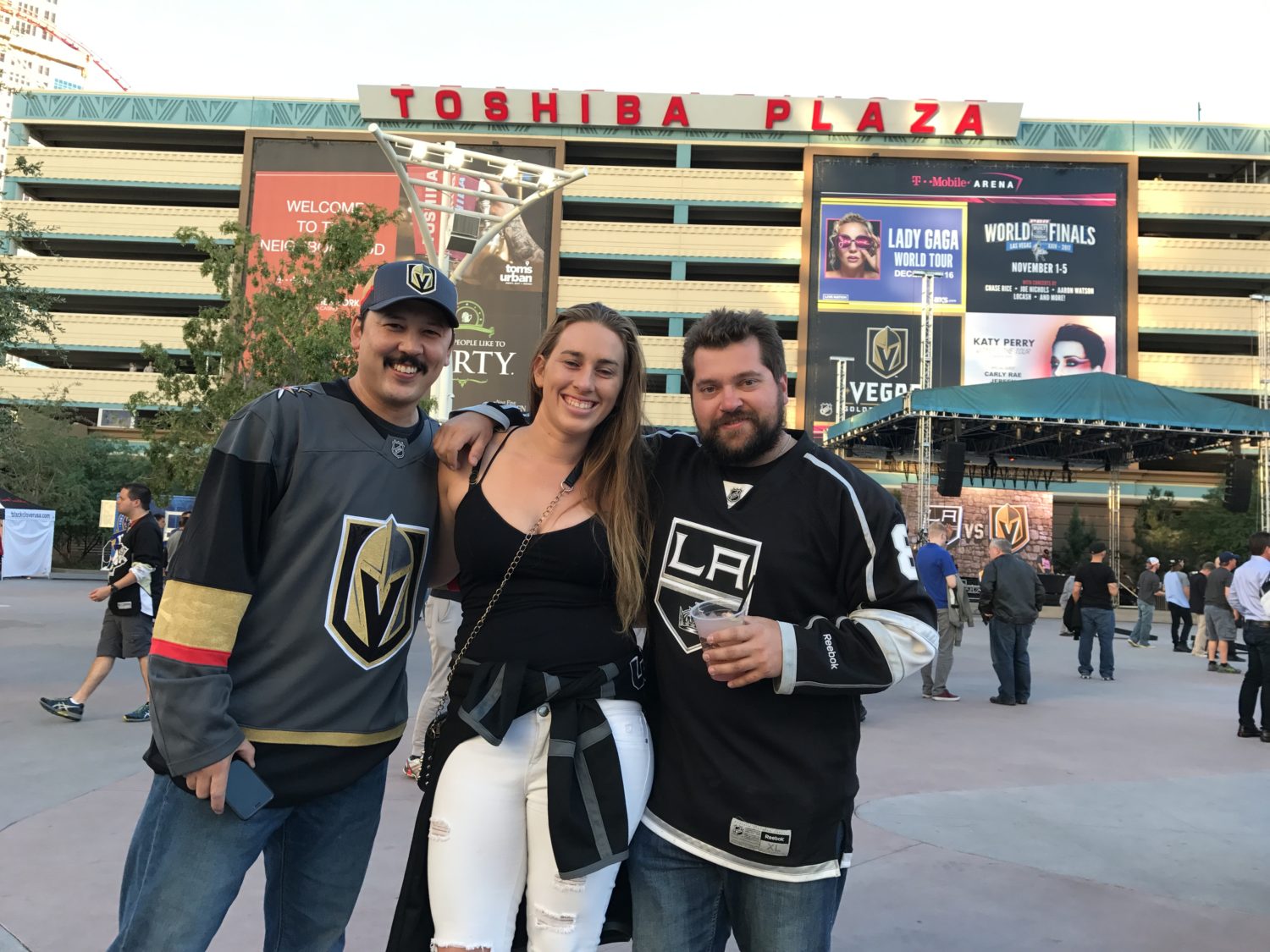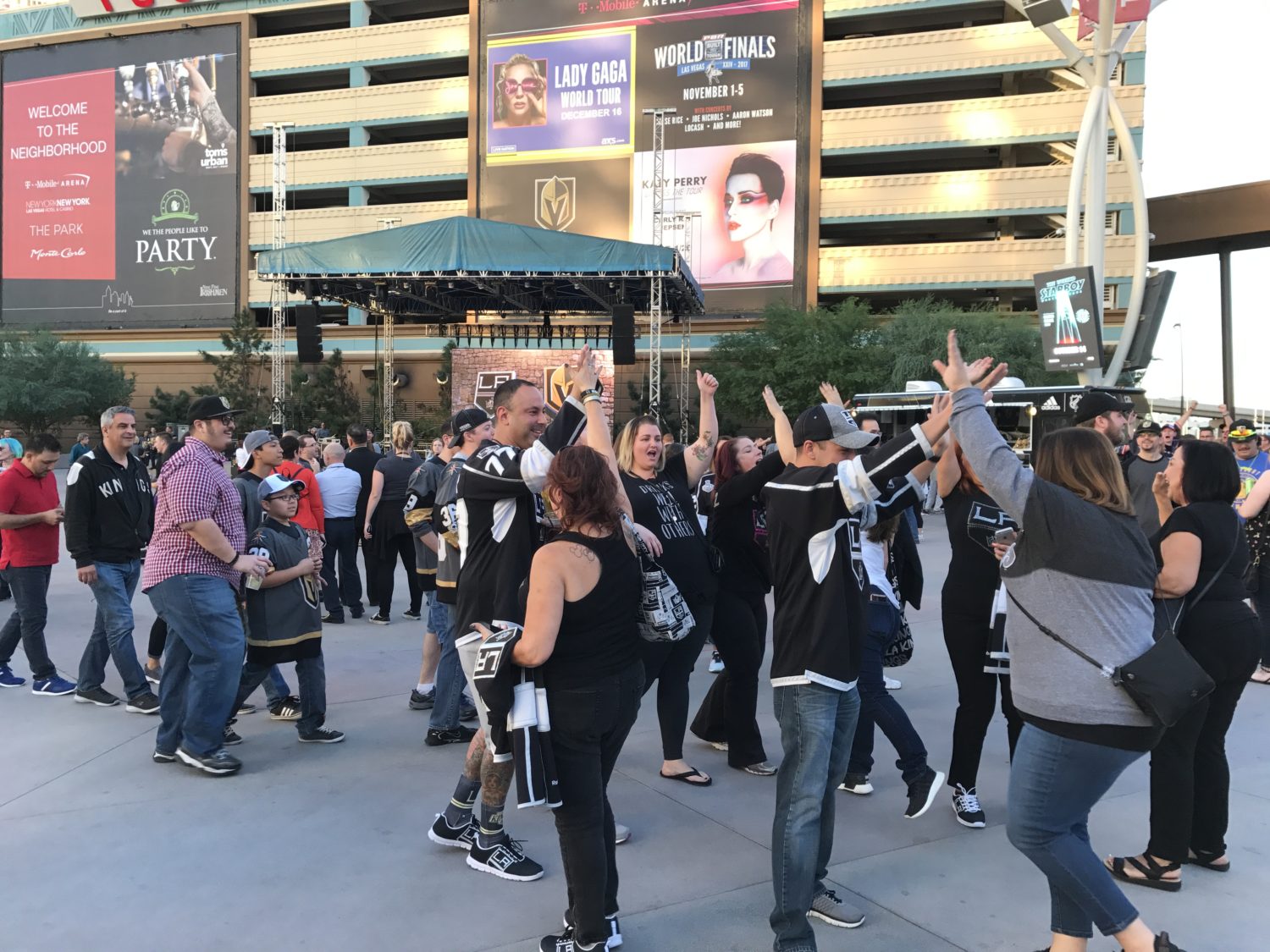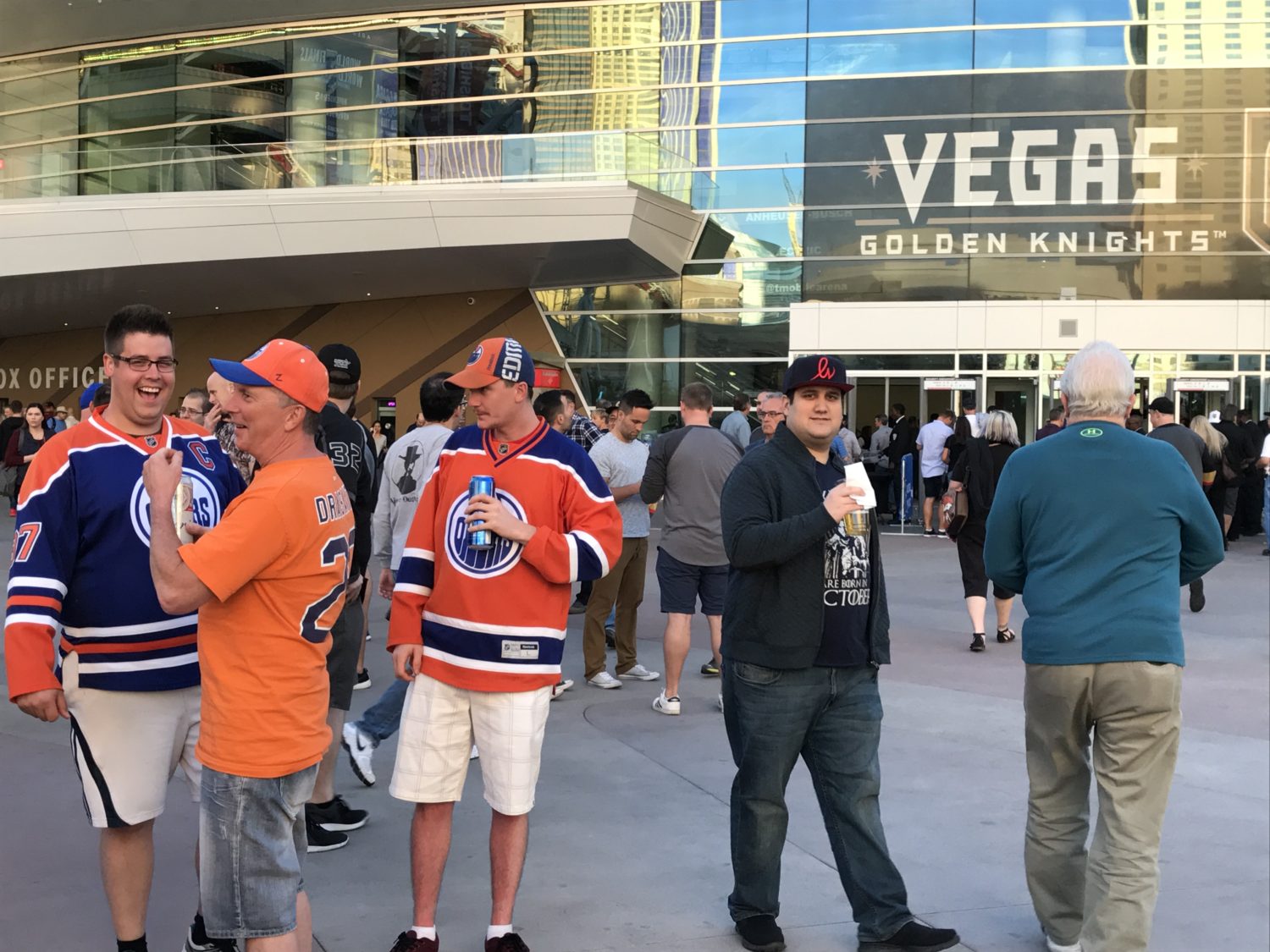 There was a nearly even split between Golden Knights and Kings fans outside in the plaza adjacent to T-Mobile Arena 50 minutes before game time. The Oilers were also represented well by pockets of fans, nearly all of whom were walking around the plaza carrying cold beverages.