Vancouver Canucks 4, Los Angeles Kings 3
Final-Overtime
Overtime
5:00: Kopitar, Toffoli, Muzzin start us off. Horvat, Virtanen, Del Zotto for VAN.
3:45: Can't possibly live blog 3-on-3 OT.
0:22: GOAL VAN. After a length of the ice pass back to Nilsson, Boeser retrieves the puck, turns the other way, skates towards the tops of the left circle, cuts towards his right, beats Kuemper far post. 4-3 VAN.
Third Period
20:00: Enter Kuemper. Quick stopped 9-of-11.
18:35: GOAL LAK. Oscar Fantenberg's shot from inside the left point beats Nilsson, who was screened by Cammalleri. Nilsson has allowed three goals on four shots. 3-2 LAK.
13:38: PENALTY LAK. Kuemper for tripping.
11:38: Killed.
11:10: Kuemper slides to his right, gets a piece on a high-grade Boeser chance. Not sure if that was bound for the back of the net, but it appeared to be a pretty good save.
6:23: Nolan drives down the left wing on a two-on-one-and-a-half, shoots, but Nilsson cuts down the angle, makes the save.
4:20: Nice Kopitar drive down the center of the ice, but three Canucks were hounding him. The puck is poked away.
4:00: Andreoff has Brodzinski driving to the net and a narrow lane to get him the puck. He saucers it there, and Brodzinski redirects it, but wide. Good play.
2:54: GOAL VAN. Gudbranson wrister from the extreme right point is tipped by Bartschi, who was battling with LaDue, past Kuemper. 3-3.
0:00: To overtime!
Second Period
20:00: Word on the street is that Daryl Evans dropped his "All Swedish, no finish" line on the first day of the preseason(!).
19:11: PENALTY LAK. Kempe for high-sticking. Two high-sticking calls and a slash on Kempe in his first period-plus of preseason.
16:47: PENALTY VAN. Virtanen for hooking.
16:08: PENALTY VAN. Upshall for holding.
15:00: Big Markstrom saves on Muzzin and Brown. The latter was the better save and came from point blank range. Brown wearing an "A" in this game, btw.
14:08: Both penalties killed.
13:30: PENALTY VAN. White for slashing.
Brown wearing an A today. Reminded by LAKdotcom writer @PumperNicholl that he wore an A once last year, 1/16/17 vs TBL. Kopitar DNP/illness.

— Jon Rosen (@lakingsinsider) September 16, 2017
11:30: Penalty over.
11:00: MacDermid levels Ryan White with an open ice hit as he attempted to leave his zone.
10:57: MacDermid answers the call from Andrey Pedan, who comes to his teammate's defense. Good tilt. We'll see if this changes any sort of trajectory for the game or instills a bit more life in a matinee with lots of stops and starts.
9:26: Nilsson in for Markstrom, who stopped all 19 shots he faced.
9:24: PENALTY LAK. Kempe for slashing. Fourth minor penalty. This is not a road map towards making the team.
9:07: PENALTY VAN. Baertschi for hooking. Not sure if this is a live blog or just an update when penalties are taken.
7:52: GOAL VAN. Great job by Biega to knock puck down, keep it in the offensive zone, feed Virtanen for a one-timer. Virtanen's shot partially blocked by LaDue but hops, skips and jumps past Quick for a weird one. Good play by Biega. 2-0 VAN.
4:51: GOAL LAK. Muzzin wrister from the top of the left circle beats Nilsson. Followed a three-on-two rush in which Shore attempted a late, cross-crease feed. Pearson assists. Muzzin wearing an "A" today. 2-1 VAN.
2:03: PENALTY VAN. Pedan for holding.
1:45: Bouncing puck hops over Toffoli's stick on the doorstep. Would've been a power play goal.
0:57: PPG LAK. Pearson drives behind the net, shakes off Holm, and feeds Brown, who blasts a one-timer past Nilsson from the slot. 2-2.
0:00: Period over.
First Period
20:00: Preseason is underway!
19:59: Please bear with lapses in updates early on – I'm also preparing and jotting down notes for the first intermission Insider Report, which returns this season on KABC 790 radio broadcasts.
19:41: PENALTY LAK. High-sticking on Kempe. To the penalty kill! (Already.)
18:15: Good PK disruption by Toffoli, who knocked a puck out of midair and cleared it.
17:41: Peace out, penalty.
14:50: PENALTY VAN. Upshall for interference. The 4-F group starts things off for LA. Cammalleri-Kopitar-Brodzinski; Toffoli-Muzzin.
13:59: Granlund shoots on a shorthanded two-on-one; Quick makes a strong left pad save.
13:51: Toffoli from the slot denied by Markstrom.
13:19: Markstrom gloves Fantenberg's blast from beyond the left circle.
12:50: Penalty dunzo.
12:44: PENALTY LAK. Kempe for slashing. Two minor penalties in the first 7:16 of game action for Kempe.
11:35: PPG VAN. Granlund deflects Stecher's shot from straight away, inside the blue line. 1-0 VAN.
7:58 – Nice job by Fantenberg cutting off an angle to win a race to the puck in the defensive zone.
7:48: PENALTY LAK. MacDermid for high-sticking. Checking to see if this is the first penalty of the game.
7:47: Update: It's not.
6:45: Kempe fires high on a shorthanded, clear-cut breakaway.
5:48: Penalty killed.
5:22: Flurry of action in front of Markstrom, but nothing that resulted in any point-blank looks towards the net.
3:19: PENALTY LAK. Tripping on Forbort.
2:33: PENALTY VAN. Baertschi whistled for slashing.
0:52: Heading downstairs. Will update shortly.
Warm-ups
The Kings showed the following alignment:
Cammalleri-Kopitar-Brown
Andreoff-Kempe-Brodzinski
Mersch-Shore-Nolan
Pearson-Dowd-Toffoli
Muzzin-Folin
Forbort-LaDue
MacDermid-Fantenberg
Jonathan Quick led the team onto the ice and is expected to start in net.
Nice update from Pierre:
The Kings, who still owe him for this season, signed off on it. Lombardi scouted for Philly before becoming GM in LA.

— Pierre LeBrun (@PierreVLeBrun) September 16, 2017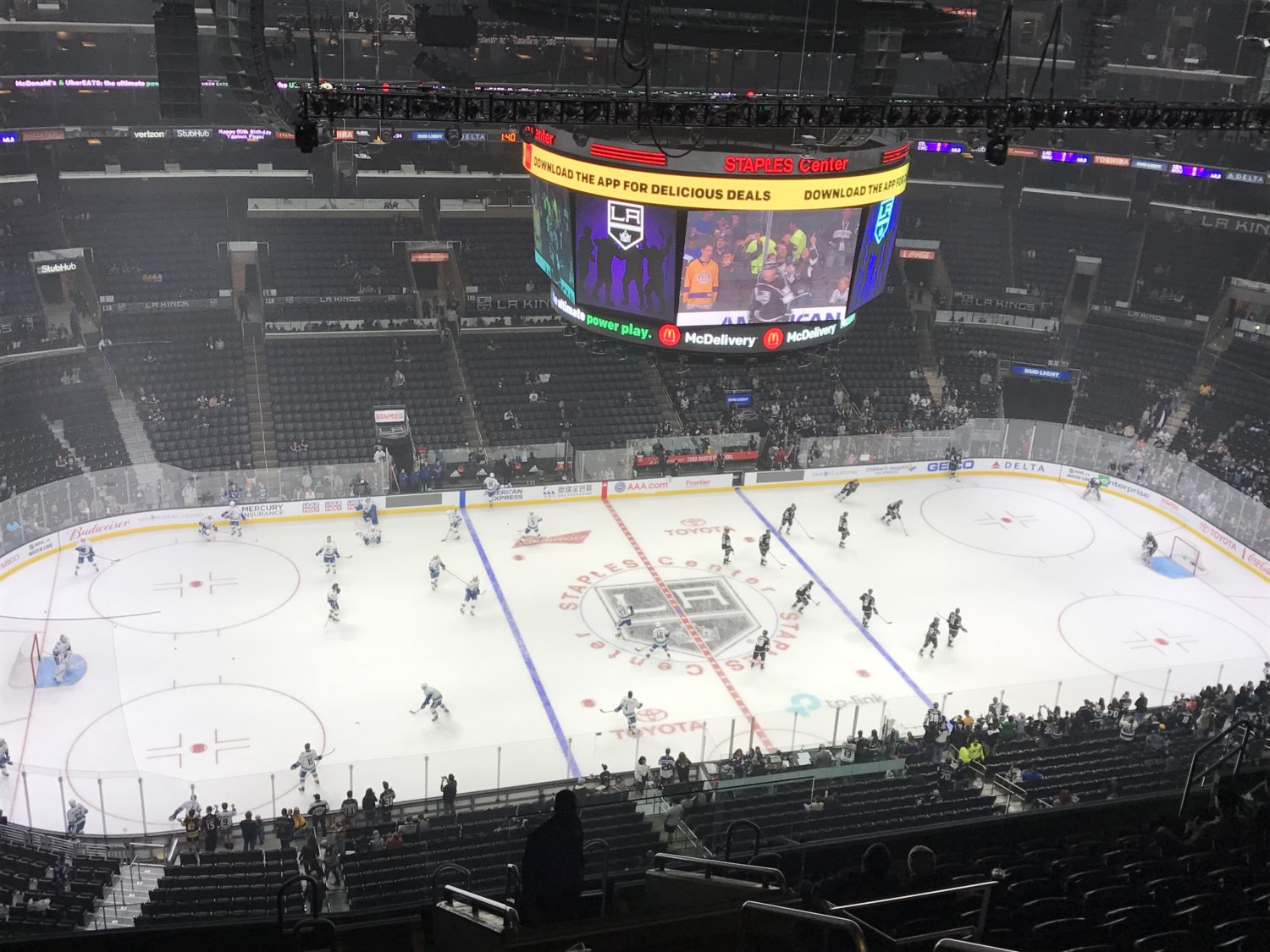 -lead photo via Aaron Poole/NHLI