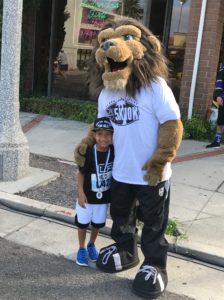 Points won't actually be awarded for another month, but the Los Angeles Kings' annual 5K/10K to benefit the Hydrocephalus Association represents the unofficial start to hockey season. Held near the eve of training camp, it's a time in the year when the players have returned to town, the rookies and prospects are practicing, and the first set of exhibition games looms near.
It's also a time in the year when players and staff of the Kings stand united behind the Pope family and young Charlie Pope to share their support of a radiant five-year-old boy who has shown character and strength in battling through hydrocephalus, an excess accumulation of cerebrospinal fluid within cavities in the brain.
Charlie, who just started playing T-ball, does as many five-year-olds do. His mom, Jen Pope, the Kings' Vice President, Community Relations and Kings Care Foundation, says, "he's just running around, a happy little guy."
He's also taking part in physical therapy, occupational therapy and speech therapy, but those who know Charlie well take pride in how a lifestyle that includes MRIs, surgeries, and frequent doctors visits is able to exude the same disposition of other kids his age.
"I think he shows that, especially at events like this," Alec Martinez said. "He's very talkative, he's fun to be around, he's a kid that you can tell genuinely loves life, so I think that's pretty easy to support and it draws you to him, big time."
There is a challenge to raise money for hydrocephalus, which does not experience the same widespread backing as breast cancer support and, unlike ALS, did not benefit from a viral campaign like the ice bucket challenge, which catapulted donations and led to breakthroughs in treatment and outreach. And that's why the LA Kings 5K/10K, which raised $200,000 for Hydrocephalus Association last year, is central towards the ongoing thrust to enrich and improve the lives of young people like Charlie.
"I think our walks are the best way that we can reach thousands of people with the message," said Diana Gray, Chief Executive Officer, Hydrocephalus Association. "It's great to see people coming out in support of people they know with hydrocephalus. I think this NO MORE BS (Brain Surgeries) campaign is our greatest effort to date to get more national in terms of the social media efforts."
The NO MORE BS campaign, a push that included players, coaches and staff wearing the motto emblazoned on T-shirts at Saturday morning's run/walk, "is about the community saying 'enough is enough,'" Gray said. "We want better treatments. So many of the members of our community who have hydrocephalus, if it was just one brain surgery and then they were better, that would be fine. But many of them miss key milestones in their lives because they have to go back and have subsequent brain surgeries because there are blockages in the shunt or possibly an infection, so we have folks who have had hundreds of brain surgeries, so we want to raise awareness that this condition exists so people will support our research and our programs."
And that's why the largesse of hockey players is a natural fit. Whether at the annual 5K/10K or across the league in various collective and personal donations of time, efforts and money, the selflessness of hockey players is practically universal.
"I think it's something that's just ingrained in the hockey culture," Martinez said. " It's what you grew up with. A lot of us have similar backgrounds that way. We come from similar areas of the country. I've often wondered the same thing, too, but I think there's just something inherent in the hockey culture that promotes a togetherness and a team attitude, and no individual is more important than that. To be quite honest, I don't know [why hockey players regularly aid charities]. It's just that's how it's always been, and I'm just happy that I'm part of it and that I've grown up with something like that and had that valuable experience."
For many players, the devotion to aid those in need of assistance stems from both personal and local influences. In Jordan Nolan's case, the loss of a loved one served as an impetus for the family to act.
"My dad started the Rose Nolan Foundation for my grandmother, who was tragically killed in a car accident, and he wanted to give back to First Nation women, and that was important to him, and then he started the hockey schools and the golf tournaments. He just wanted to raise money for these women so they could go to school and better themselves for their community. And then a few years ago, my brother talked about starting a hockey school where the three of us could be involved, and it's almost like a family trip, in a way.
That's essentially the origin story of the 3|Nolans Foundation, which offers hockey skill development for First Nation communities along with a strong, positive message.
"It's not so much about building the next star athlete or next Wayne Gretzky. We want to build good people and hardworking and with a good mentality," Nolan said. "Lots of our native communities kind of need more positive role models, and that encouragement that it doesn't matter where you come from or what you may or may not have that you can definitely accomplish anything if you put your mind to it, I think that's an important message for lots of these kids to know because I'm from a small community, my father's from a small community, and we both made it to the NHL, so I think that's an important message."
But while the Kings and the NHL have a myriad of charitable partners, Saturday's run/walk was part of an important push to raise the fundraising scope and continent-wide awareness of Hydrocephalus. More information on the association, and ways to donate, can be found here.
"Jen's a big part of our team and our organization, and we almost see her as a teammate and a family member," Nolan said. "She does so much for everyone else, so to come out here and walk for 20 minutes the easiest thing we can do for her. But Charlie is just a great person, and whenever you see him around the rink, he has so much energy and is full of life and just makes you realize what's important in life and what you should be grateful for. This is a fun event, and we're happy to do it."
"I think we're just in such great positions right now. We're young, we're healthy, a lot of kids look up to us and a lot of people see us as role models, so I think when we lend our voices out there and stand up for what we believe in, then we want to make a difference, whether it's our community or our hometown or whatever it may be, we just want to make a difference and not just play hockey, show up to the rink, and that's it."