WE'RE GETTING CLOSER. Rookie camp begins Friday at Toyota Sports Center in El Segundo and will continue through rookie games against the Vegas Golden Knights on Tuesday at 5:00 p.m. and Wednesday at 1:00 p.m. Practices on Friday, Saturday, Sunday and Monday will be held at 10:00 a.m. and 4:00 p.m. All on-ice sessions are open to the public, free of charge. The official training camp will begin on September 13; a roster, groups and a schedule will be posted closer to when the main camp opens.
Here's what you're looking for: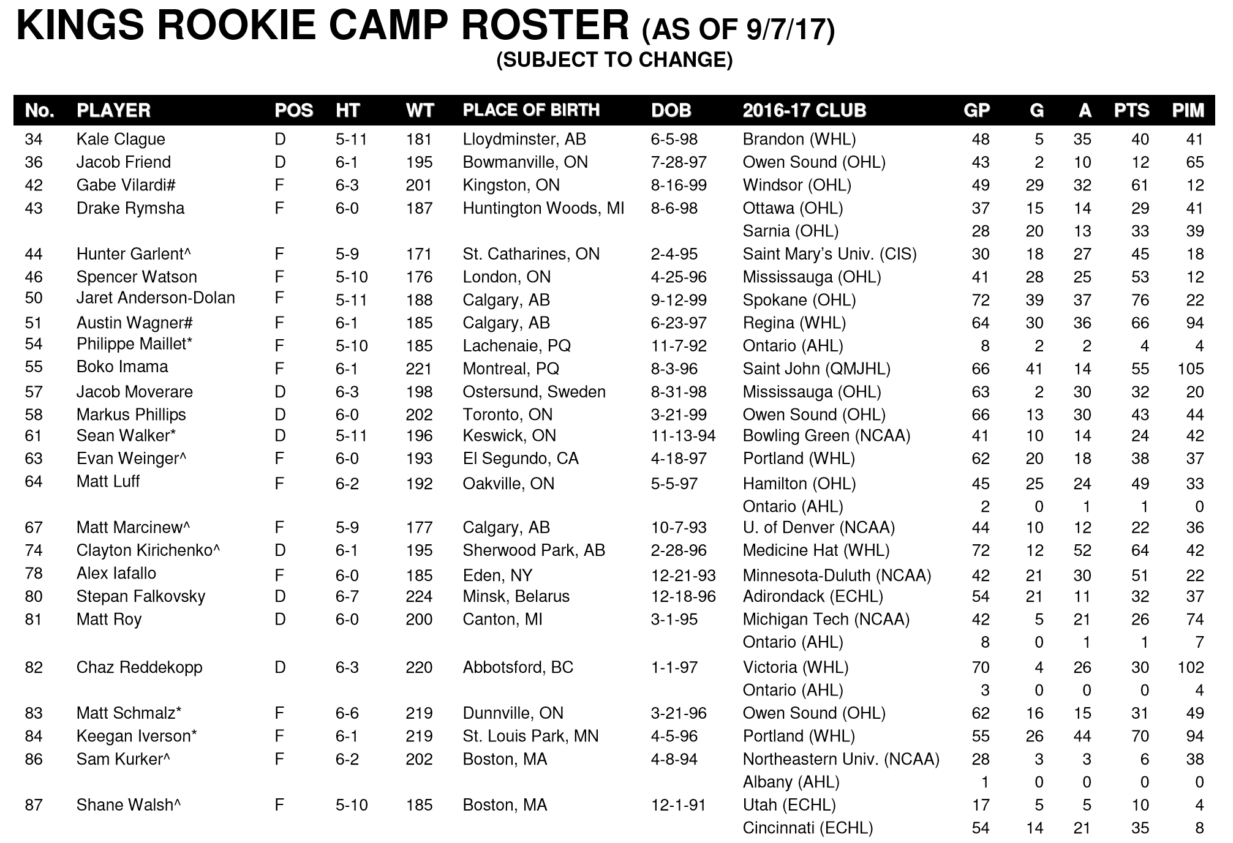 -The roster doesn't provide any breaking revelations, given the news earlier today that top forward prospect Gabriel Vilardi will miss all of training camp due to injury and the news in July that lightning fast winger Austin Wagner is out indefinitely after undergoing June shoulder surgery sustained during Regina's run to the WHL championship series.
-Rookie camp invites! Good morn to you, Hunter Garlent, Matt Marcinew (2017 NCAA champion at Denver), Sam Kurker, Shane Walsh and Thomas Sholl, the son of former Toyota Sports Center GM Brad Sholl. Happy trails to development camp invites who won't be hanging out this September in Daniel Fischbuch (season underway in Germany), Kai Wissmann (ditto), Simon Benoit, Brady Keeper and Jeremy Brodeur. And, of course, there are the college-based players who participated in development camp but aren't eligible to take part in training camp, no sir, not unless they have an inkling to immediately vacate their NCAA eligibility: Cole Hults, Mikey Anderson, Jack Ahcan, Zach Whitecloud, Easton Brodzinski and Michael Bitzer.
-Former Notre Dame star Cal Petersen heads the goaltending consortium, which will also feature 2017 third round draft pick Matthew Villalta. For more on Villalta, Gann Matsuda of Frozen Royalty has a good feature right here.
-The preseason has opened across major junior hockey, so some early and unimportant preseason numbers are available. A huge congratulations goes to forward Drake Rymsha, who has begun to state his case for the Matt Frattin Preseason Look At This Guy Award, totaling three goals and six points over two games with OHL-Sarnia. Also: Heavy hitting defenseman Jacob Friend posted a goal and two points in two games for OHL-Owen Sound, as did forward Jaret Anderson-Dolan for WHL-Spokane. Evan Weinger scored in his only game for Portland, while Markus Phillips earned a plus-three rating in a scoreless performance for OHL-Owen Sound. My apologies if these preseason CHL statistics push some other more important bits of information out of your brain.
-Similar to Arizona in previous rookie exhibitions, Vegas, by virtue of its 12 draft picks, which included six selections in the first three rounds, already has a well-stocked prospect pool. Sixth overall pick Cody Glass and 13th pick Nick Suzuki are expected to participate in the rookie games, but Erik Brannstrom, chosen 15th, has already gotten into preseason games SHL-HV71 and will not attend Vegas' camp. Tomas Hyka, selected in the sixth round by Los Angeles in 2012, was signed to an entry-level contract by Vegas over the summer and should be expected to get into rookie game action. These games have a tendency to become truculent as players vie to open management's eyes, and scrappers gonna scrap. Even without Kurtis MacDermid, I'm still setting the over-under of total fights between the two games at 4.5. Click here for a Vegas roster and additional perspective from Steve Carp of the Las Vegas Review-Journal.
-Tickets for each rookie game – 5:00 p.m. on Tuesday and 1:00 p.m. on Wednesday at Toyota Sports Center – are available for purchase on the day of the game at TSC for $10, with proceeds from all ticket sales benefiting the Kings Care Foundation. Seating will be limited, and fans may begin lining up for tickets 90 minutes before each game.
-lead photo by Jon Bradley